When it comes to daydreaming about far-flung places and seeking out a little extra travel inspiration, nothing gets our hearts thumping and filled with wanderlust more than getting lost in a list of amazing, inspirational travel quotes. From historical explorers to modern-day vagabonds and all-around wise people, we've compiled some of the best travel quotes of all time for you to simply enjoy or you can even use some of these best travel quotes for Instagram captions.
To help fuel your wanderlust and inspire you to get out there and explore this big, beautiful ball of rock we call home, we've gone and put some of the most famous and in our opinion the best travel quotes over some of the most dreamy, voyage-inducing, 'gram-worthy images we've taken on our travels.
So sit back, relax, get comfy, and enjoy a little travel inspiration to help you get motivated for your next adventure with the best travel quotes of all time!
Oh and – feel free to share these awesome travel quotes images far and wide to spread the inspiration love around.
135 Of The Best Travel Quotes Of All Time
The Best Travel Quotes 1 – 50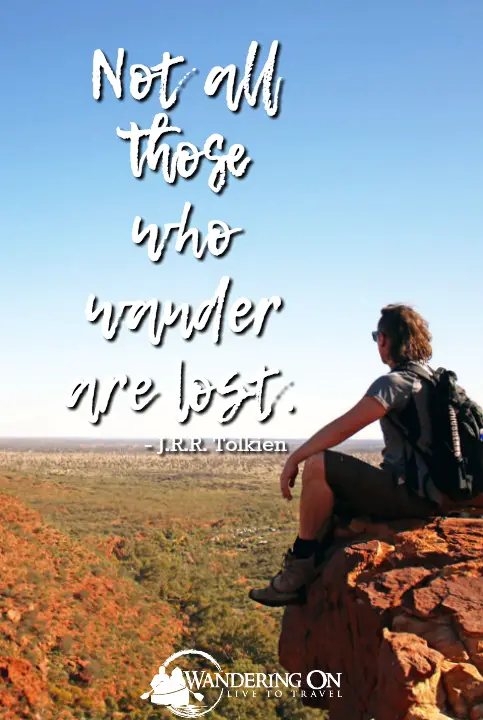 1. "Not all those who wander are lost." ― J.R.R. Tolkien
2. "The journey of a thousand miles begins with a single step." ― Laozi
3. "We wander for distraction, but we travel for fulfilment." ― Hilaire Belloc
4. "I travel to be replenished with beauty, for travel makes the beauty of this world seem like a Christmas that never ends." ― Carew Papritz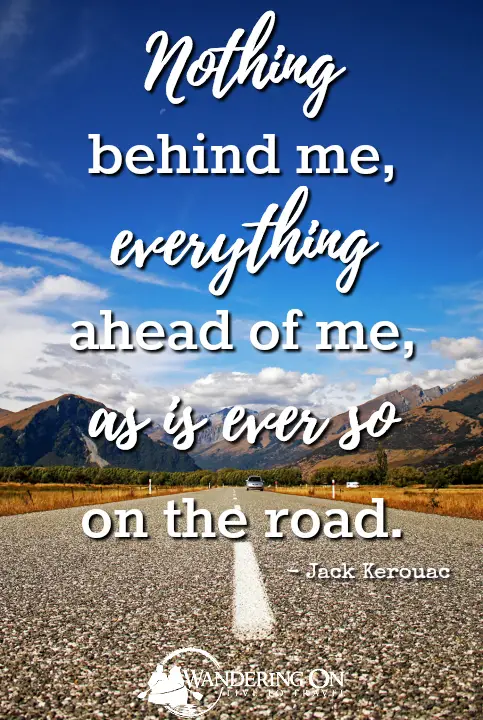 5. "Nothing behind me, everything ahead of me, as is ever so on the road." — Jack Kerouac
6. "Around here, however, we don't look backwards for very long. We keep moving forward, opening up new doors and doing new things, because we're curious, and curiosity keeps leading us down new paths." — Walt Disney
7. "But wherever there is man, there must be some sort of route" ― Robert Edison Fulton Jr.
8. "Don't be satisfied with stories, how things have gone with others. Unfold your own myth." — Rumi
9. "I haven't been everywhere but it's on my list." ― Susan Sontag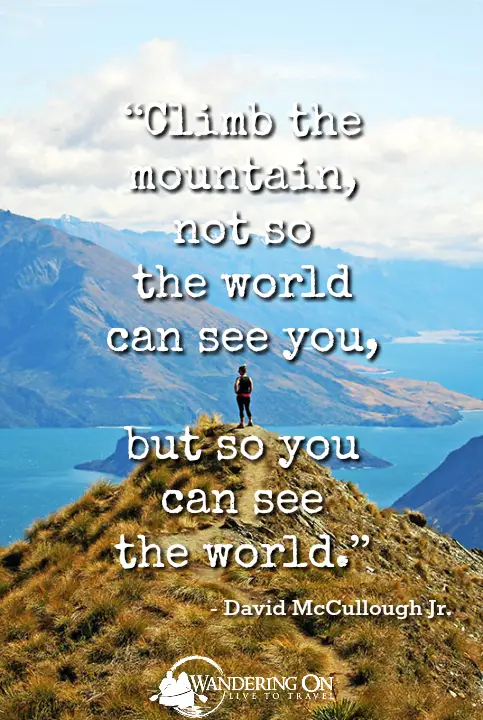 10. "Climb the mountain, not so the world can see you, but so you can see the world." — David McCullough Jr.
11. "There's a world out there, and you've got to look at both sides of the mountain in your lifetime." — Bill Janklow
12. "You must live in the present, launch yourself on every wave, find your eternity in each moment." — Henry David Thoreau
13. "You don't have to be rich to travel well."― Eugene Fodor
14. "Travel is fatal to prejudice, bigotry, and narrow-mindedness." ― Mark Twain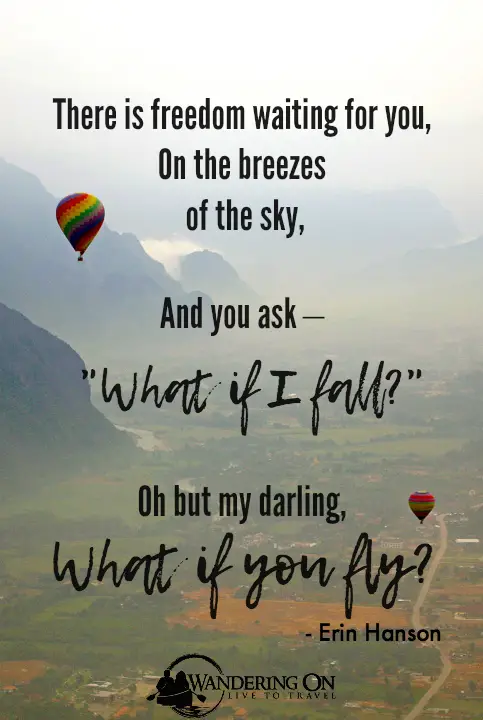 15. "There is freedom waiting for you,
On the breezes of the sky,
And you ask – "What if I fall?"
Oh but my darling,
What if you fly?" — Erin Hanson
16. "Why do you go away? So that you can come back. So that you can see the place you came from with new eyes and extra colours. And the people there see you differently, too. Coming back to where you started is not the same as never leaving." ― Terry Pratchett
17. "I travel not to go anywhere, but to go. I travel for travel's sake. The great affair is to move." ― Robert Louis Stevenson
18. "Two roads diverged in a wood and I – I took the one less travelled by." ― Robert Frost
19. "Every dreamer knows that it is entirely possible to be homesick for a place you've never been to." ― Judith Thurman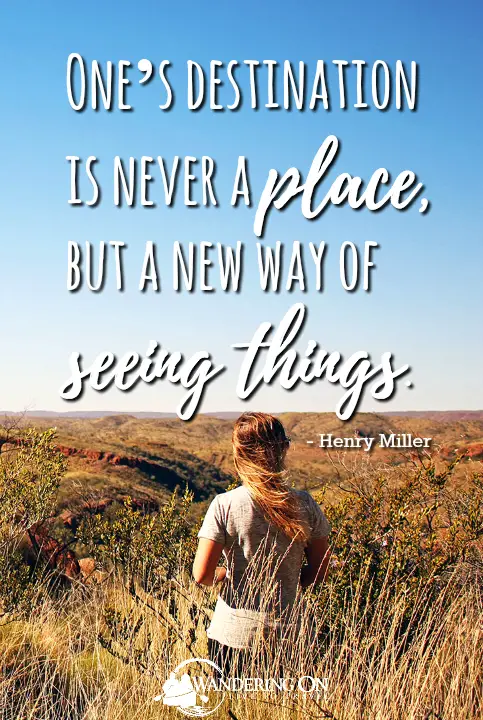 20. "One's destination is never a place, but a new way of seeing things." ― Henry Miller
21. "A good traveller has no fixed plans and is not intent on arriving." ― Laozi
22. "It is good to have an end to journey toward; but it is the journey that matters, in the end." ― Ernest Hemingway
23. "We live in a wonderful world that is full of beauty, charm and adventure. There is no end to the adventures we can have if only we seek them with our eyes open." ― Jawaharlal Nehru
24. "Life is either a daring adventure or nothing at all." ― Helen Keller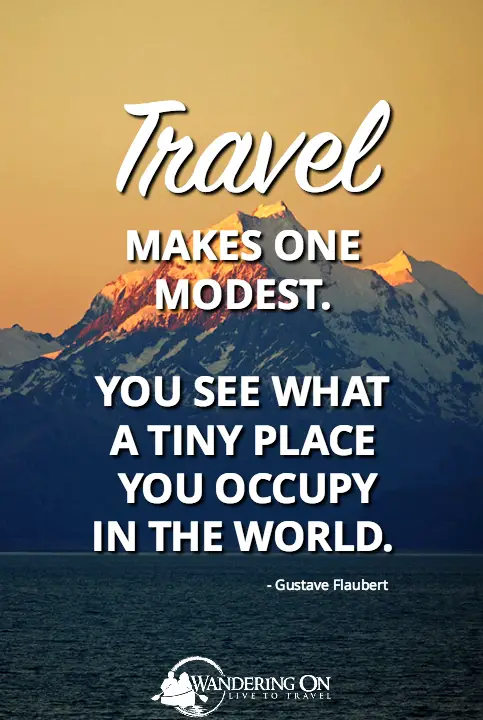 25. "Travel makes one modest. You see what a tiny place you occupy in the world." ― Gustave Flaubert
26. "People don't take trips, trips take people." ― John Steinbeck
27. "I can't think of anything that excites a greater sense of childlike wonder than to be in a country where you are ignorant of almost everything. Suddenly you are five years old again." ― Bill Bryson
28. "The real voyage of discovery consists not in seeking new landscapes, but in having new eyes." ― Marcel Proust
29. "Better to see something once than to hear about it a thousand times." ― Asian Proverb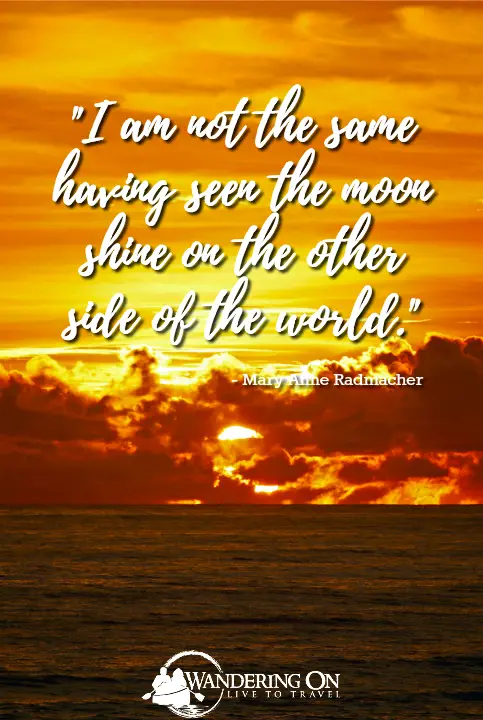 30. "I am not the same having seen the moon shine on the other side of the world." ― Mary Anne Radmacher
31. "Travelling – it leaves you speechless, then turns you into a storyteller." ―  Ibn Battuta
32. If you wish to travel far and fast, travel light. Take off all your envies, jealousies, unforgiveness, selfishness and fears." ― Cesare Pavese
33. "Wherever you go becomes a part of you somehow." ― Anita Desai
34. "Stuff your eyes with wonder, live as if you'd drop dead in ten seconds. See the world. It's more fantastic than any dream made or paid for in factories." — Ray Bradbury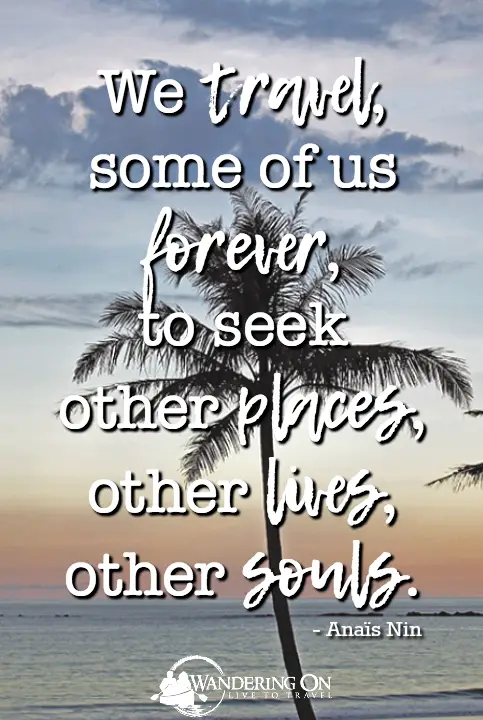 35. "We travel, some of us forever, to seek other places, other lives, other souls." ― Anaïs Nin
36. "Not until we are lost do we begin to understand ourselves." — Henry David Thoreau
37. "For the born traveller, travelling is a besetting vice. Like other vices, it is imperious, demanding its victim's time, money, energy and the sacrifice of comfort." — Aldous Huxley
38. "Part of the urge to explore is a desire to become lost." ― Tracy Johnston
39. "Oh, the places you'll go." — Dr. Seuss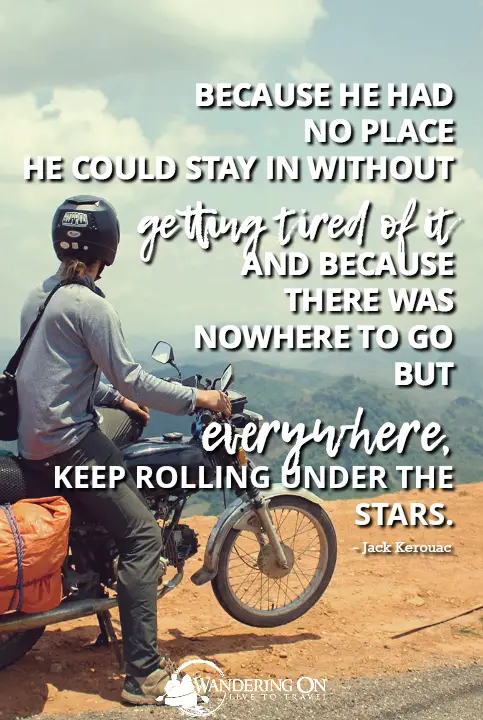 40. "Because he had no place he could stay in without getting tired of it and because there was nowhere to go but everywhere, keep rolling under the stars." ― Jack Kerouac
41. "To travel is worth any cost or sacrifice." ― Elizabeth Gilbert
42. "To move, to breathe, to fly, to float,
To gain all while you give,
To roam the roads of lands remote,
To travel is to live." ― Hans Christian Andersen
43. "Like all great travellers, I have seen more than I remember, and remember more than I have seen." ― Benjamin Disraeli
44. "Our battered suitcases were piled on the sidewalk again; we had longer ways to go. But no matter, the road is life." ― Jack Kerouac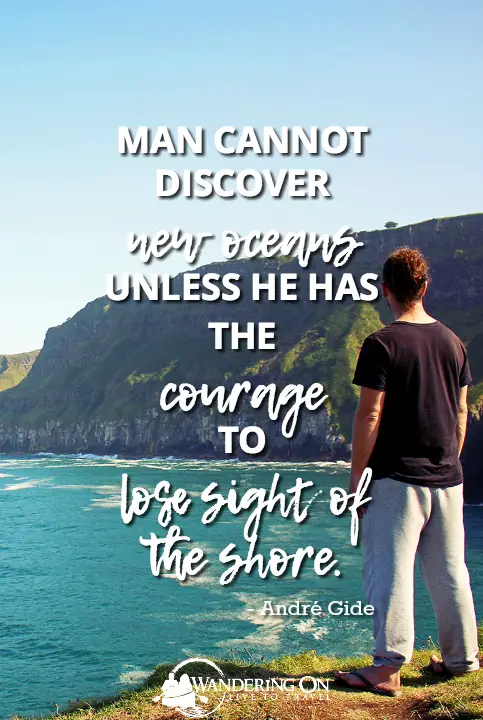 45. "Man cannot discover new oceans unless he has the courage to lose sight of the shore." ― André Gide
46. "We travel not to escape life, but for life not to escape us." ― Anonymous
47. "Travelling is like flirting with life. It's like saying, 'I would stay and love you, but I have to go; this is my station'." ― Lisa St. Aubin de Teran
48. "Remember that wherever your heart is, there you will find your treasure." ― Paulo Coelho
49. "Once you have travelled, the voyage never ends but is played out over and over again in the quietest chambers. The mind can never break off from the journey." ― Pat Conroy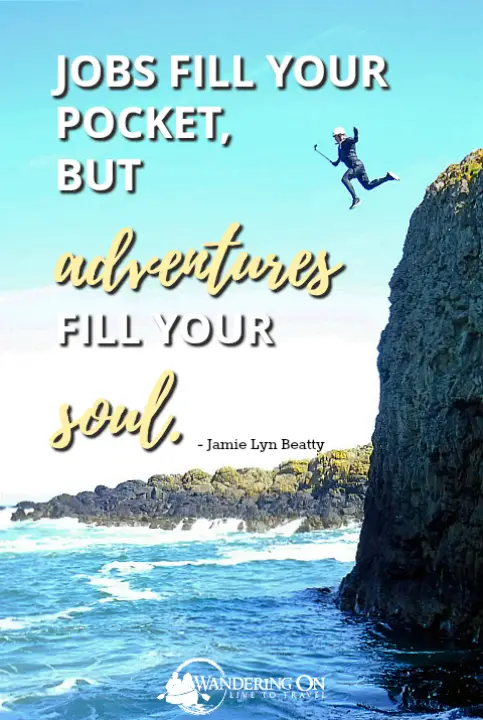 50. "Jobs fill your pocket, but adventures fill your soul." ― Jamie Lyn Beatty
The Best Travel Quotes 51 – 100
51. "There are no foreign lands. It is the traveller only who is foreign." ― Robert Louis Stevenson
52. "I wandered everywhere, through cities and countries wide. And everywhere I went, the world was on my side." ― Roman Payne
53. "Once the travel bug bites there is no known antidote, and I know that I shall be happily infected until the end of my life." ― Michael Palin
54. "Nobody can discover the world for somebody else. Only when we discover it for ourselves does it become common ground and a common bond and we cease to be alone." ― Wendell Berry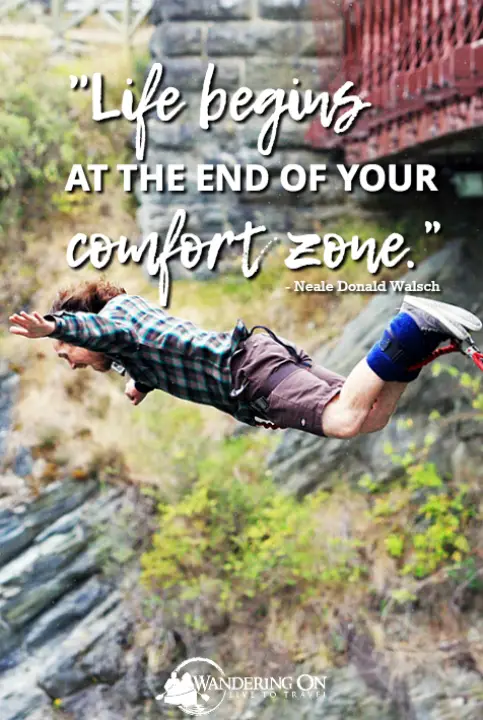 55. "Life begins at the end of your comfort zone." ― Neale Donald Walsch
56. "Personally, I like going places where I don't speak the language, don't know anybody, don't know my way around and don't have any delusions that I'm in control. Disoriented, even frightened, I feel alive, awake in ways I never am at home." ― Michael Mewshaw
57. "No one realizes how beautiful it is to travel until he comes home and rests his head on his old, familiar pillow." ― Lin Yutang
58. "We travel, in essence, to become young fools again – to slow time down and get taken in and fall in love once more." ― Pico Iyer
59. "You can't control the past, but you can control where you go next." ― Kirsten Hubbard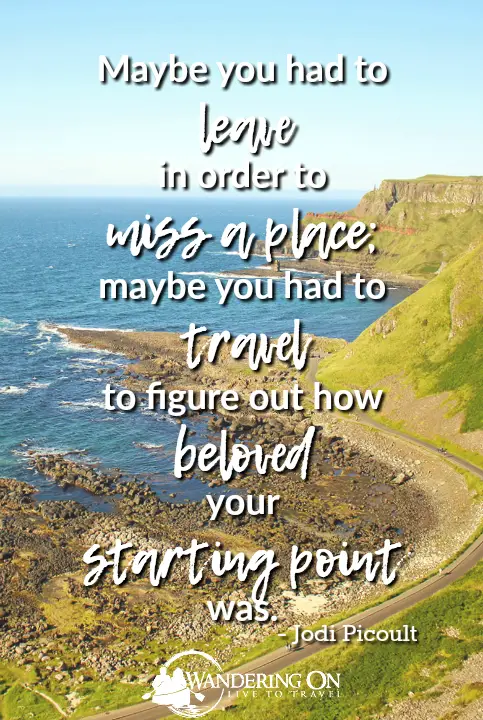 60. "Maybe you had to leave in order to miss a place; maybe you had to travel to figure out how beloved your starting point was." ― Jodi Picoult
61. "You have to get lost before you can be found." ― Jeff Rasley
62. "I had a desire to see something besides my own shores if only to be content to return to them someday. If I wish to live in my native land and love her, it should not be out of ignorance." ― Margaret George, Mary Queen of Scotland & The Isles
63. "The wish to travel seems to me characteristically human: the desire to move, to satisfy your curiosity or ease your fears, to change the circumstances of your life, to be a stranger, to make a friend, to experience an exotic landscape, to risk the unknown." ― Paul Theroux
64. "The journey is the destination." ― Dan Eldon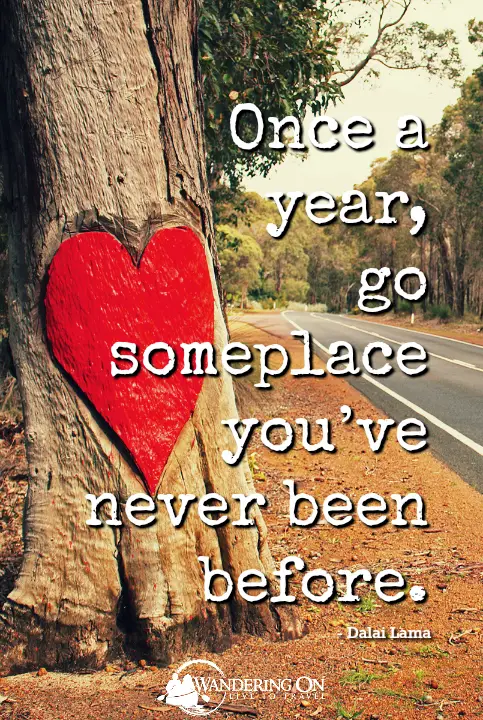 65. "Once a year, go someplace you've never been before." ― Dalai Lama
66. "Wandering re-establishes the original harmony which once existed between man and the universe." ― Anatole France
67. "One must travel, to learn." ― Mark Twain
68. "To travel hopefully is better than to have arrived." ― Robert Louis Stevenson
69. "A wise man travels to discover himself." ― James Russell Lowell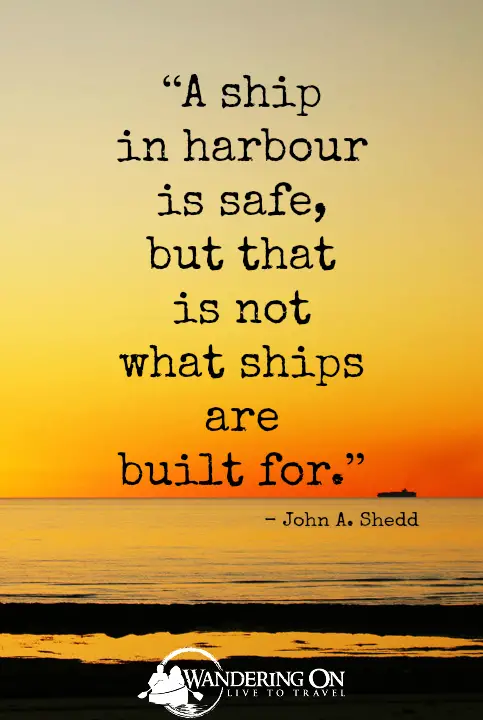 70. "A ship in harbour is safe, but that is not what ships are built for." ― John A. Shedd
71. "It is not down in any map; true places never are." ― Herman Melville
72. "Travel is never a matter of money but of courage." ― Paolo Coelho
73. "Do not follow where the path may lead. Go instead where there is no path and leave a trail." ― Ralph Waldo Emerson
74. "Blessed are the curious, for they shall have adventures." ― Lovelle Drachman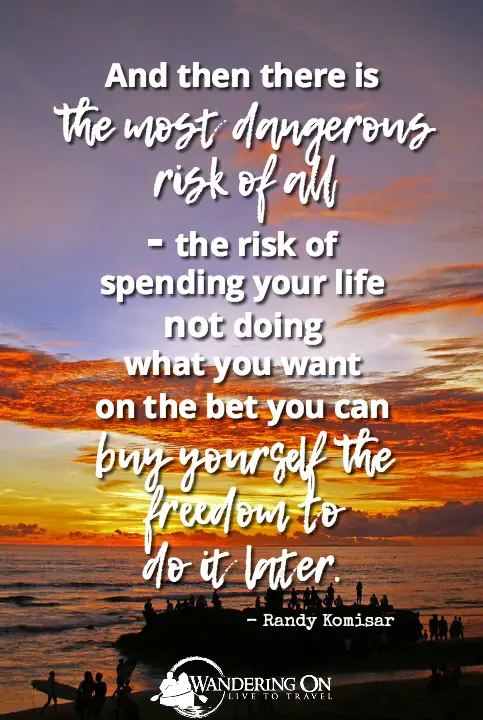 75. "And then there is the most dangerous risk of all — the risk of spending your life not doing what you want on the bet you can buy yourself the freedom to do it later." ― Randy Komisar
76. "Live life with no excuses, travel with no regret" ― Oscar Wilde
77. "A nomad I will remain for life, in love with distant and uncharted places." ― Isabelle Eberhardt
78. "Strange travel suggestions are dancing lessons from God." ― Kurt Vonnegut Jr.
79. "Everything I was I carry with me, everything I will be lies waiting on the road ahead." ― Ma Jian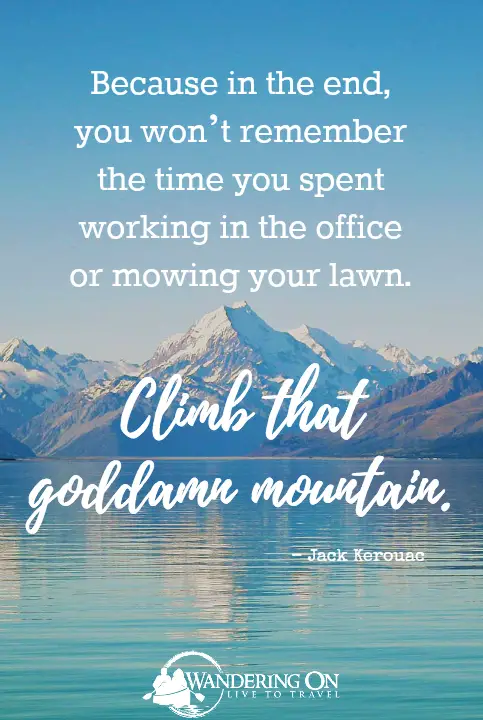 80. "Because in the end, you won't remember the time you spent working in the office or mowing your lawn. Climb that goddamn mountain." ― Jack Kerouac
81. "There are far, far better things ahead than any we leave behind." ― C.S. Lewis
82. "Leave no path untaken." ― Neil Gaiman
83. "Heavy burdens fall away so easily when one is travelling." ― Barbara Hodgson
84. "Foreign lands never yield their secrets to a traveller. The best they offer are tantalising snippets, just enough to inflame the imagination. The secrets they do reveal are your own – the ones you have kept from yourself. And this is reason enough to travel, to leave home." ― Graeme Sparkes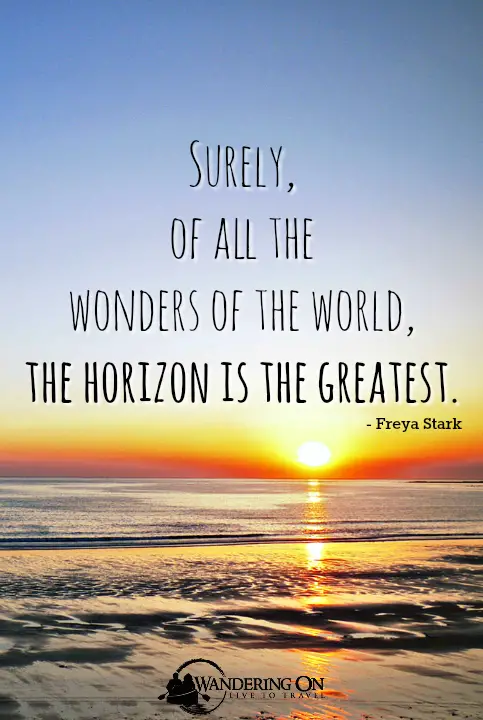 85. "Surely, of all the wonders of the world, the horizon is the greatest." — Freya Stark
86. "Most travel, and certainly the rewarding kind, involves depending on the kindness of strangers, putting yourself into the hands of people you don't know and trusting them with your life." ― Paul Theroux
87. "Perhaps travel cannot prevent bigotry, but by demonstrating that all peoples cry, laugh, eat, worry, and die, it can introduce the idea that if we try and understand each other, we may even become friends." ― Maya Angelou
88. "We know, with a sudden jarring clarity, that if we don't go right now, we're never going to do it, and we'll be haunted by our unrealised dreams." ― Tim Cahill
89. "The man who seeks to educate himself must first read and then travel in order to correct what he has learned." ― Casanova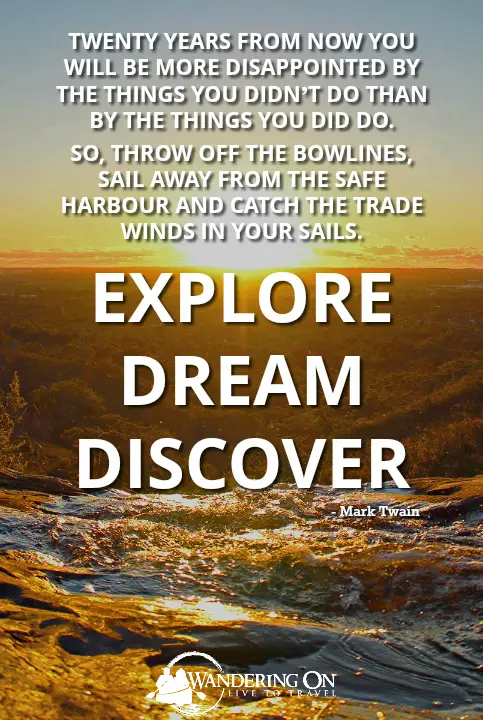 90. "Twenty years from now you will be more disappointed by the things you didn't do than by the things you did do. So, throw off the bowlines, sail away from the safe harbour and catch the trade winds in your sails. Explore. Dream. Discover." ― Mark Twain
91. "You are only given one life, one chance at fully living it……take risks, believe in your dreams, explore the world and her people, live out loud!" ― Danell Lynn
92. "Travel is the discovery of truth; an affirmation of the promise that humankind is far more beautiful than it is flawed." ― Dan Thompson
93. "All the world was made for me!" ― Adelaide Crapsey
94. "Travel is the best teacher." ― C. JoyBell C.
95. "Travel is the only thing you buy that makes you richer." — Anonymous
96. "When I travel, people say 'Yet another place in this world.' But I see 'Another world inside every place I go'." ― Vivek Thangaswamy
97. "How you live your life is up to you. You have to go out and grab the world by the horns. Rope it before it ties you down and decides for you." ― Sarah Reijonen
98. "Don't ever live vicariously. This is your life. Live." ― Lavinia Spalding
99. "I'm in love with cities I've never been to and people I've never met." ― Melody Truong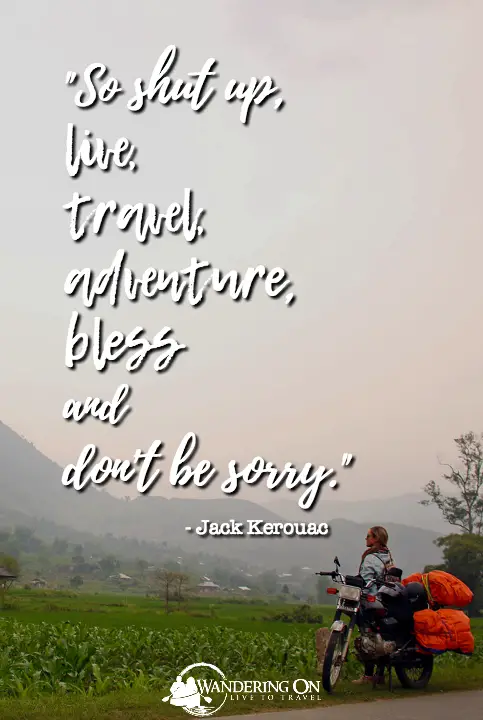 100. "So shut up, live, travel, adventure, bless and don't be sorry." ― Jack Kerouac
The Best Travel Quotes 101 – 135
101. "We are homesick most for the places we have never known." ― Carson McCullers
102. "Travel opens your mind as few other things do. It is its own form of hypnotism, and I am forever under its spell." ― Libba Bray
103. "Never hesitate to go far away, beyond all seas, all frontiers, all countries, all beliefs." ― Amin Maalouf
104. "Travel is a joy, full of surprises." ― Jane Wilson-Howarth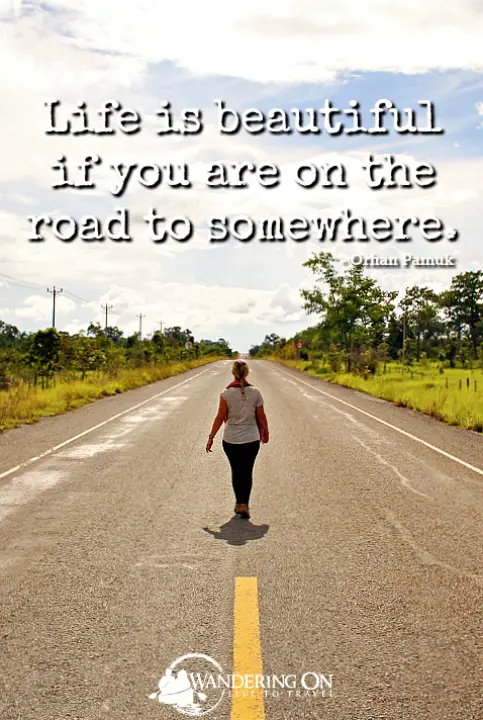 105. "Life is beautiful if you are on the road to somewhere." ― Orhan Pamuk
106. "A good traveller has no fixed plans and is not intent on arriving." ― Lao Tsu
107. "You go away for a long time and return a different person – you never come all the way back." ― Paul Theroux
108. "To travel beyond our world is to change this present one forever." ― Steven J. Carroll
109. "Odd, some might think. Why someone would need to travel so far to find oneself. Surely a look in the mirror would suffice, and wouldn't that be cheaper too? But the mirror lies, and the eyes that do the looking conspire too." ― Farish A. Noor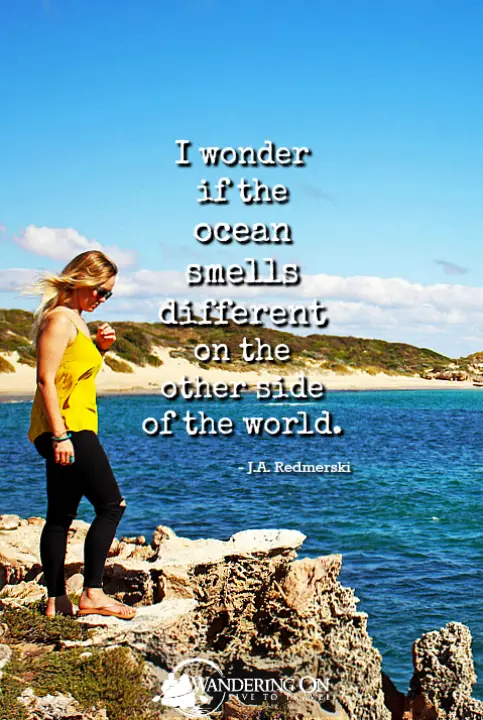 110. "I wonder if the ocean smells different on the other side of the world." ― J.A. Redmerski
111. "In the end, you're just happy you were there – with your eyes open – and lived to see it." ― Anthony Bourdain
112. "Every traveller seeks out places that every traveller has missed." ― Pico Iyer
113. "Wanderlust is incurable." ― Mark Jenkins
114. "There was nothing to talk about anymore. The only thing to do was go." ― Jack Kerouac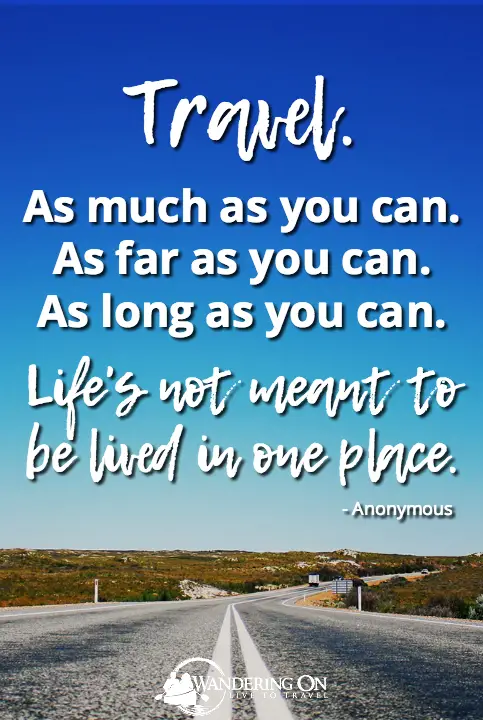 115. "Travel. As much as you can. As far as you can. As long as you can. Life's not meant to be lived in one place." ― Anonymous
116. "Every journey makes its own map across your heart." ― Sharon Shinn
117. "Twelve thousand miles of it, to the other side of the world. And whether they came home again or not, they would belong neither here, nor there, for they would have lived on two continents and sampled two different ways of life." ― Colleen McCullough
118. "It's the journey, not the destination that matters." ― T.S. Eliot
119. "People travel because it teaches them things they could learn no other way." ― Lance Morrow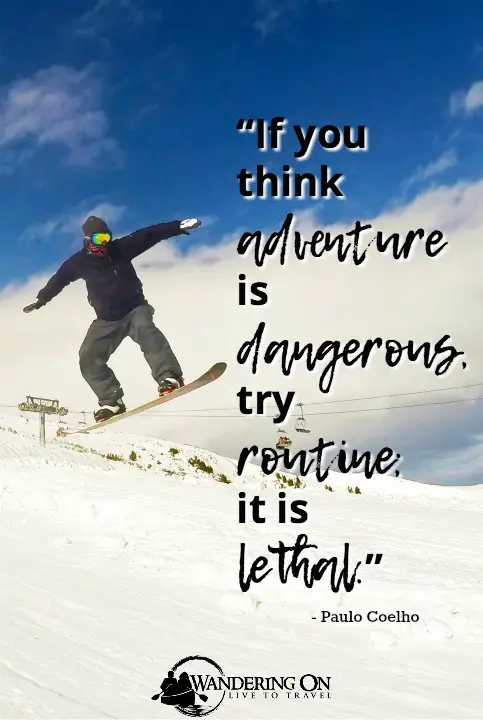 120. "If you think adventure is dangerous, try routine; it is lethal." ― Paulo Coelho
121. "Whoever created the world went to a lot of trouble. It would be downright rude not to go out and see as much of it as possible." ― Edward Readicker-Henderson
122. "Travel far enough, you meet yourself." ― David Mitchell
123. "Life on the open road is the essence of freedom." ― Isabelle Eberhardt
124. "Travel doesn't become adventure until you leave yourself behind." ― Marty Rubin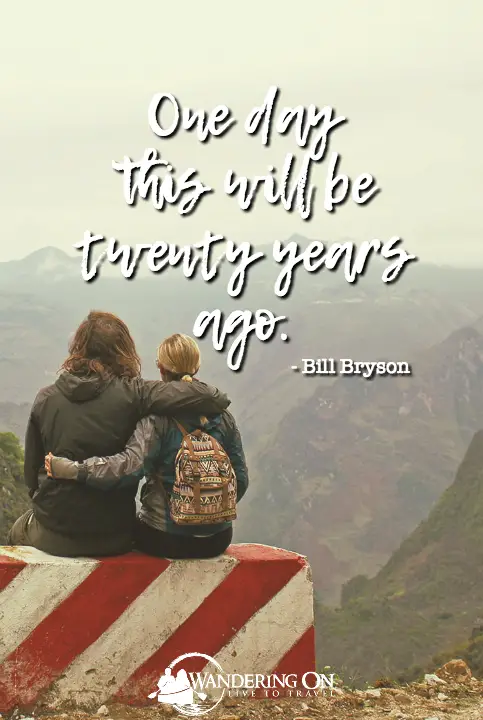 125. "One day this will be twenty years ago." ― Bill Bryson
126. "When you're travelling, you are what you are, right there and then. People don't have your past to hold against you. No yesterdays on the road." ― William Least Heat-Moon
127. "The one certainty is that they would like to be back on the road, going somewhere. To be on their way again – that is the dream." ― Ryszard Kapuściński
128. "This wasn't a strange place; it was a new one." ― Paolo Coelho
129. "The perfect journey is never finished, the goal is always just across the next river, round the shoulder of the next mountain." ― Rosita Forbes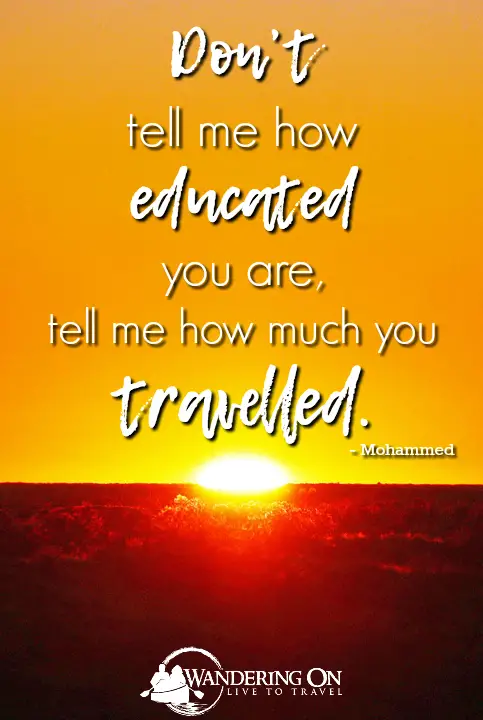 130. "Don't tell me how educated you are, tell me how much you travelled." ― Mohammed
131. "Broad, wholesome, charitable views of men and things cannot be acquired by vegetating in one little corner of the earth all of one's lifetime." ― Mark Twain
132. "The traveller belonging no more to one place than to the next, moves slowly over periods of years, from one part of the earth to another." ― Paul Bowles
133. "I can speak to my soul only when the two of us are off exploring deserts or cities or mountains or roads." ― Paulo Coelho
134. "Adventure is worthwhile." ― Aesop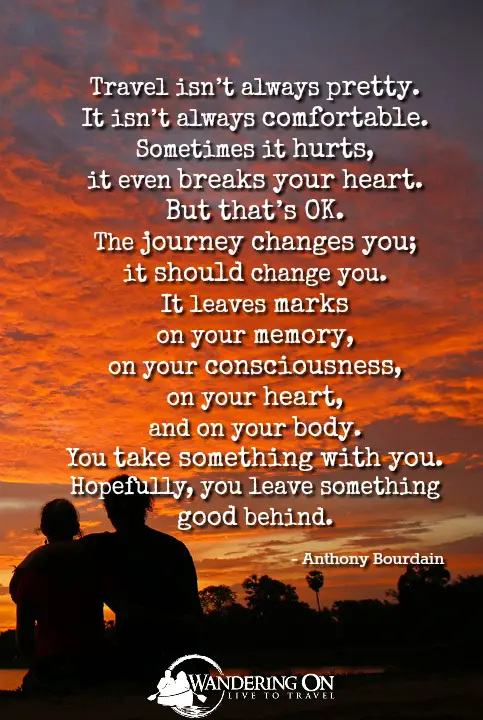 135. "Travel isn't always pretty. It isn't always comfortable. Sometimes it hurts, it even breaks your heart. But that's OK. The journey changes you; it should change you. It leaves marks on your memory, on your consciousness, on your heart, and on your body. You take something with you. Hopefully, you leave something good behind." ― Anthony Bourdain
Be Inspired By These Epic Travel Quotes
With your passion for travel ignited by these awesome, inspirational travel quotes and your hunger for the open road stronger than ever, now is the perfect time to start planning your next adventure.
Whether you're embarking on a hike to Everest Base Camp or simply exploring more of your hometown, check out this mega list of our absolute favourite travel resources to help you get on your way.
Don't forget to organise travel insurance before you go on your next adventure to keep you safe on the road. Find out more about why we always choose World Nomads when we travel.
What's Your Favourite Inspirational Travel Quote?
Do you agree that these are some of the best travel quotes of all time? Is there one quote among them that inspires you above the rest? Did we miss any other best travel quotes that you absolutely love? Let us know in the comments below!
Pin it!