While we were staying in the town of Bukkitinggi we realised that we were only 60 kilometres from the equatorial line. We're not sure why but all of a sudden this seemed like something we had to do!  I mean, how often do you get to have one foot in the northern hemisphere and one in the south and so we got to figuring out how to make it happen.
Along the Trans-Sumatran highway is the tiny, tiny village of Bonjol. It's a tiny farming community which the equatorial line runs straight through and every bus driving from Medan to Bukkittingi (or Padang) passes over the equator here. Renting a motorbike we decided to incorporate a visit to the equatorial line with a trip to the King's Palace. Driving along the Trans-Sumatran highway was incredible although the use of the word highway is a bit of a reach! Lush rainforests lined the roads as we passed trough small villages where locals looked at us in wonderment, "where are they off to", was written all over their faces, we got the feeling not too many people bothered to drive out here but we were having a great time flying through the Sumatran countryside.
Every now and then we would round a corner and see these incredible views, had the equatorial line not been at the end of our drive it would have been worth it for the trip alone. More than an hour later, with numb backsides, we reached Bonjol. We weren't sure how we were going to know we were there but it was clear as a bridge across the road let you know with no uncertainty that you were now crossing the equatorial line. We parked our bike and went for a look around the little park which marked this spot. Being honest, it had a bit of a sad, tired feeling to it. Maintaining the little park was not high on anyone's list of priorities and we were the only people here other than a few local kids pulling wheelies on their bikes.
Two different statues marked the line, drawn in white across the ground. Walking up onto the bridge we had driven under we looked down at the road where the same white line continued across the road with a giant white S and N on either side to mark the north and south sides of the equator. We hung around for a little while taking the obligatory photos, the museum was closed and didn't look like it had been opened in a while but we were here in the 'off-season' , so that could have had something to do with it.
Jumping back on our bike we started the drive to the King's Palace in Pagaruyung. It was a bit more of a drive than we had anticipated but we eventually arrived at the King's Palace in Pagaruyung. The impressive building is popular with local tourists and there were people selling trinkets, snacks and taking portraits of families in front of the impressive building. Built in the traditional Minangkabau architectural style, it had been worth the spin down here to see this.
A few people wanted their picture taken with us, the only foreign visitors there that day and it was nice to stroll around the building taking photos and exchanging smiles with the friendly locals. With dusk setting in it was time to begin the long drive back to Bukittinggi. Huge flying foxes (massive bats) flapped their wings above us, locals waved from the back of pick-ups, the sun set over the rice fields, we stopped to refuel at a manual fuel pump and negotiated some serious pot-holed roads on the quiet roads back to Bukittinggi, arriving after dark, hungry and excited to get stuck into some hearty Indonesian food!
The following two tabs change content below.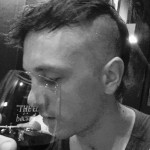 Brian is a travel writer, photographer, blogger, travel addict and adventure junkie. Being outdoors, getting off the beaten track and outside his comfort zone is what makes him tick. Brian's the dreamer in the relationship; when he's not travelling, he's dreaming about it! Keeping fit, cooking, music and red wine take up the rest of his time.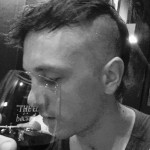 Latest posts by Brian Barry (see all)
SUBSCRIBE FOR OUR FREE EBOOK
Sign up for our free travel photography Ebook "Faces of Nepal" and you'll also receive our monthly newsletter.