Stopping off at the tiny town of Moni while backpacking through the Indonesian archipelago was a worthwhile stop for sure. The little town of Moni was about as genuine a place as you can get, super friendly locals, no tourists and just a really good vibe. After finding a place to stay we enquired about the best way to reach the lakes of Kelimutu, our primary reason for visiting. Organising two ojeks (motorbike taxi) for the crack of dawn the next morning we were excited to see what the National Park had in store for us at sunrise the next morning.
Waking up to a misty morning we were worried we would see nothing and as we drove up the winding mountain roads in the fresh but freezing cold mountain air. After passing through the gateway to the National Park, it wasn't long til we dismounted our bikes and began the short hike to the top of the dormant volcano where we hoped the fog would clear in time to let us see the crater lakes.
This place is special as each of the lakes are a different colour at different times of year; blue, green and red respectively. Standing in the freezing cold at the summit marker, there was a man selling tea and coffee from a flask and just as we were debating whether or not to get one the mist cleared and we were treated to this amazing view. It only stayed clear for a few minutes, enough time for us to take in the view, get a few photos and that was it the lakes disappeared again behind a curtain of early morning mist.
The following two tabs change content below.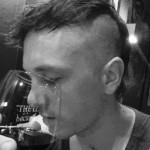 Brian is a travel writer, photographer, blogger, travel addict and adventure junkie. Being outdoors, getting off the beaten track and outside his comfort zone is what makes him tick. Brian's the dreamer in the relationship; when he's not travelling, he's dreaming about it! Keeping fit, cooking, music and red wine take up the rest of his time.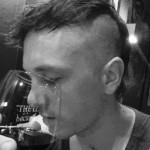 Latest posts by Brian Barry (see all)