Seoraksan National Park, is located in the north-eastern province of Gangwan-Do in South Korea. Famed on the Korean peninsula for it's outdoor beauty, people flock to the area to enjoy the richness of nature in the area. The cold waters of the East Sea lap against the long stretches of beach around Sokcho and Gangneung, while the peaks of Seoraksan National Park call hikers from all over the coutry.
Passing a monk praying in front of this giant Buddha statue on the way into Seoraksan National Park, we made our way into the park. We'll be back for the challenging top to bottom climb of the mountain again but with not a lot of time on our hands this time around, we took  advantage of the cable car to the top for the spectacular views over the Gangwan-Do countryside.
The following two tabs change content below.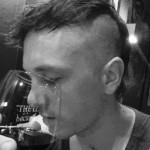 Brian is a travel writer, photographer, blogger, travel addict and adventure junkie. Being outdoors, getting off the beaten track and outside his comfort zone is what makes him tick. Brian's the dreamer in the relationship; when he's not travelling, he's dreaming about it! Keeping fit, cooking, music and red wine take up the rest of his time.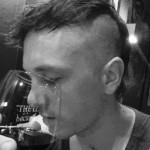 Latest posts by Brian Barry (see all)