After spending twelve months travelling between Nepal, India and Sri Lanka, we flew to Singapore for three nights before moving onto Sumatra, Indonesia. Super modern, clean and developed it was a shock to the system coming from a year of backpacking on a budget through the Sub-Indian continent. Singapore isn't usually a backpackers destination as it's quite expensive compared with its South East Asian counterparts. However, even on a budget there's plenty to see and do, so here's our top 10 things to do on a budget in Singapore.
1. Sri Mariamman Temple
Located on South Bridge Road in China Town, this South Indian style temple sits between the aptly named Temple Street and Pagoda Street. Built in 1827, it is Singapore's oldest Hindu Temple and has been declared a National monument. From the multicolour gopuram at the front to the colourful shrines inside the temple it's a great spot for some Indian flavour. There's no entrance fee, so just take off your shoes at the entrance and stroll around.
2. Buddha Tooth Relic Temple and Museum
A little further down from the Sri Mariamman Temple in China Town is the Buddha Tooth Relic Temple and museum. You could spend a few hours in here no problem. Outside people light incense before entering the beautifully decorated interior of the temple. You can receive a blessing from a monk or just stand back and take it all in. On the roof there's a peaceful garden complete with small water features, a giant prayer wheel and a wall with hundreds of mini Buddha's. The air conditioned museum tells the story of the Buddha from his birth to his death and how his message was spread after. Visiting the temple and museum is completely free and is a must-do while in Singapore!
3. China Town
Whether you're after some good street food, browsing the tourist tat in the shops and stalls or want to watch guys playing Chinese checkers, China Town is a bustling area of Singapore that you've got to wander around.
4. Chinese New Year
By chance our arrival in Singapore coincided with Chinese New Year and we were staying in a hostel in China Town so we had front row seats for the festivities. There's a real party atmosphere around China Town, the streets are decorated with traditional lanterns for the festival and there are Chinese Dragon Dances in the streets. All Free!
5. Eat!
You're going to have to eat anyway so make it a local experience. Singapore has amazing food with influences from all over Asia. Hawker centres are cheap, fast and convenient places to get really good local food. All the big malls have food courts again with inexpensive, tasty food and there's the China Town Food Street where eating is done outdoors on the street. For Indian, Japanese, Thai, Chinese, Malaysian or a blend of any and all of these cuisines and more, eating in Singapore is a real treat.
6. Singapore Flyer
Standing a total of 165 meters, reaching 42 stories, this is the world's largest Ferris wheel. Located on the south eastern tip of the Marina Center, it's definitely worth a look; especially at night looking its most impressive lit up in changing coloured lights. If you want to board one of the capsules, which hold 28 passengers each, it will cost you SGD$33 for an adult ticket. We didn't pay out for the experience but we're sure the views would be amazing. If you've got money to burn you can have an entire capsule to yourself for a romantic dinner or they even do wedding proposal packages! For our fellow backpackers however, it's worth a walk over to see the world's largest Ferris wheel.
7. Merlion Park
If you want that must-have Singapore photo, then head for the 70 tonne, 8.6meter high Merlion statue near the Singapore Central Business District. The iconic statue has the head of a lion and the body of a fish and is the mascot of Singapore. Set against a section of the Singapore skyline, it's lit up at night and water sprays from the lion's mouth. It's worth a visit and won't cost you a thing.
8. Singapore Skyline
Go exploring for those views of the Singapore skyline. As one of the world's most famous cityscapes, encompassing the Marina Bay Sands Hotel, the Lotus Building, the Merlion statue, the Singapore Flyer and more than 59 skyscrapers over 140 metres tall it's worth finding a good view point. We found ourselves walking up the edge of a highway to get a good view point at night, when it's at its most impressive but maybe paying the money for the Singapore Flyer would be a safer option!
9. Little India
Having just visited India a few months previous we can tell you that this really is like a trip visit to India. The streets are lined with Indian restaurants, it's packed with Indian people, all the shops sell Indian style clothes, jewelry, knick-knacks, you name it, and there are Indian temples and shrines all around the neighbourhood. People were even hanging out drinking Kingfisher, the local Indian beer! It won't cost you a penny to stroll around the streets and experience a little slice of India in Singapore.
10. Long Bar, Home of the Singapore Sling
Long Bar in Raffles Hotel is where the Singapore Sling was originally invented. The famous cocktail was created by Chinese bartender, Mr. Ngiam Tong Boon in 1915 as a ladies drink, hence the pink colour. Inside, the floor of the bar is covered in broken peanut shells and old Chinese fans move back and forth on the ceiling to keep drinkers cool. It was interesting to visit the bar and see where it all went down but with a price tag of SGD$26 for the original Singapore Sling (other varieties are even more), even before service charges and taxes, we just couldn't justify forking out more than the price of our hostel room for a drink but it was worth a quick stop for sure.
Bonus!
So, there you have it, our top 10 things to do on a budget in Singapore. There is a wide variety of accommodation to choose from, staying in China Town is a good option as it's close to Marina Park, there's good street food, you're close to subway stations, there's cheap shopping and cool temples to see. Getting around the city is easy, there's a comprehensive bus and subway system or you can do as we did and do a lot of walking, taking in more of the city as you go. There are plenty of other free attractions too, such as mosques and other temples that you may be interested in. If you want to drink and party, the main area is around Clarke Quay for pubs and clubs but due to Singapore's ridiculously high taxes on alcohol (and cigarettes), the best option is to get some drinks from the 7-11 at the southern end of Clarkes Quay and hang out with people down by the water near the footbridge, you might make a few Singaporean friends on your trip!
Pin it!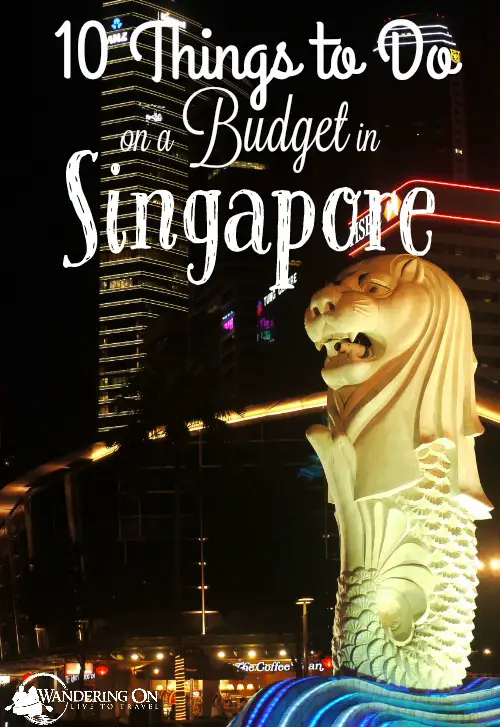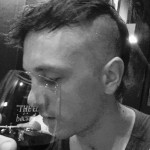 Brian is a travel writer, photographer, blogger, travel addict and adventure-junkie. Being outdoors, getting off the beaten track and outside his comfort zone is what makes him tick. Brian's the dreamer in the relationship; when he's not travelling, he's dreaming about it! Keeping fit, cooking, music and red wine take up the rest of his time.
SUBSCRIBE FOR OUR FREE EBOOK
Sign up for our free travel photography Ebook "Faces of Nepal" and you'll also receive our monthly newsletter.