Our bus dropped us off on the side of the highway and with no clue which direction we were going we began a lengthy conversation of gestures with a taxi driver and three motorbike taxi drivers. The roads in Vietnam are notorious when it comes to motorbikes but we jumped up on the back anyway and away we went, zipping in and out of the traffic, keeping fingers and toes crossed we would make it in one piece.
Sure enough after a ten minute, hair rising spin, we arrived at the ferry from Vinh Long to An Binh Island. We had rung ahead from Can Tho and the guesthouse owner's sister was waiting at the ferry for us to give us instructions on where to go. It was all pretty straight forward really, get on the ferry, cross the river, get off at the other side and my sister will be waiting. Simples!
The amount of motorbikes in Vietnam is insane and we had never seen a ferry in our lives with his number of bikes on it. There were no cars, just bikes and a lot of bikes. It's always interesting to look at the amazing amount of stuff they're able to pack on to these small bikes in Asia. There were boxes and crates piled high on the back of some, one which had a lot of clucking coming from it. Others had bags of pineapples hanging anywhere possible and of course there were the obligatory 'how many people can we fit on a bike' people too.
It was a short spin across the Mekong and we were met by the friendly guest house owner and we hopped up on her and her friends' bikes and were whisked away to the homestay. We had arrived in the evening and we were only hanging around for the night as we were headed back to Saigon the following day to catch a flight to Hoi An. We took the opportunity to stroll around a little before it got dark and see a little bit of how people live here.
A single concrete path ran down from the ferry terminal, past our homestay to the water's edge at the west of the island. Along the patch were family homes where kids were running around, waving out at us as we strolled by. Renting bikes and exploring the island seemed to be popular thing to do here for visitors but unfortunately we didn't have time so we just chilled out for the evening and enjoyed our surroundings.
The highlight of the homestay was for sure the meal. It was five courses in total with the mains stealing the show. A whole fish, Elephant Fish, was brought out just for the three of us, along with spring rolls, noodles and salad. It was a tasty feed and the food seemed to just keep coming but after a long day of travelling we certainly weren't complaining. We had seen the women of the homestay preparing everything from scratch in the kitchen earlier in the evening, cross-legged on the floor, as you might expect, so we knew it was fresh as fresh can be.
After stuffing ourselves full of the local food our night on An Binh Island was spent laying in hammocks, having a few beers, playing cards and relaxing in our peaceful surroundings.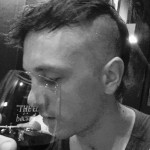 Brian is a travel writer, photographer, blogger, travel addict and adventure-junkie. Being outdoors, getting off the beaten track and outside his comfort zone is what makes him tick. Brian's the dreamer in the relationship; when he's not travelling, he's dreaming about it! Keeping fit, cooking, music and red wine take up the rest of his time.
SUBSCRIBE FOR OUR FREE EBOOK
Sign up for our free travel photography Ebook "Faces of Nepal" and you'll also receive our monthly newsletter.