Evening was closing in, as we pulled in on the edge of a busy highway, we heard the call for Bhaktapur and off the bus we got. Following the directions given to us by a random passer-by, we walked across the road and down a busy side street; this didn't look anything like the pictures of the beautifully preserved medieval city, with its magnificent temples, traffic free cobblestone streets and narrow back streets that we had envisioned but we weren't quite there yet.
We began to cross a small bridge when suddenly from behind I heard "sir, sir, excuse me sir", a guard was asking to see our tickets, ticket for what we thought. At the time, having to buy a ticket to enter the city of Bhaktapur seemed like a money racket but with the city preserved the way it is, it was worth every last rupee.
The guard handed us our ticket and we wandered on up the hilly cobblestone street in the direction of Bhaktapur's Durbar Square to seek out some shelter for the few nights we were going to stay. It didn't take long until hotels and guest-houses started to appear with increasing frequency and all in good time because as soon as we stepped inside the door of our chosen guest-house the skies opened up and it started pouring rain.
The next morning was bright and sunny as we walked out of the hotel and stepped onto Tamaudhi Tole. Looking across the square there was a huge five tiered pagoda style temple looking back at us. It stood at the top of a stone staircase which was guarded by massive stone figures standing either side of the staircase, all the way to the top. This temple, Nyatapola, is the tallest temple in Nepal and really is a sight to behold. Also in the square is Bhairabinath temple, a three roofed building which together with the Nyatapola temple really set the tone for what else Bhaktapur had to offer.
Having gotten our bearings somewhat from the night before, albeit in the dark and the rain, we made our way to Bhaktapur's Durbar Square. If the first square had impressed us this one was going to really impress! Where to begin was the problem, looking around we could see a a large grey temple with various sized bells, a large wooden temple to the right, the edge of the square had old Newari style buildings on both the left and right hand sides of the square, continuing around until they met at the back where the City Gate dissected the wall. With offers of guides left, right and centre and all this to take in and who knew what else, we decided to avail of a guide and we started our four-hour (which turned into five hours) tour of Bhaktapur.
The guide, a young university student, named Rhosun was extremely informative and very interested in what he was showing us. During the tour he took us around the entire city on foot, explaining the history and sharing any and all interesting facts about the different temples, monuments and buildings. We ventured down narrow lane-ways, where there were no other tourists and saw how life is for the locals of this historical city. Elderly locals sat at their doorsteps chatting with friends or watching children paying in the traffic free streets and courtyards. Chickens were squawking around every corner and the odd goat would appear every now and then. There was a 'real life' side to things here.
Rhosun explained to us how in Nepal Buddhists and Hindus live in perfect harmony and even worship at the same temples. This acceptance and blend of the two religions is a testament to the peaceful and gentle manner of the Nepali people as a whole. After the tour was finished we thanked Rhosun and made our way back towards our guesthouse. Even though we had just seen the entire city and gotten a real understanding of its history, culture and people it plays host to, we decided to stay for a total of four nights to soak up everything around us in this amazing old town.
On our last day before going back to Kathmandu we visited the Changu Narayan temple six kilometres north of Bhaktapur on a ridge overlooking the Kathmandu valley. After a short spin on the roof of a local bus dodging electrical cables, we arrived and walked up to the temple grounds. Inside stood the two tiered pagoda style temple with intricate carvings and paintings on both the temple and on the various monuments in the courtyard which contained it. After spending some time looking around we began walking back towards Bhaktapur. Passing through small agricultural villages as we went, receiving namaste's from everyone who passed us, whether on top of a bus, on the back of a jeep or even on motorbikes they all seemed excited to see us strolling along enjoying their homeland.
We arrived back to Bhaktapur in no time and made enquiries as to the best way to Kathmandu the following morning. "Public bus sir" was the answer, let's hope we get a seat inside this time!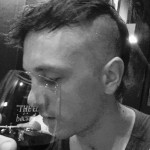 Brian is a travel writer, photographer, blogger, travel addict and adventure-junkie. Being outdoors, getting off the beaten track and outside his comfort zone is what makes him tick. Brian's the dreamer in the relationship; when he's not travelling, he's dreaming about it! Keeping fit, cooking, music and red wine take up the rest of his time.
SUBSCRIBE FOR OUR FREE EBOOK
Sign up for our free travel photography Ebook "Faces of Nepal" and you'll also receive our monthly newsletter.