Bukittinggi is a small town, nestled in the Minangkabau highlands, ninety kilometres from Padang. It is one of Sumatra's larger towns/cities with a population of more than 91,000 people. Due to it's location in the Agam Valley at an elevation of 900 metres, the climate here is much cooler than you might expect, considering it's only a degree south of the equator. A bustling market town, Bukittinggi is known as Sumatra's cultural centre and with good reason as there's so much to do in the busy little town and the surrounding areas.
We planned on staying in Bukittingi for a few days, basing ourselves in the excellent, family run Hello Guesthouse. The guesthouse owners are extremely helpful, they have information about hiking both the nearby volcanos, Mount Singgalang and Mount Merapi (still active), independently or they can organise a guide for you. They can also organise a scooter or motorbike if you want to explore the area independently and we would highly recommend this option. Not liking being on someone else's schedule, we don't take tours if we can help it and during our time in Bukittingi we took a motorbike on two different days to go exploring. Day one, we drove east to the equatorial line, the King's Palace in Pagaruyung and checked out traditional Mingankabau architecture. On our second day we drove west to the beautiful Lake Minanjau, driving through the forty-four (they're numbered!) hair-pin turns on the way! Both days we were treated to beautiful views across rice fields, through the valleys and passed through small villages where friendly locals always stopped to say hello.
Bukittinggi itself has plenty to offer too and with the town being so compact, getting around on foot is easy. The Jam Gadang Clock Tower in the middle of the market area is where all the action is. Families gather for views across the valley, vendors sell everything imaginable and there's decent street food available. Horse and carriages line up next to the clock tower waiting for passengers, the horses decked out in colourful head dresses. East of the Jam Gadang is Bukittinggi's other major attraction, the Sianok Canyon. Aggressive monkeys hang around near the canyon, we definitely wouldn't recommend carrying food with you as they'll go for you. At dusk, huge bats, called flying foxes, leave the gorge, headed for the forest to feed on the fruit from the trees, it's quite a sight!
While the climate in Bukkittingi is quite cool, it rains here a lot, so rain gear is a must. It won't prevent you from doing anything as it's not an all day affair but you will need a raincoat. We experienced our first earthquake while we were in Bukkittingi! We were supposed to go and trek the nearby Merapi volcano one morning but just before we were due to wake up Noelle woke suddenly to the whole room vibrating. She knew it had to be more than my snoring and sure enough it turned out that there had been a small eruption at Merapi, where we were supposed to be hiking that day, which caused the earthquake in Bukkitinggi! Needless to say we couldn't go on the hike, and so instead had another day hanging around the town drinking the world-famous Kopi Luwak (Civet Coffee). This is one of the most expensive coffees in the world but will cost you nothing n Bukittingi as this is where it is made. A civet cat ingests the coffee beans and after, em, passing them out the other end, they are roasted to make this one-of-a-kind coffee. Under the impressive Limpapeh Pedestrian Overpass every evening a number of stalls or set up cooking local dishes, street side, the best place to get real local food in Bukkittingi and this is where we spent our evenings planning the next day's activities in the Mingangkabau Highlands.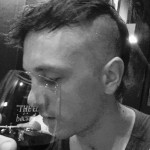 Brian is a travel writer, photographer, blogger, travel addict and adventure-junkie. Being outdoors, getting off the beaten track and outside his comfort zone is what makes him tick. Brian's the dreamer in the relationship; when he's not travelling, he's dreaming about it! Keeping fit, cooking, music and red wine take up the rest of his time.
SUBSCRIBE FOR OUR FREE EBOOK
Sign up for our free travel photography Ebook "Faces of Nepal" and you'll also receive our monthly newsletter.