Flying into Padang Airport in Sumatra, Indonesia, we were dead-set on getting a little bit of 'chilling at the beach time' before embarking on our mostly inland journey through Northern Sumatra. Only four days ago we had gone almost 36 hours with no sleep, climbing Adam's Peak in Sri Lanka, through the night. We had just come from Singapore where again sleep hadn't been a priority as we were excited to see all the small country had to offer. From here the plan was to climb Mount Kerinci, the highest volcano in Indonesia and the highest peak on the island of Sumatra, so this was our chance to get some much needed rest!
Bungus Bay is about 20 kilometres south of Padang or about a 1 hour drive. Normally it is visited by Padang locals as a weekend getaway or it is used a jumping off point for surfers visiting the Mentawi Islands. It was the wrong season for surfing in the Mentawis and so, we pretty much had the place to ourselves.
Bungus is a tiny, one road town, with friendly locals, good, genuine local food, three very simple guest-houses and not a whole lot else. From the beach it's technically possible to swim if you can make it out beyond the shallow, sharp coral, which we attempted but to no avail.
You could walk to a nearby waterfall or take a trip out to some nearby islands but the weather wasn't great for the short few days we stayed and so we just chilled out at the front of our simple room, complete with 'flush yourself' toilets, mandi showers (bucket of water and a tap) and did pretty much nothing except walk around the town a little. People were seemed genuinely surprised to see us so far out of season and waved and shouted 'hello, I love you' as we went walking by, we were local celebrities for a few days!
Bungus Bay was exactly what we needed for just a few days of 'R and R', in a really quiet, genuine Indonesian fishing town. We ate good food, slept a lot, watched fishermen haul in their nets by hand in the mornings and were treated to some spectacular sunsets. Just what we needed as our next stop wasn't going to be so relaxing!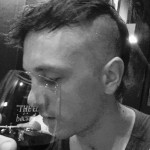 Brian is a travel writer, photographer, blogger, travel addict and adventure-junkie. Being outdoors, getting off the beaten track and outside his comfort zone is what makes him tick. Brian's the dreamer in the relationship; when he's not travelling, he's dreaming about it! Keeping fit, cooking, music and red wine take up the rest of his time.
SUBSCRIBE FOR OUR FREE EBOOK
Sign up for our free travel photography Ebook "Faces of Nepal" and you'll also receive our monthly newsletter.