Colombo, Sri Lanka's capital city is located about two thirds of the way down the country's west coast. With a population of two and a half million people, it is by far the most populated city in the country, other major cities such as Negombo, Kandy and Jaffna lagging far behind with populations of only one hundred and ten to one hundred and twenty thousand citizens. Stepping off the bus in Colombo Fort, the increase in the number of people becomes immediately apparent, the footpaths are packed out, the roads are crammed with traffic, shopkeepers at stalls desperately try to bring in business and the clean, tranquil vibe of the Indian ocean lapping against the palm tree-lined southern beaches becomes a fond but distant memory.
Our visit to the capital city was primarily in order to extend our visa from the initial thirty days to three months, to give us enough time to live on the south coast for a bit before tripping around the rest of the country. Before heading to the visa office though, we set out to see what the capital had to offer travellers like ourselves. Colombo we had heard is more of a collection of neighbourhoods than one big city and this certainly held true during our visit, with the city sprawling out and no real centre appearing prevalent to us. Colombo, like most capital cities, is a much more expensive place to stay compared with the rest of the country. Travelling on a budget we took a room across from the train station which would do the trick for the one night we were staying and it felt like it was the kind of place others may have come to do some tricks of their own. A short walk from our rough and ready guest-house, is the famed Pettah market place, a busy spot selling just about anything you can think of, a good place for people watching and walking 'elbow out' style is advised for any chance at an inch of personal space.
Unwinding from the madness of the markets, the quiet promenade of Galle Face Green is an oasis from the chaotic city and a nice spot to chill for a bit looking up at the pelicans perched on top of the lamp posts outside the President's residence. Scattered throughout the rest
of 'Fort', as it's known, are a number of monuments and buildings of note such as the Sambodhi Chaitiya, a Buddhist pagoda temple which appears to be floating above the road, Old Galle Buck Lighthouse, situated across from the Sri Lankan Navy base, an old clock tower and the World Trade Centre. Across from the Trade Centre is the Old Dutch Hospital, a colonial building dating back to the 1600's but today is home to Colombo's best upmarket restaurants, cafes and bars, providing a unique setting for an evening meal and a drink. Finding our way to the Fort Area we stopped off in Cinnamon Gardens, where most of the international embassies are located. Locals coming back from a cricket game dressed in black and yellow reminded us of match day at home but we didn't hang around too long in the area as there wasn't much to do but hang out in the few stylish cafes scattered throughout the area. South Beira Lake is a prominent feature nearby, away from the main roads, traffic and noise.
After a few days in Colombo, we continued north to Negombo, another of Sri Lanka's premier beach destinations and home to the country's international airport, Bandaranaike International. We were here mostly to see off our friends Mike and Linda, whom we had originally began our trip with almost ten months previous. Arriving in Negombo before the season had really kicked off, we didn't fall in love with the place immediately and being honest, we didn't end up taking to it that much at all. A long stretch of big and often quite gaudy hotels line the strip here and tuk tuk drivers can be pretty relentless with the tourists, assuming that everyone has big money to spend. Primarily visited by European and Russian package tourists, Negombo wasn't really the right place for a couple of backpackers. We stayed only one night, checking out the beach and the small town of Negomobo, away from the tourist haunt while we were there but after that we had had enough. Saying farewell to Mike and Linda, one more time, we made our way to the train station eagerly to begin our trip back to the wonderful southern beaches.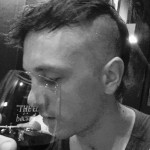 Brian is a travel writer, photographer, blogger, travel addict and adventure-junkie. Being outdoors, getting off the beaten track and outside his comfort zone is what makes him tick. Brian's the dreamer in the relationship; when he's not travelling, he's dreaming about it! Keeping fit, cooking, music and red wine take up the rest of his time.
SUBSCRIBE FOR OUR FREE EBOOK
Sign up for our free travel photography Ebook "Faces of Nepal" and you'll also receive our monthly newsletter.