Ella is a small, one street town set among the beautiful rolling green tea field laden hills of Sri Lanka's Hill Country. While the amazing train journey to get here is reason enough to come to Ella, the main reason for people coming to this small little town is for the hill walking. Most restaurants, guest-house and locals provide maps of the various trails in the surrounding hills. Guides are readily available but are not necessary, we did three walks in and around Ella and did each of them independently without any problems. Arriving on the train to Ella, hoards of auto-rickshaw drivers hang out at the train station, it's a five-minute walk, downhill, from the station to the centre of town and a rickshaw is not necessary but you can be sure these guys will tell you otherwise. Ella is as close to a purpose-built tourist town as you're likely to get in the Sri Lankan Hill country and there are a few great little cafes and restaurants serving decent western food but the rickety curd shop was still hands down the winner for us.
Our first walk was to be Little Adam's Peak, named after the sacred peak, Adam's Peak, the country's fourth highest mountain standing at 2,243 metres tall. It doesn't quite live up to it's namesake and is more of a gentle stroll than a hill walk and was the perfect way to warm up our legs for the few days we would be in Ella. Walking to the end of town and taking the road leading east of town we wandered along the road where trees were overhanging providing some shade from the sun. Rounding a bend a dirt road lead off the main road and took us through part of a tea plantation to where the short climb began. It took about fifteen minutes to make it to the top of the hill and it was certainly worth it, the views up here were amazing and we had nobody to share it with except for a single cow tied to a tree which separated the double peak. A huge valley stretched out in front of us known as Ella Gap, it's said on a clear day it's possible to see the sea from here. Trucks and cars looked like dinkys way below us on the winding roads and we sat for a while, taking pictures and admiring the view before heading back to Ella, suitably warmed up for tomorrows hike.
Ella Rock was our destination the next day, a considerably more difficult hike that Little Adam's Peak. Starting out at Ella Railway Station, we walked the tracks towards Badulla, listening carefully for the train as we went. It got so narrow at parts we were worried if a train did come wed have nowhere to go, especially as we crossed a wooden bridge over a huge gorge, luckily a train didn't come and as they rolled by further on we were always able to find a corner to get out of the way. A small Ganesha shrine on the edge of the track was the point where we were to leave the tracks and so we did, crossing some farmland, over a bridge which crossed the top of a big waterfall and then it was on through the overgrowth. Coming through the overgrowth we were once again in the middle of a tea plantation and following the dirt path, which we assumed would bring us to where we needed to go, we wound up through quite a steep section of evergreen forest.
We could see Little Adam's Peak across the valley, where we had been the day before but keeping our momentum going we kept climbing until finally the ground leveled out and we caught our breath. Walking out towards the edge of the forest we were standing on the edge of Ella Rock with Little Adam's Peak across the valley an a sheer drop off the edge of the rock, it was a dramatic setting.  A pole had been erected here with Buddhist prayer flags flying from it to mark the peak an it seemed like a good time to break out the small lunch we had brought with us for the day before beginning the much easier walk back down to the tracks. Not too many other people seemed to be out this direction today when out of nowhere a local woman ran by us chasing three buffalo with a stick, old-school herding, she caught up with them eventually and tied them to a tree, job well done!
We still hadn't  seen a tea factory in full swing in Sri Lanka and so the next morning it was back to the railway station, this time bound for Bandarawela for the day. Our hour or so on the train was quite eventful, a friendly local family sat with us chatting with us all the way to Bandarawela, gangs of guys got on at various stations, some with cricket bats and pads while others were banging on steel drums, how we had gotten on the party train was a mystery but it was a nice way to travel.
It was still early when we arrived and our first stop was breakfast in a small local eatery complete with a coffee made up of half sugar to give us the energy we needed for the day. After a hearty breakfast we boarded a small, banged up bus, mainly used to transport workers to the Dambatenne Tea Factory and we began the journey, passing through tea plantations as the morning mist began to clear. Reaching the Tea Factory, we thought it seemed to be quiet for  fully operational factory.
Unluckily for us the tea factory was not in operation today as it was a national holiday, we could have a tour but it would be to just see the machinery used and we had already done that in Kandy, so we left disappointed. However, we had come a long way and wanting to make the best of our trip we decided to hike to a well-known spot called Lipton's Seat. Sir Thomas Lipton (of Lipton tea) , used to come up here as it was the highest point in all of his acres of tea plantations. From here he could get a 360 panorama over his plantations, hence the name Lipton's Seat.
A lot of people drive up here but we decided to walk it, wandering through the plantation was cool, kids came out of the woodwork to greet us as we passed and the views were beautiful, until the mist rolled back in. We had come too far not to continue and so even though we knew we wouldn't get the same views as Mr. Lipton had gotten up here we kept going anyway. A simple stone seat marks the top of the trail and an enterprising Tamil man runs a simple little cafe where we chilled out for a bit hoping for a break in the mist and then it happened, just for a second but there was a gap in the mist and the view across Horton's Plains was magnificent and then it was gone again. It was time to go and so we started the walk downhill and in no time were offered a ride in the back of a pickup by a bunch of friendly guys from Colombo. We hadn't realised they were half- cut, drinking whiskey and it was a ride and a half down the bumpy roads, clinging on for dear life as we bounced all the way back to Bandarawela. We had made it in one piece and we joined the new wave of backpackers on the train who were all arriving in Ella for the weekend, one more night for us and it was onto Nuwara Eliya in the morning to see what 'Little England' had to offer.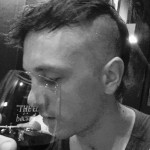 Brian is a travel writer, photographer, blogger, travel addict and adventure-junkie. Being outdoors, getting off the beaten track and outside his comfort zone is what makes him tick. Brian's the dreamer in the relationship; when he's not travelling, he's dreaming about it! Keeping fit, cooking, music and red wine take up the rest of his time.
SUBSCRIBE FOR OUR FREE EBOOK
Sign up for our free travel photography Ebook "Faces of Nepal" and you'll also receive our monthly newsletter.