Floating down the Mekong Delta, the sun dawning and traditional triangle hats on our heads; it was peaceful to say the least. There weren't too many other boats around this early and it was quiet other than the chugging motor on the back of our boat.
Rather than taking one of the many Mekong Delta tours on offer in Pham Ngu Lao, we opted to travel by public bus to Can Tho and spend the night on the banks of the Mekong. Arriving at our guesthouse, we couldn't have landed in a better spot. Although we were outside of the main center of town, we were right on the banks of the river in what felt like quite a local part of town. Kids walked up and down in front of the school, seemingly amazed by our presence, smiling and waving as we passed by, a few brave ones yelling "hello".
A heavy mist hung over the river the following morning as we waited for our boat to arrive to take us to the famed floating markets. We stepped onto the boat and got all of about ten feet before the engine cut! Bobbing away just off the banks of the river, we waited as another boat came over and the driver tweaked our engine and got it running in no time at all and we were on the way.
We knew our accommodation wasn't too far from the Cai Rang Floating Market and once our engine was repaired it wasn't long before we arrived. The morning mist lifted as we approached and like a curtain, unveiled the market to us. We'd seen floating markets in Leh in northern India, where people were selling food, drinks and jewelry to the tourists but we had never seen something quite like this.
It wasn't even 7am and the market was in full swing. Big boats stayed stationary as smaller ones weaved in and out buying what they needed. Each boat was packed full of whatever it was selling. Wooden barges were overloaded, I mean absolutely packed to the gills, with bananas, pineapples, melons, corn, pumpkins and more. Everywhere you looked was another picture perfect, image of Vietnam, or at least what we had always imagined when we thought of the Mekong Delta. Old women in brightly coloured clothes rowing through the boats, men sitting cross legged with weathered faces and people calling out left right and center offering whatever they had on board.
Phong Dien floating market was to be our next stop and we sat back and enjoyed some pineapple from the Cai Rang market as we chugged along, peeled and cut by our smiling 'boat captain' as she steered us along. Along the banks of the river, people were waking up and the place was really coming to life. Simple houses along the edge of the river are built on stilts and you can see plainly how much the locals rely on this waterway. Lowering buckets on rope into the river, mothers gathered water for washing dishes and bathing children. Further along, men were fishing and kids jumping in and out of the calm waters. With the temperature rising and the mist long gone, we drifted along before arriving at the Phong Dien market.
This market was much more compact than the first and had more of a neighbourhood feel to it. The boats here were all small, similar in size to the ones we were cruising along in. Still, it was a busy spot and the locals were busy buying, selling, cutting and chopping fruits and vegetables while bobbing up and down on the river.
Just being in the middle of it all, looking around, it was real and that was the coolest thing about it. While these markets are visited daily by tourists, they are far from put on for the tourists. It was business as usual and we weren't given a second thought by the vendors on their boats. We just drifted through taking it all in, snapping photos and smiling at anyone whose eye we caught.
Taking a smaller tributary off the main wide section of the river which we had been on all morning, we spent some time floating along the tranquil back canals of the river. Trees were overhanging on either side, perfectly reflected in the still waters. Birds whistled in the trees and you could hear insects buzzing about. With the motor turned off now, it was quiet and relaxing listening to the oar dipping slowly in and out of the water.
After a little while we pulled up to the bank and got out of our boat to visit an orchard full of tropical fruits which would also be our lunch stop, if we wanted. In the garden there were pineapples, limes, bananas and a host of other fruit growing, as we were lead around the garden on a short tour.
Once the tour finished, we found ourselves in a little café. It was time for a bit of rest in the hammocks before jumping back into our boat for the final stretch back to our guesthouse. We would be leaving Can Tho behind us, catching a bus for Vinh Long, for our homestay experience on An Binh Island.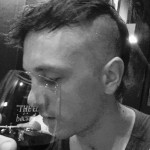 Brian is a travel writer, photographer, blogger, travel addict and adventure-junkie. Being outdoors, getting off the beaten track and outside his comfort zone is what makes him tick. Brian's the dreamer in the relationship; when he's not travelling, he's dreaming about it! Keeping fit, cooking, music and red wine take up the rest of his time.
SUBSCRIBE FOR OUR FREE EBOOK
Sign up for our free travel photography Ebook "Faces of Nepal" and you'll also receive our monthly newsletter.