Sri Lanka's southern coast is lined with beautiful, tropical paradise beaches, some unspoiled and some more spoilt. Each of Sri Lanka's southern beaches caters to a different crowd, type of traveller and/or budget  but all do check the box of clean sands, turquoise blue waters and are lined by tall palm trees which gently sway in the afternoon breeze. With regular buses flying up and down the main road which runs along the south coast, getting from beach to beach doesn't take very long and so beach hopping along Sri Lanka's south coast is a great way to see a variety of beaches in a short space of time. Here we have created a short guide to Sri Lanka's Southern Beaches.
Sri Lanka's Southern Beaches: Hikkaduwa
Starting from the south west the first beach you encounter is Hikkaduwa, the most built up and developed of Sri Lanka's beaches. If it's a typical 'fun in the sun' type atmosphere you are looking for, lazing on the beach all day and out in the bars late at night, with a good choice of (mediocre) restaurants then this is the spot! Hikkaduwa in our opinion has lost it's charm and has become over run with package holiday tourists, tuk-tuk drivers trying to get your attention and shops selling overpriced tourist tat. There are three surf breaks along the beach, the reef in front of Ranjiths surf bar is for not for beginners, breaking over a shallow flat reef, offering both lefts and rights, when the swell is small this still produces a wave. Just south of here is another reef break although not so shallow and is a slow breaking wave. In front of the main cluster of bars and restaurants is the beginner area where a few small waves are to be had, breaking over a sandy bottom, surf schools bring their students here to push them into the small waves in the shallow water. Hikkaduwa would have been a great place to visit back in the seventies but we feel it's become over developed and a bit tacky, the buses flying a million miles an hour through the area only make matters worse.
Sri Lanka's Southern Beaches: Unawatuna
Moving east along the highway, passing some incredible, totally undeveloped beaches, you come to the sands of Unawatuna. A more laid back vibe is in the air here, with a crowd consisting primarily of gap year travellers and young couples. Winding down a small street through some nice cafes and restaurants the sound of the busy road becomes something of a distant memory. Along the beach front are a number of restaurants and sections of the beach have sun loungers for visitors to bake in the hot Sri Lankan sun. After a day of sunning, the clear, tropical waters here are very safe for swimming and there's some snorkelling to be had at the beach's eastern end.
Sri Lanka's Southern Beaches: Midigama and Welligama
Surfers will be kept busy at Midigama and Welligama, two beaches  about twenty kilometres east of Unawatuna. Midigama is picture perfect, no sun loungers, no restaurants and no hawkers, only a few small guest-houses and nothing to do but surf, there aren't even any restaurants or shops here, you have to go to neighbouring Welligama. Non-surfers will likely get bored at Midigama but if riding the waves is your thing then Lazy Left, is  a reef break which curves around the rocks into the beautiful beach. On the other side of the headland is Plantations, a mellow right which cops plenty of swell and is usually less crowded than the waves closer to the guest-houses. Just down the road is the town of Welligama where there's a bit more happening. Guest-houses on the beach are a bit expensive and all offer surf lessons and board rentals in the mellow waves which most will tell you are the best waves for learning in Sri Lanka. A block back from the road, the town is not that touristy and is a nice place to walk around with vendors selling fresh fish and coconuts along the roadside.
Sri Lanka's Southern Beaches: Mirissa
Famous for whale watching, Mirissa is located about halfway between Galle and Matara. Here, the beautiful white sands have some low-key cafes and restaurants providing decent food and it's a lovely spot to spend a few days immersing yourself in beach life. A right hand point break is tucked away at the western end of the bay to keep surfers occupied and almost all guest-houses can rent out boards and you'll be tripping over people offering to take you whale watching. Although we didn't make it out to the whales, those who we met that did get there said that seeing the blue whales off the coast was a worthwhile experience. Boats leave in the morning,  coming back in the early afternoon or as soon as whales have been spotted. Those not keen on whales or surfing will be kept busy lounging on the beautiful sands in the shade of overhanging palm trees, a beautiful spot and not as developed as the more western beaches as of yet.
Sri Lanka's Southern Beaches: Tangalla
Tangalla is slap bang in the middle of the south coast and is as far as most people make it along this beautiful stretch of coastline. For a town of it's size, Tangalla is a hive of activity but just beyond the central hub is the stunning Medaketiya Beach. A row of guest-houses, which double up as restaurants, look out at the ocean here and across the golden sands, which seem to stretch on forever. Undercurrents and rough seas plague this beach unfortunately and while swimming is possible it's not advised for inexperienced swimmers but that's just a great excuse to do nothing and that's what Tanglla's beaches are all about. Getting lost in this desert island feeling location with no crowds and no hassle is just rewards for venturing this far along the coast far beyond the reaches of over-development and over crowding of some of Sri Lanka's more well visited sands. However, with little to do you may find a few days is enough here.
Breath taking as it is, we found one recurring problem along Sri Lanka's southern coast, something always has to give, you can have it all along this glorious stretch of coastline but unfortunately it's very difficult to have it all in the one place!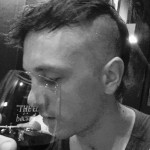 Brian is a travel writer, photographer, blogger, travel addict and adventure-junkie. Being outdoors, getting off the beaten track and outside his comfort zone is what makes him tick. Brian's the dreamer in the relationship; when he's not travelling, he's dreaming about it! Keeping fit, cooking, music and red wine take up the rest of his time.
SUBSCRIBE FOR OUR FREE EBOOK
Sign up for our free travel photography Ebook "Faces of Nepal" and you'll also receive our monthly newsletter.