While at home in Ireland, we were spoiled with some fantastic weather and we took full advantage. We climbed Carrauntoohil twice, barbecued with family and friends, drove and camped along the West Coast of Ireland and climbed to the top of Galtee Mor on the Cork/Tipperary border. We also climbed the Devil's Bit just outside of Templemore in Co. Tipperary. The name the Devil's Bit comes from a local legend, which tells the story of the Devil, who took a bite out of the mountain creating the large gap, which is now known as the Devil's Bit. The story goes, that he spat out the piece of mountain which he had taken a bite out of and that is now the where the famous Rock Of Cashel stands.
The hike takes approximately an hour and a half from the trail-head at the Devil's Bit car park in Templemore. The path is well-marked out and dogs are allowed. We took Noelle's two family dogs with us for the walk and they had as good a time as we did. After the first section of the walk you will come to an old, stone round tower, which is, unfortunately gated off from the public. Theres a hole in the fence though, should you like to get in for a closer look. Continuing on from here, follow the path, all the way to the top.
A large cross, covered in graffiti marks the summit. Bring a marker and add your name to the list of people who have reached the top. On a nice day, the views from here are beautiful. Looking across the patchwork countryside, you can see into eight surrounding counties.
Overall, the walk is very enjoyable and is extremely do-able for just about anybody. You will need your own transport to reach the trail head. A good pair of runners (sneakers) should suffice, unless it has been raining heavily in which sections of the trail may be slippery. If the weather co-operates this is a relatively easy walk with rewarding views and is a great way to spend a few hours on a summer's day in Co. Tipperary.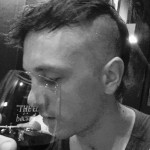 Brian is a travel writer, photographer, blogger, travel addict and adventure-junkie. Being outdoors, getting off the beaten track and outside his comfort zone is what makes him tick. Brian's the dreamer in the relationship; when he's not travelling, he's dreaming about it! Keeping fit, cooking, music and red wine take up the rest of his time.
SUBSCRIBE FOR OUR FREE EBOOK
Sign up for our free travel photography Ebook "Faces of Nepal" and you'll also receive our monthly newsletter.