Ho Chi Minh was our first stop in Vietnam and what a great place to begin our travels in the country. On the bus ride into the city center from the airport we kept ourselves entertained looking out the windows, taking it all in as we made our way towards the backpacker district of Pham Ngu Lao. There was that distinct South East Asia feel to the place; people were eating at food stalls along the side of the street, there was a bit of a rough and ready look to the place and then there were the bikes! Of course the obligatory views of entire families cruising past, people carrying ridiculous loads and balancing more than you ever thought possible on their little 50cc bikes. This wasn't what surprised us though, it was the sheer volume of bikes, there seemed to be very few four wheelers, the roads were full almost exclusively with two wheelers. We had never seen up to a hundred bikes waiting at a red light before, it was madness!
Saigon is a cool city, with plenty going on and a good buzz around the place. Getting around is a breeze, as from Pham Ngu Lao, all the major tourist attractions are within walking distance. When I say all the major tourist attractions, there are really just two and then a few other bits and pieces, that are worth seeing if you have some time. You can easily cover everything in a day on foot.
If you were to pick just one place to visit then make it the War Remnants Museum. It's a no holes barred kind of museum which leaves little to the imagination. Documenting the American stag of the Vietnam War, it's graphic to say the least. Some of the imagery is quite disturbing and there's no denying that it's quite a one-sided account of the war. Generally there's an air of propaganda about the place, in fact, it was originally called the Exhibition House for US and Puppet Crimes, later it was renamed  as the Exhibition House for Crimes of War and Aggression before finally being names the War Remnants Museum, after relations with America improved in 1995. This will give you an idea of what to expect from the exhibitions. However, with that said it's definitely one not to miss as there are not too many museums out there like it.(Opening hours are from 7:30am to 12:00, closed for lunch, open again from 13:00 to 17:00)
The next biggest tourist attraction is the Independence Palace/Reunification Palace. After buying your ticket at the gate you can freely stroll around this old government building where a North Vietnam Tank crashed through the front gate back in 197, signifying the end of the Vietnam War. Walking around inside is like being caught in a time warp, the furniture, décor, appliances and even board games are all straight out of the seventies. It's worth a stroll around for sure but the most interesting section is the bomb shelter in the basement. It wouldn't look out of place on the set of 'MASH', with its retro communications room, labyrinth of tunnels and even a shooting range.
A short walk from the palace brings you to Turong Duc Me, a small square in downtown Ho Chi Minh. On one side of the square is the Notre Dame cathedral which was built by French colonists in 1880. On the other side of the square is the Saigon Central Post Office, where you can buy and send postcards but the real draw here is the architecture. The building itself looks more like an old European train station and there's a beautiful arched ceiling inside. Along the walls are some cool, old-school phone booths. The Opera House is just a little further on, also a nice building and is in the new ultra-modern section of town, amongst the fancy hotels and designer shops in the Dong Khoi district.
As we were at the beginning of our trip, we didn't see much point in loading up on cheap clothes, bags, hats, sunglasses and everything else that they sell in Ben Thanh Market but it's worth strolling around anyway. There's loads of different coffees, dried goods and fresh fruit and vegetables and of course all the tacky tourist tat out near the front. There are a few simple restaurants down the back too and most offered an English menu.
Getting lost down around the backstreets around Pham Ngu Lao was probably one of the coolest things in Saigon. People just going about their daily lives, sitting out the front of their houses, chatting with the neighbours, chopping veg with the dinner, having a smoke and just doing normal things. Not too many visitors seem to bother exploring down around these areas but sometimes it's nice to get lost and find something new.
Ho Chi Minh: Airport Practicalities
For anyone wondering how to get to Ho Chi Minh, there are numerous options, depending on where you are coming from. If you are flying domestically or internationally, you will fly into Tan Son Nhat International airport.
The airport is well-serviced by taxis, however, be sure to avoid the expensive booths inside the airport selling limo and taxi services. Instead, continue outside and turn left. You will see company reps in uniformed company reps that can bring you to where you need to go. Shop around for the best deal. A journey to District 1 will typically cost 150,000 to 180,000 dong and take about twenty minutes.
Alternatively, you can choose to ride in a metered taxi. We can recommend two meter taxi companies; Vinasun (red, white and green) or Mai Linh (green). Grab and Uber are also available and are often up to half the price of regular taxis, coming in at around 70,000 dong.
For those on more of a budget, there are also buses available, which is the cheapest way to access the city centre.
Bus No. 49, departs for the city every 20-30 minutes, between 5 am and 11pm every day. The cost of a one-way ticket is 40,000 dong and trip time is about half an hour. This is a direct bus to Cong Vieng 23/9 ,that doesn't stop.
Bus no. 109 leaves every 15-30 minutes between 5:45am and 1:30am every day. A one-way ticket costs 20,000 dong and the journey time is typically 45-60 minutes. This bus stops multiple times en route to the city centre.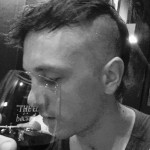 Brian is a travel writer, photographer, blogger, travel addict and adventure-junkie. Being outdoors, getting off the beaten track and outside his comfort zone is what makes him tick. Brian's the dreamer in the relationship; when he's not travelling, he's dreaming about it! Keeping fit, cooking, music and red wine take up the rest of his time.
SUBSCRIBE FOR OUR FREE EBOOK
Sign up for our free travel photography Ebook "Faces of Nepal" and you'll also receive our monthly newsletter.