India is very much divided into north and south and this is no more prevalent than in the attitudes of the locals themselves who are so proud to be from where they are from. Having spent the last three months moving around northern India, we had grown accustomed to how things are done in the north but now it was time to venture into India's southern cities to see how great a difference there really is between north and south. The north, according to various Indian people we had met along the way, is more influenced by the neighbouring Arab countries resulting in busy streets packed with vendors all trying to make the hard sale. The big northern cities such as Delhi, Varanasi, Amritsar and Jaipur have a feeling of being much more densely populated with crowded bazaars, chaotic streets and non-stop action from sun up to sun down. By comparison the big southern cities which we visited such as Hyderabad, Bangalore and even Mysore to an extent have a different feel to them; cleaner, more suburban areas, not as hectic and generally more approachable and easier to negotiate. Often referred to as the Muslim North and the Hindu South, these two extremes are as much a part of the diversity of India and it's people as the Himalayas of the North and the golden sands of the south.
India's Southern Cities: Hyderabad
Immediately after stepping off the train in Hyderabad we got a distinct feeling that we had left northern India behind, there was a different vibe in the air here and we liked it. The station was spotless, even the tracks themselves, the climate was nicer and the palm trees were a nice addition. Driving in towards the city centre in relatively orderly traffic we passed by the massive Hussain Sagar lake reflecting the blue skies of Hyderabad in it's calm waters. After locating a place to stay in an old hotel behind the G.P.O. we went exploring the city. Jumping on and off buses seemed to be the best way to get around and it was a pleasure not to have to deal with rickshaw drivers and independently travel around the city. Passengers, bus conductors and pedestrians were more than helpful in directing us to the correct buses and it was a nice way to get chatting to a few of Hyderabad's friendly locals as we made our way about the city. Suburbs sprawl out from the main business centre of the city and we headed for the fancy Banjara Hills, Hyderabad's answer to Beverly Hills. Throughout the Hills are a number of upmarket shopping malls, restaurants and bars including a branch of the global restaurant chain, Hard Rock Cafe. We couldn't resist going in for our dinner and as it was Friday night the place was in full swing, complete with staff dancing to YMCA, bottle jugglers, a fire show and even a break dancer. For the first time in three months we were treated to a beef burger, which we hadn't realised was possible in India and it went down a treat while admiring all the music memorabilia clinging to the walls surrounding us.
Rising early the next morning, the plan was to see the sights of Hyderabad and first stop had to be one of Hyderabad's most iconic structures, the Charminar. Built in 1591 by Mohammed Quli Qutb Shah to commemorate the founding of Hyderabad the landmark building consists of four fifty-six metre high columns, each topped with a minaret. Each of the building's four sides is adorned with a huge archway flanked by the structures tall columns. Long lines of Indian tourists waited to gain access to the building, which resembled an Indian Arc De Triumph, especially given it's location in the centre of a busy junction. On the second floor is Hyderabad's oldest mosque but instead of waiting in line to gain entry we climbed to the roof of a surrounding building where we could admire the structure in complete peace.
Not far from Charminar is Chowalla Palace, a complex containing four palaces built over one hundred years beginning in 1750. Magnificent thrones and huge chandeliers decorate some of the elaborate rooms inside while weapons and hunting equipment lined the walls of others. Sitting in a glass room at the back of one of the palaces was a bright yellow Rolls Royce, complete with solid silver trim which is still driven in special ceremonies in Hyderabad today.
Twenty kilometres east of Hyderabad is Ramoji Film City, the world's largest film studio complex. Tollywood, as it's known, was opened in 1996 and produces movies in Telugu, Tamil, Hindi and also some foreign films. Set on 1,666 acres, the film studios house a total of forty-seven sound stages. For visitors like us a tour of the studios was available bringing you through sets used in famous Indian movies. Some of the buildings throughout the studios were interesting including a large structure representing an apartment building which was used for demolition and explosion scenes. Driving through different areas of the studios we were brought through sets depicting cities, suburbs, train stations, hotels and a highway with changeable street lights. One building even represented an airport, hospital, a bank and a church on each of it's four sides and inside was even more realistic walking through the check-in area, baggage claim before going into the aircraft itself, complete with reclining chairs and overhead luggage compartments. While the tour of the film studios was a good insight into the sets involved in bringing a movie together, the remainder of the day was a little more lacklustre and a bit of a cheesy family day out.
Sprinkled through the grounds were some tame amusement rides, a butterfly display,pretty gardens and two poorly produced shows, one western themed and one which featured everything from classical Indian dance to tightrope walking clowns. All in all it was a worthwhile side trip from Hyderabad as we had the time to spare but we expected a bit more than a 'family day out' from the place flying the 'largest film studio in the world' flag.
India's Southern Cities: Bangalore
Leaving Hyderabad behind us we began the twelve-hour train journey south to India's answer to Silicone Valley, Bangalore. A major cosmopolitan city, Bengaluru is home to a huge number of ex-pats working in the hub of India's booming I.T. industry. Basing ourselves jus off M.G. Road we were in the perfect location to experience Bangalore for the cosmopolitan city it has grown to become. Modern, western-style coffee shops are in no shortage here. The nationwide Indian coffee shop chain, Cafe Coffee Day is certainly leading the charge here with more outlets in this small section of the city than we have probably seen in the rest of India so far! Behind the clean, busy streets are quiet residential areas complete with tree-lined parks and road side parking. You can forget for a minute that you are in India at all with the surroundings reminding one more of European city suburb than a major Indian city. Though Bangalore has a few attractions for tourists to visit such as the Bengaluru Palace, Botanical Gardens, Hindu Temples and even an Aerospace Museum, we chose to hang out in coffee shops and soak up the cosmopolitan vibe of the city. A break from stereotypical India is what we wanted and that's exactly what Bangalore offered us. We enjoyed taking a break from sightseeing, chapatti and roadside chai stalls and instead we lazed around drinking good coffee, eating sandwiches and catching up with home on the free wi-fi; all the things we hadn't experienced too much of for the last three months.
India's Southern Cities: Mysore
With a few days break from 'real India', we reached Mysore with our backpacking spirit recharged and our first stop had to be the street side dosa stalls serving up the famous south Indian dish 'masala dosa'. With hot, freshly made dosas in our laps we sat on cold stone steps looking out on the magnificent 1927 Silver Jubilee Clock Tower now lit up by spotlights. Beyond the clock tower is the most famous sight in Mysore and one of the grandest of all India's royal buildings, the Maharaja's palace. Also lit up with spotlights it looked beautiful, glowing against the dark night sky and it sparked an excitement in us for Mysore and it's sights. On the walk back to our hotel we were stopped time and time again by friendly locals all wanting to chat and tell us about their city of which they were so proud.
The next morning we made our way to visit our first Catholic church in India, St. Philomena's Cathedral. Built between 1933 and 1941 the cathedral has some beautiful stain-glassed windows and it was very interesting how inside the locals had Indianised the church. Statues of holy figures were adorned with garlands of flowers and petals and other offerings lay at the feet of various saints throughout the church in the same way as
Hindus leave offerings and flowers at the feet of the various Hindu idols. From the cathedral we made our way towards the gate of the Maharaja's Palace, a miscommunication with our rickshaw driver had us dropped at the wrong gate but all was righted when the guard on the gate took pity on us and let us in to see the royal elephants; a nice surprise. Following our encounter with the elephants it was another short rickshaw ride around to the correct gate where we entered the grounds of the palace. Our tour began with our audio-guide accompanying us through corridors, passing walls painted with royal scenes of times gone by. Continuing through the palace the interior never ceased to amaze with huge hallways, massive swinging chandeliers and a kaleidoscope of mirrors, stained glass and sparkling walls that when reflected in the mirrors seemed to continue forever and getting lost in the over-the-top nature of this grand palace was all part of the fun.
From the largest film studio complex in the world, to Hyderabad's landmark structure, cosmopolitan Bangalore and the lavish palaces we had encountered in both Hyderabad and Mysore, the southern cities of India had impressed us to no end. For now it was time to make our way back north in the direction of India's most prolific southern city, Mumbai.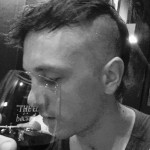 Brian is a travel writer, photographer, blogger, travel addict and adventure-junkie. Being outdoors, getting off the beaten track and outside his comfort zone is what makes him tick. Brian's the dreamer in the relationship; when he's not travelling, he's dreaming about it! Keeping fit, cooking, music and red wine take up the rest of his time.
SUBSCRIBE FOR OUR FREE EBOOK
Sign up for our free travel photography Ebook "Faces of Nepal" and you'll also receive our monthly newsletter.