Tucked away in the far north of Karnataka's coastline is the little Hindu pilgrimage town of Gokarna, a peaceful town with plenty to offer. Compared with other beach towns this quaint town certainly has more of a 'real' Indian feel to it, with cows strolling idly through the streets, Brahman men sitting in doorways watching the world go by and a scattering of Hindu temples and shrines throughout the town. Following the road beyond the central Mahabaleshwara Temple, dedicated to Shiva, the quiet streets lead around to Gokarna Beach where Cocopelli Surf School rents surfboards and there are some decent waves to be had a few hundred meters down the beach with the few friendly local surfers. Being a pilgrim town, it's not the beach for hanging around in a bikini but it's a great spot to while away a few hours watching the fishermen pulling in their catch in the evening, sitting on the sand observing the locals playing cricket or just winding up the playful dogs who call this beach home.
Due south, just over the cliff lies the reason for most travellers visit to Gokarna, the hidden, remote feeling sands of Kudle Beach and Om Beach.
Not accessible by road, Kudle beach has a genuine 'away from it all' feel to it and is a great spot to take a break from the Indian hustle. A twenty-minute mini-trek down a gravel path, around some big rocks and on through a shaded path and you're standing on a beach, which when we visited in October, was all but deserted. A few small, very simple guest-houses/restaurants are dotted along the beach and the sunsets here are nothing short of spectacular. With crystal clear waters, no vendors and a good chilled vibe, there's nothing to do but laze on the sand, swim or bodysurf the small right hander in the bays northern end and slip into a Robinson Crusoe beach life that, depending on the individual, will either entrance you to stay much longer than planned or you'll be bored after a day or two. Kudle beach as a getaway, may not be for everyone but it's well worth the short trek to get off the beaten path and away from the crowds of India's more typical beach scene.
From Kudle's southern end a rough path runs over the next headland and onto Om beach, so-called because of the shape of the coastline here (Om: ॐ). Divided into two smaller coves making up the two parts of the Om symbol, a mystical Sanskrit sound of Hindu origin, the more southerly bay has a few small guest-houses right on the sand where dumping waves crash against the clean sands.
Strolling on up over the headland, accompanied by a new loyal surrogate dog, we walked out as far as we could to get as good an ariel view as we possibly could of the Om shape and at the right angle it clearly represented the sacred symbol but no matter what way I twisted or turned the camera it was difficult to capture a decent representation. With the sun at it's highest point of the day and us melting, wicked-witch style, we quickly made our way back down to Om sands for a cool drink and some shade.
Being so far out of season we didn't make it any further south to Half-Moon or Paradise beaches which would have been completely deserted at this time of year. We had heard that while Half-Moon beach is still accessible to the public, Paradise beach has been fenced off by the government and is off-limits but for anybody thinking of venturing out that way you might want to check with locals as to the situation before heading that way. But if it's a hassle-free, laid-back, frisbee-tossing, do nothing vibe with electric sunsets you're looking for, then Gokarna's  Kudle beach hits the spot.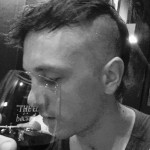 Brian is a travel writer, photographer, blogger, travel addict and adventure-junkie. Being outdoors, getting off the beaten track and outside his comfort zone is what makes him tick. Brian's the dreamer in the relationship; when he's not travelling, he's dreaming about it! Keeping fit, cooking, music and red wine take up the rest of his time.
SUBSCRIBE FOR OUR FREE EBOOK
Sign up for our free travel photography Ebook "Faces of Nepal" and you'll also receive our monthly newsletter.