Renting a scooter in Bukittinggi, we opted to drive the thirty-six kilometres west to the beautiful Lake Maninjau. Unfortunately for us the weather didn't cooperate as much as we would have liked and so it was a series of incredibly heavy rain showers for the entire trip there and back but we donned our rain gear and persevered. Driving thought the lush, green Minangkabau countryside was beautiful if not a little sketchy with the road so slippy under our tyres.
After driving for some time, suddenly the enormous lake came into view. At 16 kilometres long and 7 kilometres wide the huge crater lake took our breath away when we first laid eyes on it. The sun was just breaking through the clouds and the whole image before us was something else. From this viewpoint we could see almost the entire lake and the surrounding hills which would have been the tip of the volcano whose crater this lake now filled. Looking below us we could see the infamous stretch of road which we had heard so much about, the forty-four, numbered hairpin turns which we would slowly wind down, one at a time until we were on the shores of Maninjau Lake.
Thankfully the sun had dried up the roads a bit and so the bike felt a bit more secure. We laughed as every time we turned another corner there was a sign with an advertisement marking the number of the turn we were on and we counted down, for what seemed like forever until 3, 2, 1, we were at the end of the winding road an on the shores of Lake Maninjau.
Driving along a section of the shoreline, locals were going in and out of restaurants, kids were swimming and small fishing boats were tied up at the end of very make-shift piers. Just as we started looking for somewhere to eat the rain started bucketing down again and so we hid out in a little restaurant drawing in their guest book as we waited for the rain to clear enough to get moving again back to our base in Bukittinggi.
Lake Maninjau was definitely worth a visit, it's a beautiful spot and would be a great place to spend a few days not doing very much. It has a bit of a has-been feel to it and after talking with the owners of the restaurant we learned that it had been a very popular place for people to come before but now with Bukittinggi surpassing it in terms of tourism,  people were opting to visit for a day rather than spend the night and we too were guilty of this. As a result the little villages and local families who had relied on the tourist dollar are now out of work or have had to go back to fishing and farming as a way of life. So, if you are considering a trip to this beautiful place, stay a night if you can and support the kind and friendly local Minangkabau people, you won't regret it!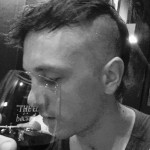 Brian is a travel writer, photographer, blogger, travel addict and adventure-junkie. Being outdoors, getting off the beaten track and outside his comfort zone is what makes him tick. Brian's the dreamer in the relationship; when he's not travelling, he's dreaming about it! Keeping fit, cooking, music and red wine take up the rest of his time.
SUBSCRIBE FOR OUR FREE EBOOK
Sign up for our free travel photography Ebook "Faces of Nepal" and you'll also receive our monthly newsletter.