An entire day was spent in Kathmandu trying to figure out the best way to get to Lumbini, the birthplace of Buddha, in the Terrai region of Nepal. Nepali people generally don't like to not give an answer when asked a question and so finding things out can be quite difficult sometimes and patience is certainly a virtue one holds dear when looking for information! The strikes were still ongoing in Nepal, particularly in the south where we were going and this added disruption made our inquiries all that more frustrating. "You can go brother, no problem", "no, sir you must go tonight, it is better for you", "you will have to take the tourist bus and it will definitely go direct to Lumbini", "Sunday bus yes, Saturday bus, maybe. No direct bus, only change", "direct bus to Lumbini, no problem my friend"….it went on and on. Eventually we discovered that everyone was selling us public bus tickets at inflated prices for buses that may or may not reach Lumbini because of the strikes and so off we went to the bus station and booked the tickets directly. Our last bus in Nepal was to be our first night bus and with our past experiences on Nepali roads we were a little hesitant.
Sunday night rolled around and we arrived at the bus station at 7pm as we were told to. The first thing we heard was "Lumbini, no", with our visa end date looming we didn't have time for "Lumbini no", but fortunately after a few more inquiries it turned out that it was in fact "Lumbini, yes", things were looking up! We took our seats and watched on hopefully as the driver boarded the bus and waved incense sticks around the two Hindu God statues, prominent in all buses and taxis in Nepal. The driver's intentions were good, to bring the bus luck on its journey, we just hoped to all the Gods that we'd make it to our destination hassle free and more importantly in one piece.
Driving on the Nepali roads is an experience in itself. Driving on Nepali roads at night is a whole other ball game. Our thinking was less traffic, less overtaking, more chance of surviving the ordeal but boy were we wrong. The road was extremely busy for this trip and we were sharing the road only with other buses and trucks, the two most aggressive vehicles on the road, as they're the biggest! The journey wore on and not two hours of our scheduled thirteen had passed before we had our first surprise stop; a puncture. All the men disembarked to watch the driver and conductor change the tyre in the dark and then everyone was back on the bus and on we went. Moments later and we came upon a huge line of traffic, first we thought they were pulled in for the night and then thoughts of the strike began to surface, is this as far as we could go? Suddenly a police car flew down past us and as if by magic truck and bus engines chugged to life and we were moving again. Just as our bus driver turned the key, four or five young men came running full tilt past our window followed closely by two police men waving sticks… so that had been the reason for the hold up!
We rattled and rolled along the road towards the Terrai, stopping briefly for a snack on the way and after a few more hours had passed, the bus came to a stop in the middle of a town. It was clearly a bus park but with nobody getting off and at least another two hours to go to Lumbini we were unsure what was going on. Asking around, it turned out that we weren't the only ones left in the dark on this one. Rickshaw riders continuously approached us offering rides to Bhairawa. The only problem was we were in Butwal and Bhairawa lay twenty-six kilometers south of where we were now and twenty-three kilometers east of Lumbini, so not too convenient a place for our bus journey to end.  We declined the rickshaw drivers offers to pedal us all the way to Lumbini and instead hung around to see what might happen with the bus. There was a lot of discussion amongst a lot of people and it transpired that the strike was still going on and the bus simply wasn't being allowed through the road and that was that. It was coming up on 5am at this stage and unlike the rest of the passengers, we hadn't slept or had we…this definitely felt like a bad dream! Our bus conductor was very kind to us asking taxi and rickshaw drivers for local rates for us but nobody was budging. One man on the bus told us that it wasn't even safe to go any further and certainly not to go to Lumbini and advised us to go back to Kathmandu! Just as we were losing hope at making it to Lumbini without getting completely ripped off, a small local bus appeared and our bus conductor friend got us on it. It was all eyes on us on the local bus to Bhairawa, not usually too many tourists at 5am on a Monday morning we thought.  The driver however was making us nervous by unusually driving down the road very cautiously, asking random passers-by about what was further up the road as if he was worried about getting lynched by some angry mob for driving his little bus during the strike. Everytime he'd pull in and consider not going any further there were comments from the passengers and after a bit of banter back and forth the bus would continue to hoots and excited laughter from the eager passengers, us included!
Eventually the bus reached the deserted Bhairawa bus park. The temperature, even at this time of the morning, was much, much hotter than Kathmandu. Only 5 kilometers from the Indian border the temptation was there to continue onto India. With no buses or taxis running and Lumbini too far to walk it seemed like we faced a bit of a mission to reach Buddha's birthplace today, his birthday, but we had come this far and we weren't giving up yet. Our only option from here was to take a cycle rickshaw. The two of us, two big rucksacks and two small day bags had to be brought 23 kilometers to Lumbini by cycle rickshaw and the entire way all we could do was feel sorry for the guy who took on the task. The sun was getting hot now and it was uncomfortable sitting in the back of the rickshaw, never mind the poor man who was cycling us along the road. Two hours passed and we reached Lumbini, thankfully our driver didn't have a heart attack along the way (although I don't know how!) and we thanked him kindly and found ourselves a room for the two nights we planned to stay.
Lumbini is one of the four main pilgrimage sights marking Buddha's life and therefore is a major destination for Buddhists to visit. It is home to monasteries from all over the world where Buddhist monks come to live and study at the birth place of their god. Today was his birthday; we didn't expect fireworks, blowers, party hats or cake but we had expected there to be a bit of a buzz around the town and maybe some kind of a festival celebrating the occasion but there wasn't. We didn't have a problem finding a room in the sleepy little town and that meant that there weren't very many people around. Between the strikes and  the forty plus degree heat, a part of me could understand why people may have been reluctant to venture this far south for the event but regardless we went out with the intention of seeing all the sights of Lumbini. We rented bicycles and went exploring the compound which hosted the Maya Devi Temple. Posters with photographs of this landmark are on guesthouse walls everywhere in Nepal and they share wall space with posters of famous Nepali icons like Everest, the Annapurna Range and various Hindu gods.However in real life the temple didn't quite live up to our expectations.
Walking into the square whitewashed building we were greeted with the site of an archeological dig. A railed wooden path hugged the wall all the way around the inside of the one room building. The centre featured a stone in an illuminated  glass case which marked the official birthplace of the Buddha. Three pilgrims were visiting at the same time as us and they bowed to the stone and then walked clockwise around the wooden path inside the temple, they repeated the process three times before exiting through the back door of the temple. Behind the building is a sacred pond where Buddha's mother was said to have bathed before she gave birth to her son and pilgrims scooped water in their cupped hands and poured it over their heads, blessing themselves with the murky holy water.  After seeing the Maya Devi temple and the sacred pond we got back on our bikes and headed for the Buddhist monasteries. For us, this really was the highlight of Lumbini. A very long, narrow rectangular pond divides the west and east monastic zones and we spent a few hours exploring the spiritual homes in both areas. Monasteries are built here by countries all over the world and they are built in the architectural style of that particular country and house visiting monks primarily from said country. There were monasteries from China, Korea, Sri Lanka, India, Japan, Germany, France, Austria, Thailand, Burma and of course Nepal, to name a few. It was little like a mini round the world trip but on Buddha Airways! A nice, genuine sense of international community featured here with all these nations united by their beliefs and it was great to experience.
The rest of our time in Lumbini was spent standing either under the fan or a cold shower trying to cool down from the ridiculous heat. We made our way to the Indian border at Sanauli the next morning, on the last day of our Nepal visa. It didn't feel like three months had passed since we first touched down at Kathmandu's Tribhuvan International airport and as the immigration officer stamped our passport we took one last look into Nepal and then forward through the archway, above which read a sign 'Welcome to India'. Across the border we go, wandering on.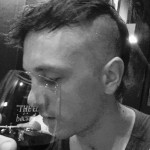 Brian is a travel writer, photographer, blogger, travel addict and adventure-junkie. Being outdoors, getting off the beaten track and outside his comfort zone is what makes him tick. Brian's the dreamer in the relationship; when he's not travelling, he's dreaming about it! Keeping fit, cooking, music and red wine take up the rest of his time.
SUBSCRIBE FOR OUR FREE EBOOK
Sign up for our free travel photography Ebook "Faces of Nepal" and you'll also receive our monthly newsletter.