The sky became darker as the bus wound its way up the mountainside towards the Indian hill station of Dharamsala. As it had been threatening to do all day, the weather finally broke and as it began pouring rain there was a mad scramble to get all the bags off the roof and inside. The air was much cooler up here and it was a welcome relief from the 48 degree heat we had been experiencing in Amritsar; Irish happy to see rain, who would have thought it!
A quick bus change in Dharamsala and it was a short thirty minute spin up to what we were hoping would be the nice and relaxing town of McLeod Ganj, the home of his Holiness, the Dalai Lama. It turned out that McLeod Ganj has in recent years gained a lot of notoriety as a summer weekend retreat for Indian tourists and arriving at 10pm on a Friday night probably wasn't the best of times to visit but those are the breaks. Finding a room wasn't easy but eventually we got a place to stay, although the prices had been hiked up due to the influx of Indian tourists but at least the room was nice and we went out to eat before going to sleep after a long day of travelling.
The next day we woke to the unmistakable sound of rain hammering against the window. The steep road outside had turned into a small river and we went downstairs to talk to the owner of the guesthouse. They told us of two small villages in the surrounding area, Dharamkot and Bhagsu, which were supposed to be much more laid back and so we moved our bags from our room and waited for the rain to stop. Thankfully, it didn't take long and we ventured out into McLeod Ganj to see the sights before relocating.
Many people come here to take part in Buddhist studies, to do meditation courses and to meet the Dalai Lama. We had been checking the dates on his website to try to be in the right place at the right time to go to one of his teachings and possibly meet him but we had made a big mistake. Walking through the security check at the Tsuglagkhang Complex, where the Dalai Lama has his residence, we asked when he was last here, "yesterday" came the answer, "he gave a speech here yesterday for 5,000 people but this morning he went to Leh". We had missed him by a day! He had been in McLeod Ganj when we arrived last night but we had missed out on the chance to attend one of his teachings which was a real pity but we'd keep an eye on his website and maybe meet him somewhere else on our travels.
We continued into the Tsuglagkhang Complex and saw the extremely modest photang (official residence) of the Dalai Lama. Outside his residence is a large, covered area where on a return visit to the complex we observed monks debating in a very odd fashion. Monks, in maroon robes both young and old would debate various points of Buddhist philosophy. One monk would sit while the other, standing, would put forward his argument and end it with an exclamation point by stepping forward and simultaneously clapping his hands loudly and stamping his foot down hard, it was quite a sight to see; all these shaven head boys and men in their maroon colours theatrically laying down their differences of opinion on Buddhist philosophy to their peers. Inside from the debating area is the Tsuglagkhang, which is a temple devoted to Avalokitesvara, the Tibetan deity of compassion. Inside there is a three metre high gilded statue of Sakyamuni Buddha and we took our time walking around the small room listening to a monk sitting cross-legged reading from a book very solemnly. Next-door is another temple called the Kalachakra Temple containing murals of the Kalchakra, the wheel of time. The entire complex really is quite modest for a man as revered as the Dalai Lama, especially when you compare it to the home of other religious leaders such as the Vatican in Rome where the Pope lives or the Golden Temple in Amritsar, home to the Sikh Parliament.
Just inside the walls of the Tsuglagkhang Complex is the brilliant Tibet Museum. This museum was a real eye opener for me and was extremely interesting and informative, giving many first hand accounts of the struggle between Tibetans and the Chinese. Hundreds of Tibetan refugees have come to India seeking asylum from the oppression which they face in their own country due to Chinese occupation. Photographs from as recently as 2010 are on display which show Chinese soldiers standing on roof tops and on street corners monitoring the Tibetan people and close circuit cameras are also in position throughout the cities to keep an eye on the people. The story of Tibet is a sad one, the museum shows video clips of people who have found refuge in Dharamsala recounting their tales of battling with the Chinese and fleeing the country. More stories are told through photographs, such as the tale of a father and daughter crossing the snow-covered Himalayas together, travelling over passes of more than 5,000 meters in terrible conditions, all to try to escape the Chinese occupation of Tibet. In the corner of the downstairs room of the museum is a four-sided pillar, each side tells of a different monk who killed himself by setting himself on fire in protest to the Chinese invasion, a desperate attempt to bring attention to the need for preservation of Tibetan culture and the ways of the Tibetan people.
Chinese forces invaded Tibet in October 1950, which was then an independent state-run by the Dalai Lama. A year later Tibet fell. Rebellion began in the countryside and in 1959 the Tibetan rebels took to the streets of Lhasa, the Tibetan Capital, and fought against the Chinese army but the Chinese fought back hard. The Chinese didn't hold back and after opening fire on the summer residence of the Dalai Lama, he was forced to flee to India in secret in order to seek asylum due to his life and/or freedom being in imminent danger. China has always claimed it sent its soldiers to Tibet as liberators, to improve life in the state, unfortunately that has never happened. Instead stories of horror, human rights violations, broken families, suffering and lost or destroyed Tibetan culture have resulted in over fifty years of Chinese occupation in Tibet. An estimated 2,500 Tibetans flee their country every year, risking their lives to cross the Himalayas and reach India where they can seek asylum and refuge. Those that complete the dangerous journey come to Dharamsala where the community of refugees is more than 80,000 strong and volunteers and aid organisations, along with the Tibetan government-in-exile can provide help and relief to these brave people. Stickers, signs and badges are sold everywhere in McLeod Ganj with the words "Free Tibet", the campaign has been running for a long time but unfortunately still Tibet and it's people suffer the tyranny of Chinese occupation… Free Tibet!
After spending the day in and around the Tsuglagkhang Complex and the museum, strolling through the maroon robe filled streets of McLeod Ganj and dodging the rain as best as possible we went back and collected our bags from our guesthouse. An autorickshaw took us to the small hilltop village of Dharamkot, just over a kilometre east of town. We reached the village and settled in for the night, thankful to have a break from the busy-ness for now. We woke the next morning to terrific views down through the valley which unfortunately didn't last long as dark clouds quickly blew in.
We went exploring the countryside and followed a path downhill and in about ten minutes we were in the nearby village of Bhagsu. There was a little more going on here than there was in Dharamkot, with more places to eat, more things to do, more people to talk to and a laid back atmosphere we figured this was more our scene and so in a split second decision we ran back to Dharamkot to grab our packs and checked into a room in Bhagsu, where we would hold up for a while and relax after a few weeks of long bus trips and a lot of moving around. There was loads to do in the small village and we tried our hand at playing the djembe (african drum), we took yoga classes and relaxed in the cafes for a few days. A few days wasn't enough however and we were both sad to leave Bhagsu, it's a place I would definitely visit again but for now we had to get going to reach our next destination, keeping it cool at another Indian hill station, Shimla.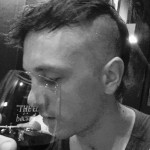 Brian is a travel writer, photographer, blogger, travel addict and adventure-junkie. Being outdoors, getting off the beaten track and outside his comfort zone is what makes him tick. Brian's the dreamer in the relationship; when he's not travelling, he's dreaming about it! Keeping fit, cooking, music and red wine take up the rest of his time.
SUBSCRIBE FOR OUR FREE EBOOK
Sign up for our free travel photography Ebook "Faces of Nepal" and you'll also receive our monthly newsletter.