With our time in Sri Lanka coming to an end, Nuwara Eliya almost got struck from our travel plans but we were definitely glad we had made the effort after visiting. Our main reason for including Nuwara Eliya in our plans was for the simple reason that we still had not seen a tea factory in operation.
Sri Lanka is famous the world over and as big tea drinkers we felt this was something we really didn't want to leave without experiencing. We visited Nuwara Eliya as a trio, Mathilda from Sweden was backpacking around Sri Lanka too and so the three of us made the journey together and on the recommendation of another  traveller we had called ahead and booked a room in the same place he stayed and it was the best thing we did. Our host, Prince, met us at the bus station and drove us up to his two-story home, overlooking the small colonial city. Really friendly and welcoming, it was a great start to our visit. He and his family lived on the ground floor and he rented out the top floor, which had two bedrooms, a big living room and a kitchen, we even had a tv, a big fireplace and a kettle! Sometimes it's the simple things, being on the road so long it was nice to have a homely feel and with the colder climate (altitude: 1,868metres) and a roaring fire it certainly felt homely!
Dumping our bags in the room we decided to grab some food and just relax for what was left of the evening. Noelle went into the bedroom to change but came back out in a hurry, positive she had heard some rustling under the bed. Hoping we didn't have some kind of  an infestation to deal with I had a look but couldn't find the source of the noise when all of a sudden I saw my bag move, it definitely moved! I approached slowly and saw my bag with my hiking shoes move again, not knowing what was in there I picked up the bag and put it outside and slowly unzipped it, not wanting to terrify whatever was inside. We all waited and nothing happened so I shook the bag and then all of a sudden a frog jumped out of my shoe! I had left my shoes outside the room in Ella and I must have put them back in the bag with the frog inside, he hopped away, now a long way from home. At least it was only a train journey, had it been the airport that would have been an interesting one to explain to security!
Nuwara Eliya is known as 'Little England' in Sri Lanka and for good reason. The small city centre is dotted with colonial style buildings that look more like they belong in an English estate than in the hills of Sri Lanka. To hold onto this look, many newer buildings are built in the colonial style and it definitely helps Nuwara Eliya to live up to its 'Little England' reputation.
We spent some time strolling around the centre of the small city looking at the various examples of colonial architecture, visiting the very sad and overgrown horse race track and checking out the lake which was all very by the way if you ask me. But then it was the tea factory we came for and so the next day that's exactly where we went.
Considered one of the most important locations for tea production in Sri Lanka we jumped on a bus the following morning and drove through acres upon acres of tea plantations eventually pulling up in front of the Labookie Tea Factory just outside Nuwara Eliya. Opting for a quick, free tour (just a tip for the guide) of the facility and it was all very interesting. We were guided through each of the processes inside the factory, we got to see all the machinery in action and learned exactly what goes into producing that cup of tea every, which we drink without a second thought. Many of the processes have been modernised now and although various elements of the process have been automated it is still a very labour intensive process with all the leaves being hand-picked by women in the fields working long hours for a very poor wage. After our tour we were brought back to the small visitors centre for a free cup of tea, a nice touch after our free tour, an all together good fun, good value day out!
Rice and curry had been our staple throughout most of Sri Lanka but here in Nuwara Eliya we seemed to be eating nothing but Kothu and it was good!! As it was our final night in Nuwara Eliya, it seemed fitting we'd have more kothu and then it was back to our home in the hills and the warm fire! With Mathilda staying another night before going directly to the airport for her flight to India and us planning to climb Adam's Peak the following evening we said our goodbyes and Prince dropped us to the bus for another bone rattling spin to Nuwara Eliya train station.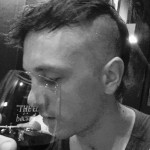 Brian is a travel writer, photographer, blogger, travel addict and adventure-junkie. Being outdoors, getting off the beaten track and outside his comfort zone is what makes him tick. Brian's the dreamer in the relationship; when he's not travelling, he's dreaming about it! Keeping fit, cooking, music and red wine take up the rest of his time.
SUBSCRIBE FOR OUR FREE EBOOK
Sign up for our free travel photography Ebook "Faces of Nepal" and you'll also receive our monthly newsletter.