Phu Quoc is an island off the southern coast of Vietnam. Access is by ferry from the mainland or you can get dirt-cheap flights from Ho Chi Minh; we went with the latter.  Arriving at the new international airport, there are taxis at the ready to take you where you need to go.
As we were driving into the main area, we were having a hard time getting to know the lie of the land. There was no discernible center to speak of. We could see the ocean, so we know which way the beach was but there was no cluster of guesthouses that we could see. Of course, we had nowhere booked, so we just got off in the little town centre at Duong Dong near the fish market.
We quickly realized that things were quite spread out. The fancy resorts were all further up the coast on a road that was apparently not quite finished and the rest of the accommodation was scattered along Long Beach. Finally, we decided on a place and jumped in a taxi back headed toward Long Beach.
From the main road, which we had come in form the airport and which runs parallel to the beach there are small laneways which lead down towards the beach. Along these laneways was where all the accommodation was; mystery solved! It was a bout a ten minute taxi ride from here back in to Duong Dong but in all honesty, most things you needed could be organized from here. There were restaurants and bars along the beach and sun loungers too, should you want them. Locals offer massage and beauty treatments too while you soak up the sun.
In Duong Dong, the nightly fish market is definitely worth an evening away from the sands. It seems to be a big hit with locals and visitors. There is every kind of seafood imaginable. Simp;y choose what you want from the stands, agree on a price and it will be served up to you along with rice and salad. It's all a bit rough and ready but that adds to the experience. If you're lucky like us,  you might get a couple of drunk Vietnamese men come over and insist in doing shots of whiskey with you and practicing their four words of English!
Lying on the beach all day is not really our kind of thing, we tend to get restless and get bored quite quickly. However, in Phu Quoc, this seemed to be the name of the game. To escape the beach for the day, we rented a scooter and went spinning around the island, exploring every nook and cranny. Once you get away from the Long Beach area with all the resorts and reach the top of the island you really get to see the true beauty of the place. Up in the north there are beautiful untouched beaches with nothing around. To drive there, you have to go through the center of the island which is covered in lush green rain forest. It's beautiful.
Sadly though, Phu Quoc is not going maintain this untouched beauty for long. It seems like the government are intent on developing the island for mass tourism. They have just recently opened the brand new international airport and in the north construction has already begun on a number of high-class resorts.
Phu Quoc for us was a bit scattered, a bit all over the place and is quickly selling itself out. While we enjoyed our three days there, we had had enough after just that short amount of time and we don't think we'd be running back. The island has no real character, nothing noteworthy other than the natural beauty in the north which is quickly being cleared out to make way for hotels. It's a pity really as the place was no doubt once a true paradise.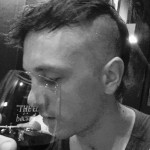 Brian is a travel writer, photographer, blogger, travel addict and adventure-junkie. Being outdoors, getting off the beaten track and outside his comfort zone is what makes him tick. Brian's the dreamer in the relationship; when he's not travelling, he's dreaming about it! Keeping fit, cooking, music and red wine take up the rest of his time.
SUBSCRIBE FOR OUR FREE EBOOK
Sign up for our free travel photography Ebook "Faces of Nepal" and you'll also receive our monthly newsletter.