With prices for hotels and restaurants rising in Sri Lanka with each passing year, finding your own place is becoming increasingly popular with groups of backpackers, families and couples alike. Time should be taken when looking for a suitable place, keeping in mind location, distance from the beach, distance to the supermarket, how far you are from the nearest shop, facilities in the house, whether or not utility bills are included and of course the rental price. A house one kilometre or further back from the beach with kitchen, living room and one bedroom typically costs thirty thousand rupees but for this price the standard can vary quite a bit so it's worth shopping around. When renting a house in Hikkaduwa, the best method is to keep an eye out for signs in shop windows and just ask around. Taking a scooter for a day and driving the lane-ways around the jungle side of the railway tracks is a great way to cover a lot of ground, check out multiple properties and find something that works for you and your budget.
We searched for a few days around the Hikkaduwa area and beyond. After a lot of searching, Kumarakanda, between Hikkaduwa and Galle was to be our new home for our time in this part of the country. Finding a great value spot back off the beach, we thought we had it made but unfortunately for us promises made to us by the house owner weren't kept and it made for an altogether frustrating stay in the jungle-side village. The area we were living in was amazing, a rain-forest like jungle surrounded the house, with monitor lizards appearing along the street now and then, kingfishers and other colourful birds landing on telephone wires right outside our window and smiling locals cycling by always shouting hello as they whizzed by. Unfortunately for us the peace and tranquillity that could have been was spoiled by the ongoing construction, the no boundaries attitude from the family below and the constant lies being fed to us by our landlord, all the time smiling, saying "Yes, yes, no problem, no problem", when there almost always was a problem. A gaping hole in our floor allowed the family downstairs to come up whenever they felt like it unannounced, our balcony area was turned into a restaurant without our knowledge, restaurant goers were to use our private bathroom, bills for the entire household were passed onto us and on top of all that the damn dog never took a liking to us, waking up the entire neighbourhood whenever we came or went no matter what time of day or night. We're understanding, patient people for the most part but this situation would have had anyone tearing their hair out!
With all this said our new base still afforded us the opportunity to live in a local community, save a lot of money by not eating out in expensive restaurants, be in good contact with family and friends over the Christmas period and have a proper Christmas ourselves. However, we can't help but feel that we missed out on much more that should have been had we gone with our gut and said no to the deal that was too good to be true and spent a bit more.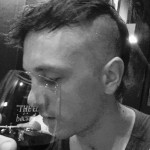 Brian is a travel writer, photographer, blogger, travel addict and adventure-junkie. Being outdoors, getting off the beaten track and outside his comfort zone is what makes him tick. Brian's the dreamer in the relationship; when he's not travelling, he's dreaming about it! Keeping fit, cooking, music and red wine take up the rest of his time.
SUBSCRIBE FOR OUR FREE EBOOK
Sign up for our free travel photography Ebook "Faces of Nepal" and you'll also receive our monthly newsletter.