Ireland on a sunny day, really is hard to beat. During the time we spent at home between finishing a fourteen month backpacking trip around the Sub-Indian continent and starting a new teaching contract in Korea, we were treated to some amazing weather. The sun was shining every day, there wasn't a drop of rain, it was unheard of and we took full advantage knowing that this might never happen again! Noelle had  a little Nissan Micra car that we filled up with everything we needed and hit the road for a few days road trip along the west coast of Ireland.
We grew up watching Dermot Morgan in the TV show Father Ted, a hilarious sitcom about three Catholic priests living on a remote island off the Irish west coast. Although Craggy Island is a fictional place, their parochial house isn't and we set about finding it. Located just outside Ennis, we drove up narrow back roads, towards the Burren. There was nothing around for miles, we were well out in the Irish wilderness, just about giving up hope when all of a sudden we spotted it, "It's the FR. Ted House!" The house which was used for filming is occupied by a family, who take visitors in on tour of the house with advance booking. They must be sick of the likes of us, who just pulled up in front of it, had a little photo-shoot and drove on. Even though it was a quick visit, it was cool to see the famed Fr. Ted Parochial house in real life, we were half expecting Fr. Jack to come running out the door screaming "Drink", but alas, it wasn't to be.
Driving on, we passed through the Burren, a barren, rocky karst-landscape, one of the biggest in Europe and one of Ireland's most visited 'attractions'. Luckily, we stumbled across a great view-point, looking out over long stone walls that stretched out for miles across the bizarre landscape. Our plan was to move from here on towards the seaside town of Lahinch and find somewhere to set up camp for the night. We hadn't realised how difficult it was going to be to find somewhere to camp for free. It seemed every spare bit of land has been occupied by a camp site, caravan park or has holiday homes built on it. We needed somewhere we could set a fire and cook our food and so after watching a dolphin playing in the water at Doolin we started driving south, keeping an eye out for a spot to camp.
After no time at all, we had reached the Cliffs Of Moher, one of Ireland's premier tourist sights. A big visitor's centre had been built since the last time we visited and after giving it some thought and seeing the crowds, we decided to keep motoring. Taking random roads, checking every nook and cranny, we kept exploring the coast but couldn't for the life of us find a place to camp and it was getting late in the day. Passing through a small, almost completely deserted village, we saw a farmer herding cattle down through the main street of the town; we hadn't seen this kind of behavior since India and it was refreshing to see it in a setting we were more familiar with.
After a lot of searching we arrived in the seaside town of Kilkee, a nice little town in the South of County Clare. It was our first time in Kilkee and we started driving out along nearby Loop Head still looking for a place to camp. Loop Head blew us away. It was such a dramatic setting; huge cliffs dropped off into the calm ocean below, massive sea stacks stood tall, birds nestled in the sea arches and there wasn't a soul around but us. This was to be our camp spot for the night. As we started setting up camp, right there on the headland, the sun started to set, it was beautiful and so peaceful. Getting our food on the barbecue, we stayed up for a few hours, before falling asleep to the sound of the gulls hidden in the cliff face.
The tent was warm from the morning sun and we crawled out to the welcome feel of the gentle sea breeze on our skin. If we thought Loop Head was beautiful last night, we were even more overwhelmed this morning; how had we never heard of this place? Walking around, we took pictures and admired the incredible natural beauty of the place. The water was so calm, and bright blue, there wasn't a cloud in the sky and every corner you turned there was another sea stack or huge cliff face to blow you away. After exploring around for a bit, we went into Kilkee for a walk along the beach and some breakfast. People were already gathering at the beach but in a strange move, it seemed it was the large stone steps surrounding the beach that were filling up the quickest, with hardly anyone setting up on the sands. From Kilkee it was back into the trusty Micra, southbound.
Saving ourselves some time, we skipped through Kilrush quickly, following signposts for Shannon Ferries. Getting on the ferry in Co. Clare, the car ferry service takes no time at all to cross the Shannon and in no time we were driving off in Co. Kerry. Driving down through Listowel and on towards Tralee we were bound for Castlegregory, where we had gone camping together for the first time more than six years ago. That night we had to find shelter in the sand dunes and hold down the tent in gale-force winds. The rain beat against the tent all night and we learned a valuable lesson to always check the weather before going camping in Ireland! This time around was to be a totally different experience.
Castlegregory is a beautiful part of the country, with Mount Brandon to the west of the bay and little villages all along the coast it's a really 'Irish' part of the country. Over the couple of days we spent there, we were treated to beautiful sunsets over the bay, we went walking up around Mt. Brandon saying hello to countless sheep just chilling in the sun and explored some of the surrounding countryside and less well-known beaches.
By now, we were in full tourist mode and we had one more thing on our list before heading back home to Cork. A little pub, fish and chips and some trad music and with that in mind we were off to nearby Dingle, where we knew we could get all we wanted. Dingle is a major tourist town, home to Fungi the dolphin and a harbor full of colourful fishing boats. Over dinner we tried to figure out what whether to head back or stay on but after looking at the weather forecast we decided to start heading back towards Cork. The sun was still shining when we got back but the next morning we knew we had made the right call; the sun was gone and the rain was back, waking up in a tent in that weather would have been no fun at all, it was good while it lasted!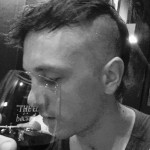 Brian is a travel writer, photographer, blogger, travel addict and adventure-junkie. Being outdoors, getting off the beaten track and outside his comfort zone is what makes him tick. Brian's the dreamer in the relationship; when he's not travelling, he's dreaming about it! Keeping fit, cooking, music and red wine take up the rest of his time.
SUBSCRIBE FOR OUR FREE EBOOK
Sign up for our free travel photography Ebook "Faces of Nepal" and you'll also receive our monthly newsletter.