Manali is the self-proclaimed adventure capital of India and is a huge draw for domestic tourist, all looking to escape the unbearable Indian summer down south. Avoiding the heat is only part of the attraction though as it's also the first time for many of these people to see the snow-capped Himalayas, touch snow and feel the cold mountain river water. New Manali is the main part of town which caters mostly towards the Indian tourists with big expensive hotels, resorts and touts galore. Shops rent out bright, luminous, 80's style ski jump suits to the Indian tourists heading up to the snow on day trips for the first time where some pose in skis for their holiday photos at the Rohtang La. 'River crossings are everywhere around Manali and queues of local tourists wait their turn to pull themselves across the river on a steel cable and pulley to the middle of the river where they can get low enough to touch the cold water flowing just below them.
Old Manali and Vashisht are two smaller villages around Manali and are much quieter and more chilled out than the main hub of New Manali. Most backpackers stay on the hilly street of Old Manali which is lined with shops, restaurants and tour operators. The higher-up end of the street runs back into normal Indian mountain village life, away from the tourists and the old wood and stone houses are beautiful, as is the pristine Hindu Manu Maharish Temple, which is hidden away amongst the Himachal Pradesh style architecture overlooking the surrounding valleys.
We stumbled across an advertisement for a cooking course in Vashisht and contacted them for information. Classes were being run by a local lady with help from Louise, an English volunteer. The course was a side project from the orphanage they were involved with. The local lady ran the orphanage, taking children in at the age of three and raising them until they are eighteen. As well as being very kind and welcoming, she was a great cook! We cooked six Indian dishes together from scratch; chopping vegetables, mixing spices and rolling chapati dough, creating a lunchtime feast which we all enjoyed. To finish off our meal, Louise demonstrated how to make Masala Chai, a milk tea boiled with cloves, cinnamon, cardamom, peppercorns and ginger.
After finishing our lunch we thanked our hosts and went in search of Vashisht's top attraction, a supposedly stunning waterfall beyond the north end of the village. Walking trough the far end of town, we stood in out of the way of passing cattle and men carrying huge bails of straw on their backs before continuing on our way. Lizards, basking in the sun, scurried quickly into cracks in the wall as we passed by. The narrow, winding paths afforded us beautiful views of the snowy mountains in the distance beyond the green alpine hills of Manali. The path continued up, through a shady forest to a huge waterfall that thundered down the mountainside to the crystal clear but freezing cold pool below. After spending some time at the falls we left the waterfall and Vashisht behind and made our way back to Old Manali.
Paragliding, mountain biking, rafting, snowboarding and rock climbing in Manali are all heavily advertised, appealing to the largely backpacker crowd. However, we had heard seven people were killed paragliding the previous month with mediocre equipment and unskilled or even untrained pilots. The rafting it seemed was a bit by the way and with plans to raft in Rishikesh on the Ganges River, we decided to leave rafting be for now. The snowboarding on offer was super expensive and with the season having finished in March and it now June, I wondered how good the snow could really be and so we were left with mountain biking and rock climbing.
The Rohtang La is a road pass north of Manali and we had planned to bike down from the pass. We had our bikes booked and payed for and were just cycling away from the shop when we realised that one of our bike was much too big for Noelle and with a fast, bumpy ride expected down from the pass it was too dangerous to continue and unfortunately we had to cancel our trip.
The rock climbing in Manali was actually in Vashisht. We had both been to artificial climbing walls years ago but doing it for real was a new experience for us. The climbs were up to twenty five meters high and of varying difficulty. After a quick intro for us newbies, we were harnessed up and we started climbing. Both of us took to it very quickly, moving from route to route, each increasingly more difficult than the last and each time time we reached the top of the wall the views back down through the Kullu Valley were incredible! We stayed longer than we had arranged, at no extra charge, but eventually, with our arms burned out we called it a day, however we'll be keeping an eye out for opportunities to climb again on our travels.
Two days before we were due to leave Manali, we heard from Mike and Linda, our friends who we had left Korea with almost four months ago. They were in Leh but were coming back to Manali en route to Dharamasala and so we arranged to meet up before we tackled the epic nineteen hour, five hundred kilometer bus trip to Leh in Ladakh, the most northern province of India. It was great to catch up and swap stories together with our long-lost travel buddies before having yet another goodbye. Then it was time for them to leave for their bus and for us, we had a few more hours before we were bound for Leh.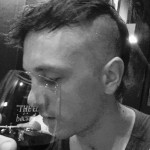 Brian is a travel writer, photographer, blogger, travel addict and adventure-junkie. Being outdoors, getting off the beaten track and outside his comfort zone is what makes him tick. Brian's the dreamer in the relationship; when he's not travelling, he's dreaming about it! Keeping fit, cooking, music and red wine take up the rest of his time.
SUBSCRIBE FOR OUR FREE EBOOK
Sign up for our free travel photography Ebook "Faces of Nepal" and you'll also receive our monthly newsletter.