The streets around the bus stand at the famous colonial hill station of Shimla in Himachal Pradesh were quiet when our bus rolled in in the early hours of the morning. We had hardly slept on the overnight bus trip and being ripped off, followed and
pestered was the last thing we wanted but that's what we got. The hostel we were to stay at was a steep, thirty minute walk uphill from the bus stand and two men who had spotted us as soon as the bus pulled up were pretty insistent that we wouldn't find our way or wouldn't be able to carry our bags all that way.  Of course the two gents were looking for a few quid to help us out but we very politely refused over and over and over but they skulked along beside us regardless. When we reached a fork in the road at the top of one set of steps the two men each told us it was a different path and it took every bit of patience I could muster not to hurl the two of them back down the hill. Luckily some school kids walked by and seeing we were at boiling point, intervened and gave us directions all the way to the hostel. The two men only backed off after a few choice words and we finally continued on our way up to 'The Ridge'. Up here we could see the bus stand way down below us. Except for the monkeys, the place was practically deserted but they were keeping up quite a presence swinging from railings, diving in and out of the bins and snarling at each other in the otherwise peaceful morning air. Due to it's reputation for filling up quickly we had booked ahead, for once, and had a room reserved at the local YMCA. On our final few steps two guys offered us a room at their guesthouses but we refused explaining we had a reservation elsewhere. Inside the YMCA the night receptionist was asleep behind the counter, we banged on the window and were told to wait while he tidied himself up. As we waited to check in, another man walked into the hostel and approached us, "You need room sir? I have room, cheap and best".  We couldn't believe it! "Are you for real?! We're in a hostel now, waiting to check in to our room!", he turned and left quietly but he was certainly an advocate of persistence pays.
Tired as we were, we had only one day in Shimla and so went out to make the most of it, knowing that if we had a nap we could end up sleeping all day. Friends of ours had been to Shimla a few weeks previous and had randomly met a psychic and had a very interesting time talking with him and had had some surprisingly accurate answers from him regarding their past, present and future. He approached them, he asked them to go for a coffee with him and with no pressure he had told them of his psychic ability and offered them a reading. I'm a complete sceptic with these things and believe that your future is undetermined and you have some control over the direction your life takes, however in the interest of open-mindedness and after our friends recommendation, we were interested in meeting this psychic as well as seeing Shimla itself.
Our encounter with the psychic began at the post office. He approached us and asked us to go for a coffee with him and then outside the post office, he took Noelle's hand and read her palm. He was a very gentle, quite elderly man and we put two and two together and got psychic. The coffee invitation, the casual approach, the kind
nature, the palm reading, this had to be the guy. As we sat having coffee with him it became clear that this old man liked to talk but there was no harm in him, I was having second thoughts about giving this psychic a fair chance but every time a doubt formed he would be approached by Shimla locals shaking his hand, asking for advice, trying to touch his feet and so on. It seemed he was a local legend and the doubts were again put to rest. When we could get a word in edgeways we asked him would it be possible to do a reading for us and he agreed. Long story short; he brought us back to his home and after a short tour, kept us there for over two hours repeating himself and talking a whole lot of rubbish, hugging and kissing us both and being generally over-friendly for a person we had only met that morning. There was no threat from this old, frail man but we were delighted when we finally managed to say goodbye. With his children now living in America, he was clearly lonely and even as we said goodbye he was hesitant to let this new 'friendship' go, he asked us to write to him, to come back that evening for a drink and if we wanted to we could even stay with him; you shouldn't be rude to the elderly and so instead we lied and walked smartly away from his residence with fake smiles waving goodbye. Later that evening we checked the name and number of the psychic which our friends had given us and surprise, surprise, it was different to the name on the business card the old man had left us. He had certainly been a respected man in the community judging by how he was treated by the local people but unfortunately we had found the wrong psychic. Who would have thought a small place like Shimla could have two psychics, the sceptic in me had returned!
By the time we got back to Shimla the Viceregal Lodge and beautiful botanical gardens which surround it were almost closed and so we couldn't visit. Instead we went into the Gaiety Theatre, the only theatre of its kind in Asia. Our tour guide was excellent bringing us from the royal box to the stage in the beautifully restored theatre where Michael Palin had performed a few years previously during filming of his documentary 'The Himalayas'. The inside of the theatre was extremely like the Everyman Palace Theatre back in Cork , Ireland and brought me back there if only for a moment  before our private tour was moving outside. The tour finished up just after dark outside on The Ridge where our guide told us about the history of Shimla. He told us how Shimla became the official summer capital of the Raj in 1822 and how every summer, until 1939, the Indian government relocated to Shimla and ruled the country from this small town along this 12km ridge. The buildings and the architecture in town reflect these times. The town hall, the post office, the offices of the accountant general and of course the Gaiety Theatre all look like they've been lifted from a small English countryside town and relocated to India.
There's even the large Christ Church, the second oldest in Northern India,  at the eastern end of the ridge where mass is said regularly still and even has a service in English on Sunday mornings. You could almost be in England if it weren't for the large statues of Mahatma Gandhi, Indira Gandhi and Jawaharlal Nehru, all key players in India's fight for independence, looking over their motherland from Shimla, the old summer home of the Raj but now a cool holiday retreat from the hot Indian summer months.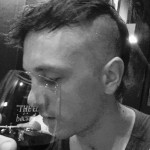 Brian is a travel writer, photographer, blogger, travel addict and adventure-junkie. Being outdoors, getting off the beaten track and outside his comfort zone is what makes him tick. Brian's the dreamer in the relationship; when he's not travelling, he's dreaming about it! Keeping fit, cooking, music and red wine take up the rest of his time.
SUBSCRIBE FOR OUR FREE EBOOK
Sign up for our free travel photography Ebook "Faces of Nepal" and you'll also receive our monthly newsletter.