Vast, remote and stretching seemingly forever, the Australian outback is a landscape like no other we have ever experienced. As you may expect, it is dry, dusty and a place of incredible extremes with summer temperatures in excess of 40°C and winter nights dropping below 0°C. However, you may be surprised to learn, as we were, that the outback is, in fact, teeming with life and home to sites of unimaginable natural beauty. Driving from Alice Springs to Adelaide gives you a chance to experience some of this incredible, interesting and surprisingly diverse landscape.
We drove from Alice Springs to Adelaide over 10 days in mid-August. Our route took us along the Stuart and Lasseter Highways covering a grand total of 2,884 epic kilometres of outback splendour.
After completing this incredible outback road trip, we wanted to share this practical guide with everything you need to know about driving from Alice Springs to Adelaide, what is in our opinion, the ultimate outback adventure.
One Of Australia's Most Iconic Road Trips
This journey through the outback is without a doubt one of the best road trips in Australia. It stands apart from many of the other popular road trips around the country due to the iconic sights along the way, the pure isolation, quirky towns and characters you will no doubt encounter, and the true sense of adventure and freedom you can only experience driving in the outback.
There really is nothing quite like being in the middle of the desert, a few 100km from the nearest town, with no mobile coverage and nobody around but you, your travel companions and whatever wildlife is hiding around you.
Trust us, the outback is about as rural as it gets!
Preparation For Driving From Alice Springs To Adelaide
Taking on such an epic road trip requires some careful planning. You may need to learn a few new skills, get well-acquainted with your vehicle and your travel companions and ensure that you have all of the necessary equipment and enough supplies before embarking on this adventure.
If you don't already know how, make sure you know how to change a tyre.
Consider renting a satellite phone in case of emergency. We didn't do this and thankfully, we didn't need it but it's definitely worth considering as mobile coverage is very limited.
Check over your vehicle thoroughly before hitting the road. Whether it's a rental or your own, you need to know that you can rely 100% on your chariot to get you through the journey.
Familiarise yourself with where everything is, including how to access your spare tyre and where your tools are.
Always make sure that you have enough water and food. If you break down or don't reach your intended destination for any reason, you need to know that you have enough supplies to keep you going until help arrives.
Bring warm clothes and a blanket for the evenings. Don't be fooled by the sweltering heat during the day, once the sun goes down the temperatures can drop quickly.
We would recommend bringing at least one good-quality headlamp with you for venturing outside in the evenings.
Of course, don't forget to bring your camera, spare batteries and enough film/memory cards. If you're anything like us, you'll be stopping to take photos the entire length of the journey!
The driving times are long in sections, and by long, we mean VERY long! If you can allow extra time, do. Taking your time and going slowly is not only a safer way to travel the outback but more enjoyable too.
One long day can really take the wind out of your sails, so it's important to look at the route carefully, including any side trips you want to make and plan your driving times and breaks accordingly. Once you have a plan in place, you can set about exploring the Outback with a little bit more confidence.
Here are some useful maps to help you plan your journey.
Our Tips For Driving In The Outback
Driving in the Outback can be dangerous at the best of times. Follow these simple safety tips to ensure that you, your fellow passengers and other road users stay safe.
Take Out Some Travel Insurance
Travelling in such a remote area comes with its fair share of potential for mishaps. Do yourself a favour and make sure that you get travel insurance. You might not need it for your entire stint in Australia, but it's certainly worth considering for this leg of the trip. We recommend World Nomads, as you can get cover for just the time you will be travelling in the outback.
Don't Drive At Night
Driving at night in the outback is dangerous, plain and simple. There's an abundance of wildlife that comes out to play at night and you don't want to end up in an accident with a kangaroo, cow or camel. Collisions with larger animals are one of the major causes of accidents in the outback, don't become another statistic.
Take Regular Breaks
Avoid the temptation to be a hero, make sure you take regular breaks from behind the wheel and share the driving. If this means adding an extra day or two to your itinerary, then do it. Driver fatigue is very real and combined with the heat and monotonous driving in sections can be very dangerous.
Carry And Drink Enough Water
This is the desert, you can become dehydrated very quickly and things can go from bad to worse very fast. Make sure to carry a minimum of 10 litres of water per person, per day.
Take It Slowly
Speeding on long, open roads can be tempting, but fight the temptation and stick to the speed limits. The limit on these roads is 110km/hr, sticking to it, will greatly reduce any chance of an accident. As they say, "arrive alive".
Be Careful Of Road Trains
Road trains are a sight in themselves. If you have never seen one before, they are some of the biggest, longest trucks in the world, often carrying three trailers. If you are going to brave overtaking one of these beasts, make sure you have enough space on the road ahead. If something comes against you and you're halfway through overtaking, you'll realise very quickly you have nowhere to go but off the road and that's definitely not where you want to end up.
Choosing The Right Vehicle
Choosing the right vehicle for this particular road trip is essential, and your choice can make or break your entire experience. Taking on the outback in a rustbucket is not advisable. Don't underestimate where you are going to be driving through. The terrain here is unforgiving, the weather is extreme and the distances between places are vast.
For us, there was no other choice but to rent a camper. It's one of our favourite ways to travel, hands down, and we knew it would be the best way to experience the outback. The option to stop anywhere, for as long as you want gives you complete freedom and having your bed, kitchen and lounge in the back gives you some sense of security should find yourself in a less-than-ideal situation.
Renting A Camper
We drove the route from Alice Springs to Adelaide with Britz Campervans. They have a great range of vehicles to choose from depending on how many people are in your party and what your budget is. Our camper was equipped with a stove, sink and everything we needed for the journey, making our preparation that bit easier.
It's worth noting that some sections of the journey can only be completed in a 4×4, such as the very popular Mereenie Loop, as well as many other side trips which take you on unsealed roads. If you are considering any 4×4 driving, make sure you know what you're doing first.
Buying A Vehicle
If you are on an extended trip in Australia, you may also consider buying your own vehicle. As with buying a vehicle anywhere, be sure to test drive it, look over it in detail, or if you don't know much about engines, bring it to a mechanic for a thorough inspection.
Gumtree is a great place to start your search and hostel noticeboards regularly have vehicles for sale, albeit of varying quality. If you can swing it, you're better off to spend a little more and buy something solid that you can rely on and that won't cost you more in repairs in the long run.
Our Full Itinerary Driving From Alice Springs To Adelaide
You can drive the route from Alice Springs to Adelaide or you can start in Adelaide and do the route in reverse. After landing a great housesit in Adelaide for a month through Trusted House Sitters, we took a flight to Alice Springs to begin our campervan journey through the outback all the way back to Adelaide. The flight itself over the Red Centre was absolutely stunning and got us even more excited to get behind the wheel and start our outback adventure.
Key Details Of Our Trip Driving From Alice Springs To Adelaide
Duration: 10 Days
Distance: 2,884 km's
Total Driving Time: 36 hours, 50 minutes
Fuel Costs: Fuel Prices varied from place to place averaging about $1.60/litre.
Accommodation: We stayed in our camper every night either free-camping or at campsites. If you're not travelling by camper, Booking.com has some great options, especially in the more built-up areas.
Mobile Phone Provider: Telstra – the best option but still limited coverage
Road Type Travelled: All Sealed Roads
Recommended Apps: Maps.Me, WikiCamps Australia
Day 1: Arriving In Alice Springs
Starting our adventure in Alice Springs, we bee-lined for the Britz office to pick up our campervan and after stocking up on supplies at the supermarkets in the centre of town (there's both a Coles and a Wooly's in town), we drove around Alice Springs, taking in some of the sights and watching the sunset over the MacDonnell Ranges from Anzac Hill.
Distance: 5 km's   |   Driving time: 1 hr
Day 2: Alice Springs To Ormiston Gorge
Start your day at the Alice Springs Desert Park and learn about the wildlife, the geography and the flora you can expect to encounter during your time in the outback. The nocturnal house is a real eye-opener to how alive the desert becomes at night and might give even the bravest souls the heebie-jeebies!
After lunch, it's about a 2-hour drive west to the beautiful Ormiston Gorge, an optional side-trip we couldn't pass up. It's a beautiful drive with loads of great photo opportunities. Take your time, enjoy the drive and set up camp in advance of exploring the area in the morning. Once darkness settles in, the outback comes to life with the sounds of nature – that first night really is something special!
Distance: 140 km's   |   Driving time: 2 hrs
Day 3: Ormiston Gorge To Erlunda Road House
Get your hiking boots out and go for a walk through the stunning Ormiston Gorge. A quick hike up from the carpark takes you to a stunning lookout where you get your first real insight into the vastness of the surrounding landscape. The first thing that hit us was just how much greenery there is! Continue down the path into the gorge and circle back to the carpark to complete the 9km Ormiston Pound Walk – it takes 3-4 hours to complete the circuit.
Leaving Ormiston Gorge behind you, you'll be doubling back on yourself, heading back towards Alice Springs. Be sure to stop for a swim at Ellery Creek Big Hole, the cold waters make for great relief from the midday heat. Even if you're not up to braving the waters, it's still a beautiful spot to stop for lunch before continuing on your way to Erlunda Roadhouse, the next overnight stop on your Outback road trip.
Distance: 330 km's   |   Driving time: 4 hrs 30 mins
Day 4: Erlunda Roadhouse To Curtin Springs (Including King's Canyon)
A visit to King's Canyon requires you to retrace your route again today, but believe us it is worth each and every additional second you will spend driving! Get on the road early and start the journey to King's Canyon to allow time to do the incredible King's Canyon Rim Walk.
The rim walk is a mind-blowing trail that takes you around the top of the canyon, affording you sensational views of the surrounding countryside and down into the canyon itself. This was one of the highlights of our entire trip and really should not be missed if you have the time. If you are in any way on the fence about whether or not to do this, just do it, it's beyond amazing. It takes about 3-4hours to complete the walk and be aware it is very exposed so the earlier you can start the better, you don't want to be up there cooking in the midday heat.
After you have completed the walk and picked your jaw up off the floor it's time to make your way towards Curtin Springs where we would recommend staying the night. They have a range of room types and free unpowered sites. If you need power, it's best to book ahead.
As you drive towards Curtin Springs don't be fooled, as so many are, when Mount Conner comes into view. At first glance, it looks very similar to Uluru and you should definitely stop for some photos of the impressive 300metre tall monolith, but you've still got about 100km to go to the main attraction in the morning. So many tourists mistake this site for Uluru, that the locals warmly refer to it as "Fool-uru"!
Distance: 500 km's   |   Driving time: 7 hrs
Day 5: Curtin Springs To Yulara (Including Kata Tjuta)
This is the day which most people look forward to the most, the day that you will first lay eyes on the mighty Uluru (Ayers Rock) and Kata Tjuta. Excitement levels will be at an all-time high today and if you're anything like us you'll be giddy with the anticipation of reaching, arguably, Australia's most iconic sight.
Before you reach the Uluru-Kata Tjuta National Park, we definitely recommend booking a spot at the Ayers Rock Camp Ground as it fills up and books out in advance. At $43 per night for a non-powered site and $50 a night for a powered site, it is expensive. However, being on the doorstep of the park allows you to spend more time exploring the park and all that it has to offer. Given the remote location, this is not a place you are likely to be passing through again anytime soon. It's a mission to get here, you may as well pay the few quid and really embrace being here.
If you really want to save yourself some money, the closest free campsite is 85 kilometres back the road at Curtin Springs Roadhouse where you started this morning. Plenty of people base themselves here and still make it the park for sunrise; it's your call. We stayed two nights at the Ayers Rock Camp Ground and we didn't regret it. Ordinarily, we are dead-set against paying to camp anywhere but this was a rare exception where we were glad that we did.
It's only about an hour's drive to the campsite in Yulara from Curtin Springs and about another hour from there to Kata Tjuta. You can buy your park pass at the entry station on the way in, it costs $25 and is valid for three consecutive days. For more information on entry fees and opening times click here.
Once you reach Kata Tjuta, pull on your boots and get ready to hit the Valley of the Winds trail. This stunning walk is 7.4km, takes 2-3 hours and was another highlight of the trip for us. The trail is diverse, the lookouts are awesome and it's one of the most popular walking trails in the National Park for good reason.
Once you get back to your camper, find yourself a good spot and sit back and watch as nature puts on a show like no other; sunset over Kata Tjuta.
Distance: 135 km's   |   Driving time: 2 hrs
Day 6: Uluru Kata-Tjuta National Park
An early start is crucial today to make it back to Kata Tjuta to watch the sunrise over the imposing 36 dome rocks. Make sure to wrap up warm as can be very cold in the early morning and you want your fingers to be in full working order to get your snaps of this epic sunrise. Keep an eye on the horizon, where you can see Uluru silhouetted clearly in the distance.
After sunrise, we elected to get up close to Uluru on the free (hurray for free!) Ranger Guided Mala Walk at the base of Uluru. The walk takes approximately an hour and a half and starts at 8 am or 10 am, depending on the season. We found it very interesting and learned more about the ways of the local Anangu people, for whom Uluru is a sacred site.
When the day starts to heat up, head for the Uluru Cultural Centre and delve even further into the fascinating history and rich culture of the local people here. In our seven months in Australia, this was probably the best insight we got into the ways of the Aboriginal people. It's an incredibly interesting culture and one definitely worth learning about during your visit.
Make sure your batteries are charged, you have enough space on your memory cards and make your way to sunset at Uluru. "Hurry, hurry, step right up"… it can be a little bit of a circus here, but get there early, unfold your camping chair, claim a spot and watch as Uluru almost appears to catch fire as the last of the day's sunshine illuminates the giant red rockface, before the light slowly fades away.
Distance: 125 km's   |   Driving time: 1hr 45 mins
Day 7: Yulara To Curtin Springs
In keeping with the theme of the journey so far, today is another early start. And also in keeping with the theme so far, this one is absolutely 100% worth it! Your first port of call this morning, after a bucket-load of coffee, of course, is Uluru for sunrise. Like sunset last night, you need to get there early to get a good spot. There can be a line of traffic at the park entry, so be sure to take this into consideration when timing your arrival.
Once you're parked up and wrapped up, all that's left to do is watch on as the sun breaks the horizon and slowly rises behind the iconic rock forming a perfect silhouette against the early morning sky. It really is a sight to behold.
Taking advantage of your early start, we recommend the Uluru Base Walk. It takes anywhere from 3-5hours, depending on how often you stop, your fitness level and how hot it is. The walk around the base is 10km. There are information points along the way, as well as signs that restrict photography at some sections due to their importance in the creation stories of the aboriginal people.
The Mutijulu Water Hole was our favourite part of the walk, be sure not to miss it, the air of peace and tranquillity there was the perfect way to wrap up our time at Uluru and Kata-Tjuta.
You may see some people climbing Uluru, but please remember that this is a sacred sight to the aboriginal people. We are avid trekkers and climbers and after our experience in the park, we decided against climbing. We felt so strongly about the reasons why that we wrote more about why we chose not to climb Uluru and we would encourage you to do the same.
Get some of tomorrow's long drive out of the way today and get yourself back to Curtin Springs where you can spend the night.
Distance: 125 km's   |   Driving time: 2 hrs
Day 8: Curtin Springs To Coober Pedy
Today is the biggest driving day of the entire trip and after all of the early starts over the last few days, it's important to share the driving and take regular breaks. It's a lot of open road and the drive can get a little monotonous after a while. This is the day to get the tunes pumping, have a few eye-spy tournaments, reminisce about the good old days or do whatever else you need to do in order to keep your mind alert.
Do make sure you stop at the Kulgera Roadhouse, the first and last pub in the northern territory and the cheesiest photo opp in all of Australia!
You'll have one more obligatory photo stop to break up the journey about an hour down further south on the Stuart Highway at the South Australia/Northern Territory border. Then you're back on the road to Coober Pedy, a bizarre mining town, where locals live below-ground for part of the year due to the extreme temperatures experienced here.
You'll know you're nearly there when you see the unique moonscape caused by the extensive opal mining in the area. Keep an eye out for the 3,448-mile long Dingo Fence on your way into town, the longest manmade structure in the world!
Distance: 648 km's   |   Driving time: 7 hrs 15 mins
Day 9: Coober Pedy To Port Augusta
Exploring the underground churches, a mining museum, the 'Big Winch' and even checking out a spaceship left behind here after the filming of 'Pitch Black' in 2000 will take up most of your morning in the 'Opal Capital of the World'. Coober Pedy really is a unique and quirky place and definitely one of the more interesting stops when driving from Alice Springs to Adelaide. It's unlike anywhere we have ever been and likely ever will be again. It's definitely worth spending some more time here and if you have some to spare (and a 4×4), the Breakaways are just 33km north of Coober Pedy.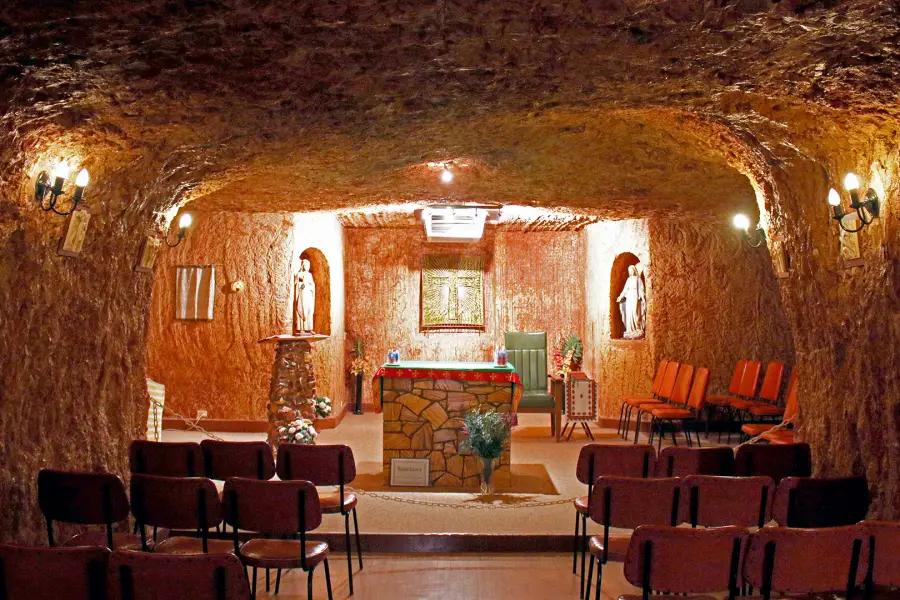 Leaving quirky Coober Pedy behind you, there are two major stops between here and Port Augusta. The heavily populated Glendambo – only joking, it's home to just 30 locals! And Woomera, a large Australian Defence Force Aerospace systems and testing range. As you may expect, it's closed to the public, but Woomera Village can be visited and there are some aircraft, missiles and rockets on display. We didn't hang around and instead pressed on for Port Augusta and the first real signs of civilisation we had encountered since Alice Springs. Even after a few days in the remote outback, it can feel strange to be surrounded by buildings, traffic and people, but don't worry, you'll acclimatise quickly.
Distance: 542 km's   |   Driving time: 5 hrs 20 mins
Day 10: Port August To Adelaide Via The Clare Valley
If getting back to civilization was a shock, then reaching the Clare valley will blow your mind! Outside of the many beautiful acres of vineyards that seemingly stretch forever, you also have the opportunity to sample a seemingly infinite number of wines which makes for a stark contrast from the selection at the roadhouses on the Stuart Highway. If you can afford the time, we would recommend spending a night here to really enjoy the um… well, yes the wine! And the local artisanal chocolate, jams, chutneys, olives, we could go on!
If you are tight on time, try and at least make it to the Sevenhill Winery. Established in 1851, it's the oldest winery in the Clare Valley and is the only remaining Jesuit-owned winery in Australia. They are also the only winery in the country which specialises in altar wine. If you've ever wondered what it tastes like, now's your chance!
From the Clare Valley, it's about a 2-hour spin back to the centre of Adelaide, marking the end of your outback adventure driving from Alice Springs to Adelaide.
Distance: 334 km's   |   Driving time: 4 hrs
Driving From Alice Springs To Adelaide: Overland Adventures In The Outback 
You might be glad to be back to the bustle of city life, or you might miss the peace and tranquillity of the Outback, but however you feel, one thing's for sure, this will have been an adventure of a lifetime.
Over To You – Your Experience 
Have you been road tripping in the outback? Which route did you take? What did you see? Do you have any tips to share? Let us know in the comments below and help your fellow travellers have the best and safest experience possible. 
Pin It!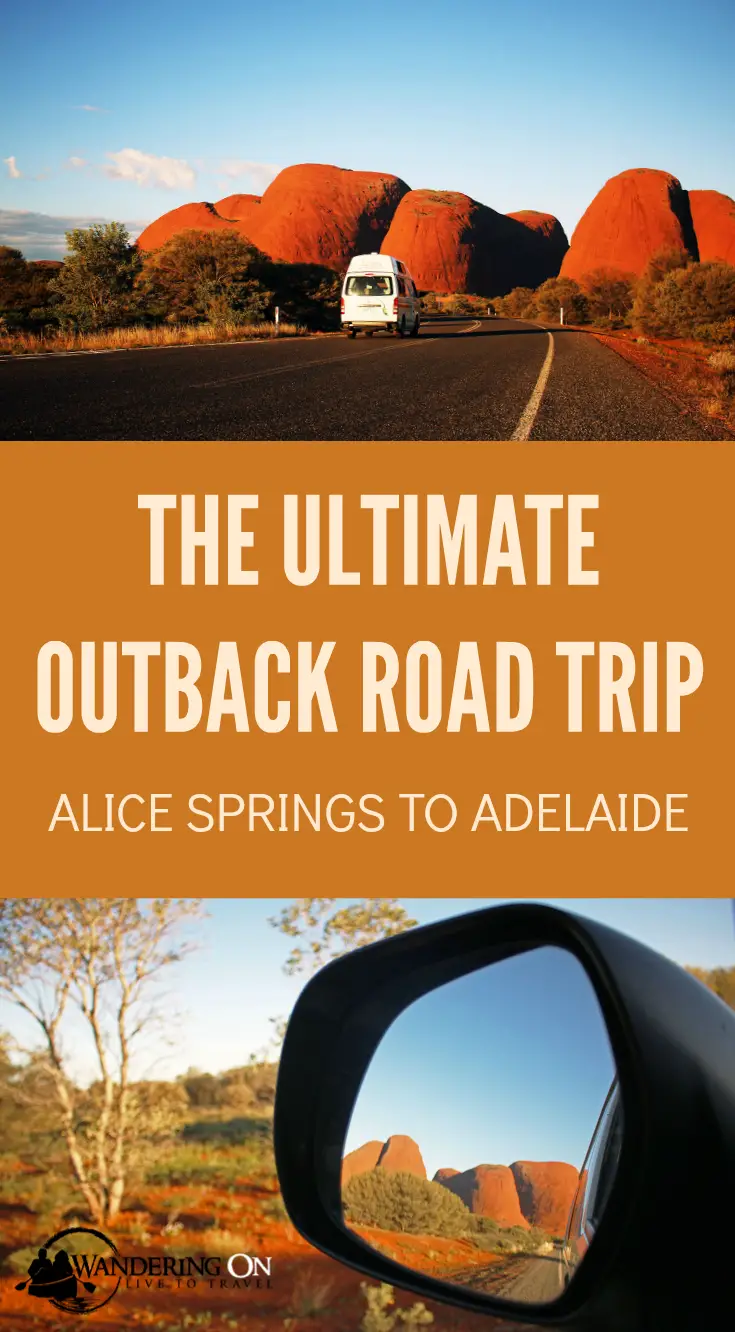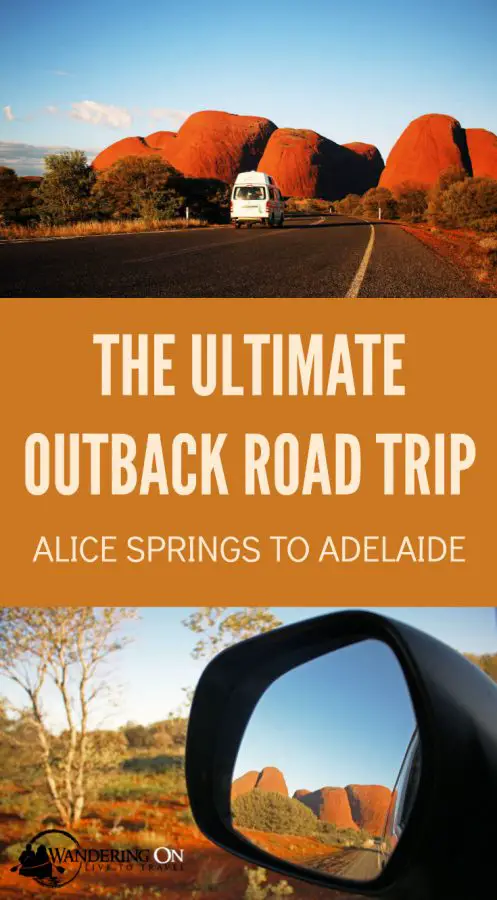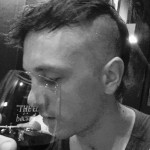 Brian is a travel writer, photographer, blogger, travel addict and adventure-junkie. Being outdoors, getting off the beaten track and outside his comfort zone is what makes him tick. Brian's the dreamer in the relationship; when he's not travelling, he's dreaming about it! Keeping fit, cooking, music and red wine take up the rest of his time.
SUBSCRIBE FOR OUR FREE EBOOK
Sign up for our free travel photography Ebook "Faces of Nepal" and you'll also receive our monthly newsletter.