You hear a lot of horror stories about Indian trains; people being robbed, people getting drugged, people having their luggage stolen and so on. This, our maiden Indian rail voyage was going to set the bar for all future rail travel in this huge country and it all went off without a hitch.
Escorted to our carriage through hoards of people by a man who hadn't a word of English, we boarded the train. Inside our carriage (class 3AC), was a very narrow passage dividing the car in two. On the left hand side were two beds, bunk bed style. On the right were several enclaves. Each containing six beds. Three on either side, with the middle one folding back against the wall, allowing enough room for everyone to use the bottom bunk as a bench. Indian Rail even provided each passenger with a pillow, sheet and blanket. We were in for a comfortable journey.
We shared our area of six beds with three college students; Srinivas, Labun and Amrit, who we got on with straight off the bat. The other passenger was an older Indian man who, it turned out was a very well-known politician from Uttar Pradesh. In the two beds across from us were his entourage of four armed men, travelling with him for his protection! We all sat around talking and joking until it was time to go to sleep. We had bought our tickets for Ambala with the intention of going to Shimla, one of India's favourite hill stations. However, our new friends convinced us we should continue to Chandigarh and go with them to Kasol in the Parvati Valley and so, with our plan yet again changed we drifted off to sleep under the watchful eye of our politician friends armed entourage.
The auto-rickshaw mafia met us as we got off the train in Chandigarh, an independent city in the state of Punjab. With five of us now travelling together, it wasn't much more expensive, but a hell of a lot more comfortable, to rent a seven-seater car with driver for the thirteen hour journey into the mountains. After our Indian friends negotiated at a few different offices (we waited outside as the rate seemed to jump once we were seen), we were on our way to Kasol in the Parvati Valley.
We didn't step out into the cool mountain air of the little village of Kasol until after 11pm but we were lucky to have made it at all. Our driver was a lunatic, zipping along the narrow mountain roads, overtaking buses on blind corners and all the while driving with one hand on the wheel because the other hand was busy rolling up 'funky smelling cigarettes'. Together, the five of us went in search of a room but every guesthouse was full and so we had to sleep on the ground of a guesthouse common room, where a party was unfortunately in full swing. We tried to get chatting to the other people in the room but they were beyond talking to us, except for one  guy who made it his mission to be our bodyguard for the night. He sat at our feet and 'protected' us while we tried to get to sleep. We were a little unnerved but after two days of non-stop travel, it didn't take long before  he was a distant memory.
Kasol is a small little hippy village tucked away in the Parvati Valley, which is packed mostly with Indian and Israeli tourists. The town is divided into New Kasol and Old Kasol by a river which rushes around boulders and over stones, flowing quickly down from the surrounding alpine mountains. Chilling out, chillums and charas is he name of the game for most of the tourists who come here and cloudy cafes and restaurants create a groundhog day-like existence for the Indians unwinding from work and exams and for the Israelis letting loose after their three-year (for men, two years for women) army conscript. But there is more to this little town and it's surrounding areas than might first meet the eye.
Throughout the drive up from Chandigarh and since arriving here, there was a steady stream of motorbikes and jeeps flying a triangular bright orange flag from the front of their vehicles. We could see the male passengers in these vehicles were sporting turbans and belonged to the Sikh religion. They were bound for Manikaran, a famous pilgrimage site for Sikh's and Hindu's alike. The holy village was only three kilometers west from Kasol and so, we ventured out there to see what the fuss was all about.
Stepping off the bus we saw the massive multi-storey Sri Guru Nanak Ji Gurdwara temple complex. We walked down the steps, towards the bridge, before which was a smaller  temple surrounded by an orange and white bunting.  We strolled around to the back of the temple and below us was a large rectangular hot spring where devotees were bathing.  Looking across the river, steam was rising from the banks due to this natural phenomenon, said to have been caused by a giant snake that stole the Hindu goddess Parvati's earrings while she was bathing and then snorted them deep into the ground, releasing the hot springs that bubbled beneath.
Crossing the bridge we entered the temple which contains separate hot spring pools for men and women, oddly the women's pool is walled off but the men's is not.  Continuing into the building we climbed a stairs and took off our shoes.  To our right was a large dining hall where people were sitting on the floor, in straight lines eating together, as is the way in the Sikh faith. Sikhs believe in equality of all beings. They express this in various practices, including what we were now in the centre of, langar, whereby people from all walks of life, regardless of caste or creed, sit side by side and share a complimentary meal prepared by volunteers in the communal kitchen of the gurdwara (Sikh temple). Not knowing what we were doing we followed the crowd inside but were stopped immediately.  We had nothing covering our heads. Moments later, scarves on, we went in, picked up a try, sat cross-legged and in no time we were being served rice, daal, chapatis and curried beans by men with ladles and large silver buckets. Everyone in the room seemed to be wondering what we were doing there but they were all extremely welcoming and friendly. The communal feel to the place was pleasant and the meals can be paid for by donation. Through the back of the dining hall a stairs led down to a shrine of a gold bull, Nandi, the God Shiva's mode of transport, where pilgrims were lining up to whisper their prayers in the bull's ear. Surrounding the shrine were a number of small stone  pools, into which the natural hot spring water flowed. People sat around the 94 degrees centigrade water boiling rice in little bags on strings, the rice would boil in just fifteen minutes, faster than on a regular stove! We left the temple complex, which also had rooms for pilgrims to stay in, and jumped on the bus back to Kasol but only after posing for photos with at least twenty different people on the short walk up from the temple, we wondered what stories might accompany these most random of photographs but decided not to dwell on it and continued on our way.
Halfway through the Parvati Valley , on the north side of the river is the small mountain village of Malana. The village sits high up on a ridge and the view down through the valley are beautiful but this little village is famous for more than it's viewpoints. The people who live here are originally from Iran and believe that they are descendants of Alexander the Great. The villagers have a unique caste system in place and speak their own language. The local tongue is completely different from Hindi, Thamel and any and all of the local dialects in India and it cannot be understood by anyone from outside of the small village communtiy. The villagers are all Hindu but also perform Muslim rituals and charas (hashish) is a major part of their religious practice and their daily lives. Walking through the village, the architecture was quite unique. The houses were built from wood and stone but the shape was quite bizarre. A large fifteen to twenty-foot pillar formed the base of the building, supporting the main house-like structure on top. The home was surrounded on three sides by a small ornately carved wooden terrace. A fire had unfortunately damaged a lot of the buildings in 2008 but the locals have begun reconstructing them and consequently areas of the village looked like a construction site. Progress appeared to be slow most probably due to the villagers 'relaxed' lifestyle.
As we strolled around we were constantly reminded "photo okay, no touching". The villagers have a rule that outsiders are not allowed to touch any of the buildings, the villagers themselves or any of their belongings due to the outsiders being 'impure' and should you break this rule a one thousand rupee fine is quickly issued. In fact, if you are a visitor buying something in the village you must put your money on the ground, they will put the item on the ground, each person takes what the other put down and that's how the exchange is made, no direct contact what so ever. After seeing this extremely quirky and unique village we hiked back down the mountainside and we made our way east, out of the Parvati Valley to the town of Bhuntar where we would catch a connecting bus to our next big stop, Manali.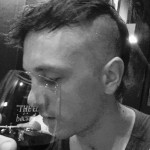 Brian is a travel writer, photographer, blogger, travel addict and adventure-junkie. Being outdoors, getting off the beaten track and outside his comfort zone is what makes him tick. Brian's the dreamer in the relationship; when he's not travelling, he's dreaming about it! Keeping fit, cooking, music and red wine take up the rest of his time.
SUBSCRIBE FOR OUR FREE EBOOK
Sign up for our free travel photography Ebook "Faces of Nepal" and you'll also receive our monthly newsletter.