On the banks of the holy Godavari River is Nasik, a town of 1.2million people and an important spiritual place for Hindus. Nasik is one of four locations which host the Kumbh Mela, the largest religious gathering on earth, every twelve years. The festival is held every three years and is moved between four of India's most religious centres; Allahabad, Ujjain, Haridwar and Nasik. With the next Kumbh Mela in Nasik not due until 2015, it was life as normal in the small city and it was a big change for us having spent the last few weeks tripping around Rajasthan to now be back in a place not-so-used to tourists. It was refreshing having people approach us in the street for a chat and just curious what we were up to, we were certainly back to being off the beaten track here.
Our reason for visiting this holy town was quite ironic, packed with vegetarian restaurants and no alcohol for sale that we noticed, we were here to see India's vineyards at nearby Sula Wines. Indian wine? Yes, it's true, although India's not famed for it's wine, the country has been producing wine since 1997 when Sula Vineyards first invested in the wine industry and the first batch of local Indian wine hit the beer and wine shop (presumably called beer shops before then)
shelves in 2000. Nasik's climate and fertile soil creates an ideal environment for growing grapes and after realising this, enterprising Rajeev Samant quit his Silicon Valley job in 1993 to further investigate the potential for a home-grown Indian wine. Rajeev recruited a Californian winemaker, Kerry Damskey who agreed to come aboard to start a winery on Rajeev's family estate just outside of Nasik. Beginning in 1997 with the planting of French Sauvignon Blanc and Californian Chenin Blanc the first Sula wines were well received when they were released in 2000. In Nasik, thirty acres of vineyards are set around the company's headquarters and they have a further three hundred and fifty acres in the Dindori region. Eighty percent of Sula's grapes are contracted out to local farmers who grow and harvest the grapes, providing much-needed work to the local rural community.
Sula's grapes are ninety-nine percent organic and they now have moved on from the original white wines; the current collection includes white, red, rose, sparkling and dessert wines. Twenty three different Sula wines are now available in total and the ones we tasted at the wine tasting at the vineyards didn't disappoint. We have walked through vineyards in France before but never before have we had the opportunity to have a tour of a vineyard and a wine tasting; we certainly never thought our first wine tasting would be in India of all places! Drinking in North India is a rich mans game for the most part and so the other people on our tour were a little more 'up' on their wine than us. Unfortunately due to the wet weather, venturing out into the vineyards wasn't viable and so our tour was limited to the wine production area and the tasting afterwards. An excellent tour guide showed us around the different machines and explained each of the processes to us. We were shown the pneumatic machine where white wine is produced and the difference between white and red wine production was explained in great detail. A room housing rows of huge 20,000 litre tanks at the back of the facility is where most of the magic happens, in total these tanks hold a staggering seven million litres of wine!  After being held in the tanks, some of the wine is then aged in oak barrels, bought in from California and France and each barrel is only used three or four times. Only two of Sula's finest red wines are aged for eighteen and twelve months respectively to further enhance the flavours which comes from a combination of the soil the grapes are grown in and the fragrances from the barrels. In the height of production the facility bottles a massive twenty-four thousand bottles of wine per day!
Having learned a little about what goes into what fills our glasses and seeing some of the processes involved, it was time for the wine tasting. Swirling, sipping but not spitting, we tasted six of the different wines which the vineyard produces. After a few months in India, where we had hardly had a drop to drink (due to it being crazy expensive!), we were feeling a little giddy leaving the tasting but it had been a great overall experience. The tour was a real eye-opener into the wine industry in general and how India, while historically not a wine-producing country is now trading internationally through the efforts of pioneers like Rajeev and is now striving to compete with the big boys of the wine game like France, Italy, California, Chile, South Africa and Australia.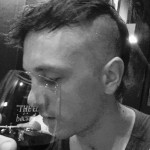 Brian is a travel writer, photographer, blogger, travel addict and adventure-junkie. Being outdoors, getting off the beaten track and outside his comfort zone is what makes him tick. Brian's the dreamer in the relationship; when he's not travelling, he's dreaming about it! Keeping fit, cooking, music and red wine take up the rest of his time.
SUBSCRIBE FOR OUR FREE EBOOK
Sign up for our free travel photography Ebook "Faces of Nepal" and you'll also receive our monthly newsletter.