Two of our closest friends whom we had met in Korea, travelled to Japan and China with and crisscrossed all over Nepal, India and Sri Lanka with, had just moved to Edinburgh. With return flights from Dublin coming in at forty euro with RyanAir and a couch to crash on, we couldn't pass up the chance to reunite with our travel buddies and visit Scotland for the first time.
Manageable size 
Edinburgh is the perfect 'city break' city. There's enough to do to keep you occupied for a few days, there are some funky bars, great restaurants and the best thing is its super easy to get around. You can walk everywhere and you'll pretty much trip over the main attractions, meaning you don't need a big planned out itinerary in order to get the most of your trip. Simply being in Edinburgh is enough to get a feel for this cool Scottish city.
Dividing up your time
With that said, if you want to get the most out of your trip then it's best to divide the city into two and have two days in Edinburgh of very slow, casual sightseeing. If you take Prince's Street as the dividing line, it gives you two areas of the city to hit over two days. With an early start you could definitely get around the major attractions in a day, if you're stuck for time.
To the North of Prince's Street are some of the city's most iconic sites, including Edinburgh Castle. High Street which leads up to the gates of the Castle is better known as The Royal Mile as it stretches a mile between Edinburgh Castle and the Palace of Holyroodhouse. This is tourist central in Edinburgh with shops lining the streets selling bagpipes, walking sticks and tartan everything and the restaurants almost all having haggis on the menu.
Day 1 in Edinburgh
A good idea is to start your day at the Royal Scottish Academy and National Gallery of Scotland. There's a big square here with great views of the castle and bagpipers usually play here too. Walk through the peaceful West Princes Street Gardens towards St. John's Episcopal Church for a look at the beautiful church interior and the old graves in the courtyard.
The Parish Church of St. Cuthbert's should be your next stop, again just walking through the graveyards, with burial sites dating back to 1597. King's Stable Road will take you around the back of the castle to Grassmarket Street where there are some cool pubs and cafes. Not far from here is the Elephant House where J.K Rowling began writing the Harry Potter books. We went here a few times, not for Harry but because the food and coffee were amazing.
Pop into Greyfriars graveyard to see the grave of Edinburgh's best-loved dog who is buried just inside the gate, not far from John Grey his owner. The dog is a local legend in Edinburgh with a statue of him on Candlemaker Row and a pub named after him too.
From here it's a straight walk up to the middle of the Royal Mile. Cannons are fired daily from Edinburgh Castle at one o'clock. We didn't actually go inside the castle as numerous people told us that there's no need and you can see an awful lot from outside. Without a ticket, you can still walk over the drawbridge and inside the gate for views out over the city.
After checking out the castle walk the mile back to Holyrood Palace. There are some interesting old buildings and statues along the street with St. Giles Cathedral taking the cake for us. It's an enormous building, with incredible stained glass windows inside and huge arched ceilings. The cathedral is also home to the small Thistle Chapel in the south-east corner, which is decorated with intricately carved and painted figures, including one of an angel playing bagpipes.
Walking from here down to Holyrood Palace slowly is an experience in itself, bagpipers are usually playing in the background, there are buskers putting on performances and there's generally a good buzz around the cobbled streets. After checking out the palace the first of your two days in Edinburgh is done. Head for Rose Street, find a pub that takes your fancy and tuck into some ale and haggis for the evening. Beware the stag and hen parties; they're everywhere but there's always a quiet option to be found if that's more your thing.
Day 2 in Edinburgh
Now that you've seen the major sights of the city on the northern side, you can head for the southern side of Prince's Street on day two. We kicked off at the Sherlock Holmes Statue on Picardy Place.
A straight shot from here is the Scottish National Portrait Gallery, where you could spend hours browsing through the exhibits. Around the corner from St. Andrew's Square is the Melville Monument, a huge stone column with a statue of Henry Dundas on top. On the east side of the square is Dundas House, which serves as the headquarters of the Royal Bank of Scotland. A bank might not sound like a place for tourists but the building is really impressive. It dates back to 1772 and is worth checking out as the interior is amazing. A huge dome roof caps the building which is pierced with stars and is used as a design on the Royal Bank of Scotland's five pound note.
Strolling down George Street is really nice. The cobblestone streets are lined with old buildings, some of which you can go in and have a look around if you wish and continue to Charlotte Square. Follow the street to the end and you arrive in Rose Street which is packed full of bars, restaurants and cafes. There are some street vendors along Castle Street and there's plenty of shopping along Prince's Street to finish off your day.
In the evening consider heading to Carlton Hill for some beautiful sunset views of the city. You can see all the way to the coast and it's nice to watch the city light up once the sun goes down.
That's Edinburgh in 2 days!
That's really all there is to see in the confines of the city itself. There are a lot of tours you can do such as ghost tours and the Edinburgh Dungeons experience but we didn't go for those as we were travelling on a budget. Two days in Edinburgh is enough to see the sights of the city and get a feel for what it's all about but if you are there for longer there are plenty of day trips easily accessible from the city. Most of the things we've mentioned here are pretty much free and if you can find a couch to stay on and some cheap flights, Edinburgh is very doable on a backpacker budget and a cool city to spend some time in.
Pin it!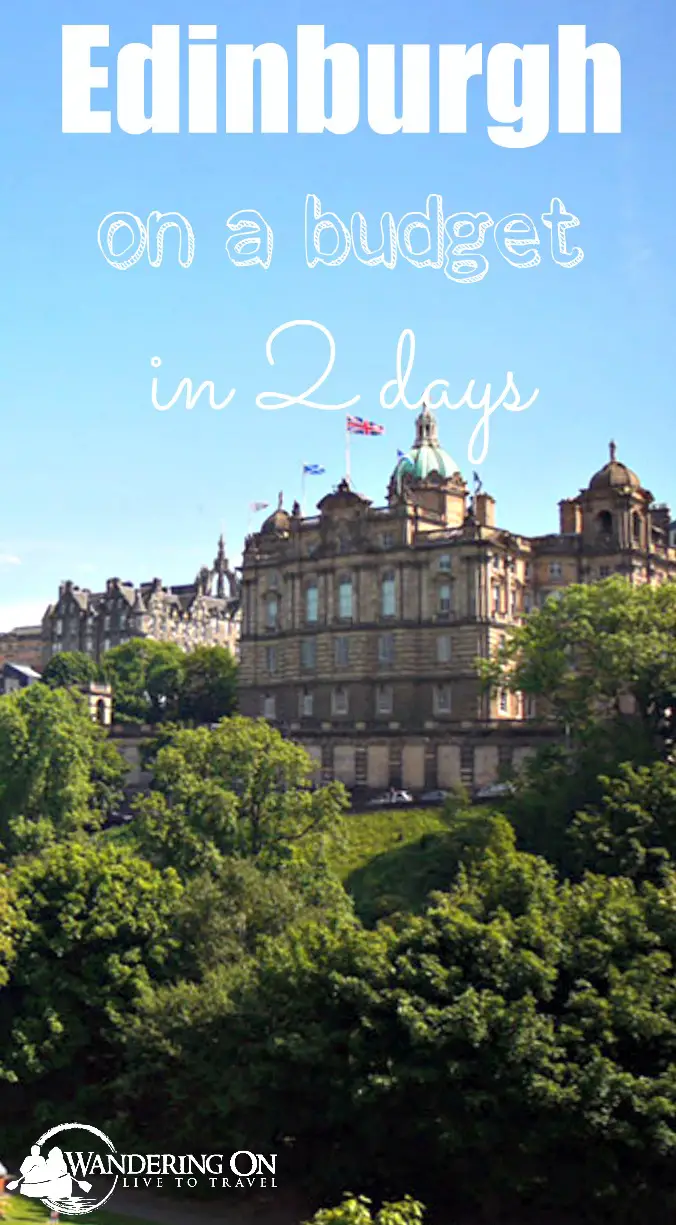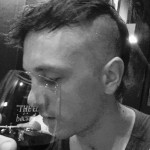 Brian is a travel writer, photographer, blogger, travel addict and adventure-junkie. Being outdoors, getting off the beaten track and outside his comfort zone is what makes him tick. Brian's the dreamer in the relationship; when he's not travelling, he's dreaming about it! Keeping fit, cooking, music and red wine take up the rest of his time.
SUBSCRIBE FOR OUR FREE EBOOK
Sign up for our free travel photography Ebook "Faces of Nepal" and you'll also receive our monthly newsletter.