A dramatic setting on the edge of high red limestone cliffs makes Varkala not only a beautiful place but also the only place in southern Kerala where cliffs are found adjacent to the Arabian Sea. In fact, the cliffs are such a unique geological feature, on the otherwise flat Keralan coast, they've become known amongst geologists a the 'Varkala Formation' and have been declared a geological monument by the Geological Survey of India. Strung out along the top of these cliffs are numerous restaurants and guest-houses, all vying for tourists attention.
From the cliff-top vantage point the sunsets on the horizon, far across the Arabian Sea, are absolutely stunning and watching them becomes part of the slow-paced daily routine here. Steep stairs lead from the cliff edge to the beautiful stretch of sands below where surfboards are available for rent, best done in the early morning or late evening when the waves become clean and there are less swimmers about. In early November, when we were in Varkala, there weren't too many people around and we had sunny days for the most part, lazing on the beach with the cliffs behind and the sparkling blue Arabian Sea in front made for a peaceful existence.
Ayurvedic treatments, spas/clinics are a dime a dozen in Varkala and taking the plunge, we decided to give it a go. Noelle enjoyed her massage a lot more than I did mine, feeling a tad uncomfortable in what can only be described as a paper loincloth! "Clothes off please sir", "everything", "yes, everything". In for a penny, in for a pound, I figured and so I went with it. "Face the wall sir", was when I started wondering what the hell was going on and then the paper loin cloth was put on me, not really concealing a whole lot and certainly not something I'm accustomed to wearing but I sat down on the tiny stool to begin with a head massage anyway. Experiencing new things is a part of travelling and you have to be open-minded. The massage continued pretty uneventful until the 'Nasayam' treatment began, an ayurvedic treatment for sinus problems which I thought may have been causing the ear infection I was suffering from. A series of drops were put up my nose (me still in my paper pants, why, I have no idea!) and then a lot of hocking and spitting finished out the treatment, unusual and unfortunately ineffective. An experience, I'll certainly never forget, one I'll have again, probably not, but that's just me, give it a go but guys be ready for the paper loincloth to be applied with no warning, the sight of that hand coming up between my legs to attach the paper from front to back is a memory that will haunt me forever!
In convoy, together with our Israeli friends, whom we had met on the train from Kochi, we saddled up our scooters and headed for Kovalam via Trivandrum, sixty kilometres south of Varkala.
It was an interesting ride, taking in a colourful pink mosque en route and weaving in and out of traffic on the busy road. Trivandrum was a bit disappointing from our point of view, the towering Shri Padmanabhaswamy Temple was impressive but only warranted a few minutes of our time as non-Hindus weren't allowed inside the doors so admiring the structure from the street was as close as we could get.
Trivandrum is also home to a zoo where we went for a wander around and we found it all a little bit sad, especially the tigers pounding around inside their small enclosures, amazing to see but we felt very sorry for them stuck in such a small cage and so we quickly left and it was onto Kovalam beach to see what the scene was like.
As we came around the corner onto the promenade, we immediately got a bad vibe. The price of everything had jumped and the quality had dropped, there were more vendors trying to sell knick knacks and the place had a real 'rush and grab' feel to it. Primarily a package holiday destination for Russian tourists, Kovalam hadn't grabbed us in the same way as Varkala or Palolem had and with it too late now to drive back north we had no choice but to spend the night. Things unfortunately got worse as we got eaten alive by mosquitoes, had to chase a cockroach off our pillow and didn't get a wink of sleep. With the first sign of light outside we paid for the room and got out of there as quickly as possible but Kovalam finally had a pleasant surprise for us. With no tourists on the beach at 5am we saw the beach in a different light.
Fishermen were chanting pulling in kilometres worth of net, hand over fist and they called us in to help out, locals out on the beach were full of chat and the red and white striped lighthouse at the southern end of the beach took on a whole new look as the sun creeped higher into the sky. Leaving Kovalam we didn't have such a bad taste in our mouth and in a way we felt lucky not to have slept to be afforded the chance to see this beach in a different light. With that said, we happily jumped on our bikes and once again the Irish/Israeli scooter convoy headed north back to our beloved Varkala for a few more days on the sands under the impressive cliff face.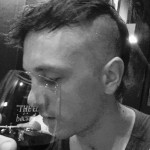 Brian is a travel writer, photographer, blogger, travel addict and adventure-junkie. Being outdoors, getting off the beaten track and outside his comfort zone is what makes him tick. Brian's the dreamer in the relationship; when he's not travelling, he's dreaming about it! Keeping fit, cooking, music and red wine take up the rest of his time.
SUBSCRIBE FOR OUR FREE EBOOK
Sign up for our free travel photography Ebook "Faces of Nepal" and you'll also receive our monthly newsletter.