Walking around with your head on a swivel is what I love about this city. Everywhere you look, in front, behind, above or anywhere in between there's always something to take notice of. To say Kathmandu is busy would be like saying the pope is religious. 'What to do in Kathmandu?', you ask, there is much, so much to do!
Wander and get lost in 'Old Kathmandu'
Walking south of Thamel towards Durbar Square, one of Kathmandu's major attractions, you pass through 'old Kathmandu'. The streets are packed with people on vehicles making their way through the dusty, narrow streets. Tall, red bricked buildings line the street and store owners watch the madness from the comfort of their premises. Looking up at the buildings, the intricately carved, mahogany colour wooden windows play host to smiling children and older women in bright costumes and gold jewellery peering don through the dust at the chaos below.
Walking through the old town, every lane-way seemed to hide a shrine or temple. One square we wandered into in particular was a quiet reprieve from the busy streets outside. Walking through the stone archway, we were greeted by a large white stupa with colourful prayer flags radiating from its golden top. On all sides of the square, families sat around in the afternoon sun and children played on the base of the stupa, posing for photos for us without hesitation.
Durbar Square
Continuing through the old town we reached Durbar Square. It was mobbed. Today was Saturday, which in Nepal is a rest day, similar to a Sunday back home. Entering the square, directly in front of us was a huge pagoda style temple sitting on top of a series of large stone steps. All around the temple people were sitting on these steps watching the fruit sellers, singers, touts and tourists going about their business.
Turning left we saw another area of the square where three holy men sat in bright yellow and orange robes, their faces painted white, yellow and red. I turned my camera on them from a distance and with cat-like reactions they all hid their faces in unison. It was then that I saw the little silver bucket they each carried to collect 'donations' for taking photos of them or with them. We approached them and for a small price we posed with them for some typically tourist photos.
Get a Mehndi tattoo
Given the number of tourists in the square it came as no surprise that there were people trying to sell little trinkets everywhere and sadly there were also a lot of children begging here in the streets. Some children were offering to draw the traditional Mehndi (henna art) on tourists hands, as the local women do for wedding ceremonies. Some of these kids were pretty talented, one girl in particular, telling us she could speak nine different languages. Her English was perfect and she had a hell of a lot more Korean and French than I had but I had to take her word for it that she had her Chinese down!
Check out all the temples and shrines
To the right just in front of the Tribhuvan Museum was another area hosting temples and shrines where hundreds of pigeons were hanging out eating grains one elderly woman was feeding them. Every now and then the pigeons would take flight and re-organise themselves on the roofs of the temples and monuments before coming back down to fill the square floor again. Needless to say, the beautiful, old, red bricked, Newari temples in this particular area had been given a distinct white polka dot makeover by these artistic birds!
We spent a week in total in and around Kathmandu exploring all the little nooks and crannies of this wonderfully chaotic city and still didn't come close to seeing it all. That, however, is part of the charm of Kathmandu, leaving your room and walking into the busy streets you don't know what new wonders you might unveil, it's a wanderer's dream!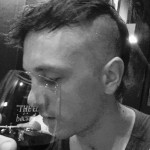 Brian is a travel writer, photographer, blogger, travel addict and adventure-junkie. Being outdoors, getting off the beaten track and outside his comfort zone is what makes him tick. Brian's the dreamer in the relationship; when he's not travelling, he's dreaming about it! Keeping fit, cooking, music and red wine take up the rest of his time.
SUBSCRIBE FOR OUR FREE EBOOK
Sign up for our free travel photography Ebook "Faces of Nepal" and you'll also receive our monthly newsletter.