Everest Base Camp Trek Day 15: Namche Bazaar to Lukla
We slept in a bit this morning and were slow to get going. We sent some postcards to family back home from what we were told was the highest post office in the world at Namche Bazaar, grabbed our bags and got moving. We stopped at the checkpoint just outside of town to get our certificates which detailed where and what we had done over the last two weeks. We came up this same path twelve days ago and so it was all very familiar to us. The path was much busier now, being the high season, and passing all the people coming against us, I couldn't help but smile as we were now on the way down and I knew what a long road these people had ahead of them. We stopped at Jorsale for lunch and again at Phakding for a snack. Because of our late start that morning, time was against us and it was getting dark fast. The final 350-metre climb up from Nurning seemed to be never-ending. We arrived in Lukla in the pitch dark and found somewhere to stay. We were back to where we had started two weeks ago and we had mixed feelings about it. Having come full circle, it felt like we had reached the finish line. The truth however was we had a tough six-day walk back to Jiri ahead so at the same time it felt like we were back at the starting line.
Everest Base Camp Trek Day16: Lukla to Paiya
From Lukla, we descended steeply to the small town of Surke on the valley floor. As we passed through the small town we heard loud rolls of thunder and felt drops of rain. We pulled on our rain gear just in time, as it began raining heavily. The rain continued to pour down as we continued for six hours on the slippy, muddy paths avoiding herds of mules and hoping that Paiya would be around the next corner. The weather didn't let up and we arrived in Paiya looking miserable, soaked to the bone. We chose our guest-house and dried ourselves and all our gear around the fire. Two German men, Peter and Roland arrived, on their way up to Everest Base Camp. We had a surprisingly great night with these two old hippies. We listened intently as they told us about coming to India and Nepal in the sixties and seventies and how much it has changed since then. As it got late, we wished them luck and we all called it a night.
Everest Base Camp Trek Day 17: Paiya to Karikhola
Today wasn't too bad of a day and thankfully we woke to sunny skies. The trail began by climbing up over the Kari La pass and then it was downhill all the way to Bupsa, where we stopped for lunch. After a big bowl of garlic soup and mint tea, picked fresh from the garden. We continued downhill to Karikhola. As we approached the town a few light drops of rain fell and by the time we got to the other end of town the rain was coming down strong. We had been walking now for five hours, not including our long break for lunch and we didn't think there was much point in getting drowned so we checked into a lodge and stayed in Karikhola for the night.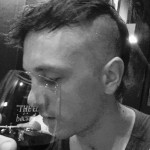 Brian is a travel writer, photographer, blogger, travel addict and adventure-junkie. Being outdoors, getting off the beaten track and outside his comfort zone is what makes him tick. Brian's the dreamer in the relationship; when he's not travelling, he's dreaming about it! Keeping fit, cooking, music and red wine take up the rest of his time.
SUBSCRIBE FOR OUR FREE EBOOK
Sign up for our free travel photography Ebook "Faces of Nepal" and you'll also receive our monthly newsletter.