Finally, a place where all your questions about doing the Everest Base Camp trek independently, solo, without a guide or porters or without joining a tour group, are answered.
Doesn't it cost sooo much? Do you have to be really fit? Don't you need mountain climbing experience? Isn't it dangerous? Do you need a lot of gear/equipment?
I remember being so nervous and having so many questions like these when we were planning the Everest Base Camp trek. We were heading to Nepal for three months after finishing our contracts in Korea with our good friends Mike and Linda, another Irish couple who we met during our two and a half years teaching English in Iksan. Brian and Linda, the more adventurous sides of both couples, were all guns blazing "We are definitely doing it!", "It's a once in a lifetime opportunity!". Mike and I, the less adventurous side of both couples, were apprehensive, to say the least.
A friend of Linda's parents had done the EBC trek a couple of times and she had picked their brains a bit while at home that Christmas and it was definitely doable. They had also walked the Camino de Santiago a few times and cycled around Australia so we knew they were fit, outdoorsy, adventurous people.
We, on the other hand, had never done an overnight hike and our greatest mountaineering achievement to that point had been climbing Hallasan, South Korea's highest peak, a whopping 1,950,m (6,398 feet) which took all of 8 hours round trip with steps and railings all the way – Korean style!
But Linda's friend's parents assured her that four healthy, able-bodied twenty-something-year-olds would have no problem hiking to EBC, especially with guides and porters.
Hiking The Everest Base Camp Trek Solo, Without A Guide
But we wanted to take on the trek to Everest Base Camp independently. It was important to us to do it ourselves, carry our own bags, have flexibility and save ourselves lots of money in the process.
We researched online, asked questions on forums and contacted people who had done it before. The information was scattered everywhere and we couldn't find a single comprehensive, complete guide to trekking to Everest Base Camp independently, so we wrote this guide to show you how straightforward and affordable it is to take on the Everest Base Camp trek independently.
Let's get started on answering all those questions we had and you no doubt have too.
Everest Base Camp Trek Difficulty
Do you have to be really fit? Don't you need mountain climbing experience?
Fitness And Experience
We thought we needed to be fit so we had planned that after three weeks at home in Ireland over Christmas we would spend the final two months in Korea finishing out our contract training up for EBC by hiking the nearby mountain weekly. Well … that never happened and we ended up spending the two months enjoying the home comforts of winter which generally involved eating, drinking and being lazy while it snowed outside! We figured we'd get fit on the hike, and we did!
So that answers that question – any able-bodied person in reasonable physical shape can hike to EBC, even if you've never done an overnight hike before.
How Much Does The Everest Base Camp Trek Cost?
Doesn't it cost a fortune?
A lot of people ask us how we afforded to hike to Everest Base Camp or say that they can't afford it when they're planning a trip to Nepal. Let us just say now, it is one of THE cheapest things we have ever done on our travels. The cost of living in Nepal is very low and you can easily backpack while enjoying a very comfortable lifestyle – eating in nice restaurants, having coffees, sightseeing and staying in a private room, all for the grand total of about €20 a day.
Guided Tours To Everest Base Camp
Yeah sure, if you Google 'hike to Everest Base Camp' you will find tour companies willing to take you on an all-inclusive package for crazy money compared to what you'll spend on the ground yourself. Consider that they have to pay guides and porters, the teahouses and your meals and cover all their overheads and still make a profit. In the end, we chose to forgo guides and porters and do it totally independently, carrying our own packs and finding our own way and this cut our costs hugely! Even aside from costs, we're so happy we did it this way, it felt so much more adventurous than having our hand held throughout the experience.
If you do feel more comfortable having company and want to hire a guide/porter it costs anywhere from €15-€50 a day depending on their experience. And remember you'll have to pay for their flights to/from Lukla also. The cheapest way to hire a guide is to wait until you're in Lukla, this way you can have a mini interview to see if you get along well and you save on the cost of their flight.
Our Everest Base Camp Trek Budget
We spent less than €15 a day each overall which included the price of the flight from Kathmandu to Lukla which was an awesome experience in itself! If you include the things we bought or rented, the TIMS permit and entrance fee to Sagarmatha National park, we would say it still averages out at €25 a day ABSOLUTE maximum. This is taking into account that we hiked in the region for 22 days, adding on an extra 5 days to take in Gokyo Lake. We also chose to fly into Lukla and walk out as far as Shivalaya where you can take a bus back to Kathmandu and this saves half the cost of the flight. 5 days extra walking to save €120 may sound crazy but this can equal 6 days of spending money backpacking in Nepal!
Most people walk in from Jiri or Shivalaya and fly back from Lukla as the Jiri to Lukla part trains you up for the walking further on the trail. This section is the toughest part as you are constantly going up and down cutting through the valleys even though you are at a lower altitude.
How To Plan For The Everest Base Camp Trek
Preparation On The Ground In Nepal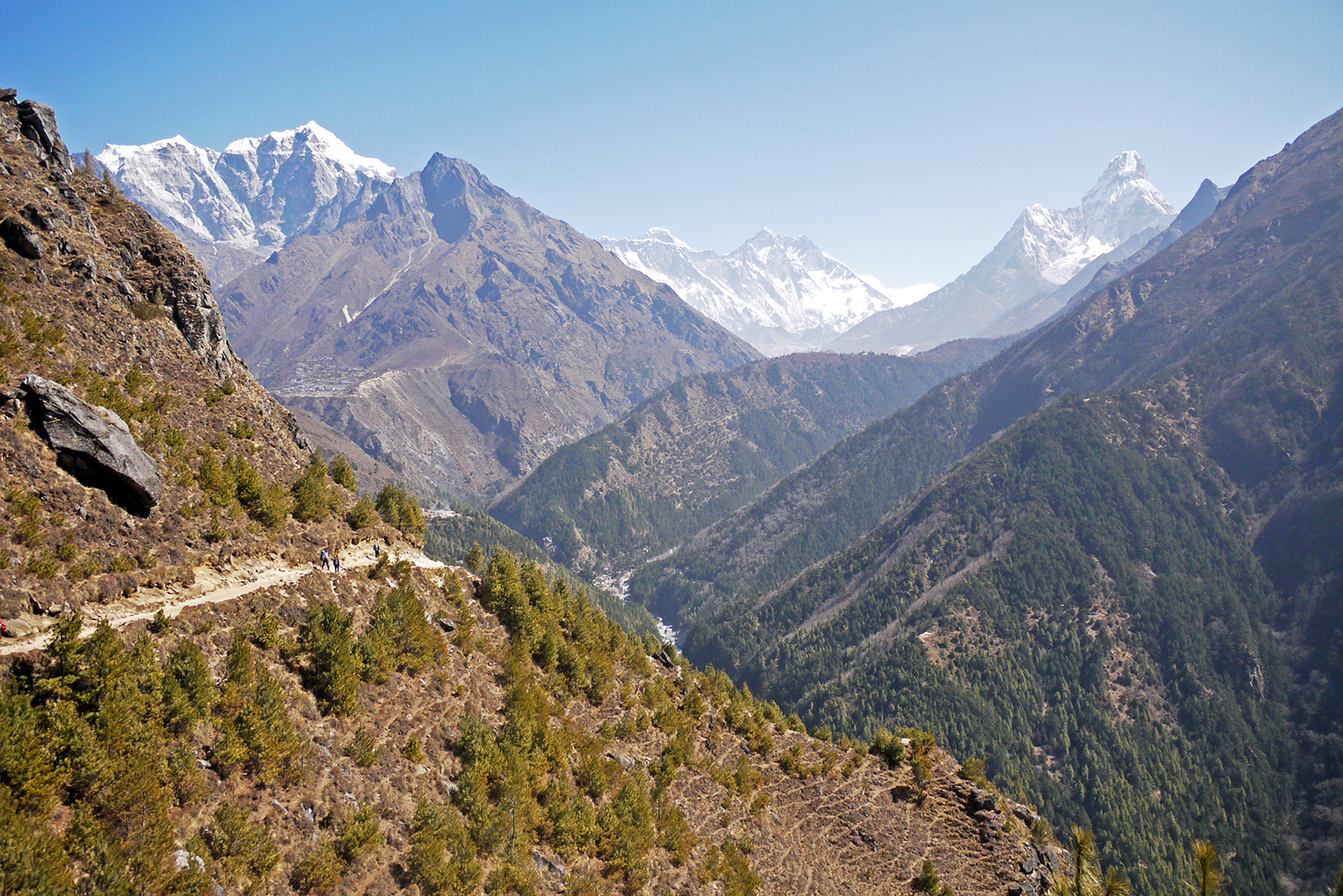 After spending some time in Kathmandu and going up to the Tibetan border at Kodari, we had procrastinated enough. We were all apprehensive about the trek to EBC but we had been in Nepal for over two weeks now and we had to stop putting it on the long finger.
When we went to rent gear at Shona's Alpine rental store the extremely friendly owner and British climber Andy Griffeths put us all at ease by saying something that definitely put Mike and me at ease anyway – "It's as simple as following the yellow brick road!"
He also told us to switch our plan of walking in from Jiri and flying out of Lukla to the opposite – fly in and walk out to beat the crowds! With his experience (the man is the real deal – he has summited Lhotse 8,516 m/ 27,940 ft, the fourth highest peak in the world and lost sight in one eye in the process!) we took his advice and weren't going to argue.
He and his wife, who is Shona, were a wealth of information on what to expect. We asked loads of questions; whether or not we needed guides and porters, what to bring, what to wear, and anything else you could imagine. He even gave us the great tip of not to shower after Namche as we'd never get our hair dry at that elevation and would get sick unless we sat by the fire in the teahouse until dry. Also, you have to pay for hot showers on the Everest trek so it keeps the costs down. Yes, we didn't shower for 10 days – gross, I know, but it's all part of the experience! As a girl with oily hair, I recommend bringing dry shampoo and a bandana – they'll be your best friends!
He also had another great tip – to put our socks or any other damp clothes in our sleeping bags at night or under our clothes to get them to dry from body heat which helped us a lot. They were so helpful and so fair, they didn't try to sell us unnecessary things – they spelled out exactly what we needed. He was the one that assured us we could carry our own gear and wouldn't need a guide, which again dramatically reduced our costs.
You can rent/buy everything you need from them and we highly recommend their store, it really is a one-stop shop for anyone planning the Everest Base Camp trek.
Storage Of Large Luggage While You Trek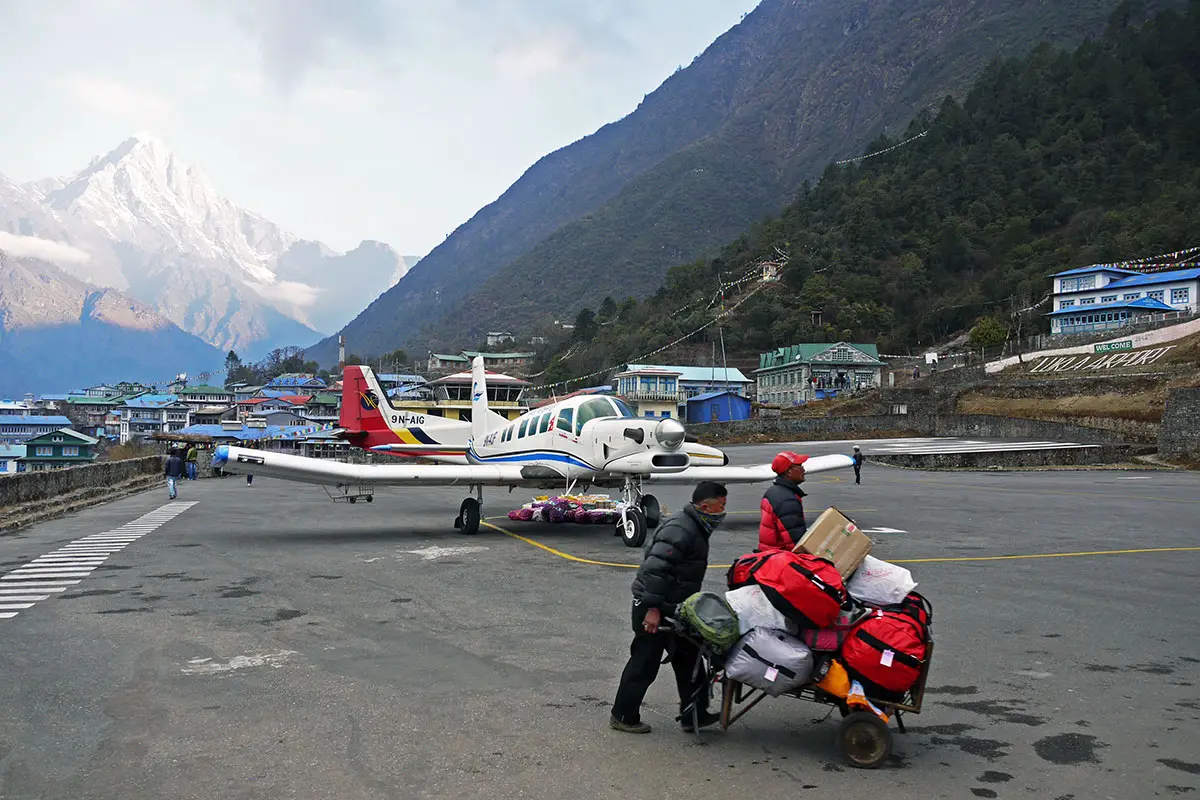 All guesthouses and hostels in Kathmandu and Pokhara will store your large luggage free of charge while you trek in Nepal provided you've been staying with them beforehand. We stayed in Family Peace House in Paknajol before we left Kathmandu and when we came back and our things were safe and secure with them for three weeks. Brian even stored his things in massive black bin liners (so secure!) as he brought his own backpack.
Before The Trek
Organising The Necessary Permits For The EBC Trek: Update 2020
One of the most important items you need before trekking anywhere in Nepal is a TIMS (Trekkers' Information Management System) card. Both Individual trekkers and trekkers going with an organised group need to purchase a TIMS card as it is a record of your trek kept for your safety. Individuals pay $20 and get a green card and those going with groups pay $10 and receive a blue card. You can collect your TIMS card at the Nepal Tourism Board in Kathmandu at Pradarshani Marg, Kathmandu 44617. You need your passport and two passport photos which you can get taken in Thamel if you don't have some already. There is also an office in Pokhara so you can pick up a TIMS there as well. If going trekking again in the Annapurna or any other region in Nepal, keep in mind that you do have to get a separate TIMS every time. You also have to be present in person if applying for a green independent TIMS card. If you're applying for an organised blue TIMS card you do not have to be there in person – the tour company can collect it on your behalf.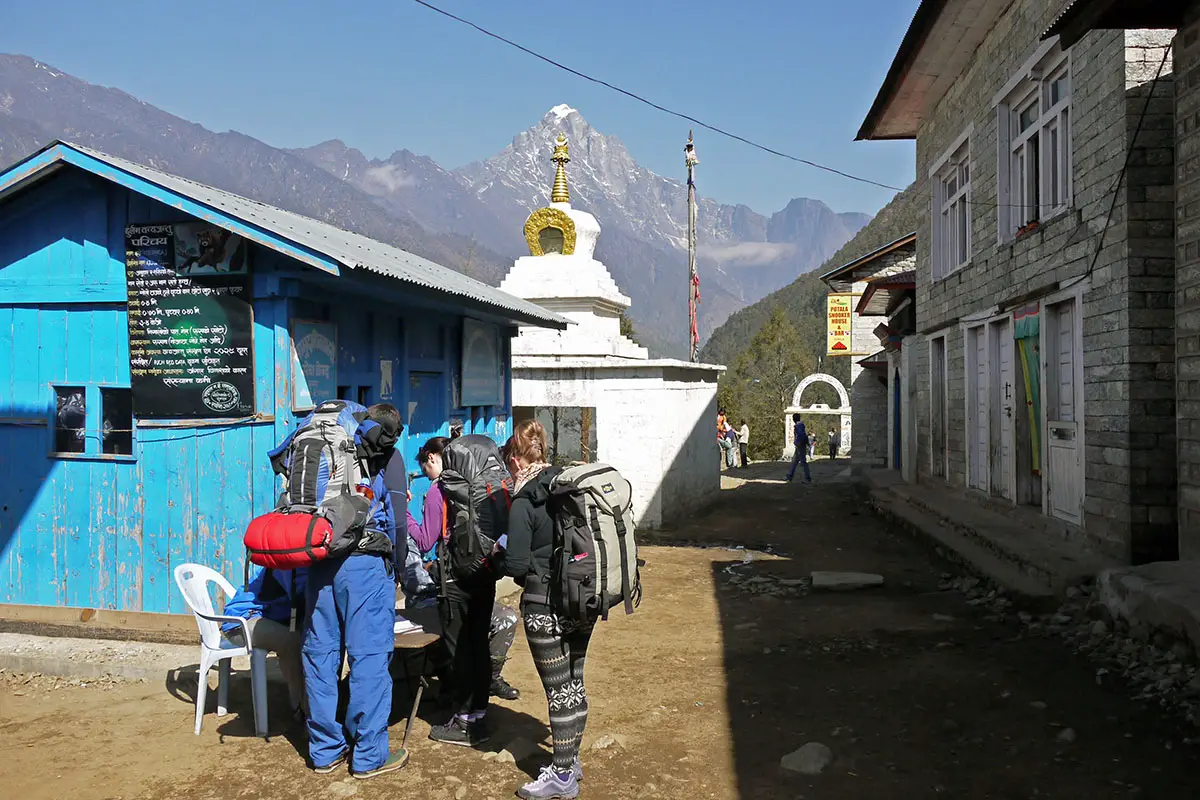 You also need an entry permit for the National park. On the Everest Base Camp trek, you can pay for your entry permit at the entrance to Sagarmatha National park at Monjo. Just show your passport and TIMS and it costs 3000 NPR + a new 13% tax =3,390 NPR (around €30). Simples! It's also interesting to see the board they have up with the numbers of tourists who pass through each month.
For other areas in Nepal, you need to have an entry permit to trek in the conservation areas in advance from the National Trust for Conservation which you can also pick up at the Tourism Board for 2,000 NPR (around €20) and two passport photos. You also need individual permits for each conservation area visited if your trek passes through more than one area.
Everest Base Camp Trek TIMS And Fees: Update 2020
From October 1st, 2017, there is now an entry fee of 2,000 NPR on each foreigner visiting Khumbu region, which Everest Base Camp is a part of. This is a local government entrance fee imposed in the Solukhumbu district and cannot be paid in advance. It can be obtained only in Lukla for both organised and individual independent trekkers. You do not need a photo for this permit. Because of this new charge, a TIMS card is not required for independent trekkers going from Lukla to EBC. It seems organised trekkers still need one as it covers basic insurance for guides and porters, however, it's a little unclear. It's best to ask around on the ground in Nepal.
If you're trekking from Jiri to Lukla and on, certain areas are protected under the Gaurishankar Conservation Area Project (GCAP), so you'll need to get the GCAP entry permit for this area in advance. It costs Rs 2000 for both organised and independent trekkers and you have to get this permit from the Tourism Board in Kathmandu. If you are trekking independently, you'll need two photos and the application form. If you want to save time, you can download, print and fill out this application form here and take it to the Nepal Tourism Board in Kathmandu at Pradarshani Marg, Kathmandu 44617 with your photos and cash.
Note that you may still need the TIMS card for this portion of the trek, as there are TIMS checkpoints on route from Jiri to Lukla.
Flying From Kathmadu To Lukla: Update 2020
Due to renovation works to Tribhuvan International Airport's (TIA) runway, flights from Kathmandu to Lukla were being diverted from TIA to Manthali Airport in Ramechhap from April 1st as an alternative route until June 30th 2019. However, taking into consideration the convenience for passengers and public demand, the Civil Aviation Authority of Nepal (CAAN) has decided to continue with regular flights on the Ramechhap-Lukla route even after the completion of the runway rehabilitation works of Tribhuvan International Airport.
As per the official notice issued by the Civil Aviation Authority of Nepal (CAAN), all Airlines are required to operate flights to Lukla from Manthali Airport, Ramechhap starting the trekking season of October 2019. This is also applicable for March, April and May of 2020.
CAAN has decided to allow airline companies to operate regular flights on the Ramechhap-Lukla route. Manthali Airport, Ramechhap is 4-5 hour drive from Kathmandu. While the drive is a bit of a hassle, chances of delays and cancellations from Manthali Airport are very low as the only air traffic from that airport is to/from Lukla.
Everest Base Camp Trek Independently – Route Options
When it comes to the Everest Base Camp trek there are a number of route options depending on how much time you have or want to spend trekking in the region. Most people fly in and out of Lukla and trek from there and back, the round trip taking between 11-15 days depending on your speed, fitness and how you feel at altitude.
For us, it took us 9 days to reach Everest Base Camp from Lukla and it would have taken us 3 days to get back to Lukla but we didn't go directly back. We took all the safety and acclimatisation stops recommended at Namche and Pheriche on the way up, even taking an extra stop in Dughla. This additional stop was because when we were in Pheriche another group coming down told us they heard about a death in Lobuche due to altitude sickness. We didn't want to take any unnecessary risks and so that added on an extra day.
You can also take a bus to Jiri or Shivalaya and hike from there and fly out of Lukla. This takes about 21 days and the hike in from Jiri will toughen you up for the higher altitudes.
You can also go seriously hardcore and hike from Jiri return over 26-28 days.
We ended up trekking to Everest Base Camp from Lukla and going down via Gokyo over the Cho La Pass and walking back to Shivalaya which took us 22 days in total.
Best Time Of Year To Trek To Everest Base Camp
Peak Season: October – November
Most people take on the Everest Base Camp trek during October and November when the weather is the most pleasant and there's the best chance of clear skies. This is Nepal's peak season as it is considered the best time to go trekking.
Note: When you reach Everest Base Camp at this time of year there may not be any tents there as the climbers and expeditions usually aim to summit in May.
Second-Highest Season: (March) April – May
The second-highest season is from April to the end of May as t his is the end of the dry season and the second-best time of year to go trekking. At this time you'll see the spring flowers and the yaks carrying up supplies for the climbers who summit Everest and there will definitely be tents at Base Camp. If you trek in late February and March you'll be in ahead of the rush.
We did our trek at the end of March and we had amazing weather. When we were coming back down, the amount of people going up against us was quite a shock! I can't imagine what it must be like in October/November.
Apparently, during the high seasons, there is a rush to get to teahouses every day and a chance of having to walk on to the next village for a bed or bunk up in the common room. Thankfully with Andy's wise advice, we were slightly ahead of the rush so we didn't experience this panic for beds.
Winter: December – February
You can hike in December, January and February too but be prepared for bitterly cold temperatures especially at night and a lot more snow at higher altitudes, which may cause cloudy skies and scupper your views of Everest. Others report incredibly clear skies at this tie of year.
Summer and Monsoon Season: May – September
From the end of May to June is the summer season so it can be uncomfortably hot and humid and due to this from June to September, it is generally not advised to hike in the region as the summer monsoon can cause landslides – not ideal trekking conditions!
What To Pack For The Everest Base Camp Trek
Do you need a lot of gear/equipment?
No, you don't need much else other than a good set of hiking clothes, shoes/boots and a good backpack to trek to Everest Base Camp.
Everest Base Camp Trek Packing List
The bare minimum you'll need is:
Tip: Don't forget to put sunscreen on the backs of your ears – mine got burnt one day-ouch!
basic toiletries like deodorant and moisturisers, as well as feminine hygiene products, wet wipes, toilet paper and lip balm. We find Carmex to be the best in harsh weather conditions.
a muffler/neck warmer which will be mainly used to protect your face from the wind, but can also be used as a hat or a headband. Definitely, an extremely useful piece of gear.
a sleeping bag is essential – women seem to need 4 season sleeping bags and men, 3 season sleeping bags. (Jealous of men and their naturally warmer body temperature!).
a sleeping bag liner – preferably silk, which is more expensive but silk is the best material to keep out bed bugs, needs to be washed less frequently, dries quickly, insulates in cold weather and is breathable in warmer conditions.
a down jacket for the evenings – us girls also rented down jackets for sitting around in the evenings, but we never wore them hiking.
a money belt for cash, your passport, conservation permit and TIMS.
a durable water bottle, we love the Nalgene water bottle with the narrow mouth and water purification drops or tablets.
a basic first aid kit with plasters, an anti-blister stick, a mixed pack of blister plasters like Compeed, in case you get any blisters on your feet, painkillers, antibiotics for potential stomach upsets or infections and Diamox tablets for altitude sickness. You'll find all of these over the counter in Kathmandu.
a good headlamp is essential for very early starts or at night to go to the loo in the teahouse when the generator is off, as unpleasant as it is getting out of your sleeping bag in the dead of night if you've got to go, you've got to go, so you'll need to be able to see what you're doing – hands-free!
a deck of cards, a book or kindle, a notebook and a pen.
an up to date map of the region and a guidebook.
a comfortable change of clothes for the evening. Trust me, you're going to want to get out of your sweaty hiking gear for a bit!
a decent camera or smartphone with chargers and/or spare batteries to capture all the amazing sights you'll see along the trek!
Tip: Bring flip-flops to let your tired feet breathe in the evening. We love Ipanema flip flops for both men and women as they are made from 100 per cent recyclable PVC, they are really flexible and durable, they can get wet without becoming soggy and dry off quickly so can be worn in the shower. The women's "Ana" range have an anatomic footbed which is super comfortable! They've been our flip-flops of choice since we first discovered them in 2008!
Optional: Something to sleep in. I'm pyjama obsessed but couldn't spare/justify the space in my backpack so I usually wore a long-sleeved top and leggings at night which were part of my change of clothes for the evening. Brian slept as he normally does in boxer shorts – even at the highest, coldest point. (He is definitely part wolf!)
You can rent or buy all of these from Shona's store mentioned above if you don't want to buy them. I rented a small backpack, a sleeping bag and a down jacket for the grand total of less than €2 per day. I'm sure his rates have gone up a bit since 2012 but even if they've doubled it's still minimal.
A change of clothes for the evening is nice to feel comfy and wet wipes will become your best friend! Bear in mind that whatever you bring you'll have to carry on your back every day so that should make you eager to keep your weight to a minimum. I think my backpack started off at 10kgs and at the end (when the snacks were gone) it was 8kgs. Brian's was more at 12kgs as he had the camera, spare batteries and he carried my sleeping bag too – what a gent!
Water And Snacks
We chose to bring Nalgene water bottles we bought at Shona's and iodine tablets to cut down on costs as bottled water gets expensive the higher you go as it has to be carried up. We also bought some snacks like dark chocolate, granola bars and trail mix in Shop Right Supermarket in Kathmandu and carried them with us as once you are at a high altitude your metabolism revs up and you will pay €5 (expensive for anywhere, insane for Nepal!) for that Snickers bar or €5 for a plate of chips! (Did it – #sorrynotsorry!)
Did I mention that you can eat whatever you like with no consequences at high altitude and you're walking carrying 8-10kgs for 8 hours a day? It's great! #TheEverestDiet
Is It Dangerous? Dealing With Altitude
As with anything in nature, it can be dangerous – even driving a car or crossing the road can be dangerous on any given (unlucky) day but if you pay attention to the weather, nature and your body and follow all the safety precautions you should have no problems.
That being said you should be very aware of High Altitude Sickness (HAS). Anything above 3,000m is considered a risk for HAS and the height of Everest Base Camp is 5,380m, so you'll spend a significant amount of your hike within a 3,000m – 5,550m altitude. There are acclimatisation days built into the schedule in Namche and Pheriche where your body adjusts to the altitude before you go higher. You should definitely take these acclimatisation days! There is also another optional acclimatisation day in Dughla, which we chose to take also.
Some signs and symptoms of HAS include headaches, difficulty sleeping, breathlessness, loss of appetite, nausea and general tiredness. Some symptoms are less serious than others (like HAFE: High Altitude Flatulence Emission- it's real, really!) but seriously, if you feel unwell it is advised to get to a lower altitude as soon as possible.
Our Tips For Avoiding Altitude Sickness On The EBC Trek
Our tips are to go slowly and not hike to high or too fast in one day. The general rule is not to ascend more than 400m in one day. Another rule is "Hike high, sleep low", so if you pass a higher point on your hike that day from where you'll sleep you should be all good. On the acclimatisation days, you should hike to a higher point that day to help your body adjust. The local cure of garlic soup can help with headaches and altitude symptoms. It might sound horrible but it's really nice… if you like garlic and more importantly, it's effective. Some people bring Diamox tablets to help with altitude sickness but if you can manage without taking them you're better off but it's still advisable to bring them.
The Himalayan Rescue Association has an aid post in Pheriche run by volunteer doctors from around the globe. They give daily talks and demonstrations about altitude sickness and it's believed to be the highest hospital in the world!
Do You Need Travel Insurance?
While it's obviously not a legal requirement to complete the trek, you may feel a little more at ease if you have a travel insurance policy that covers the most dreaded, and most expensive, eventuality – helicopter evacuation.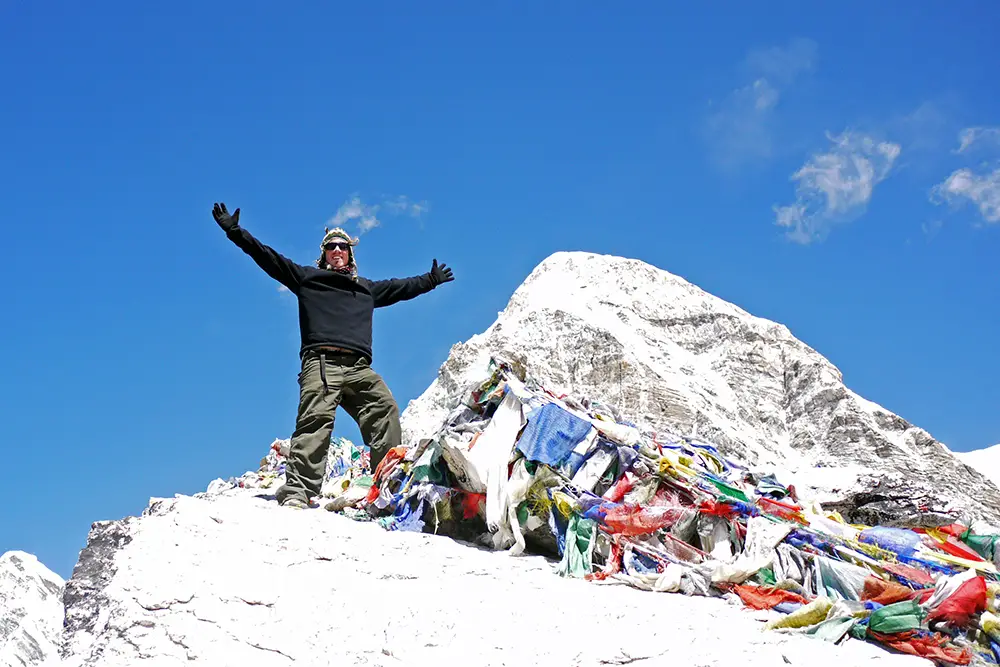 If you do need emergency helicopter evacuation on the trail and you don't have insurance that covers this, it can cost up to $5,000, not including your medical expenses, which can bump the final bill up to $10,000. If you don't have a travel insurance policy, this needs to be paid upfront before the helicopter will be dispatched. So you'd have to trek with a credit card with a limit of at least $10,000 on you or have someone on speed dial willing to wire you that amount at any moment!
Or you could just take out some travel insurance for the trek for peace of mind.
We recommend World Nomads.
They are one of the few travel insurance companies to offer reasonably priced policies with coverage for activities such as hiking/trekking at heights of up to 6,000 metres on recognised routes, with a $625 excess for helicopter evacuation in Nepal. Be sure to read all the terms and conditions of your policy to be sure. You can even take out the insurance with them if you're already on the road or just for the period of time you'll be trekking.
What To Expect On The Everest Base Camp Trek
Teahouse Accommodation On The Everest Base Camp Trek
Everest Base Camp is a teahouse trek which means that there is accommodation along the way as these routes are the only way for the people who live in the Khumbu region to get from A to B. Most teahouses offer basic double occupancy rooms for 100 Rupees (€1) per person per night. It is then expected that you'll eat all your meals at their teahouse for getting your bed so cheap. Toilets and bathroom facilities will be communal and basic.
There will also be a communal living room area which has a stove where everyone will eat their meals and relax in the evening as this is the only heated space. (Keep an eye out for what they use to fuel the fire!) Each village or stopping point has a few teahouses. As we were early in the second peak season we never had to worry about not getting a bed for the night and often had time to check out all teahouses and choose our favourite. We have heard that in the higher seasons people get their guides to book ahead or leave really early to get a bed. They will squeeze you into the common area if all comes to all. I assume prices of beds go up in the higher seasons and they can go up at higher altitudes too. We may have paid 200Rs (€2) per person in Gokyo but this is off the main Everest Base Camp trail and so receives fewer trekkers.
Update: I have heard reports of the teahouses now charging 200Rs and going up to 300Rs higher up on the trail around Lobuche and even 500Rs at Gorak Shep and Gokyo. This could have been in peak season so it might be different from our experience. In late 2018 a new 500Rs minimum charge was introduced after Namche Bazaar. As of the 2020 season so far, this minimum charge was only randomly being enforced. If you are on a package trek with a guide this will not affect you. If you are trekking solo then it may affect you so be sure to get a receipt for any payment you make.
Walking
You will be walking for six to eight hours a day so be prepared – if you don't like walking you might want to rethink this adventure! The distance covered each day is not huge due to the altitude involved and you have the acclimatisation days to rest up a bit. We found the Jiri to Lukla section to be the hardest as you are cutting up and down through the valleys instead of just ascending so it's gruelling going up and down, up and down. With that said, the main trail is generally quite gradual and well-maintained.
Food And Facilities
There is quite a selection of food on offer in the teahouses. You can have porridge or eggs and toast for breakfast, fried rice or chow mein for lunch and Dal Bhat or veg curry and rice for dinner. It's a good idea to stick to veggie options after Namche as meat has to be carried up so it might not be the freshest. You can get Snickers, Mars and cans of Coke all the way if you want them. They also have Snickers rolls and Mars bar rolls, which are kind of like a chocolate bar in pastry – they're heavy going but they are delicious! Things do however get steadily more expensive as you go higher. Eggs, potatoes and rice, in particular, get more expensive the higher you go as someone has to literally carry them up there.
You can even get beers and rum on the trek. It's not advised to drink on the ascent because it puts more stress on your body and can make you more susceptible to altitude sickness but on the descent, you can! We waited until we got back to Namche to have a celebratory drink in the highest Irish bar in the world (not Irish owned!). Other than that one drink, we didn't drink on our hike at all, except for one wet miserable night in Paiya (Rum and black tea make a surprisingly nice combination!). And you can be sure we had a celebratory drink on our last night in Shivalaya!
Namche Bazaar is the last 'big' town on the trail and has everything you could need – a post office (apparently the highest in the world!), ATMs, chemist, cafes, restaurants and even bakeries where you can buy freshly made apple pie! There are also all kinds of souvenirs and trekking gear for sale so you can buy anything you forgot here. It's two days walk from Lukla and eight from Jiri.
On the main trail, there was usually a small village between your night and lunch stops to grab a snack and a cup of tea and go to the loo. Off the main trail over towards Gokyo, the villages were more spread out so you had to have your own food and snacks. Also, be prepared for Asian squat toilets and some basic outhouse long-drop toilets on the trail. Sometimes you'll just have to find a rock to pop a squat behind if nature calls!
Water
You can buy bottled water all the way on the trek but again, it starts to get quite expensive the higher you go as someone has to carry it up there. It's cheaper and much more environmentally friendly to carry a reusable water bottle. As mentioned earlier, we were on a budget and on Andy's advice, we chose to buy Nalgene water bottles in Kathmandu and used iodine drops and iodine tablets to purify water collected from streams along the way. Higher than Lukla this is advisable, however, lower than Lukla, not so much. You can still do this but there is more chance of contaminants in the water at lower altitudes with more animals and people around.
Be aware that iodine doesn't kill everything and we both got bugs after Lukla. Giardiasis we think – it was not fun walking with this! Also, we think that after nearly three weeks the iodine maybe started to have an effect on our bodies too.
Entertainment
Apart from Namche and at a stretch, Lukla, every village on the trail is pretty tiny and consists of just a couple of teahouses so you have to entertain yourself the old-fashioned ways – good old conversation, reading and playing cards did the trick for us.
Definitely, bring a deck of cards with you. Most evenings we were in bed at 9 because you're so wrecked (and there's not much to do anyway). You're up the next day early to start your walk to get the most light out of the day and also, the bad weather generally comes in later in the day.
Teahouses generally don't have TV's and we didn't carry laptops with us on the trek. We also didn't have smartphones at the time and didn't bring and any electronics other than our cameras. I'm sure if we did it again this would be different as we'd just have to share with our followers on SnapChat or Instagram along the way! But we loved the simplicity involved at the time. Eat breakfast – hike, eat lunch – hike, eat dinner – sleep, repeat!
Don't forget to go out and look at the stars on a clear night, it will blow your mind – entertainment sorted!
Charging And Photo Storage
When we trekked to Everest Base Camp, you had to pay the teahouse to charge phones, camera batteries, laptops etc. I'm sure this is still the case. To save on costs, we had two extra batteries for our camera and saved the batteries by not looking back over our pictures in the evening. We didn't have to charge our batteries once. In addition to this, we brought multiple SD cards for our camera to store our photos on. Whatever you choose to do, be sure to have your camera ready as you will get some amazing photos on the Everest Base Camp trek.
First Aid
It's important to bring some basic first aid supplies like plasters and some disinfectant wipes or antibacterial cream with you. You can buy most medicines and antibiotics over the counter very cheaply in Nepal so bringing a few doses of broad-spectrum antibiotics for things like stomach bugs, traveller's diarrhoea or chest infections is a good idea. Compeed plasters are also a very good idea as you'll more than likely develop at least one blister on the way. Hand sanitiser is also very handy for those calls of nature in the wilderness. Oh, and that reminds me, bring toilet paper too!
Tip: Toilet paper, wet wipes and hand sanitiser are essential items!
Wifi / Internet
There were internet cafés in most villages on the way up – even in Gorak Shep! It was quite expensive though I think €0.10 per minute before Namche and €0.25 per minute after. There was free wifi in cafes in Lukla and the last of the free wifi was in Namche Baazar. We didn't use the internet anywhere along the trail, so I have no idea about how good or bad it was.
We survived 23 days off the grid – seems hard to imagine now with our online work but we loved it; totally disconnected, immersed in nature and that's what this is all about. We didn't even see a motorised vehicle for 22 days – amazing! There's also good mobile phone reception up there should you need it.
Certificate Of Completion
There is a little post outside of Namche on the Lukla side where you can buy a certificate of completion to say you reached Everest Base Camp. As far as I remember it cost 1,000 Rs. but I'm not sure and can't find any info on it anywhere online. We bought the certificates anyway, even though there's nothing to stop anyone from just going as far as Namche and buying the cert without going to Base Camp. Still, it's a nice memento of the trek.
Our Exact Everest Base Camp Trek Itinerary
We spent 23 days trekking in total, choosing to add on the option of descending via Gokyo Lake while on the trail taking in two of the three passes in the region, Cho La and Renjo La. We also walked from Lukla out to Jiri rather than flying out of Lukla.
This is our exact itinerary:
Day 1: Lukla to Phakding

Day 2: Phakding to Namche

Day 3: Acclimatisation Day in Namche Bazaar
Read more: Everest Base Camp Trek: Day 1 to Day 3, Lukla to Namche Bazaar
Day 4: Namche to Tengboche

Day 5: Tengboche to Periche

Day 6: Acclimatisation Day in Periche
Read more: Everest Base Camp Trek: Day 4 to Day 6, Namche Bazaar to Periche
Day 7: Periche to Dughla

Day 8: Dughla to Lobouche

Day 9: Lobouche to Gorak Shep to EBC
Read more: Everest Base Camp Trek: Day 7 to Day 9, Periche to Everest Base Camp
Day 10: Gorak Shep to Kala Pattar to Dzongla (Read more)

Day 11: Dzongla to Dragnag (via the Cho La Pass) (Read more)

Day 12: Dragnag to Gokyo

Day 13: Gokyo to Lumde (via the Renjo La pass)

Day 14: Lumde to Namche Bazaar
Read more: Everest Base Camp Trek: Day 12 to Day 14, Dragnag to Namche Bazaar (via Renjo La Pass)
Day 15: Namche Bazaar to Lukla

Day 16: Lukla to Paiya

Day 17: Paiya to Karikhola
Read more: Everest Base Camp Trek: Day 15 to Day 17, Namche Bazaar to Karikhola
Day 18: Karikhola to Taksindu Pass

Day 19: Taksindu-La to Junbesi

Day 20: Junbesi to Kinja
Read more: Everest Base Camp Trek: Day 18 to Day 20, Karikhola to Kinja (via Taksindu Pass)
Day 21: Kinja to Bhandhar

Day 22: Bhandar to Shivalaya

Day 23: Shivalaya to Kathmandu
Read more: Everest Base Camp Trek: Day 21 to Day 23, Kinja to Shivalaya and back to Kathmandu
Notably Hard Days
After Lukla, the trail mostly ascends gradually with two hard days of straight incline coming into Namche Bazaar and Tengboche. Apart from that, it's pretty easy. Just a lot of walking. The only days that really stand out as particularly hard are coming into Namche and Tengboche because it's so freaking steep.
Also, the day we got to Everest Base Camp, we were so excited that we didn't eat anything in Gorak Shep. We just dropped our bags, had a cup of tea and a tiny bit of chocolate and headed on not realising it was a two and a half hour walk. This was also a hard walk not because of the incline but because it involved constantly clambering up and down over boulders. Everyone else said they felt the altitude coming into play here and found it harder to breathe, but I personally didn't notice a huge difference. As I have mild asthma, I joked that everyone was now experiencing how I breathe all the time!
Myself and Brian hung on and explored around the base camp for an hour walking up to the new base camp as well, checking out the tents and using the "facilities" (think hole in the rocks with a basic tent made from some tarp and wooden beams over it!) This was the highest altitude we had experienced to date and the trip back to Gorak Shep was a nightmare. We felt so weak and sick as we hadn't eaten before setting off.
When we arrived back to the teahouse our friends Mike and Linda, who had headed back before us, thought we looked green in the face. We had no appetite either, despite the physical exertion. It was the only time I experienced any kind of altitude sickness. Brian had some headaches in Dughla and had taken painkillers and Diamox which helped. We both took them again in Gorak Shep and after forcing ourselves to eat some food, chilling by the fire in the teahouse and getting a good night's rest we were good to go the next morning.
A Typical Day On The Everest Base Camp Trek
On a typical day on the trail, we usually woke up at 7 am, got dressed, packed up our backpack and had breakfast in the teahouse. We normally started walking from around 8 am, stopping somewhere to eat a snack mid-morning. Then we used to take a long lunch in a village along the way around 12 or 1 for about an hour and a half or two to rest up a bit. At lower altitudes, we loved to take off our shoes and give our feet a break. This was at the beginning, however, when we were at a lower altitude, so the days were warmer and our socks were fresher too!
We then used to walk on to our decided finishing point where we would arrive around 4 or 5. We'd freshen up (which involved what we lovingly started to call a "wet wipe shower", a roll and spray of deodorant and some dry shampoo for my luscious locks) change into our one set of evening clothes, wooly socks and flip-flops and hang out in the teahouse common room, eat dinner, drink tea, chat and play cards.
Then it was always early to bed around 9:30 or 10 pm.
Our Highlights Of The Everest Base Camp Trek
Flying Into Lukla Airport
Flying into Lukla is a once in a lifetime experience in itself! Even if you don't fly in our out of Lukla, take a wander around and look at the runway and "airport" there. If you have a fear of flying maybe don't! The runway is very short and is inclined – the end of the runway is a sheer drop off the side of the mountain! Lukla itself has a few café's and pubs – we saw a fake "Starbucks" and some Irish and Scottish pubs – I guess no one is checking copyright up here!
Acclimatising And Relaxing In Namche Bazaar
As I mentioned before, Namche is the last big town on the trail and has a lot of shops and cafes. Some people just hike as far as here for the first glimpse of Everest. It's a short walk away and you can do some day hikes around the area. Syangboche airstrip is nearby where some people fly to begin the hike and some supplies get flown in here too. In nearby Khumjung is the Hillary school which was set up by Edmund Hillary in 1961 for the kids in the area.
Soaking Up Spiritual Vibes And Views At Tengboche
Tengboche is home to the famous Dawa Choling Gompa, the largest Gompa in the Khumbu region. Everest expeditionists usually visit this monastery to light candles and seek blessings from the gods for good health and safe mountaineering as it's considered the gateway to Everest. The views of the Himalayas from here are incredible with Everest, Nuptse, Lhotse, Ama Dablam, Tawache, and Thamserku in panoramic view. John Hunt, the leader of Hillary's Everest expedition in 1953 was one of the first mountaineers to visit the monastery and described Tengboche as "one of the most beautiful places in the world" and we agree.
Panoramic Himalayan Views On Top Of Kala Pattar
Kala Pattar was without a doubt the highlight of our trek. It may be called the Everest Base Camp trek but it should be called the Kala Pattar trek. The360 degree panoramas of Everest and the Himalayas from this peak are incredible. Keep going to the very top (5,550m) of the little craggy peak and stand in awe of your surroundings – it's just incredible! From Everest Base Camp, you can't actually see Mount Everest but from up here you sure can and it feels like you're on top of the world.
Crossing The Cho La Pass (Optional)
Still one of our greatest adventures to this day, the Cho La Pass is an optional alternative route up or down from Base Camp. We chose to add this on as we were enjoying the trek so much that we decided to extend our route to take in the stunning Gokyo Lake as well, which offers a different vantage point of Mt Everest. It's considered the most difficult pass in the region and we can fully understand why. It's difficult to see and find the trail on this part as it's not part of the main trail. We used to look for holes in the ground from hiking poles to see if we were going the right way!
The Cho La pass itself is essentially a glacier and is has some crevasses in parts and either side of it is craggy rocky terrain. An early start is essential to avoid the sun melting the ground beneath you. It is advised to hire a guide for this part of the trail and in hindsight, we should have. You can hire a guide in Dzongla or Dragnag just to take you over the pass. Apart from the difficulty and fear factor involved, the scenery is breathtaking here!
Walking Out Through The Valleys From Lukla To Jiri (Optional)
This part of the trail is the most physically challenging as you are cutting up and down through the valleys as opposed to a steady incline. We felt this was a very rewarding part of the trail as there are more people living in the area so there was more chance to interact with and meet locals. This section also feels a little less worn than the main trail, something which we always enjoy, but you don't have the same incredible mountain views to pull you through the tough days.
We met a local man one day with bandages all over his hands. Asking him what happened, he told us how he was walking home from the hospital in Kathmandu which involved a five-day walk and a 12-hour bus trip just to go to the hospital. And the same again to return – crazy!
So there you have it. A complete guide to everything you need to know about trekking to Everest Base Camp independently. Even if you choose to use a guide for this adventure, we hope you will find this guide useful. So go ahead and get your hiking shoes on and start planning. You won't regret it, we promise!
Over To You – Have You Trekked To Everest Base Camp? Would You?
Anything else you'd like to know? Just hit us up in the comments below and we'll try to help you as best we can.
Additionally, if you've recently completed this trek and have anything to add or have updates on any recent changes for fellow trekkers who want to do the Everest Base Camp trek independently, please feel free to leave a comment!
Happy trekking and namaste!
Pin It!