Day 10: Gorak Shep to Kala Pattar to Dzongla
The four of us had breakfast together this morning and then sadly the two couples went our separate ways. We had been travelling together for the last month, since leaving Korea and wished each other all the best, knowing we'd meet up again when we got back to Kathmandu. With the goodbyes over our attention turned to this mornings plan. We wanted to climb to the top of Kala Pattar this morning but so far the weather wasn't playing ball. We didn't want to give up, who knows when we'd be back up here again, so we waited and sure enough at 8am the clouds lifted and we made our move. It was a steep one hour, forty-five-minute climb to the top and as we approached the summit we could feel the strength of the cold wind. At the top we were blown away (not literally) by the views. Corny as it might sound, the views from here were indescribable, I could never hope to do it justice in words and even the photos can't capture fully the magnificence of what we were standing looking out at. Pumori mountain was just to our left and scanning the skyline from left to right we could see the entire
Everest range right there in front of us, with Mount Everest itself directly in front of us. We climbed out onto the ledge at the summit and took turns standing up to take it all in, it was amazing, it felt like we were standing on top of the world. It took us an hour to walk back down to Gorak Shep and the whole way we were buzzing with excitement, it was a lot different to reaching Everest Base Camp the day before. This was why we had come here, this was what we had come to experience and this is why we walked for ten days, to get this buzz and all from a viewpoint on top of Kala Pattar at 5,550 meters, incredible!
After a quick-lunch at Gorak Shep, we began the four-hour and a half hour walk back down to Dzongla. We had decided over the last few days, after talking with other trekkers and listening to their experiences, to extend our trip to include the Cho-La pass, Gokyo lake, Gokyo-Ri and the Renjo-La pass. The added bonus was we would now be going back an alternate route so we didn't have to double back on the way we came up. The walk back to Lobouche and beyond was easy being all downhill. We crossed a frozen lake at the Lobouche Base Camp and followed directions up a very narrow path that barely clung to the mountainside. The path led us around a corner at the end of the mountain and we could see Periche, where we and stopped on the way up, in the distance.
The path had given way in places, so carefully we continued looking down at the massive frozen lake below. It was beginning to get dark now and the clouds were coming in. This was a secondary path and there was no one else around, so we tried to follow hiking pole marks in the ground as we went through two more valleys before we finally saw the three lodge town of Dzongla high on a ridge on the other side of the valley. We made it to the lodge just as it got dark. After warming up at the fire and a quick dinner it was time for bed. Tomorrow we were to tackle the Cho-La pass, the most difficult of the three passes in the Khumbu region. It had been closed only ten days previous, so we were going to need all the energy we could muster.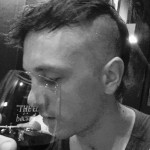 Brian is a travel writer, photographer, blogger, travel addict and adventure-junkie. Being outdoors, getting off the beaten track and outside his comfort zone is what makes him tick. Brian's the dreamer in the relationship; when he's not travelling, he's dreaming about it! Keeping fit, cooking, music and red wine take up the rest of his time.
SUBSCRIBE FOR OUR FREE EBOOK
Sign up for our free travel photography Ebook "Faces of Nepal" and you'll also receive our monthly newsletter.