Everest Base Camp Trek Day 7: Periche to Dughla
Today was a short, easy day. A lot of people continue past here as it's only a one hour, forty-five-minute hike from Periche but after hearing the horror stories of people dying from going up too fast, we decided it would be best to take an extra day here. The day was pretty uneventful, we arrived at the only lodge and played cards all day. In the evening after dinner, a local guy came in with an infected cut on his face. We gave him antibiotics and antiseptic cream and with our good deed done we got our rest.
Everest Base Camp Trek Day 8: Dughla to Lobouche
Again, today was a pretty short day. It took us two hours to reach Lobouche. The trail climbed up out of Dughla to a flat area where there were memorials to climbers who had died on Everest. There were quite a lot of countries represented here and also a lot of local Sherpas names appeared here too. It was a sad sight to see. We walked around reading all the memorials and continued on the trail. We walked past a frozen lake on our left, on which the Lobouche Base Camp tents were standing and to our right was supposed to be a glacier but we couldn't figure out exactly where. The trail continued gradually up and we shared it with the usual passing yaks, porters and other base camp bound trekkers. We arrived at Lobouche and found a lodge, this was the first time I felt any effects from the altitude. I had a pounding headache all day long today and had to take Diamox (mountain sickness medicine) to try to help the pain which combined with some ibuprofen, it did. We did a very short 'hike high, sleep low' walk and retired to the lodge where I lay down while the others talked with other hikers. That evening, feeling better we played cards with the guy working in the lodge who confirmed that a German guide had indeed died one week before in the lodge next door. No point in focusing on that now though, next stop Everest Base Camp! The only issue was it had been snowing heavily all day so we just hoped it would be safe to continue on in the morning.
Everest Base Camp Trek Day 9: Lobouche to Gorak Shep to EBC
Today was the day! It was a difficult two and a half hour walk to Gorak Shep with the path winding between boulders. The trail was covered in snow and went up and down and the countryside looked amazing covered in a fresh white blanket. To our right all along the path was a huge glacier, I never imagined I'd be in an environment like this with huge mountains on all sides covered with snow, it was spectacular. We arrived in Gorak Shep, dropped our bags at the lodge, had a quick cup of tea and continued on to Everest Base Camp. It took a further two and a half hours to reach base camp and the walk was tough enough, it wasn't very steep but just constant up and down over boulders. Our surroundings did make it easier though, as the breathtaking views motivated us to keep going. Some time passed and in the distance, we saw the yellow and blue tents at base camp. It was still a bit of a walk but we were getting closer. We walked along a high ridge before descending to the Everest base camp. From here, funnily enough, there are no views of Everest itself but the mountains all around us were stunning, towering around us to our sides and in front of us.
The glacier below us to our right had a blue glow radiating from it, it had taken us nine days to get here, but we had made it! We were now at an altitude of 5,350 meters and after taking some photos we went exploring around the tents for an hour. It was great to see up close just how the climbers lived when preparing to climb the highest peak on earth. The climbers we learned would be arriving in two weeks or so but for now, the local Sherpas were setting up the campsites and bringing up supplies either under their own backs or on herds of yaks. The backdrop of the mountains and the amazing Khumbu icefall made for a dramatic setting to begin a mission for the highest summit in the world. After spending time amongst the tents we started the two-hour walk back to Gorak Shep. We both felt sick and quite weak as we had only eaten some chocolate since breakfast that morning. Arriving back at Gorak Shep we had all the symptoms discussed by the doctors in Periche; nausea, headache, loss of appetite and we were very pale. We took more Diamox and ibuprofen and sat by the fire in the lodge for the night before getting into bed at 7:30pm in preparation for the hike up to the viewpoint at Kala Pattar the following morning for a 360 panorama view of the Everest mountain range.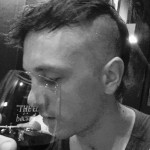 Brian is a travel writer, photographer, blogger, travel addict and adventure-junkie. Being outdoors, getting off the beaten track and outside his comfort zone is what makes him tick. Brian's the dreamer in the relationship; when he's not travelling, he's dreaming about it! Keeping fit, cooking, music and red wine take up the rest of his time.
SUBSCRIBE FOR OUR FREE EBOOK
Sign up for our free travel photography Ebook "Faces of Nepal" and you'll also receive our monthly newsletter.