Everest Base Camp Trek Day 4: Namche to Tengboche
A short, steep climb out of Namche began our morning today. Once at the top the path skirted along the edge of the mountain, staying fairly level most of the way. We had great views of Mt. Everest all the way until we dropped down through a forest to Phunke Tenga for our lunch. Coming into Phunke Tenga, we passed some huge hairy yaks carrying their loads along the path, for such big animals they are quite timid and we just stood to one side and they passed us by. After lunch we crossed a suspension bridge where we saw water driven prayer wheels and then it was a steady two and a half hour climb up to Tengboche. Climbing up to Tengboche we could see the path we had walked that morning far away in the distance, but the surrounding snowy mountains now hid Everest from view. Arriving in Tengboche we found accommodation and strolled around the small town and following the mantra of 'hike high, sleep low', we hiked to a viewpoint above the town from where we could see the wonderful Tengboche Monastery down below, Everest in the distance and the amazing valleys far below us. We sat in a bakery as the sun went down and after walking back through the famous monastery we turned in for the night.
 Everest  Base Camp Trek Day 5: Tengboche to Periche
Walking down from Tengboche the path dropped down into a small valley and then gradually climbed through a wooded area where we got stuck behind a large group. We made it across a bridge before the yaks coming against us did and so we started the steeper incline to the small village of Pangboche, supposedly home to a yeti head! We met an old Sherpa lady who we took photos with and we continued uphill on the trail toward Somare, where we stopped for lunch. Lunch was an experience, with yaks running through the outdoor area where the tables were and their herders trying frantically to control them but not having much luck. We met a guide who got us thinking about extending our trip to take in the Cho-La pass but for now, it was only an idea. After lunch we continued past the turn off for the Aba Dablam Base Camp and looking ahead of us the landscape became very barren. The trail continued uphill to the Periche pass from where we could see the town of Periche not too far away. We went down the other side of the pass and found our accommodation for the two nights we were spending here.  It was the nicest tea-house so far, which was good since we were all pretty tired after our five-hour hike.
Everest Base Camp Trek Day 6: Acclimatisation Day in Periche
Now at an altitude of 4,240 meters, another acclimatisation day was required today. We hiked for just an hour and forty-five minutes up to some monuments which overlooked the neighbouring town of Dingboche and afforded us views of Malaku, the fifth highest mountain in the world. There was a strong, cold wind and not wanting to get sick we headed back to the lodge to actually rest on our rest day. Up until now we had had the slight headaches that were normal being at this altitude but none of us had any serious mountain sickness symptoms. In Periche every day at 3pm there's a talk all about Acute Mountain Sickness (AMS) and acclimatisation. Things became very real as the very informative volunteer doctors from Sweden, America and New Zealand, explained about the symptoms, treatments and preventative measures for AMS. They demonstrated the use of a Gamow bag which is used to regulate the pressure on someone's body, we just hoped we wouldn't be needing it! If the lecture hadn't been enough to give us a wake-up call, that evening we heard stories of three people dying from mountain sickness two towns further up in the last week. For now, they were only stories but we decided to take the extra optional stop at Dughla the next night just to be on the safe side. We hadn't come all this way to turn back and like the doctors, guides and other hikers coming down said "take your time", "slow and steady" and you'll be fine.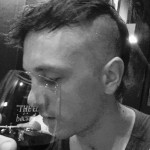 Brian is a travel writer, photographer, blogger, travel addict and adventure-junkie. Being outdoors, getting off the beaten track and outside his comfort zone is what makes him tick. Brian's the dreamer in the relationship; when he's not travelling, he's dreaming about it! Keeping fit, cooking, music and red wine take up the rest of his time.
SUBSCRIBE FOR OUR FREE EBOOK
Sign up for our free travel photography Ebook "Faces of Nepal" and you'll also receive our monthly newsletter.