Everest Base Camp Trek Day 1: Lukla to Phakding
After touching down in Lukla airport we went into town for some breakfast and it was time to begin day 1 of the quest to complete the Everest Base Camp Trek independently. The weather was cooler than Kathmandu but it was sunny at least. We hiked for three hours today, arriving at Phakding around 12:30 for lunch. Along the way, we got our first glimpse of mountain life. There are no vehicles up here, not even bicycles, everything is carried by the local people or else by mule or yak which are herded along the path by a combination of shouting, stick whipping and stone throwing. Trying to get our bags comfortable was a big part of today, constantly making small adjustments to our straps as we went. About an hour into the walk we stopped for a toilet break and had our first mountain bathroom experience. Basically, a wooden hut is built out over the edge of the mountain and it has a hole in the floor, I'll leave the rest to your imagination!
The trail to Phakding began with a gentle decline from the airport to Cheplung. The path changed to a gradual incline up to the next town Nurning after which we passed prayer wheels and huge rocks with Buddhist mantras carved into them and painted in black and white. The path continued up until we reached Phakding. There were quite a few tea houses to choose from here. We made some enquiries and learned that the rooms were seriously cheap but the catch is you have to eat all your meals at the lodge. The food was reasonable though and the menu was much bigger than we expected. We spent the rest of the day relaxing and wandering around the town before getting an early night.
Everest Base Camp Trek Day 2: Phakding to Namche
We got going this morning round 8:30am crossing the river on a suspension bridge and walking towards the oddly named, small town of Tok Tok. The path wasn't too bad, slightly uphill with some steeper sections thrown in for good measure. We continued on to the checkpoint as Monjo where our permits were stamped. The trail then descended to Jorsale where we stopped for lunch before the gruelling 700-metre incline to Namche Bazaar. Our permits were checked once more on the way into Namche and the next thing I saw walking up into town was an advertisement for the world's highest Irish bar. Tempted as we were after the days tough six and a half hour hike, we kept going and checked into a guest-house run by the sister of where we stayed the night before in Phakding. We spent the evening strolling around the town and chatting with other hikers before another early night.
Everest Base Camp Trek Day 3: Acclimatisation Day in Namche Bazaar
Namche is at an elevation of 3,440 metres and so today we had to take a 'rest day' at Namche so our bodies could acclimatise. It's advisable to do short hikes on acclimatisation days to help with the process. This morning at 9am we walked to Khunde and onto Khumjung before looping back around to Namche. The hike took us five hours total, with a stop at the Sherpa village of Khumjung for lunch. We passed through the Syangboche airstrip which was pretty crude, not even having been tarmacked. A few flights a day landed here on the 'runway', it was a wonder they were able to land here at all! At the top of the hill before going down the steps to Khumjung, we got talking to a porter who was taking rest from carrying his 30kg load. In front of us were some amazing views of Ama Dablam, Lhotse and our first sighting of Mount Everest! We had a long way o go yet but we were heading in the right direction at least.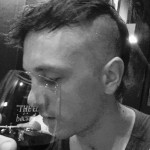 Brian is a travel writer, photographer, blogger, travel addict and adventure-junkie. Being outdoors, getting off the beaten track and outside his comfort zone is what makes him tick. Brian's the dreamer in the relationship; when he's not travelling, he's dreaming about it! Keeping fit, cooking, music and red wine take up the rest of his time.
SUBSCRIBE FOR OUR FREE EBOOK
Sign up for our free travel photography Ebook "Faces of Nepal" and you'll also receive our monthly newsletter.