The Nepalese cuisine may not be as well known as Indian, Chinese, Italian or Thai but what they do, they do extremely well. The Nepali food is an eclectic mix of flavours from neighbouring Tibet to the north and India in the south. If you haven't tried Nepali food by now maybe this will inspire you to check out this often unknown cuisine.
Nepali Food: Dal What?
Us Irish have a lot of foods like stew and fry ups, the French their breads and the Koreans have Kimchi galore. The staple in Nepal is known as Dal Bhat Tarkari. The meal consists of a number of different components and is usually served on a round metal tray. The locals normally eat using their hands, binding the food together into bite sized portions with the sticky rice. For the tourists, fork and spoon is the mode of attack for this simple but delicious feast.
Variation
The Dal Bhat meal varies from restaurant to restaurant and from region to region but there are three main components which are always present. Dal Bhat Tarkari, literally means lentil soup (dal),  cooked rice (bhat) and curried vegetables (tarkari). The lentil soup, usually quite salty but always good, is served in a small bowl on your metal tray. The curried vegetable is commonly potato but often has onion and if you're lucky there will be some cauliflower in there too! Other variations in this Nepali staple are salad or green vegetables, strongly pickled vegetables, curd (yoghurt) and sometimes papad, a light crisp pancake made from lentils. These optional extras are almost always included in Kathmandu and Pokhara but in more rural areas the meal tends to arrive in its more basic form.
Cheap yet satisfying
Dal Baht is the choice of a lot of travellers in Nepal as it's light on the pocket but not in its serving size. As you begin to work through the small Himalaya of food on your plate, thinking you're making inroads, a friendly old lady will quickly appear and refill your entire meal at no extra cost, and will continue to do so until you're sufficiently full. Dal Baht is a popular choice all round. In fact, it's pretty much all that a lot of locals eat. Most Nepali people will eat the meal twice a day, usually the meal is vegetarian, suiting the mostly Hindu and Buddhist population, but it sometimes is served with a side of meat. The meat is traditionally goat, chicken or buffalo, but never beef as the cow is sacred in the Hindu religion.
Outside influences
Other popular  Nepali food is influenced mostly by Tibet. Momo's are a type of Chinese dumpling and come in a variety of fillings. The potato-curry ones are recommended and when ordering you usually have the choice of fried or steamed. Thukpa is the other dish brought to Nepal by Tibetan refugees. Basically a noodle soup, it also comes in a variety of flavours and is widely available throughout the cities and countryside alike.
What to wash it all down with?
For a country that doesn't stay up very late (bars close at 11pm), there are no shortage of Nepali brews to choose from. Everest, Ghorka, Nepal Ice and Kathmandu are all decent local beers with incredibly imaginative names! The local wine (and I use the word wine loosely) is known as Raksi and is best avoided. It's a strong spirit with a thick consistency and tastes like an old shoe for want of a better description. A barely better alternative is Chang or chhaang. Made from fermented barley or rice, this warm, murky, milk-like local speciality has a unique taste, not for the faint-hearted!
Tea or chai, is very popular and is available from street vendors everywhere. Masala/Nepali tea is the local favourite and is really tasty. The tea is made by boiling spices, tea leaves and milk together with a good helping of sugar. It's a great warmer after hiking in the rain and certainly preferable to the butter tea drank by many locals in the mountains. A stick of butter and a dose of salt is mixed into black tea and there you have it, a heart attack waiting to happen!
Kathmandu and Pokhara have a huge variety of restaurants from all over the globe. Mexican, Irish, Thai, Chinese, Middle-Eastern, Japanese, Spanish, you name it, it's here! But with all this wealth of cuisines available, when you're proper hungry and in need of filling right up, go for the local Nepali food; Dal Baht is the only way to go!
Pin it!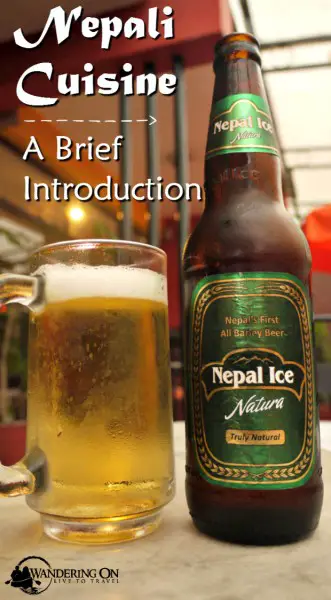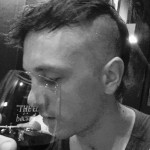 Brian is a travel writer, photographer, blogger, travel addict and adventure-junkie. Being outdoors, getting off the beaten track and outside his comfort zone is what makes him tick. Brian's the dreamer in the relationship; when he's not travelling, he's dreaming about it! Keeping fit, cooking, music and red wine take up the rest of his time.
SUBSCRIBE FOR OUR FREE EBOOK
Sign up for our free travel photography Ebook "Faces of Nepal" and you'll also receive our monthly newsletter.