Food is important to us, it's almost as important as travelling. Everywhere we go we make a point of eating local food, trying the local delicacies or whatever weird snacks the country might be famous for. We take cooking classes in different countries so that we can continue to eat the local foods when we get back to our base, wherever that may be. Our palettes have changed a lot in the last few years, we've become accustomed to flavours, spices and fragrances that we never thought we would. In recent months we've sat down to meals of spicy octopus, live squid, seaweed soup and tofu dishes that smell like feet but taste so good! We eat our weight in sushi and order food I have trouble pronouncing.
With that said, there are those days where we wake up and crave the foods from home. A good cup of Barry's tea (we'd even settle for Lyons!), a slice of soda bread with REAL butter and a few Galtee sausages on the side. Mmmmm! There are a lot of Irish foods we miss depending on our mood but these ten are always on our list.
1. Barry's Tea
We're big tea drinkers, Noelle's got something of a tea addiction and while we've played around with Lipton and other brands there's just no beating a cup of Barry's. When we do get a box sent from home, it's like gold; it's rationed, every cuppa is accounted for. We're not quite gone to hanging the used bags out to dry but we are definitely capable of stretching a bag to produce three fine cups of the brown stuff!
2. Taytos
I don't care where in the world you are, the crisps (that's chips to our American friends), are just not the same. Taytos, salt and vinegar; need I say more? But it doesn't end there. What about Mighty Munch, Chipsticks, Banshee Bones, Burger Bites and Hunky Dorys? Taytos themselves are a wonder but I think I speak for every Irish abroad when I say the word Taytos includes a lot more than the originals and we miss them all.
3. Chocolate
Don't mind that fancy Butler's or Lily O'Briens, that's not the kind of chocolate we're talking about. A few squares of Cadbury's is all we're after. Even though it's available in other countries, it never tastes the same; I think it comes back to the milk issue. The situation with chocolate is similar to that of the crisps, it's the whole range. Hersheys, Reeses and those other American brands aren't worth it. Give me a Moro, Double Decker, Time Out, Yorkie or Mint Crisp any day. How about a Pink Snack? Nothing quite like a Pink Snack.
4. Ballymaloe Relish
Ballymaloe goes well on everything, sandwiches, burgers, salads, sausages or just straight from the bottle; we can't get enough of this stuff.
I'll never forget how upset I was when we got off the ferry in Rosslare, Co. Wexford after spending a month in France living in the van. We spent the night on the ferry with a random stag party, singing and dancing until the ungodly hours of the morning. Pulling into Rosslare, we were suffering bad, but I knew it was going to be okay. There would be a garage, I'll get a breakfast roll with a good squeeze of Ballymaloe over the top and I'll be right as rain. Little did I know that back in 2007, Ballymaloe hadn't yet reached Wexford and so I had to settle for ketchup and cheap petrol station ketchup at that. Noelle laughed, I almost cried. Needless to say the hangover got worse and it was a long trip to Tipperary that day. Ballymaloe, Oh how I miss you!
5. Soda Bread
I've tried explaining exactly what soda bread is to people from Korea, Israel, Thailand and all over and I never get the reaction I'm hoping for. "Oh, so it's brown bread?" Well, yes and no. Irish soda bread is unlike any other bread we've ever tasted and is something we really miss from home. Whether it's Mammy's homemade loaf, something from the local bakery or McCambridges, it never fails to hit the spot. Did I mention toasting it? That's another level.
6. Sausages
Irish sausages are something special; Clonakilty, Galtee, even Denny's will do. At this point we've pretty much given up on getting decent sausages outside of Ireland. Rubber frankfurters just never cut it, they're not sausages, they're not even sausage substitutes. The optimist in me always thinks "this time will be different", but it never is.
7. Breakfast Roll
Ah, breakfast rolls. Only in Ireland would someone have come up with the (genius) idea to put sausages (see no.6), rashers, eggs, pudding, mushrooms, beans and hash browns into a baguette and cover it in ketchup or relish (see no.4). A constant topic of debate in Ireland is of course what does and doesn't belong in a breakfast roll, there's a whole train of thought on the subject. It's only a matter of time before there will be degrees in 'Breakfast Roll Engineering' at universities all over the country.
8. Murphy's Irish Stout
I'm yet to find Murphy's outside Ireland. We were surprised to find Bulmers (Magners) readily for sale in Korea since we came back in August and they even have it on tap in the Irish bars but at nearly €8 a pint, it's hard to justify. Guinness is that price as standard in Korea and for a mediocre pint it's just not worth it. I've heard rumours that Murphy's is available in New Zealand and I'll definitely be on the search when we get there in 2015. In the meantime I'll just continue to daydream about that creamy pint with a hint of coffee.
9. Milk
Every time I return home from a trip abroad, whether it's been a few weeks, months or longer, the fridge is my first stop. I'm not sure if it's the green green grass of home that the cows are eating or what it is, but Irish milk is different from milk anywhere else.
10. Chipper Chips
Cut from real homegrown Irish spuds, cooked to perfection, covered with a good coating of salt and vinegar and served up in paper. At 3am, when the nightclub is finished, you can barely stand or remember where you live, you'll always manage to find your way to a chipper, order and eat. But the beauty is they taste equally good sober or not. It's an Irish staple and definitely one we crave now and then.
So, that's it, our top ten foods we miss from home, the ones we get random cravings for at random times of the day or night. Coming to this decision was not easy, there was a lot of stomach rumbling, drooling and daydreaming involved, but these are the foods that made the final cut.
What foods do you miss when you're away from home? Are there any we missed? Let us know in the comments below.
Pin it!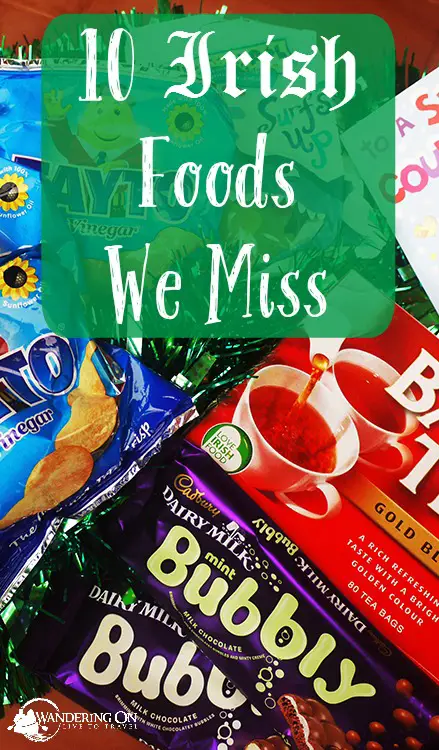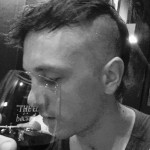 Brian is a travel writer, photographer, blogger, travel addict and adventure-junkie. Being outdoors, getting off the beaten track and outside his comfort zone is what makes him tick. Brian's the dreamer in the relationship; when he's not travelling, he's dreaming about it! Keeping fit, cooking, music and red wine take up the rest of his time.
SUBSCRIBE FOR OUR FREE EBOOK
Sign up for our free travel photography Ebook "Faces of Nepal" and you'll also receive our monthly newsletter.