This epic trek is a bucket list item for so many people, especially those already into hiking and trekking. If you're considering doing it, here are our tips to help you when preparing for the Everest Base Camp Trek.
Research About What to Expect on the Trek
Preparing for the Everest Base Camp Trek took some effort, research and careful planning. The minute we read about the Everest Base Camp trek when we started researching about Nepal, we made a definite decision that we would tackle it. We quickly started researching what we'd need buying whatever we could in preparation for what seemed was going to be a bit of an undertaking.
Preparing For The Everest Base Camp Trek:
Get Your Legs Used To Walking Long Distances
In preparation for this adventure, we thought it would be beneficial to do some short day hikes to get our legs ready for the four to six-hour days hiking. We had done some short day hikes in the past but never a fourteen-day trek and especially not to altitudes above 5,000 metres, so we were a little apprehensive.
Get The Right Gear
The main thing we needed to get a handle on was our gear. We didn't want to go spending a fortune on expensive equipment when we were only going to be using it for two or three weeks and then that was it. The internet was a great resource, although a lot of people's gear lists seemed to be way over the top. The only consistent item that continually reappeared was "well broken in, comfortable hiking boots". We spent some time going in and out of different shops in Korea trying to find something we felt comfortable in. Eventually, we decided on a hiking shoe rather than a boot as we thought they'd be more versatile for activities other than hiking. As far as breaking them in, that's what the first few days of the trek were for!
Decide If You Want To Trek Independently Or With A Tour Group Or Guide
We already knew we didn't want to do the Everest base camp trek with a tour group so the next big decision we had to make was whether or not to take a guide and/or porter (to carry our bags) with us on the trek. After adding up the cost and talking with some people in Kathmandu, we decided to go it alone, there would be four of us trekking together so we felt there would be safety in numbers. Carrying our own gear would give us a fuller experience, and it did. We loved every minute of it.
Consider Renting Some Of The Gear
Strolling around Kathmandu the last few days before setting off, we came across trekking shops everywhere selling knock-off brand name trekking gear of varying quality. You can buy everything from ice picks to boot laces and all for much cheaper than in western countries. Two items we couldn't justify investing in were down jackets and the heavy sleeping bags, so we rented these.
The shop we rented from, Shona's in Thamel, were extremely helpful. The owner, who's a man from Birmingham England, and his Nepali wife, the shop's namesake, Shona, were a wealth of information and were extremely patient answering our million questions about the trek ahead. We left Shona's with our sleeping bags (3 season for the boys, four season for the girls and also down jackets for the girls) with our minds at ease and ready to hit the mountain.
Choose Your Route
There are a few options to get to EBC. Most people fly in and out of Lukla, reducing the days spent walking to roughly 12. Some choose to walk in and out of Jiri/Shivalaya which makes the walking days closer to 21. We chose to fly into Lukla and walk back to Jiri so we bought a one-way flight from Kathmandu to Lukla. Our plan was to hike to Everest Base Camp and Kala Pattar and back to Lukla in fourteen days and then walk back from Lukla to Jiri over a further six days where we'd catch a twelve-hour bus back to Kathmandu. We were loving it so much we ended up extending our trek and going back down via the Cho La Pass and Gokyo, making our total trekking time 23 days.
Don't Carry Too Much
Try not to over-pack your backpack. In this case, less is definitely more, as your porter or yourself will be carrying your backpack walking uphill for up to eight hours a day so consider your back and knees when weighing your bag. Ideally, 8-10kgs is manageable.
Take Out A Good Travel Insurance Policy For The Trek
Unless you have $10,000 – $15,000 in emergency cash to pay for a helicopter evacuation upfront, it's a good idea to consider getting travel insurance for the Everest Base Camp Trek.
We recommend World Nomads.
They offer reasonably priced cover for hiking at altitudes of up to 6,000 metres and you can even choose to take out a policy with them for the duration of your trek only. As with any insurance policy, be sure to read the fine print thoroughly to see exactly what's covered.
Everest Base Camp Trek Gear List
To avoid overpacking, here's a list of exactly what you need – no more, no less!
Enjoy The Trek
With our alarm set for 4am, the next trick was getting everything on our gear list into our backpacks and still having time to sleep before day one of our trek to (very close to) the top of the world.
Pin it!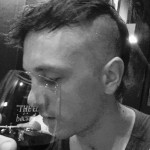 Brian is a travel writer, photographer, blogger, travel addict and adventure-junkie. Being outdoors, getting off the beaten track and outside his comfort zone is what makes him tick. Brian's the dreamer in the relationship; when he's not travelling, he's dreaming about it! Keeping fit, cooking, music and red wine take up the rest of his time.
SUBSCRIBE FOR OUR FREE EBOOK
Sign up for our free travel photography Ebook "Faces of Nepal" and you'll also receive our monthly newsletter.