While Taiwan isn't hugely known internationally as a cycle destination, that's beginning to change and with good reason. Hugging the coast of Taiwan from Hualien to Taitung is Highway 11; one of the most beautiful stretches of road in the entire country. We had heard about the option of cycling Taiwan's east coast a few years ago and had long wanted to do it independently and it looked like this was our chance. We had researched about the trip while we were checking out Taipei and we were all geared up to hop on some bikes!
A Guide To Cycling Taiwan's East Coast
What's So Special About Cycling In Taiwan?
Taiwan, the heart of Asia is known as "Bicycle Kingdom" and is home to the world's largest bike manufacturer Giant Bicycles. The country is extremely cyclist friendly with a massive cycling culture, with the whole month of November dedicated to the Cycling Taiwan Festival. There are tonnes of dedicated cycles lanes and cyclist rest stops roughly every ten kilometres. In fact, you can even circumnavigate the whole country by bike which takes 10-15 days depending on the route you choose and takes in a whopping 866kms! As we only had two weeks in total in Taiwan so we opted for the short version, cycling the east coast from Hualien to Taitung and known to be the most beautiful stretch of Taiwan's Pacific coast. The east coast is renowned for incredible mountainous landscapes, while still being quite untouched and remote feeling, yet is also very well set up for a cycle tour with bike lanes the whole way.
Do You Need Cycling Experience?
Let's get one thing straight from the start; we are not cyclists, although we do enjoy spinning classes to keep fit. Yes, we can ride a bike, but we don't ride bikes regularly and no we didn't have a clue what we were getting ourselves in for. But sometimes that's the best way, just jump in and give it a go! We committed to doing it and that was that, once we were on our bikes there was going to be no turning back. This was our first multi-day cycle trip and what a place to pop our cherry!
When Is The Best Time To Cycle In Taiwan?
The weather will obviously have a huge effect when you are planning your cycling trip in Taiwan. Between June and September, there are high temperatures, from 30°C-33°C and upwards, high humidity, increased chance of rain, and a greater risk of typhoons. We cycled the east coast of Taiwan in early September which wasn't the wisest choice but with that being said, although it was quite hot and sticky, we had good weather otherwise.
The best time to cycle in Taiwan weather wise is from October – February. During these months the weather is milder, not as stifling or humid, making it easier to cycle with the average daily temperatures between 18°C-27°C. It's also less likely to rain during these months. The absolute best month to cycle weather-wise is in November and as a bonus, the Cycling Taiwan Festival will be in full swing. Be prepared for lower temperatures on the mountains during the autumn and winter months and always be prepared for rain as it's not uncommon for it to rain where the mountains meet the sea in any season.
Which Route To Take Cycling Taiwan's East Coast
Which route you take when cycling Taiwan's east coast will be your own choice of course but we chose to stick to Highway 11 or the Hualien-Taitung Coastal Highway as we wanted to hug Taiwan's east coast for the duration of our journey. You can also head inland on Highway 9 to take in the East Rift Valley but beware that this route is more mountainous, therefore tougher on the legs. We went from Hualien, just outside the Taroko National Park and finished in Taitung and followed Highway 11 passing through Fengbin, Shitiping, Chenggong, Donghae and Dulan.
Bike Rentals On Taiwan's East Coast
We rented our bikes from Giant Bicycles, right next to the train station in Hualien who offer point to point rentals around the country. Their English is limited but is more than enough to get you set up with what you need. For TWD$1,500 you can rent a bike for three days and it costs TWD$200 per day after that. Included are small rear panniers, a pump, multi-tool, a lock and front and rear lights. If you want to use a helmet consider bringing or buying your own as one was not provided. Our plan was to cycle to Taitung and drop the bikes back to their other shop there, which conveniently is also at the train station.
Transferring Your Luggage
We were worried about what we were going to do with our big bags, as we knew we would be crippled trying to cycle for 170km with them on our backs! It was all very easy in the end. At the train station in Hualien, you can send your bag forward to Taitung for a small fee where they will hold it for three days for free, there is a TWD$50 charge per day, per bag thereafter. With our bags posted on ahead and us up on our bikes, we made a quick stop for breakfast and we were off.
What To Expect When Cycling Taiwan's East Coast
The scenery all the way down the coast was incredible, it really was. It was a proper tropical paradise. The only issue was that every little village we passed through seemed to be deserted, there was nothing open. The first stretch, in particular, was very quiet. The trip ended up turning into a sort of 7-11 tour of the east coast for us, which was amazing as they made great pitstops for snacks and coffee to refuel, to take a toilet break and get a welcomed air-con hit!
Day 1 Cycling Taiwan's East Coast: Hualien To Fengbin
As far as the cycle itself went, it was manageable. The first day saw a long flat section out of Hualien. Then we started gradually climbing and it continued like that for most of the rest of the day. Some of the hills were long and steep but the views from the top were spectacular. What was even better than the views was the buzz of flying down the hill on the other side; we picked up serious speed going downhill- like being a kid again!
Most people stop at Shitiping on the first night and at Dulan on the second night. On the first night, we fell short of Shitiping and instead stayed at Fengbin in a small guesthouse right next to the 7-11 in the middle of town. It was probably the nicest room we had anywhere in Taiwan and was TWD$1,200 for a double room. The local restaurant across the way cooked us up a good feed and we were fit for bed.
Day 2 Cycling Taiwan's East Coast: Fengbin To Dulan
The next morning we set off and not far outside of Fengbin, you pass over the Tropic of Cancer. There is a monument to mark this geographical point and having been to the equatorial line before, we joined the Chinese tour group buses and stopped for the photo op.  On the second day, we made it as far as Dulan covering almost 100km. We stopped in Donghae, a big town before Dulan in the hope of staying there but could not find a hotel or guesthouse so we decided to push on to Dulan, a small 'hippy village' according to our guidebook. When we got there, there was just one hostel open, across from, you guessed it, the 7-11. It was becoming difficult to imagine what Taiwan must have been like before 7-11 arrived, locals seem to gather here to eat, have coffee and just hang out and with everything else closed they were probably out of options.
Day 3 Cycling Taiwan's East Coast: Dulan To Taitung
The following morning was a short spin into Taitung to mark the end of our journey. We passed the 160km marker on the highway and a few more after. The train station was inconveniently positioned outside of the city centre adding a few extra kilometres onto our trip but once we arrived at the station everything was easy. Giant Bicycles was easy to find right next to the station and we picked up our bags from the baggage room right next door and just like that we were done.
Learn From Our Mistakes
Underestimating the heat was probably our biggest mistake. Cycling that kind of distance in 35°C heat coupled with uncomfortable humidity levels made things that bit more difficult. Be sure to keep an eye on the weather when planning your cycle trip in Taiwan!
The other mistake we made was not getting started early enough, we underestimated the distances and ended up cycling after dark each night. It was much cooler than during the day but in the pitch dark on roads with substandard lights, it was a bit sketchy at times. Also, cycling shorts – as silly as they look they do serve an important function!
Packing List For Cycling Taiwan's East Coast
What you pack will, of course, depend on the season and whether you're renting gear or bringing your own. As a bare minimum you'll need to pack the following:
Optional extras but a good idea would be to also bring:
Over To You
Three days, 170 kilometres, a numb backside and a great sense of accomplishment. Cycling down the breathtaking coastline, taking in the views, and all under our own steam; this was the highlight of our two week Taiwan trip, no question. It got us thinking, where would our next cycle trip be?!
Have you cycled Taiwan's east coast? Did you enjoy it? Is there anything we forgot? Let us know in the comments below!
Pin It!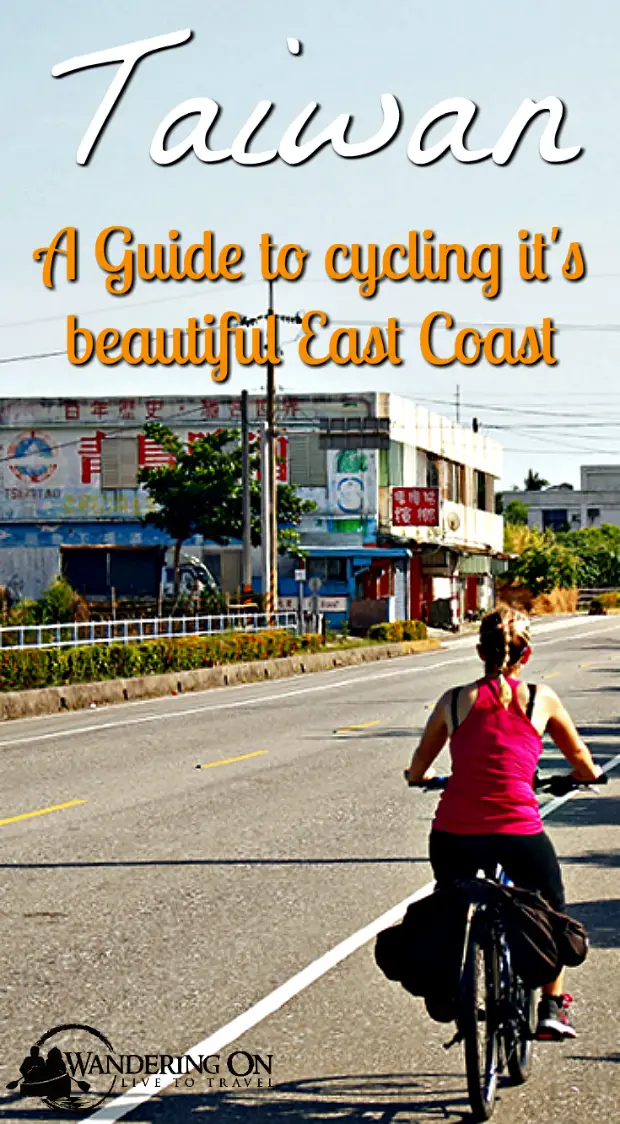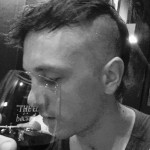 Brian is a travel writer, photographer, blogger, travel addict and adventure-junkie. Being outdoors, getting off the beaten track and outside his comfort zone is what makes him tick. Brian's the dreamer in the relationship; when he's not travelling, he's dreaming about it! Keeping fit, cooking, music and red wine take up the rest of his time.
SUBSCRIBE FOR OUR FREE EBOOK
Sign up for our free travel photography Ebook "Faces of Nepal" and you'll also receive our monthly newsletter.