Beijing is the 8th most populated city on the planet, with Tokyo, Japan taking first place and India's New Delhi second! It's hectic, it's busy but most importantly Beijing is packed full of things to do. You could spend weeks exploring the different attractions of the city, getting lost in the hutongs and sampling the local dishes. With just four days in the Chinese capital, we wanted to see and experience as much as we could. Here are our top 10 attractions in Beijing that you should not miss.
1. Great Wall Of China
Beijing is a perfect base to visit the Great Wall of China from. There are different sections of the wall which you can visit. Badaling is the most visited; it's the most refurbished, jammed with hawkers and vendors and even has a Starbucks! We chose to go a more remote section of the wall at Huanghuacheng, which is not yet officially open. After arriving by public bus, we paid a local farmer to grant us access and climbed a wooden ladder onto the wall. It was an amazing experience with very few people around, no hawkers and no tour buses. Whichever section you choose to visit, The Great Wall is an obvious must-see.
2. Forbidden City
The Forbidden City is a maze of temples and shrines. You could spend days exploring the grounds of the walled-off city admiring the colourful temples and the various deities dotted throughout the complex.
3. Jingshan Park
Located just north of the Forbidden City, this public park is a nice place to escape the busy streets of the city. The real draw here, however, is the view. From the colourful wooden pagoda at the top, you get a wonderful view across the entire Forbidden City, which really shows its size.
4. Tiananmen Square & Mausoleum of Chairman Mao
Standing in the centre of Tiananmen Square, looking around, you get a real feeling for where you are. Soldiers march through, flags fly high and tourists are snapping pictures everywhere. Located on the giant concrete square is the Memorial Hall of Chairman Mao. His body is embalmed and laid out for public viewing. Entrance is free but there is a strict dress code and photos are not allowed. An eerie experience but definitely worthwhile.
5. Explore the Hutongs
Getting lost in the narrow laneways, known as Hutongs was one of our favourite experiences of Beijing. You can really get away from the crowds and see a completely different side to the city. Locals cycle by, men playing Chinese checkers and kids playing together in the street. It's a great way to see how the locals really live.
6. Eat!
Chinese food is famous the world over and with good reason. In Beijing, we generally found the food to be greasy but we dug in all the same sampling as much of the dishes as we could. We couldn't visit Beijing without trying Beijing Duck, certainly worth seeking out.
7. See a Panda
Zoos are not my favourite place, they are sad places and I don't like to support them. However, I had never seen a panda in real life and took the opportunity to do so when we found ourselves, by chance, walking by Beijing Zoo. Baby pandas played in an enclosure with a glass front, while the adults were kept in an open enclosure area in the back.
8. Donghuamen Night Market
If you've ever wanted to try snake, scorpion, cockroaches, starfish, crickets or any other number of strange snacks then Donghuamen Night Market is certainly the place to do it. It's all deep fried and really doesn't taste that bad, honest!
9. Lama Temple
The Lama temple or Yonghe Temple is a very active Buddhist temple in Beijing. Locals come to worship here daily and it's a hive of activity. Inside is an 18 metre high sandalwood Buddha Statue, which was entered into the Guinness Book of Records back in 1990 and is certified as the world's largest Buddha statue carved out of a single tree.
10. Temple Of Heaven
Inside the peaceful Temple Of Heaven Park is bigger than the Forbidden City! Walking through the tranquil gardens, you pass numerous shrines and temples. Of course, the Temple Of Heaven itself is the main focus but we had more fun at the Circular Mound Alter where you can speak towards the wall in a whisper and your message will be taken the entire way around and be heard perfectly at the other side.
Well, they were our favourite things to do in Beijing but we're sure that whatever you do with your time in Beijing, you'll have a blast.
Where to stay?
During our weekend in Beijing we decided to base ourselves in the Old Town area of the city near to Tiananmen Square. This proved to be a great location within walking distance of the Forbidden City, the old town Hutong and very near Qianmen subway station making for easy access to Beijing's underground transport system.
Have you visited the Chinese capital? Anything we missed? Leave your recommendations in the comments below.
Pin it!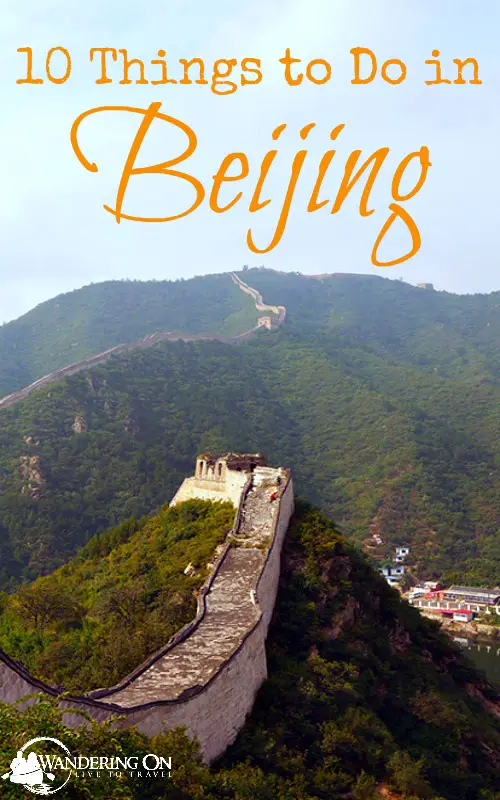 The following two tabs change content below.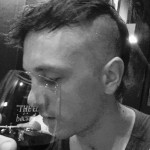 Brian is a travel writer, photographer, blogger, travel addict and adventure junkie. Being outdoors, getting off the beaten track and outside his comfort zone is what makes him tick. Brian's the dreamer in the relationship; when he's not travelling, he's dreaming about it! Keeping fit, cooking, music and red wine take up the rest of his time.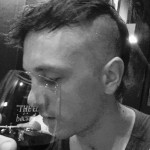 Latest posts by Brian Barry (see all)
SUBSCRIBE FOR OUR FREE EBOOK
Sign up for our free travel photography Ebook "Faces of Nepal" and you'll also receive our monthly newsletter.