Tokyo is one of those iconic cities, which is on a lot of people's radars to visit; us included. Living in South Korea for more than three years, it was always such a short hop away and yet we had never found the time to visit. With our time in Korea coming to an end, and having visited Kyoto and Fukuoka previously, we decided it was now or never. Combining a visit to Tokyo with climbing Mount Fuji just made it all the more appealing and with our school summer holiday periods overlapping for nine days we figured what better time to hit up the Japanese capital.
Where To Stay In Tokyo
True to our usual way of travelling we arrived with virtually no plan and no research done. In our experience, it seems things go better when you employ the 'no-plan plan' and, in big cities, this is particularly true. We based ourselves in Shinjuku, one of the areas of the city best known for nightlife.
Getting Into Tokyo
Access from the airport was a breeze, we got a one-way half-price ticket directly to Shinjuku and after being led around by a friendly Japanese man, who was clearly after a few too many sakes, we eventually found our hotel.
Our biggest issue in Tokyo was the heat and humidity. Our Korean co-teachers had warned us it would be hot but we had been dismissive due to our previous experience of forty-eight-degree heat, with no air-con, in Nepal and India. Travelling here in July it seemed wasn't the best decision, but like we said, we wanted to take the opportunity while we could.
Getting Around Tokyo
Getting around the city to all the major sights was relatively straightforward although it would have been much more difficult without the Pasmo card (similar to the Oyster card in London). The discounts on travel were minimal but it was the ease of use that was the real advantage. For some reason, the Japanese subway authority people have decided to mess with foreign visitors by putting just some of the subway maps in English. Carrying around a subway map in your pocket, you always know where you're going, you swipe your Pasmo card and you're all set. Without it, you're facing a map you can't read trying to figure out your fare and hoping that someone will be kind enough to come over and help you.
Backpacking In Tokyo: What to See
The Meji Shrine And Harajuku
We kicked off our sightseeing tour of Tokyo with a visit to the Meiji Shrine, near the famous Harajuku area of the city. The shrine is set in the centre of a huge wooded area and offers a nice break from the hectic pace of Tokyo. A huge torii (Japanese gate) marks the entrance and from here it's a pleasant walk through to the temple. All visitors to the shrine are required to wash their hands and mouth before entering the temple grounds and so we took the bamboo water holder and performed the tradition along with everyone else.
Inside the shrine was a walled courtyard, at the top of which was the main hall. Locals clap to wake the gods and bow three times after throwing a coin into the large donation box. Flanking the main hall are two old trees, surrounded by prayers and well wishes written on small pieces of wood. We added a message of our own to the collection before moving on from the shrine.
Moving from ancient to modern, we crossed the road to Harajuku Takeshita-dori. This is one of a few areas in Japan where people go around dressed like dolls, anime characters and wear the most bizarre fashions. Both girls and guys wear these strange outfits and as we walked through the hectic street we kept our eyes peeled.
Tokyo's Beautiful Gardens
The next morning we headed for the city's oldest gardens: Koishikawa Korakuen. A large pond occupied the centre of the garden with little bridges and other walking paths crisscrossing in the surrounding gardens. It was all very pretty and very stereotypically 'Japanese'. As pleasant a garden as it was, we were pretty much melting from the heat and after seeing what the garden had to offer, we moved into some air-con for lunch.
North-East Tokyo
In the north-east of Tokyo is the Asakusa area of the city, home to the touristy, but really cool, Senso-ji Temple. Guys wait outside to pull you around in a rickshaw and there is a long street of souvenir shops and stalls selling traditional Japanese snacks on the way into the temple. Don't let this put you off though because once you get to the temple it's definitely worth it. While the place is flooded with tourists, locals are here worshipping as if there was no one around. Customs involve lighting incense, placing it in a huge cauldron in front of the temple and waving the smoke over yourself in a kind of blessing of good luck. Clapping and bowing to the gods happens here too and people light candles either side of the main hall. The temple itself is a blaze of colour and a huge bell hangs over the steps leading in.
Take A River Taxi
After the madness of the temple, we took a river taxi back down to Tsukiji in the south-east of the city. The ride down the river was chilled and very relaxing. It was a good opportunity to see the city from a different perspective and it served as a welcome break from the heat.
Tokyo Tower
It was starting to get dark when we got off the boat and so we headed for Zojo-ji Temple for views of Tokyo Tower, which stood tall behind lit up against the darkening sky. The tower was all lit up and looked impressive, however, we were saving our views of the city for the Government Buildings in Shinjuku where you could get the same basic views for free.
After a two-day break to climb Mount Fuji, we returned to Tokyo for two more days. This time around we stayed in an Airbnb place in a local student's spare room. We arrived directly from Fuji, stinking of sweat, covered in dust and understandably knackered. Our poor host must have been wondering what he had gotten himself in for when he saw us at the door! Staying in Nakano was a cool experience and we enjoyed being away from the hustle of Shinjuku. Being in a much more residential area of the city, it afforded us a look into life in Tokyo outside of the city centre.
Tsukiji Market: The World's Largest Fish Market
The next morning, Tsukiji market was our destination. The world's largest fish market and one of the biggest wholesale markets on the planet. People seem to love visiting here but it honestly did nothing for us. The people working in the market seemed annoyed at having tourists around and understandably so. People no doubt just get in the way and slow them down as they try to do their work.
The market is certainly huge but it gets extremely repetitive and once you've seen a corner of it, you've kind of seen it all. There is a tuna auction at 4 am in the morning which is supposed to be well worthwhile and maybe that's what people rave about but from where we were staying it just wasn't possible to get in on time.
Enjoy Incredible Free Views Of Tokyo
Tokyo Tower and the Skytree are renowned for their amazing views of the city, however, they both cost. For budget travellers like us, Tokyo Metropolitan Government Building in Shinjuku offers the same views… for free! We went in the evening and saw the city lit up, spanning for what seemed like forever in all directions. In the distance, you could see the shadow of Mount Fuji seemingly floating atop the cityscape. From here you could get a true sense of Tokyo- verdict: it's enormous!
Experience Tokyo's Weird And Wonderful
Loaded with quirky bars and cafes, we were both excited to check out at least one of these establishments before leaving. The The Lockup was our choice of venue, a prison-themed bar where staff dress like prison guards and the drinks have eyeballs in them. You can even gamble for your booze here; roll the dice, evens 66% size up, odds 33% size up, snake eyes size down – pretty decent odds. Every now and then the sirens would start, the lights would go off and the staff, dressed in Halloween-type costumes ran around frightening the customers. The whole thing was extremely gimmicky but it was fun to see.
Drool Over The World's Best Sushi At Jiro's Sushi
On our last day in Tokyo we went in search of Jiro's Sushi. The restaurant had been featured on a documentary and is touted as being one of the best sushi restaurants in the world. It is located in a subway station, holds three Michelin Stars and doesn't even have a bathroom inside; guests must use the public facilities in the station. A meal here costs 300 euro and is served up in a grand total of thirty minutes. It goes without saying we couldn't afford the extravagant prices and so instead we took a few pictures and peered in the windows where we could see the father and son team chatting inside, preparing orders or possibly wondering why the same two tourists had passed their window six times!
So, What Did We Think?
All in all, Tokyo was definitely worth a visit but getting out of the city and climbing Mount Fuji was without a doubt the highlight for us. Each area of Tokyo was supposed to be famous for something, whether it be shopping, bars or restaurants. For us, each area seemed the same. Every area had everything you could need. The different parts of the city lacked character and it just all started to look the same after a while. In hindsight, four full days was probably too long in Tokyo. Two or maybe three days would have been more than enough for us. With that said, it is an electric place to visit, it's packed full of people, the sushi is incredible and if you're clever it's definitely affordable, even for budget travellers like us.
Pin it!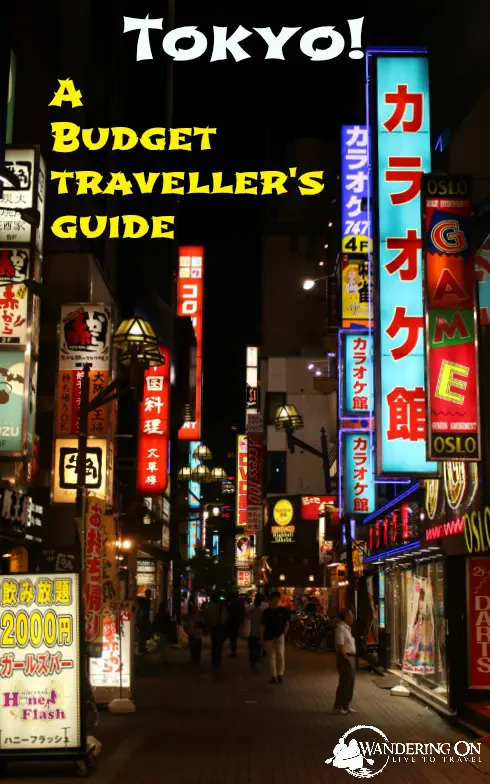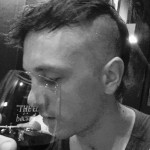 Brian is a travel writer, photographer, blogger, travel addict and adventure-junkie. Being outdoors, getting off the beaten track and outside his comfort zone is what makes him tick. Brian's the dreamer in the relationship; when he's not travelling, he's dreaming about it! Keeping fit, cooking, music and red wine take up the rest of his time.
SUBSCRIBE FOR OUR FREE EBOOK
Sign up for our free travel photography Ebook "Faces of Nepal" and you'll also receive our monthly newsletter.