Kyoto was the capital of Japan for over a millennium, so it's no wonder that it's Japan's second most-visited city after Tokyo. It's a beautiful city, full of culture, a blend of traditional and modern and it's surrounded on all but one side by mountains. While you could easily spend a week or more soaking up all that Kyoto has to offer and visiting its many temples (there are literally thousands!), in two days you can get a good feel for this beautiful cultural capital and hit the highlights. Here is our complete itinerary for 2 days in Kyoto.
Getting Around Kyoto
Utilising the public transport system wisely will be essential to making it around everywhere in two days as the most famous sights are scattered around the city. Kyoto's transport system is excellent with two subway lines, commuter train lines, buses and taxis if you get stuck. You can even rent bicycles to zip around at your leisure. To save on costs, it's a good idea to get a two-day rail and bus pass from the tourist information office in Kyoto Station.
Where To Stay In Kyoto
We'd recommend basing yourself around the Kyoto station area as it's the transport hub and will make all this getting around accessible for early morning starts. If you would like to get more of an authentic experience out of your two days in Kyoto, then consider staying in a ryokan. This is a traditional Japanese inn which will have been constructed using traditional Japanese methods with tatami floors and sliding doors. Remember to remove your shoes before stepping on the tatami. Bedding is usually a futon spread out on the tatami floor. Meals, typically breakfast and dinner, are normally provided in ryokan and are included in the price per night. Ryokan usually have shared bathroom areas which are segregated by gender.
However, ryokan can sometimes be more expensive than budget hotels or hostels as you are paying for the traditional Japanese experience, so keep that in mind if you're on a budget.
2 Days In Kyoto: Day 1
I'd recommend getting an early start if you want to fit everything in comfortably and not feel like you have to rush through places at the end of the day.
Fushimi-Inari Taisha Shrine
From Kyoto Station take a train on the Nara line to Inari Station. The entrance to Fushimi-Inari Taisha Shrine is across the road from the train station. This beautiful shrine is dedicated to Inari, the god of rice and locals come to seek blessings for prosperity. Those who have received good fortune return and place torii (gates), which are inscribed with their thanks. The long tunnel of around 10,000 torii is one of the most iconic landmarks of Kyoto. It also has no admission fee which makes it a bargain! Climb up the shrine taking in the vibrant red torii as you go. It takes two to three hours to climb all the way to the top and back down so if you are stuck for time, you can get a good feel for the place by only going half way up. You might recognise it from the Oscar-winning film "Memoirs of a Geisha".
See 1,001 Life Size Statues At Sanjusangen-do Hall
Next, catch the same train going back to Tofukuji station and walk from here to Sanjusangen-do Hall. The striking hall dates back to 1164 and houses 1,001 life-size statues of the Buddhist deity Kannon, who is believed to assist humans in distress and lead them to enlightenment. The statues are adorned with glass eyes which gives them an eerie lifelike quality. There are no photos allowed inside the hall and shoes must be removed before entering.
Take In The Views From Kiyomizu-dera
From here you can easily walk to Kiyomizu-dera which is probably Kyoto's most touristy temple, but it's beautiful nonetheless and it has a great view over the city. After visiting Kiyomizu-dera, walk down Matsubara-Dori and grab a snack at one of the many traditional sweet stores that line these streets.
Go Back In Time In Old Kyoto's Gion
Halfway down you can turn right, down a few steps and this will bring you to Higashiyama's Gion. This is the most traditional area of Kyoto. Just stroll around the cobblestone streets and soak up the atmosphere. You can take a ride in a traditional rickshaw or 'jinrikisha' in which you will be hand drawn around by young muscular Japanese men and you can take in the sights while resting your feet. Here, be sure to check out the Yasaka Pagoda, you'll see its five tiers long before you reach it. For a small fee, you can go inside the base of the pagoda as far as the second tier and you can get a bird's eye view of the traditional Japanese style roofs in the surrounding area.
Dress Up Like A Geisha Or Samurai
In this area, there are two places where you can play geisha or samurai if cos-play is your thing (and if you can sacrifice precious time)! The maiko experience takes 2-3 hours and you get made over as a maiko (a geisha apprentice) complete with make-up wig and kimono. You also get time to take your own pictures and for an additional cost, you can have professional photos taken.
Go Shopping In Shijo Dori
When you have soaked up enough ancient culture you can make your way over to Shijo Dori for a look at modern Japan. This is Kyoto's main shopping street and you can indulge in some retail therapy here if you like.
Eat Delicious Local Food At Nishiki Market
About two blocks down Shijo Dori, turn right and you'll come to Nishiki market. Known locally as the "Kitchen of Kyoto", this is a great place to grab some lunch and sample some local cuisine. Takoyaki and sushi are all served here as well as samples of different local produce. There is also a tourist-friendly okonomiyaki restaurant nearby here which I recommend sampling as it's a speciality of the Kansai region. Okonomiyaki is a type of savoury pancake that's cooked on the grill with various toppings. Usually, diners prepare it themselves on a grill at the table but this particular restaurant will do the groundwork for tourists who don't know how to assemble the pancake! Be warned – they are very filling!
Try To Spot Some Real-Life Geishas
After eating, head back down the shopping street towards the river and slip down what looks like a small alleyway on your left. This is Pontocho, Kyoto's old red light district. If you are here in the evening or looking for some cheap things to do in Kyoto at night, you might be lucky enough to spot some Geishas on their way to work. You can grab some dinner here; there are some good traditional restaurants and an excellent sushi restaurant with an English menu.
Go For A Zen Evening Stroll
After dinner, stroll back over the river and walk along the canal on Shirakawa-minami Dori. The canal is lined with cherry blossom trees so if you are here in spring or fall this will be all the more beautiful. There is also another chance to spot a geisha here and the streets are lined with 'machiya', traditional Japanese townhouses so it's an interesting and peaceful walk. A lot of the 'machiya' house expensive restaurant and hostess clubs with big windows for guests to enjoy the view outside which works both ways so if you're lucky, you might spot a geisha entertaining guests inside.
After all this action you will, no doubt, be tired so head back to your hotel to get some rest for the next day's activities. There are a few bars around the Kyoto station area if you want to unwind after a busy day.
2 Days In Kyoto: Day 2
Head Out To Arashiyama Bamboo Grove
On day two get up early again and head directly to Arashiyama to check out the famous Arashiyama Bamboo Grove. The second spot you might recognise from Memoirs of a Geisha. Aim to be there before 9 AM. You can catch a train on the JR Sanin Main line all the way and it's just a short stroll from the train station to the famous bamboo grove. Before the park there is an interesting temple, Tenryu-ji with attached zen gardens, the exit leads you directly into the famed avenue lined with enormous bamboo trees. Trying to get a picture so it seems there was no one else here is no easy feat though!
Sip Some Matcha Tea At Okochi-Sanso Villa
When you are finished marvelling at the size of the bamboo trees and the musical sound the wind makes as it blows through them, at the top of the avenue there's Okochi-Sanso villa. This is the former home and garden of the Japanese period film actor Denjiro Okochi. The views from here over the city and surrounding mountains are stunning and the gardens are lovely and tranquil. The 1,000Yen admission fee is a little steep but it includes a cup of frothy matcha green tea and a small green tea flavoured treat. It provides a much-needed respite from the hustle of sightseeing.
After the villa, you can stroll back through the bamboo forest and back towards the train station. You can grab a quick lunch of ramen at one of the simple eateries on the street.
Marvel At Kinkaku-ji Temple, Kyoto's Golden Pavilion
From near here hop on the number 59 bus northwest towards the famous Kinkaku-ji Temple, Kyoto's Golden Pavilion. You'll have to change to bus number 11 halfway. This will take about an hour so if you're really stuck for time consider taking a taxi. It will take about 20minutes and cost 1,900yen but the bus only costs 440yen (220yen X 2 if you don't have a bus pass) so if you're on a budget stick to the bus.
Allow about an hour to marvel at the beautiful Golden Pavilion and get the necessary shots! The pavilion is reflected back perfectly in the water, two for one, and it seems as if it's fake it's so luminescent.
On the way out there is another temple that is actually in use and you can light candles here for a host of different good wishes and prayers for a 10yen donation.
After the Golden Pavilion, walk down Kuarama-guchi Dori street to Nishioiji Dori and grab a coffee to perk up. As you reach Nishioji Dori, there is a bus stop across the road with a small discreet café behind it. This kitsch café looks like something from the 1950's with its throwback décor and the owner proudly brewing coffee in some funky looking equipment that would look more at home in a science lab.
Check Out Nijo Castle
Next, catch bus number 101 and hop off near Nijo castle and walk down. When we were there we unfortunately just missed the last entrance to Nijo castle as it was at 4:00 PM but the castle doesn't close until 5:00 PM. If you are short on time cut out the coffee after the Golden Pavilion. The castle was home to Tokugawa Ieyasu, one of the most powerful men in Japan. The floors of the castle were installed with special nightingale floorboards which creak when stood on to warn of anyone approaching to protect the shogun from enemies.
Visit Heian Shrine
From here, head east along Maruta-machi Dori and visit the Heian Shrine. You'll see the giant red tori across the road from it. Then stroll along the river, you'll see a zoo on your left and if time allows, head to Nanzen-ji, which also closes at 5:00 pm so keep that in mind.
Hang Out In Maruyama Park
If time is against you, head towards Chion-in, have a quick look around, it was under construction when we visited and finish up in Maruyama Park where you can relax on a bench and, depending on the season, enjoy the cherry blossoms or autumn foliage.
From here it's a short walk back to Shijo Dori if you want to grab dinner in one of the department store food courts. If you didn't spot a Geisha you can try again tonight or go to Maiko performance.
Soak Your Weary Bones In An Onsen
After all that, you can reward yourself with a relaxing soak in a traditional Japanese bathhouse or 'onsen'. Usually, these are segregated by gender and people bathe in a series of varying temperature baths. There are sometimes massage areas and you will be provided special pyjamas to wear in the communal areas, however, the bath areas are unclothed, so be prepared for that if you choose to go. Normally you get a key which operates a small locker to store your shoes first, then go into a bigger locker and get undressed, store your clothes and go inside with your key. Your key can usually be swiped to pay for any services you want in the communal area and then you pay with cash when you leave. Be sure to shower first before you get into the main bath and again if you get out and want to go back in again.
Over To You
So that's it our complete itinerary for 2 days in Kyoto. If you want to take the pressure off yourself and organise some of your activities in Kyoto in advance, you can book tickets here.
Have you been to Kyoto? Are there any must-sees in Kyoto that we missed? Let us know in the comments below.
Pin it!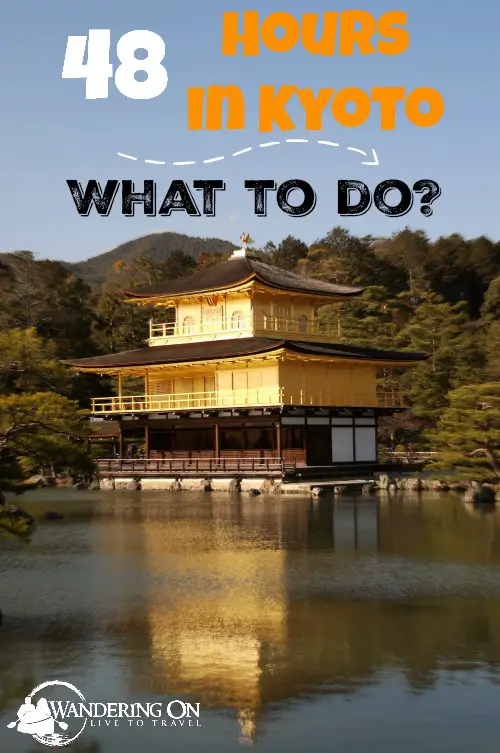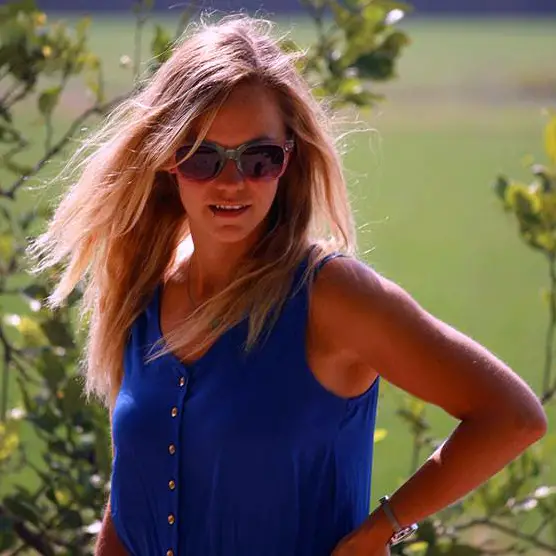 Noelle is a pescatarian foodie, travel junkie and a massive dog person. She's a self-diagnosed chocoholic and loves tea, coffee and red wine. She also loves to do yoga and therefore is the sensible, grounded one in the relationship! Noelle loves to really get to grips with the culture of a country and the mindset of the people. She also enjoys picking up a few words in the local language wherever she is and, of course, sampling the local food!
SUBSCRIBE FOR OUR FREE EBOOK
Sign up for our free travel photography Ebook "Faces of Nepal" and you'll also receive our monthly newsletter.