Beijing is a city with more than 9 million bicycles, 3,000 years of fascinating history and 7,000 hotels. China's capital city is not only a great base to explore the countless things to do in Beijing that are scattered throughout the city but it's also a great jumping-off point for anyone looking to visit the Great Wall Of China.
Choosing the right part of the city to base yourself in can make or break your experience in the Chinese capital. The city is huge and each of the different areas of the city has something unique to offer. Take the time to consider your travel style, budget and your interests before choosing where to stay in Beijing.
Below, we explore some of the best areas to stay in Beijing, and what you can expect from each. We also offer our pick for budget, mid-range and luxury accommodation in each area to help you to decide where to stay in Beijing, a city that reports being home to a staggering 4.2 million hotel rooms!
Wangfujing – One of the Best Areas to Stay in Beijing for First-Timers
This has been a shoppers paradise since the beginning of the Ming Dynasty, and the best way to get around here is simply to walk. If you like being in the middle of everything, Wangfujing is not just one of the best areas to stay in Beijing, it takes the top spot. Shuffling pedestrians, street food, shopping and neon lights – this is Wangfujing.
If you can drag yourself away from Snack Street and the dumplings, it is an easy walk to the Forbidden City and Tiananmen Square. Spend some time soaking up the culture in the National Art Museum of China, buy a jade figurine at Gongmei Mansion or a bespoke hat at Shengxifu Hat Store and if you fancy fabric, Ruifuxiang Silk & Cotton Shop will leave you drooling. The modern Sun Dong An Plaza is worth a pop-in o buy some tea for your soul at Wuyutai Tea Shop, established in 1887.
Because of the area's popularity, Wangfujing offers everything from budget-friendly guesthouses to some of Beijing's top luxury hotels:
Budget: Spring Time Hostel
This hostel offers basic rooms, some are windowless, in a simple hostel right in the city centre. There is also a nice, cosy cafe and bar.
Mid-Range: New World Beijing Hotel
One of the best mid-range options in Beijing, this elegant hotel offers several amenities including an incredible rooftop bar with fantastic views of the city. It takes just 15 minutes to walk to the Forbidden City and the Temple of Heaven.
Luxury: The Peninsula Beijing
The Penninsula is one of Asia's best luxury hotels, setting the standard for service and elegance among Beijing's accommodations. The spacious suites feature luxurious bathrooms and views of the Beijing cityscape that are guaranteed to leave a lasting impression.
Qianmen – Soak Up The Spirit Of Old Beijing
Just south of the Forbidden Palace, Qianmen is one of the best neighbourhoods to catch the true spirit of old Beijing. Serving as Beijing's smaller commercial centre, this area has a mix of old and new architecture, a variety of great restaurants, and plenty of shopping and sightseeing options. If you're a first-time visitor to Beijing or you're getting acclimatized to the city, staying in the Qianmen district is a solid option.
The majority of hotels in this area are relatively budget-friendly, with a few upscale properties and luxury resorts. Its location, just south of Tiananmen Square, means that it's busy and convenient, and only a short walk from some of the capital's main sites, including Mao's Mausoleum and the Chinese museums. This is one of the best places to stay in Beijing for foodies where you can sample the never-ending list of dishes on offer.
What's more, this area offers visitors a chance to experience the city's iconic hutongs; residential and commercial blocks separated by narrow alleyways that connect to central courtyards. These areas have everything you will need for a perfect stay, from local groceries to restaurants serving some of Beijing's best food. Don't speak Mandarin? No problem, just point and eat! Most restaurants display their menu on the wall in picture form to take (some) of the guesswork out.
Budget: Home Inn Beijing Qianmen
An excellent option for anyone travelling on a budget, located in an uncomplicated 81 unit inn, close to public transport.
Mid-Range: The Beijing Palace Hotel
Located just five minutes from Tiananmen Square, this property features spacious guestrooms decorated with Chinese style decor. Free WiFi is available throughout the hotel.
Luxury: Emperor Hotel
In this new hotel, you will discover the spirit of bathing and you can uncover the mystery of the old public baths that once occupied this site. There are no spaces or circulations in the design; rather there are emotions and dreams; not details and materials, but illusions and memories.
Xidan – An Excellent Family-Friendly Choice
Two of the best areas to stay for families are Xidan and Xisi, two neighbourhoods located just west of the Forbidden City in Xicheng District. This is a busy shopping and commercial district, and a quieter portion of the city filled with old public buildings, temples, and winding hutong alleys filled with art galleries and traditional eateries. The history of Xidan in Beijing dates as far back as the Ming Dynasty. This was the main route from western suburban areas into the city centre. The area has now become one of the richest areas of Beijing, with numerous malls, stores, and restaurants. We suggest spending a few hours here, even if you decide not to stay.
"Xisi" refers to the intersection of Xisi Avenue and Fuchengmen Inner Avenue and is named for the four "paifangs" (Chinese sign gates) that once stood there. Since the Yuan Dynasty, the gates stood in the crossing until 1950, when they were taken down, but the name lives on. Visitors to the city tend to overlook this cool little 'hood'. Be sure that you don't make the same mistake.
Budget: Chinese Box Courtyard Hostel
This beautiful hostel features soft beds and clean bathrooms and the staff are friendly and extremely helpful. Guests can mingle and try traditional Chinese cuisine at free, themed dinners three nights a week. The Great Wall is open for several tours, including an excursion to more secluded sections. The hostel also has large rooms big enough for four people making it one of the best places to stay for families travelling to Beijing on a budget.
Mid-Range: Grand Mercure Beijing Central
A stylish mid-range hotel with a sleek modern design that sets it apart from most chain hotels. One of its best features is its enormous indoor pool. You can find Xidan Commercial Street right across the street.
Luxury: The Ritz-Carlton Beijing, Financial Street
What more can be said? It's a Ritz-Carlton, offering all of the luxury, fine-dining and class you would expect from these hotels.
Sanlitun/Dongzhimen
A long time ago, Dongzhimen was the entrance to the inner city from the east. Today, it is an essential commercial attraction for Beijing. This is a great place to stay in Beijing since it is at the end of the airport subway line. The proximity of the Worker's Stadium, known as Gongti, and Sanlitun, makes it an ideal place to stay in Beijing for those seeking out some nightlife.
Sanlitun is also one of the city's coolest shopping and party districts. It was the first true bar community, paving the way for the thriving nightlife you can now enjoy. Gongti was originally a soccer stadium, but it now houses some of the ritziest bars and nightclubs in the city. This is where the elite youth of the city show off their flashy cars on weekends. For easy access to the Great Wall, Dongzhimen is the best neighbourhood to stay in.
Budget: Ming Courtyard
There is a spacious courtyard at this accommodation which is a nice place to relax between exploring Beijing's nightlife and visiting its landmarks. Nearby are the Lama Temple and Nan Luo Gu Xiang. It's also the perfect spot to try traditional Chinese cuisine since it's just a short distance from "Ghost Street," a popular restaurant street.
Mid-Range: Holiday Inn Express
A 4-star chain hotel, with nice-sized rooms that are great for both leisure and business travellers. A tea and coffee maker, an iPod docking station, and a sofa are included in the air-conditioned rooms. There are plenty of Asian and Western food choices for breakfast which are always included.
Luxury: Oriental Garden Hotel
At the Oriental Garden, you will have access to a gym, a restaurant, and free WiFi. Rooms include a television, a minibar, and a private bathroom. There are a variety of room types ranging from standard rooms to king suites. As it's near Beijing's hottest bars and nightclubs, it's our top choice for those looking to experience a night out in the Chinese capital.
Xinjiekou
This neighbourhood was historically home to the nobility and the royal family. A multitude of shops makes this area a popular location for buying CDs and DVDs for anyone looking to expand their collection. A number of musical instrument shops can be found on Xinjiekou South Street and it's a fun place to chat with their owners since many of them are run by talented musicians.
Hang out around Shichahai, which comprises three artificial lakes. Renting a boat for a few hours with some friends and some drinks or snacks is one of the best things to do in the summer. Lakes in the winter are shallow enough to freeze over, so you can ice skate when the temperatures drop. At night, quaint cafes and coffee shops play club favourites as the sun sets over the lakes.
Budget: Red Lantern House
Located in a traditional Hutong district, this guesthouse has been owned by the same family for many years, and all of the residents still live there, giving it a very familial feel. A restaurant is located on-site that serves food all day long and staff speak English well so they can assist you with any questions you may have and they can help you to book tours if required. A fifteen-minute walk will take you to two subway stops nearby from where you can explore the rest of the city with ease.
Mid-Range: AirBnb In Houhai
Why not Airbnb and stay in a loft in Houhai? There's a spacious loft in Houhai that has a ball pit – what more could you ask for? It also includes a living room and a full kitchen. You can walk to Houhai Lake, a number of restaurants, cafes, and bars, as well as a subway station from the apartment. The apartment has a sofa bed, so it's great for a small group of friends. We recommend it as one of the best places to stay in Beijing if you want to stay where the nobility once lived.
Luxury: Sofu Hotel
This is a boutique-type hotel with old-world Chinese furniture and decoration throughout. Feel at home in the Far East where the on-site restaurant serves a variety of international dishes. Several of the rooms have balconies overlooking the old hutong neighbourhood, giving you a unique perspective of where you are visiting. This is hands down one of the best places to stay in Beijing to experience local culture.
Where Will You Choose To Stay In Beijing? What Will Be The Best Area To Stay In Beijing For You?
In spite of maintaining its traditions and architecture, Beijing has become a modern and futuristic city that is guaranteed to delight any visitor. You'll never be bored in this megacity with its long, rich history, great cuisine, and budding arts. However, to get the most out of your time in the Beijing capital, it's crucial that you take the time to consider where to stay in Beijing based on your needs. Choosing the best area to stay in Beijing will help to ensure that you have access to what you need to have a safe, enjoyable and memorable trip. Remember before you book your flights or accommodation to apply for your Chinese visa in advance to ensure that you don't miss out on enjoying this amazing city. Most visitors will require a visa and as visa requirements for citizens of different countries vary a lot, it's wise to check with your local consulate to find out what you need to do to secure your visa before you travel.
Have you been to Beijing? Let us know where you stayed in the comments below and share what you liked about where you stayed, what you didn't like and your recommendations for other travellers looking for the best area to stay in Beijing.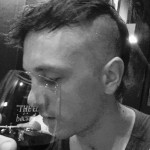 Brian is a travel writer, photographer, blogger, travel addict and adventure-junkie. Being outdoors, getting off the beaten track and outside his comfort zone is what makes him tick. Brian's the dreamer in the relationship; when he's not travelling, he's dreaming about it! Keeping fit, cooking, music and red wine take up the rest of his time.
SUBSCRIBE FOR OUR FREE EBOOK
Sign up for our free travel photography Ebook "Faces of Nepal" and you'll also receive our monthly newsletter.