When we visited Prague, we were really keen to check out the infamous 'Bone Church' in the nearby town of Kutna Hora. So, we allowed an extra day in our itinerary as it's one of the most popular day trips you can do from Prague. The spooky, Kutna Hora Church of Bones or the official name, Sedlec Ossuary as well as the whole town of Kutna Hora is listed as a UNESCO World Heritage site since 1995 and makes for a very interesting if somewhat, obscure day out. The Sedlec Ossuary bone church is one of the most unique and unusual churches you will ever see, so if you're visiting Prague it's definitely worth making the day trip from Prague to Kutna Hora.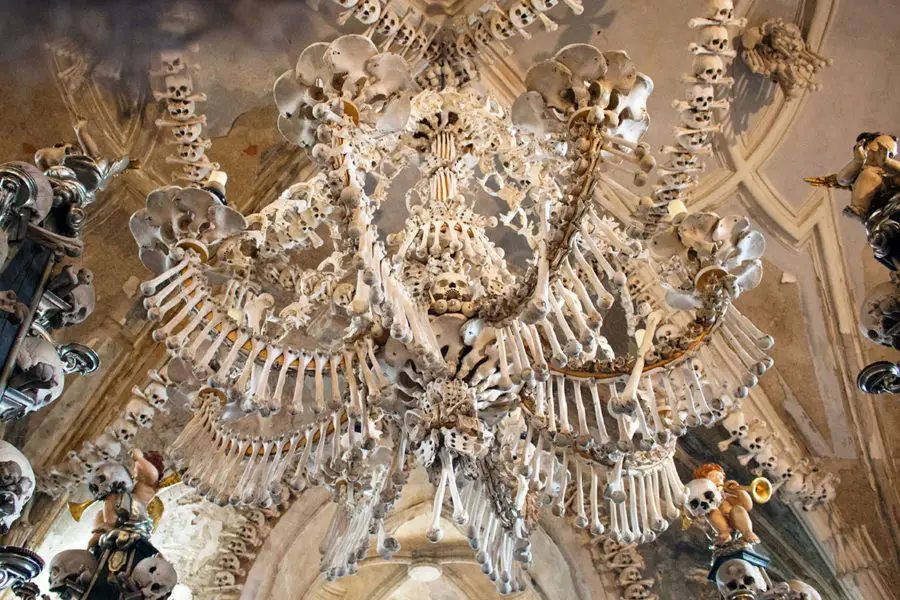 Prague To Kutna Hora Bone Church
Featured on countless travel lists and videos online, Sedlec Ossuary's reputation had preceded it. I mean how often do you get to see a chandelier made of bones? As a result, we were, weirdly, excited to see it up close and personal, with our own eyes, in real life. Maybe it appealed to our morbid sides as we've also visited Cambodia's Killing Fields, Auschwitz in Poland and Romania's Merry Cemetery so the macabre definitely attracts us!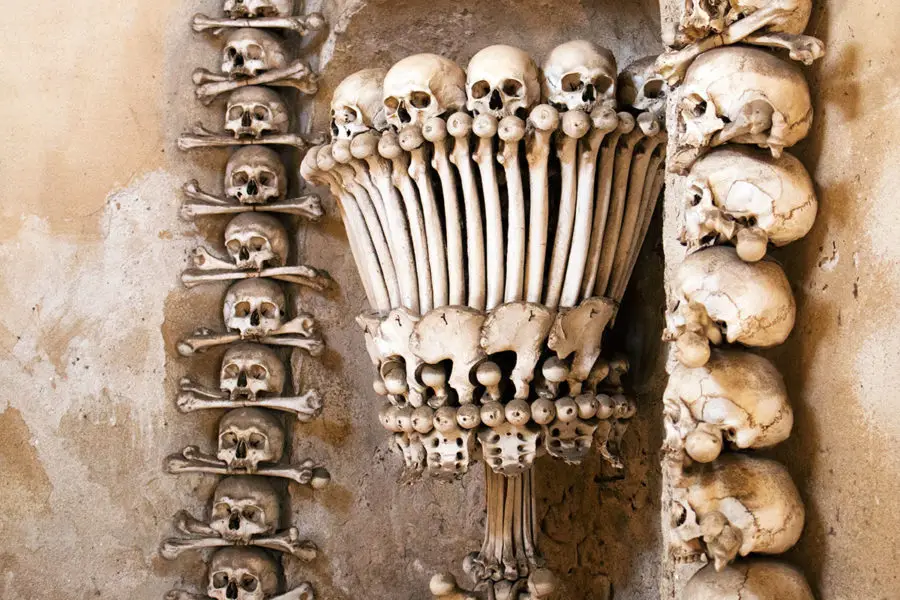 We'll share our experience visiting Sedlec Ossuary so you too can make the day trip from Prague to Kutna Hora's Church of Bones.
Why Visit Sedlec Ossuary, The Bone Church Of Prague?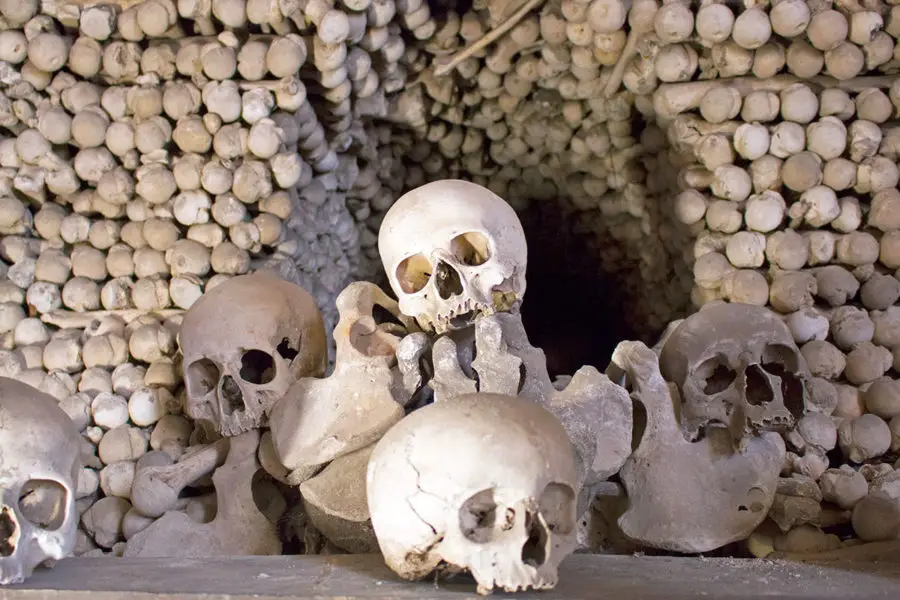 If you're the kind of person who likes the spooky, bizarre or macabre things in life then Kutna Hora Bone Church will not disappoint. Decorated with the bones of somewhere between 40,000 – 70,000 skeletons, you might think that this church is one of a kind but you'd be wrong. There's another bone church in Brno in the Czech Republic, one in Evora, Portugal and quite a few other locations throughout Europe. With more than 200,000 visitors annually, Sedlec Ossuary is now one of the most visited tourist attractions in the Czech Republic. So, if you find yourself in Prague, you should certainly make the time to see this bizarre church.
How Did It Come To Be A Bone Church?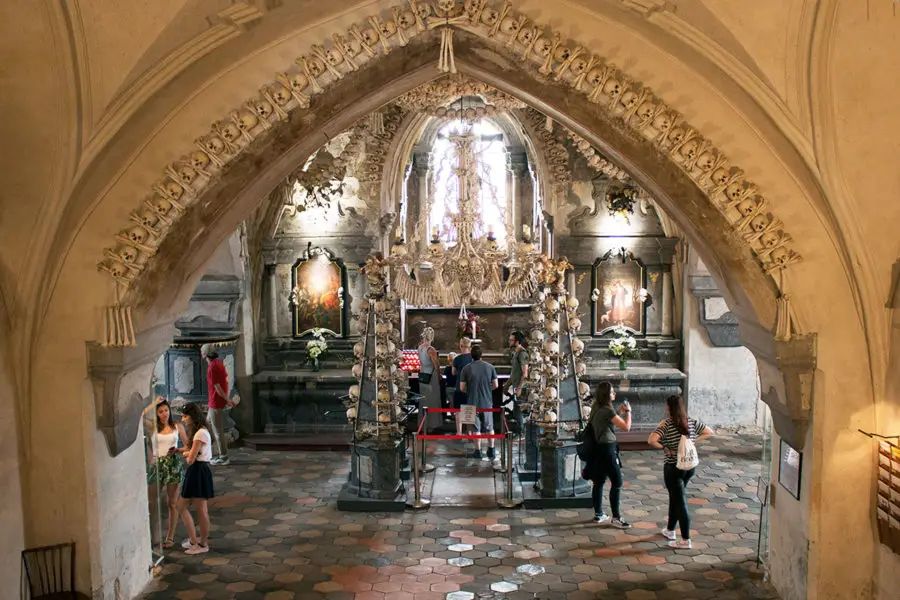 Sedlec Ossuary has a lot of history behind it. In the 13th century, the abbot of the Cistercian monastery in Sedlec was sent to the Holy Land by the King of Bohemia. He brought back a small amount of earth from Golgotha, the gravesite of Jesus Christ and scattered it over the cemetery of the abbey. Word of this soon spread and the graveyard in Sedlec became the hip place to be buried throughout Bohemia and Central Europe because people believed that by being buried there they would decompose in just three days, just as Jesus Christ rose from the dead after three days.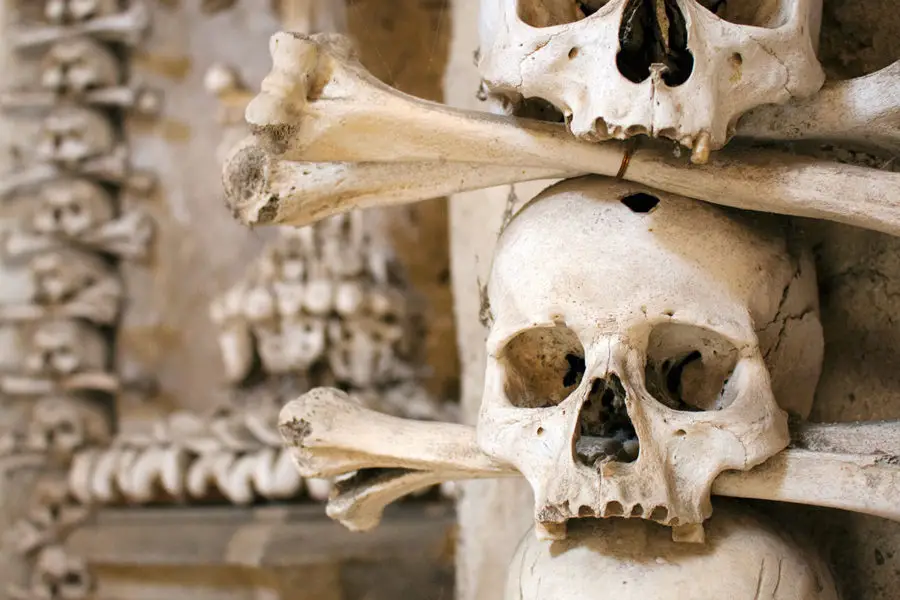 When the Black Death and the Hussite Wars struck in the mid 14th century and the early 15th century, thousands of people were buried in the abbey cemetery, so it wasn't long before there simply wasn't enough room for everyone to rest in peace. Around 1400, a Gothic church was built in the centre of the cemetery with a vaulted upper level and a lower chapel to be used as an ossuary for the mass graves that were unearthed during construction and the bodies were moved to a crypt to make room for the newly dead.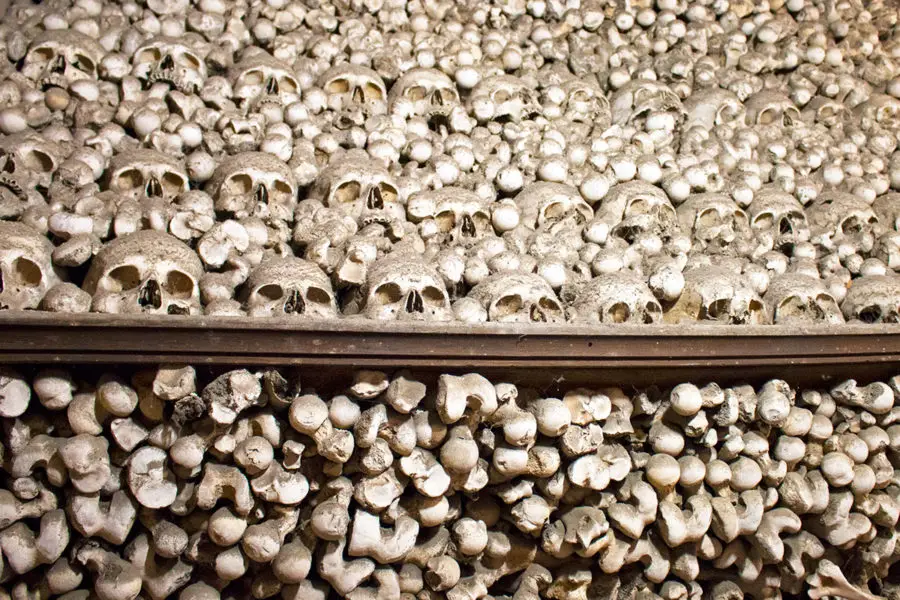 The task of exhuming skeletons and stacking their bones in the chapel was given to a half-blind monk of the order. Legend has it that the monk got his sight back after arranging the bones into the pyramids you can see today.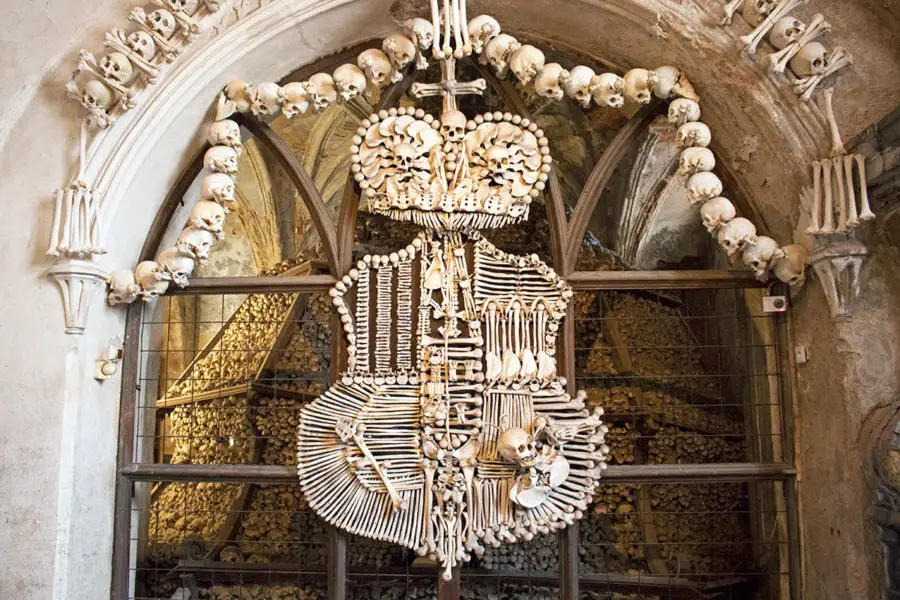 In 1870, František Rint, a local woodcarver, was employed by the Schwarzenberg family to arrange the heaps of bones more artistically, yielding macabre results. He came up with the impressive decorations that the Bone Church is famous for today; the chandelier, the bells and the Schwarzenberg family coat of arms – all made entirely from human bones and skulls. Rint's signature is still on the wall today near the entrance to the chapel and is executed, as you might expect, in keeping with the theme of Sedlec Ossuary, in bone.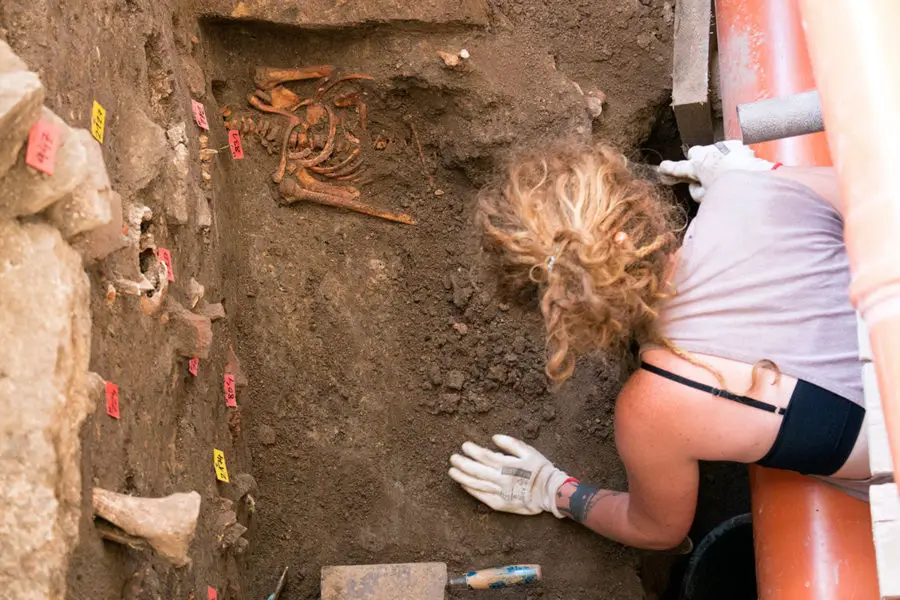 Archaeologists are still excavating under the chapel today, which you'll see when you visit.
Our Tips For Visiting Kutna Hora Bone Church
Getting To Kutna Hora From Prague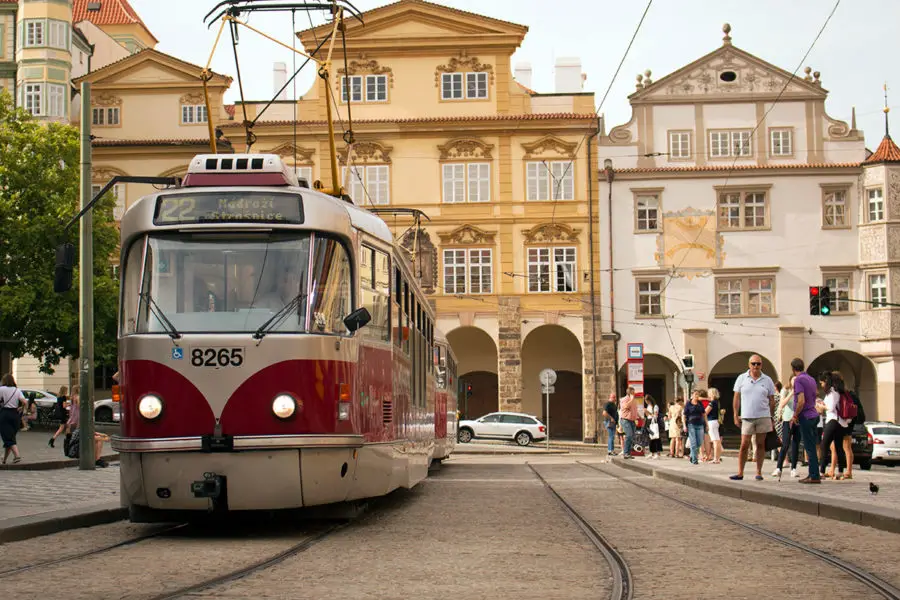 Kutna Hora is about 85 km from Prague and it would take about an hour and a quarter to drive there. If using public transport, you can take either a bus or a train from Prague to Kutna Hora. However, the train is the best option for visiting the Bone Church because you can easily walk from Kutna Hora train station, Kutna Hora Hlavní Nádraž, to Sedlec Ossuary as it's only 1km away.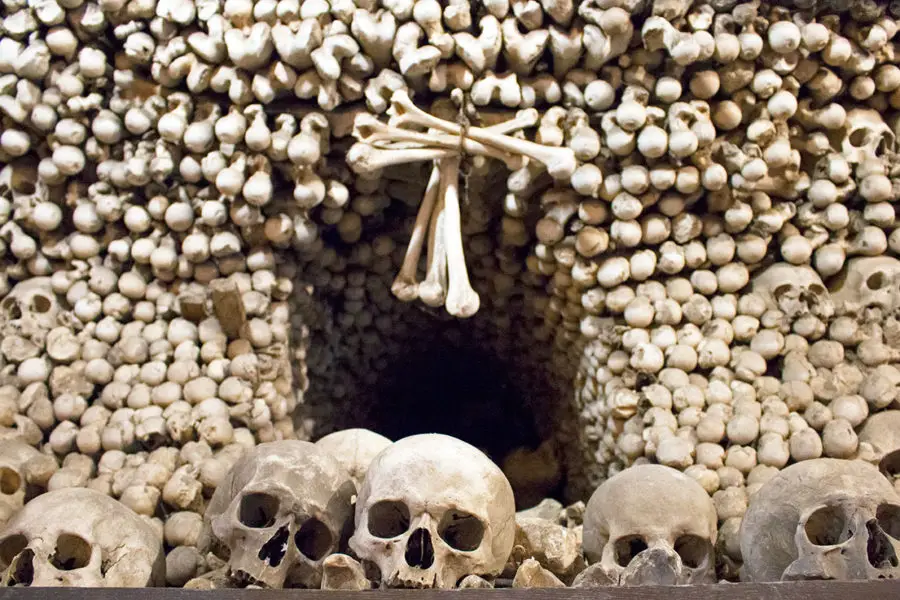 The Prague to Kutna Hora train leaves Prague's main train station, Praha Hlavní Nádraž, every two hours in the morning and early afternoon, and every hour from around 3 pm onwards. The journey takes roughly an hour and costs about 100Kč per person for a one-way ticket.
You can look up the Prague to Kutna Hora train and bus connections in English here.
Sedlec Ossuary Opening Times And Ticket Prices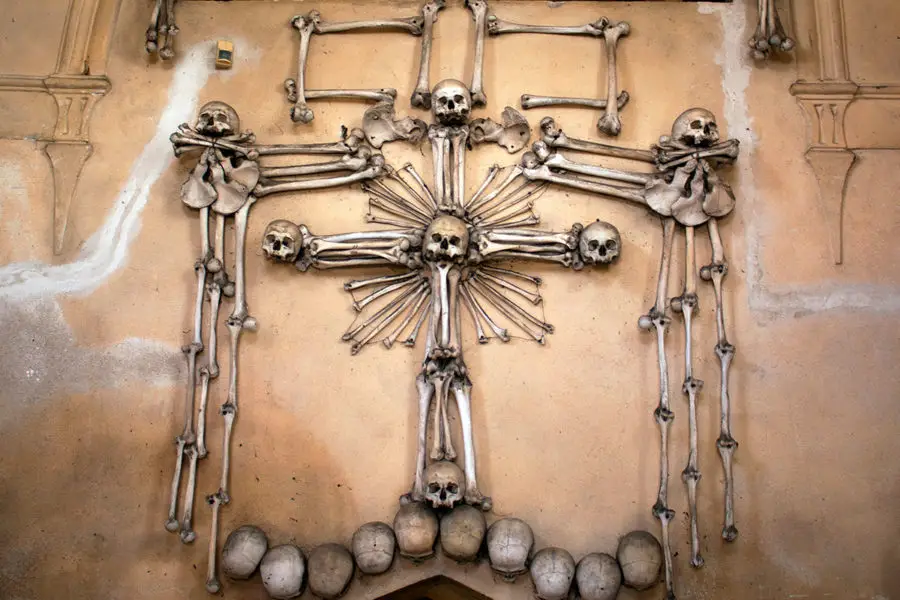 Sedlec Ossuary is open every day except Christmas Eve and the opening hours are from 9 am to 4 pm during the winter season of November to February, 9 am to 5 pm in October and March and from 8 am to 6 pm during the summer season of April to September. The chapel is open from 9 am to 6 pm every Sunday. Admission tickets into the Ossuary cost 90Kč for adults and 60Kč for children.
At the time of writing €1 was roughly equal to 25Kč. Check out conversion rates here.
Visiting Kutna Hora Bone Church Without A Tour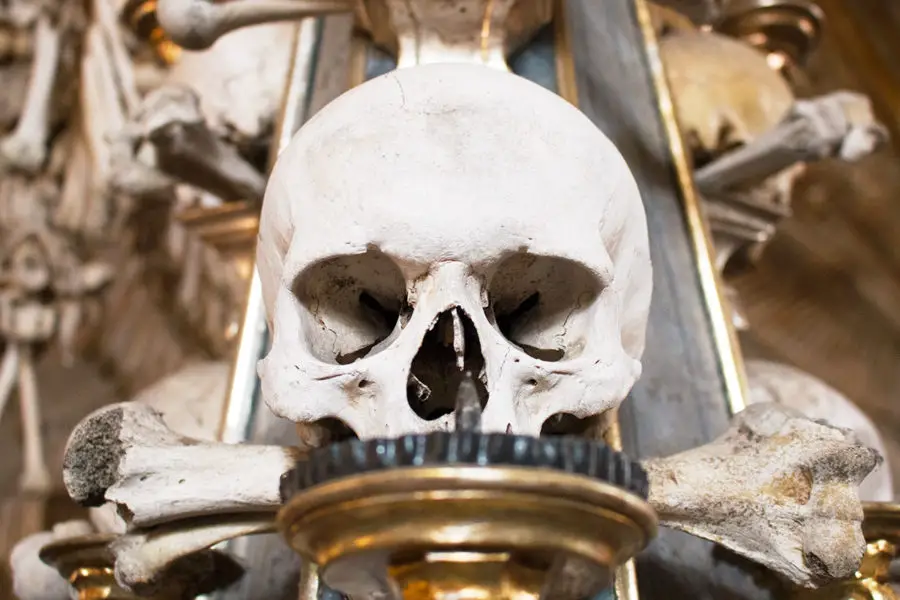 It's really easy to visit Kutna Hora Bone Church independently from Prague. The easiest way is to simply take the train from Prague and walk to the church. On your way to the church, you can buy your entry ticket at the information centre at Zámecká 279 200 metres away from the Bone Church. Then continue to walk to Sedlec Ossuary and look around by yourself. You can also opt for a guided tour and/or an audio guide. When you're finished checking out the Church of Bones, simply walk back the same way to the train station and catch the next train back to Prague. Easy!
Is Kutna Hora Worth Visiting?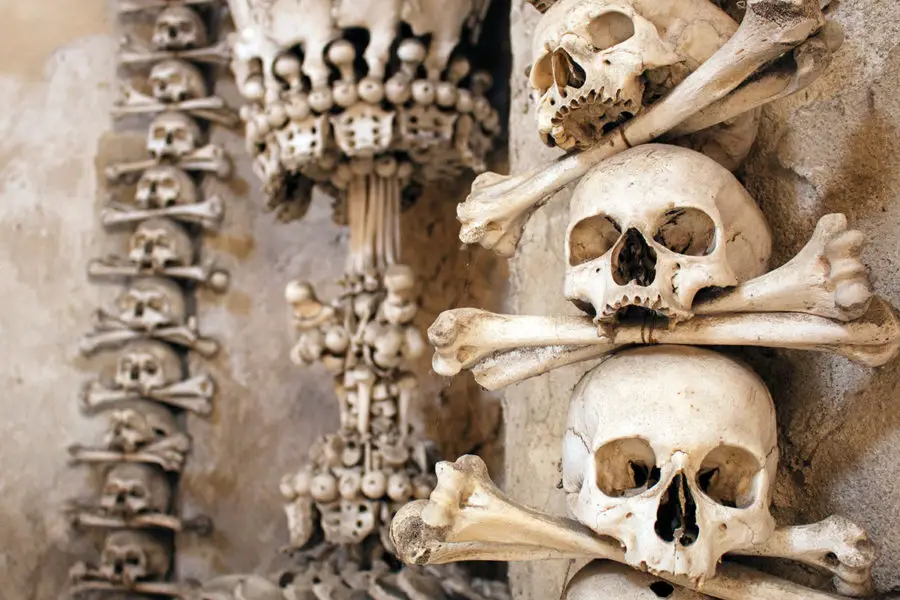 Definitely! If you've never been to a bone church before then you'll have never seen anything like it. If you want to get a little more out of your day trip from Prague, as well as the Bone Church, there are lots of things to do in Kutna Hora town itself. After the discovery of silver in the area, the Kingdom of Bohemia established the royal mint in Kutna Hora in 1300 so the town has a rich history. You can visit the Czech Museum of Silver and do a tour of a medieval silver mine.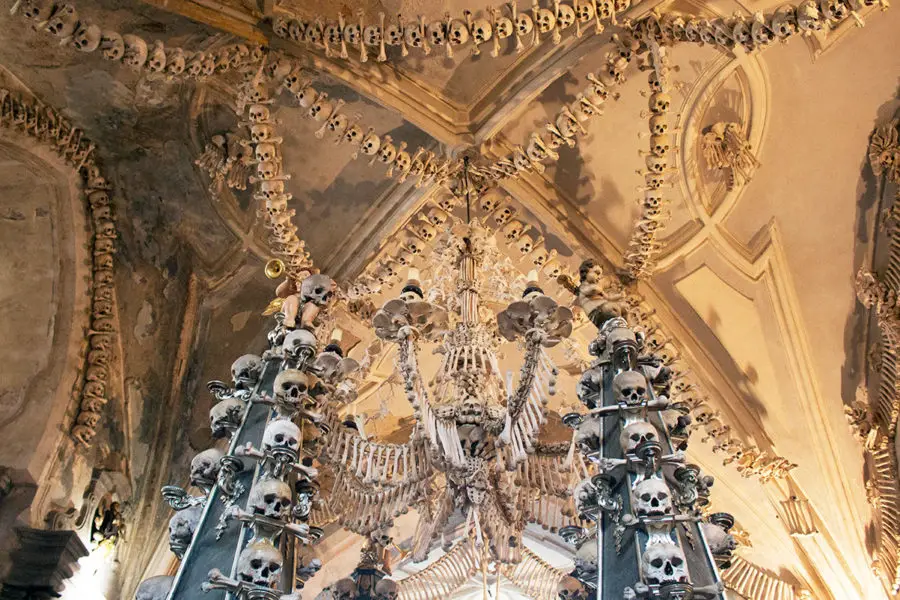 Unfortunately, we didn't have the time for anything other than the Bone Church on our visit but Kutna Hora's historical town centre is home to charming cobblestone streets and the UNESCO listed Church of St Barbara is the town's pride and joy and a gem of the Czech Republic.
You can take a look and plan your trip to Kutna Hora here.
Over To You – Would You Visit Kutna Hora Bone Church?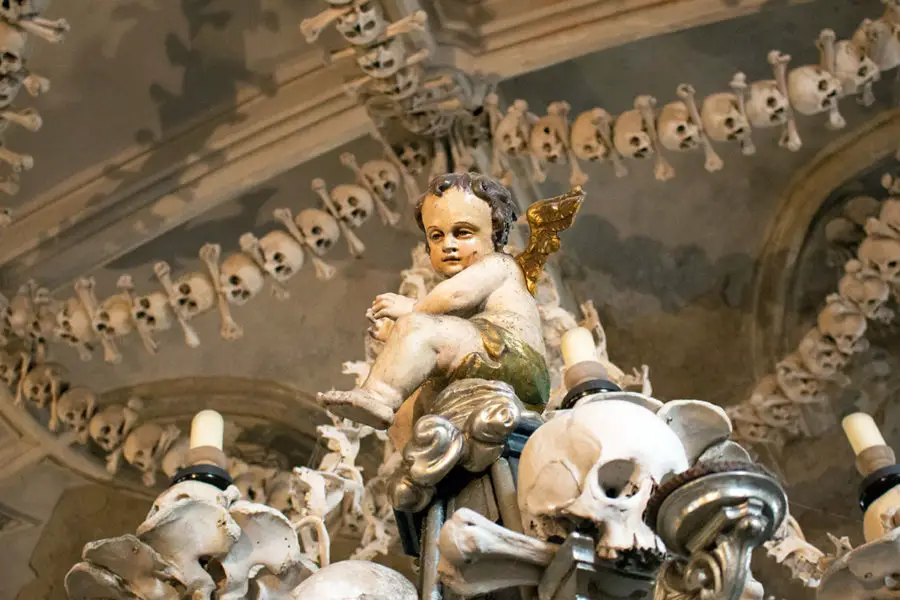 We hope this guide will help you to plan a day trip from Prague to Kutna Hora Bone Church independently. It's well worth the effort.
Would you visit Kutna Hora Bone Church? Have you ever visited this or any other bone church? Did you think it was cool or were you creeped out? Let us know in the comments below!
Pin It!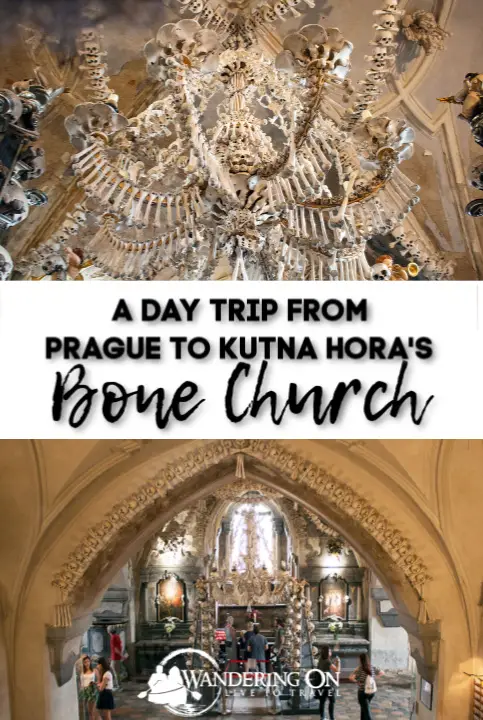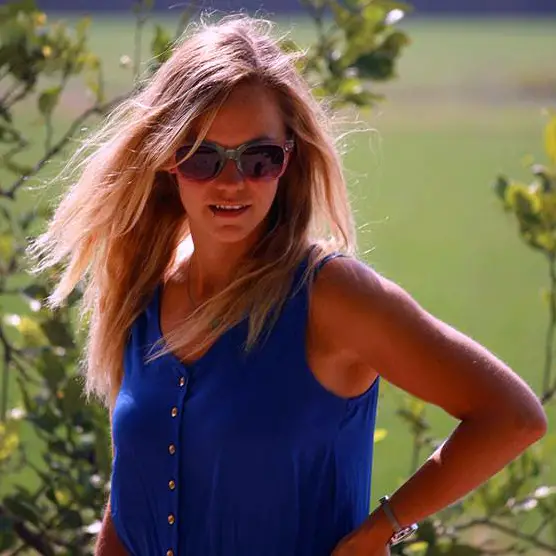 Noelle is a pescatarian foodie, travel junkie and a massive dog person. She's a self-diagnosed chocoholic and loves tea, coffee and red wine. She also loves to do yoga and therefore is the sensible, grounded one in the relationship! Noelle loves to really get to grips with the culture of a country and the mindset of the people. She also enjoys picking up a few words in the local language wherever she is and, of course, sampling the local food!
SUBSCRIBE FOR OUR FREE EBOOK
Sign up for our free travel photography Ebook "Faces of Nepal" and you'll also receive our monthly newsletter.