With towering jagged black peaks soaring over the perfectly still azure blue waters below, the Bay of Kotor is a spectacularly beautiful sight to behold. When planning our six-week road trip around the Balkans, Kotor's reputation had preceded it. We knew it was an absolute must-see so we set aside a couple of days on our itinerary to explore all that Kotor had to offer. Other than soaking up the jaw-dropping views of the bay itself, we wondered what were some other things to do in Kotor, Montenegro. We discovered that there were actually quite a lot of things to do in Kotor – some of which are outside of the old town itself.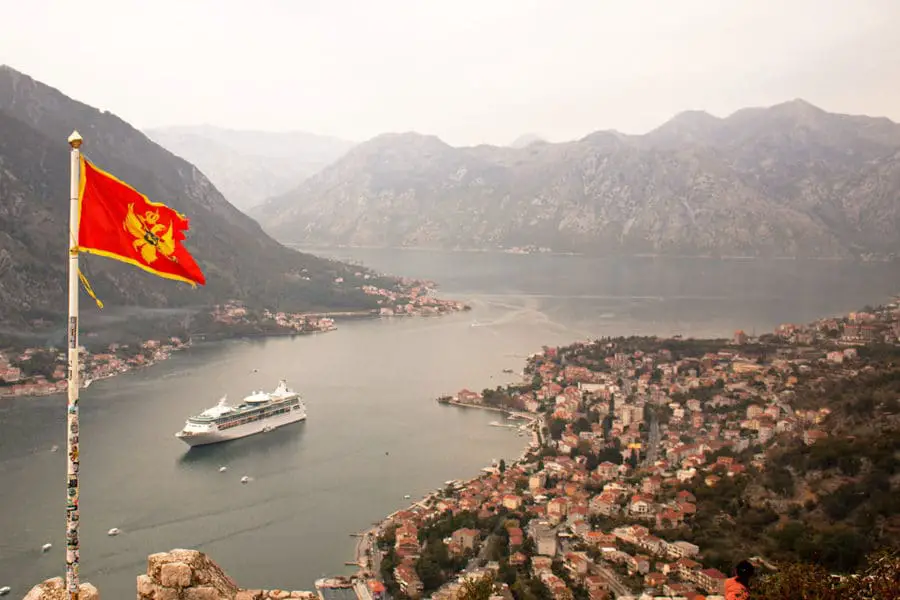 The town of Kotor nestled in its namesake Bay of Kotor is an incredibly beautiful part of Montenegro and is a highlight of any trip to the Balkan peninsula. A UNESCO World Heritage Site since 1979 and named by Lonely Planet as the top city to visit in 2016, Kotor and Montenegro's popularity as a destination is growing. As soon as we rounded the corner on the drive down to Kotor we could've sworn that we'd been transported back to Milford Sound in New Zealand or maybe we had driven waaay too far and somehow ended up in a fiord in Norway! Along with taking the Lake Koman ferry and the hike from Valbone to Theth in Albania's Accursed Mountains and Mostar in Bosnia and Herzegovina, Kotor was without a doubt among the main highlights of our Balkan road trip.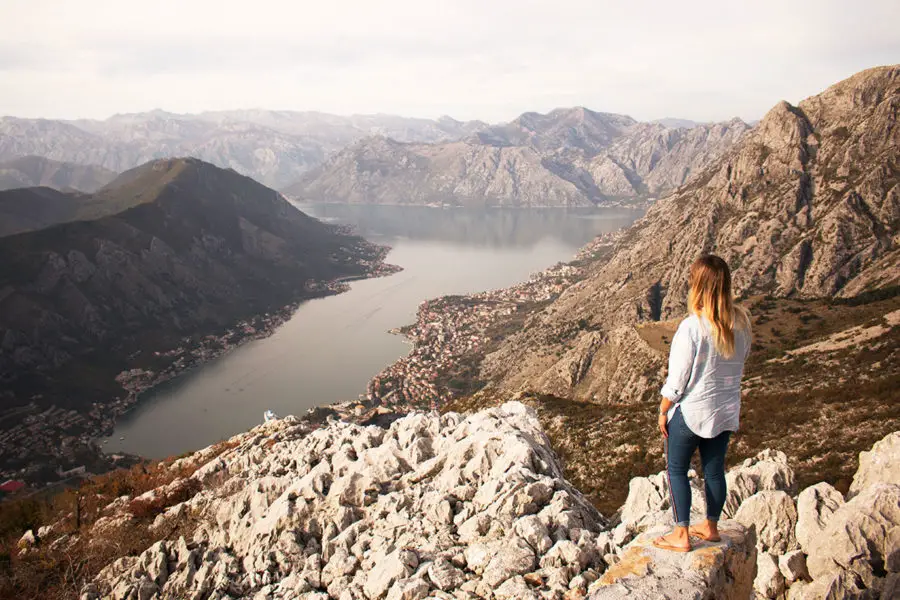 If you find yourself visiting Kotor you might wonder what there is to do in and around the picturesque Adriatic town. These are, in our opinion, some of the best things to do in Kotor Montenegro.
17 Of The Best Things To Do In Kotor
Get Lost In Kotor Old Town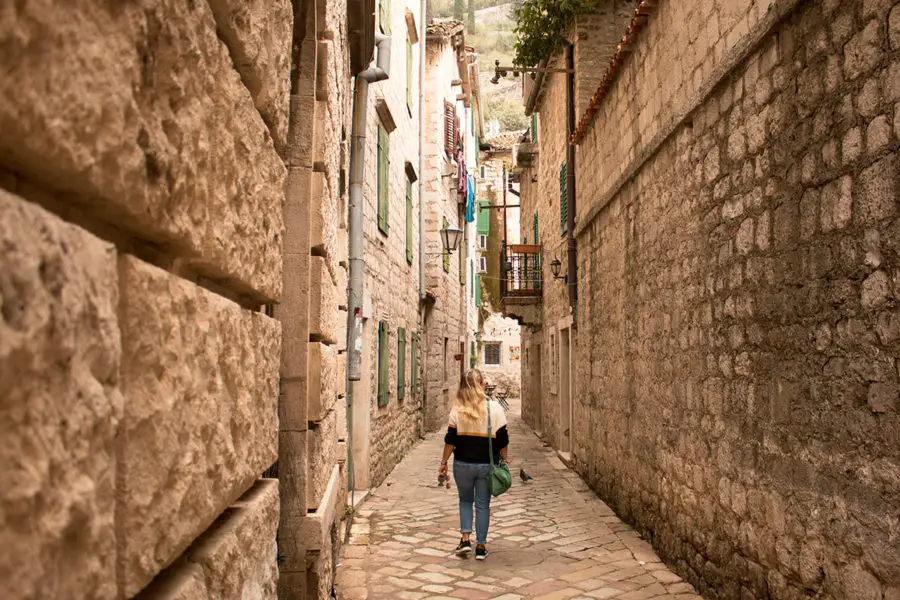 If you only have one day in Kotor or are looking for things to do in Kotor from a cruise ship, then Kotor Old Town is an absolute must. Kotor itself is an old Mediterranean port town built during the Venetian period, so that makes way for incredibly beautiful architecture and old-world charm. You'll feel like you've gone back in time as Kotor's Old Town is one of the best-preserved medieval fortified towns in the Mediterranean and is steeped in history. The Old Town is completely surrounded by walls so it is completely pedestrianised making wandering around the cobblestone traffic-free streets a delight.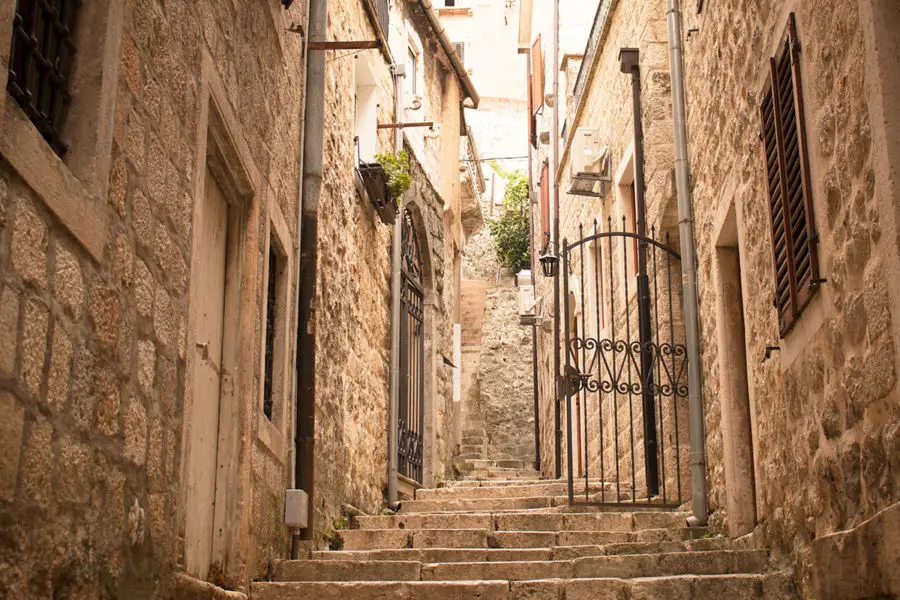 While meandering through the narrow streets and alleyways allow some time to slow down and spot all the little interesting things like small shrines to saints. You'll want your camera or phone at the ready as the brightly coloured doorways, green window shutters and colourful laundry hanging overhead pop against the grey stone walls. As you stumble across numerous squares and pass under stone archways, in true European fashion the modern shops, cafes and restaurants blend seamlessly into their old-world surroundings. Don't feel bad if you get a little lost or disoriented, the town was purposefully designed in a chaotic way to confuse invaders who came to plunder it.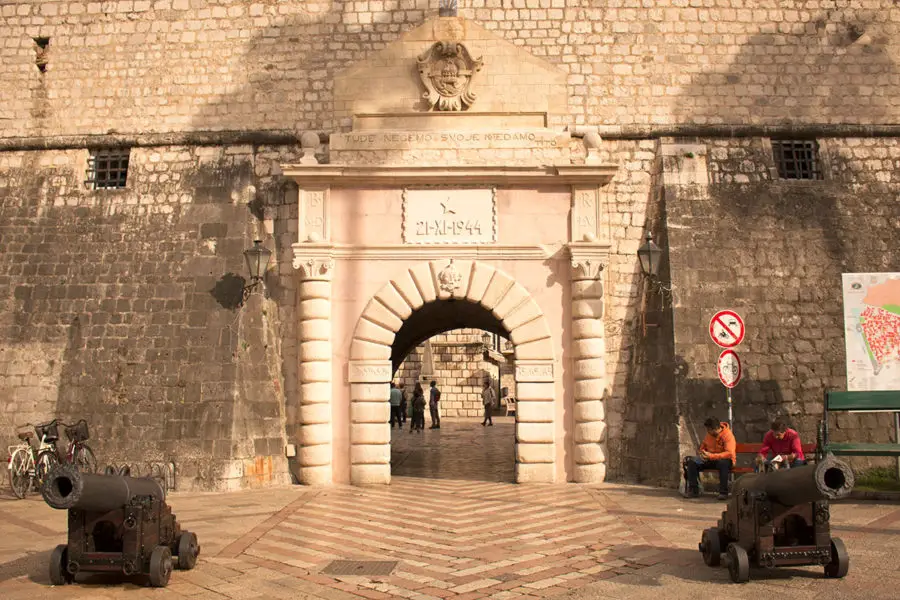 If you enter the old town on the west side from the Port of Kotor, you'll pass through the main gate, the 'Puerta Del Mar' or 'Vrata Mora', meaning the door to the sea. The Sea Gate itself is an impressive sight of pink stone and is conveniently located next to the tourist information office should you want to pick up any maps or tips on what to do in Kotor.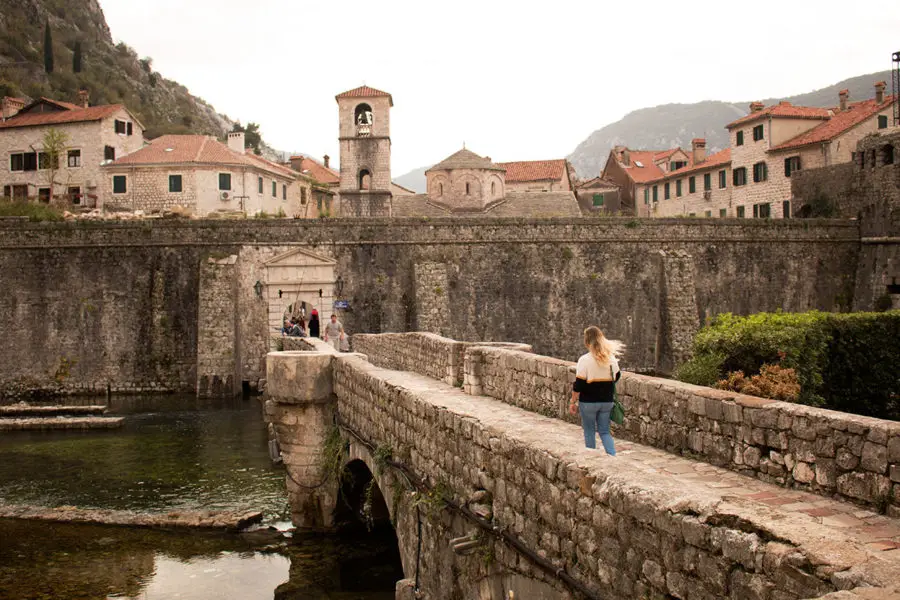 If you enter Kotor Old Town from the north side through the 'Vrata od Škurde', the gate from the Skurde river, then you get to cross a real-life moat! How cool is that? You can even walk around on the top of the walls by going up some steps to the right of the Sea Gate. Kotor Old town can easily be reached on a day trip from Dubrovnik in Croatia and in our opinion, Kotor has a much more genuine feel to it as mass tourism hasn't hit Kotor as hard as Dubrovnik just yet.
Tip: Allow yourself to get lost in the old town, that's part of the charm! If it rains during your visit, the smooth cobblestone streets can become quite slippery so take care.
Hike Up The Old Town Walls To San Giovanni Castle / Saint John's Fortress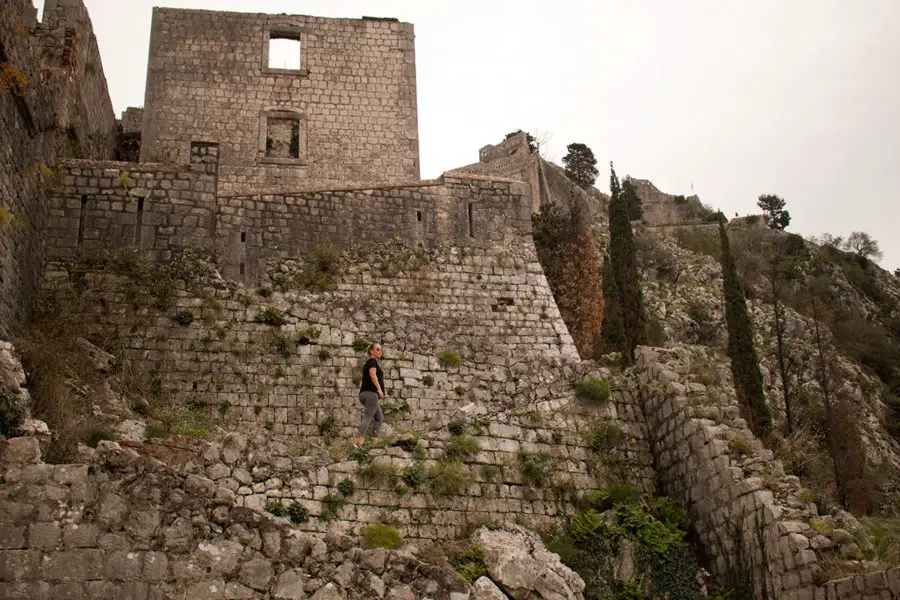 San Giovanni Castle, Saint John's Fortress or the Fort of St Ivan, whatever variation or language of its name, is one of the absolute highlights of Kotor and once you get even a small bit of the way up you'll see why. The views back down over the terracotta roofs and maze-like streets of the old town are incredible. The huge cruise ships docked in Kotor are dwarfed by the surrounding mountains and it really gives you an idea of just how vast and enormous the Bay of Kotor is. You can see all the way over to Perast and you can even make out the butterfly or angel shape of the inner part of the Bay.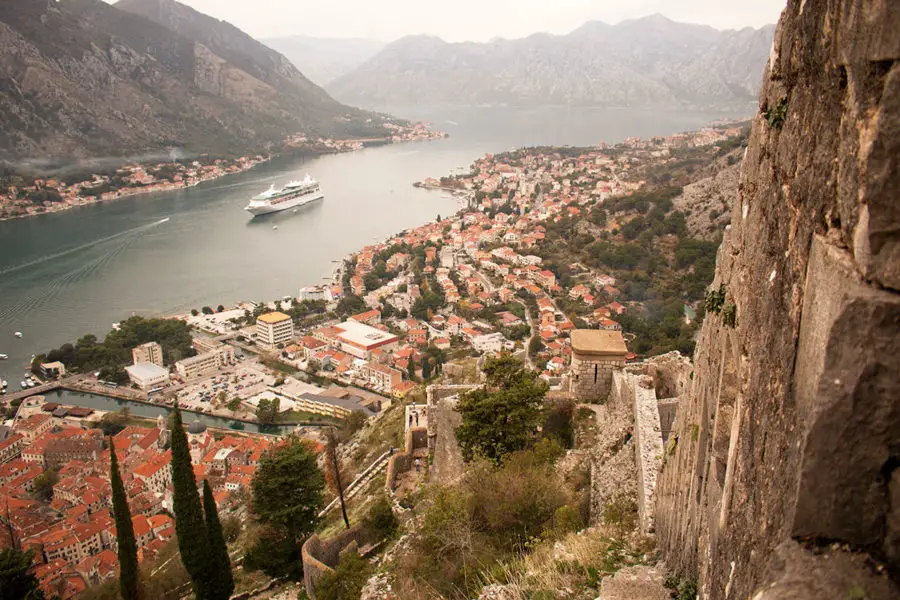 The trail along the old walls, or the Road to the Fort of St Ivan, is rocky and uneven in parts and there's even a tiny church, the Church of Our Lady of Remedy on the way up. Taking inspiration from Dubrovnik, Kotor has introduced an entry fee to access the walkway up to San Giovanni Castle from within the Old Town. When we visited it was €8 per person so it's not bank-breaking and the views are incredible from the top. It doesn't take very long maybe half an hour to forty minutes depending on how fit you are, or how many photos you stop to take for the 'gram!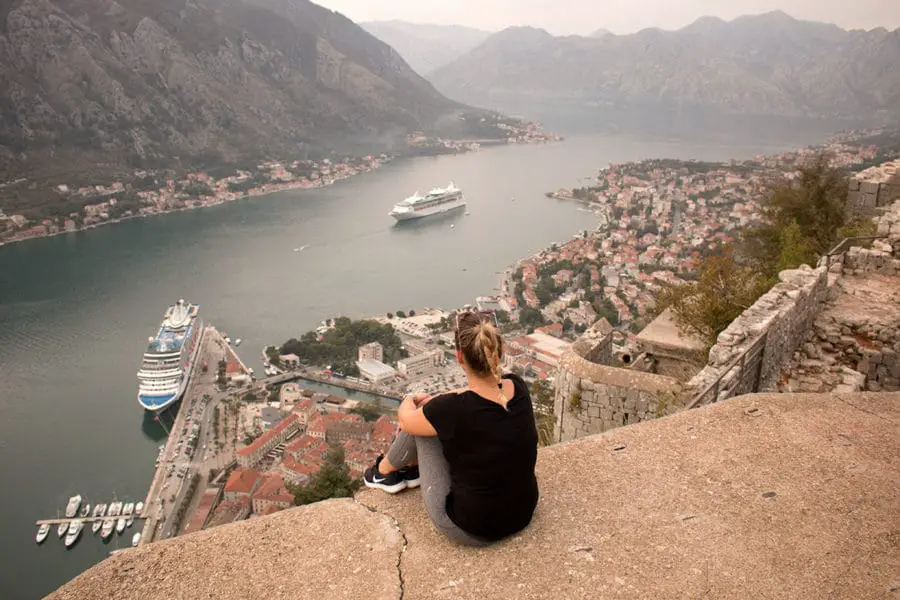 We did hear afterwards that there is a trail up that you can access for free if you don't want to pay. To access this path, take the North Gate out of the old town and head right down that street and then take this path that follows the riverbank on the right-hand side until you cross the river and see a zigzagging path ahead. This is part of the Ladder of Kotor and it links up with the trail to Saint John's Fortress after the 23rd switchback and you'll be going back down to the Church of Saint John and then Kotor Fortress. We didn't walk this way, though we wish we had, so we can't be sure there won't be a payment implemented from this side as well. Whichever way you choose to go – the views are equally impressive!
Tip: Wear comfortable shoes and bring some water. Try to do this walk early or later in the day if it's very sunny as there isn't much shade on the way up. Early in the day, the light will be better for photos. If you want to catch sunset, then go in the evening but you'll be shooting into the setting sun.
Check Out All Of Kotor's Churches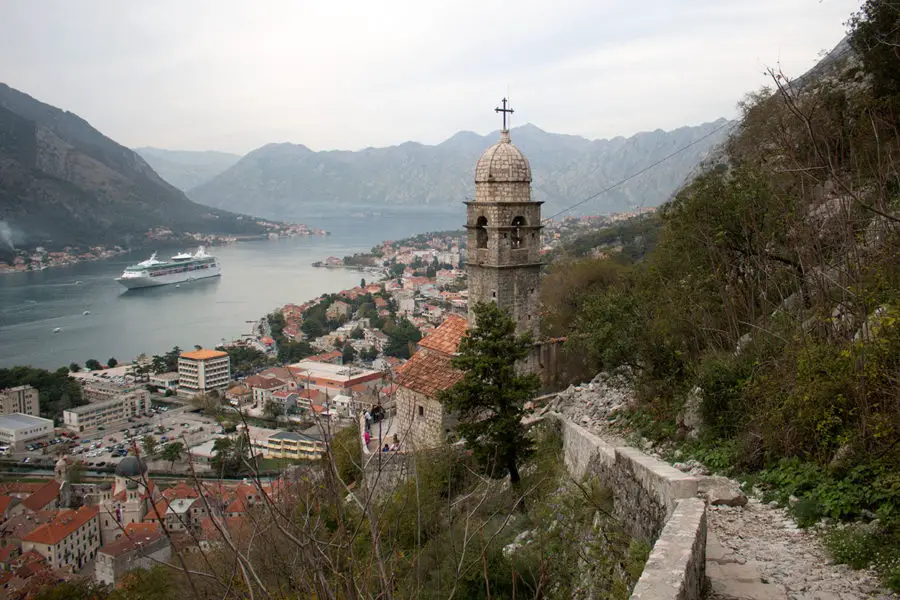 Kotor has numerous churches dotted all over the old town, with the most prolific being St. Tryphon Cathedral which dates all the way back to 1166. It's a Roman Catholic church and is the seat of the Croatian Bishop of Kotor as well as being a symbol of Kotor Old Town. It also houses the relics of St. Tryphon, the city's patron saint and protector.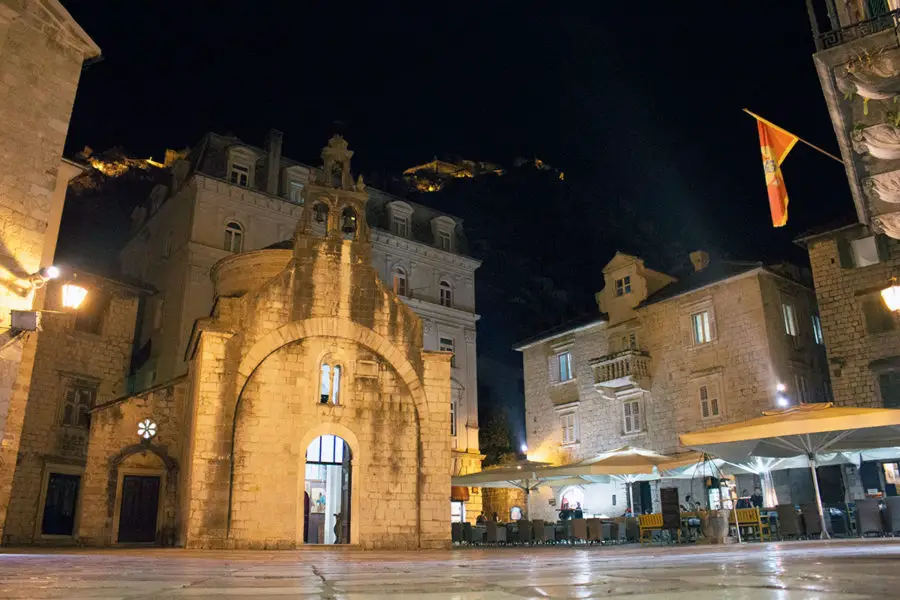 Saint Luke's Church built in 1165 is among the smallest of the churches of Kotor. This tiny church was once Catholic but was handed over to the Orthodox faith in the 17th century.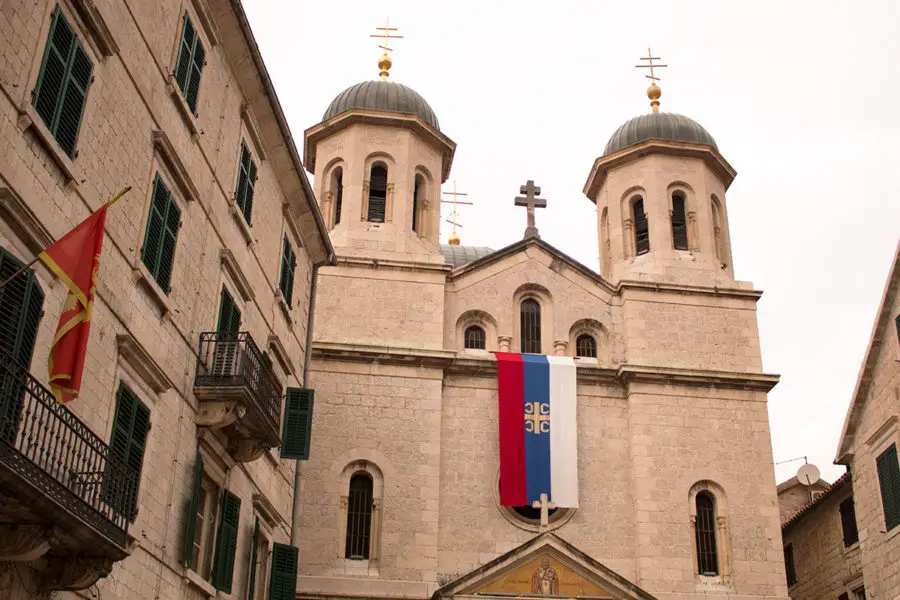 The Orthodox Saint Nicholas Church while not as old as some of the others as it was built in 1909, is worth a look. Easily recognised with the Serbian flag draped over the front, if you've never been inside an Orthodox Church before it's very interesting as they don't have pews like other Christian churches and they're always beautifully decorated with an ornate iconostasis.
Tip: There is an entrance fee to go inside St. Tryphon Cathedral and if visiting in summer you must dress respectfully with your shoulders and legs covered so wear long pants and bring a shirt or shawl on the day you plan to visit.
Play With The Cats Of Kotor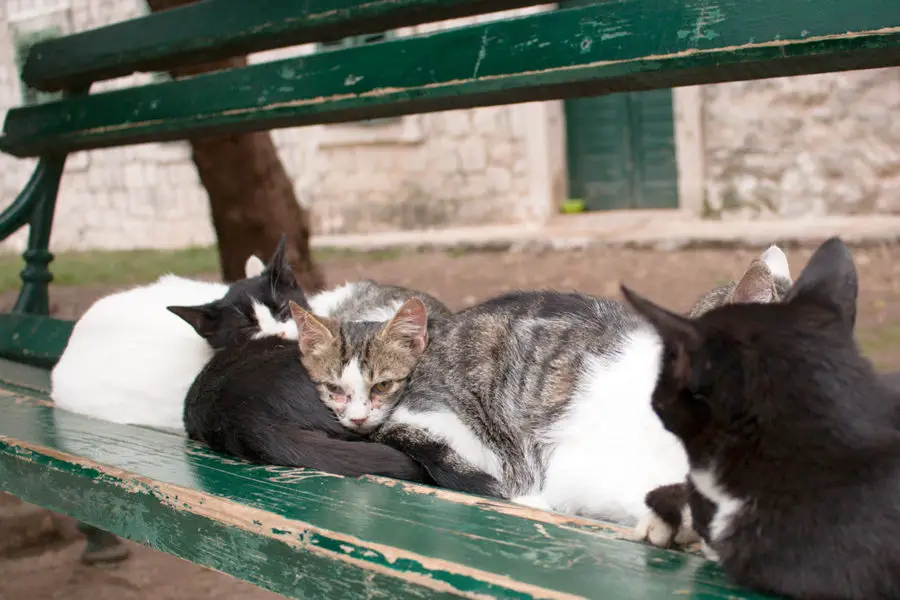 Cats, cats everywhere! If you're cat crazy then Kotor is going to be absolute heaven for you. There are so many cute kitties in Kotor that the Lonely Planet even named it as one of the top 10 destinations in the world for feline fanatics! The Cats of Kotor are believed to be a symbol of good luck and as the symbol of Montenegro is the Venetian lion, cats are seen as an unofficial symbol of the country too so the locals really, truly care for the cats.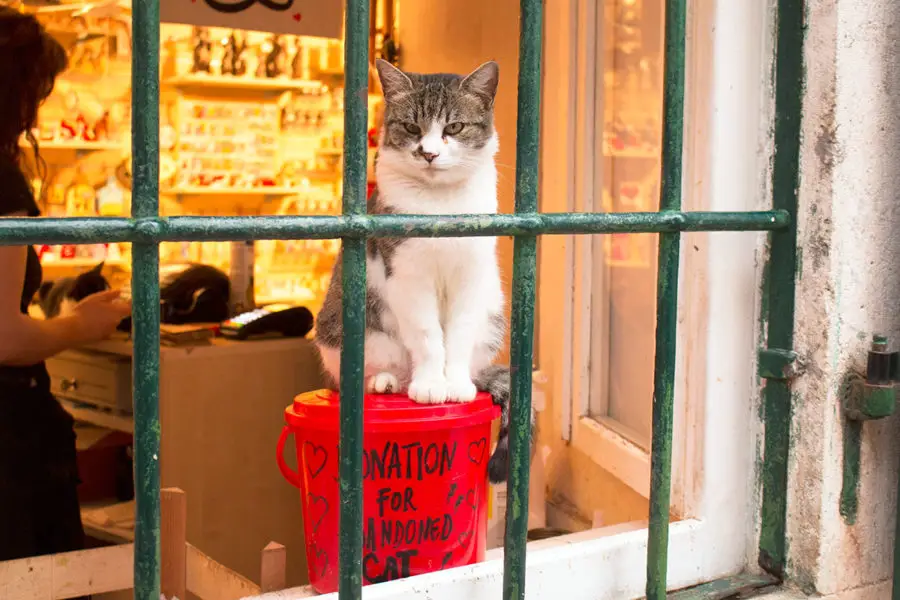 You might wonder why there are so many cats in Kotor? Kotor is historically a busy trading port, so when ships arrived into Kotor, they would also bring with them cats. So the cats of Kotor are as diverse as they are plentiful. There's even a museum dedicated to the Cats of Kotor located at the aptly named 'Trg od Mačaka' or Cats Square, as well as numerous handicraft and souvenir shops that put their profits toward feeding and looking after the cats.
Tip: If you don't come across any feral felines on your adventures around Kotor (which is unlikely) then head to Kotor's unofficial 'Cat Park' in Wood Square or 'Trg od drva' which will be on your right hand side of you enter the old town through the North Gate or 'Vrata od Škurde'. There are always cats sleeping on the benches here as this is one of their feeding spots and they are only too happy to be petted and photographed.
Learn About Seafaring History At The Maritime Museum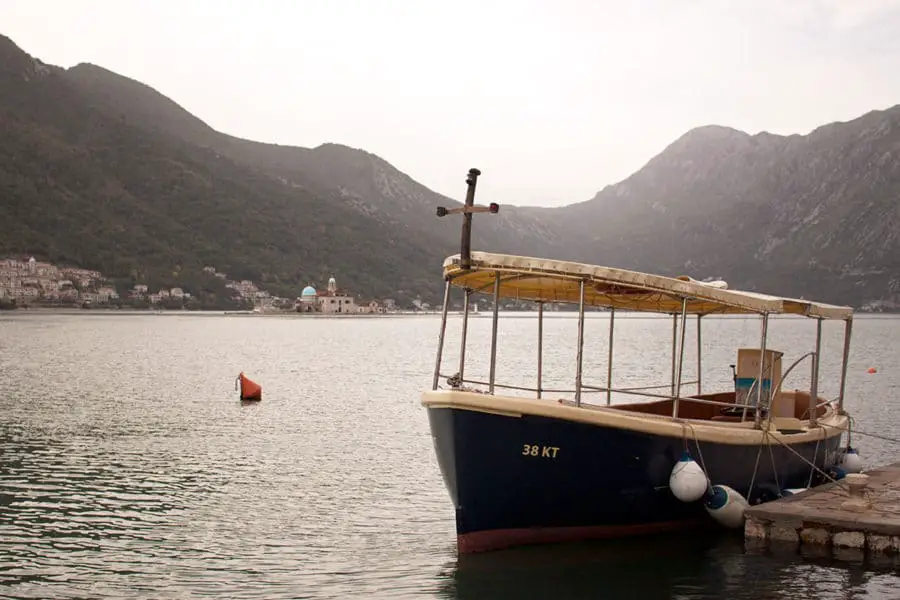 Being a port town for centuries, Kotor has so much seafaring history to learn about. The Maritime Museum housed in a former Baroque Palace has exhibitions on everything from old weapons through the centuries, World War I and II all the way up to more modern steam shipping times. There's a room dedicated to the maritime fraternity the "Boka Marine" or The Bay Of Kotor Marine which was founded at the beginning of the 9th century. There's even an open library where you can use the reading room if that kind of thing floats your boat.
Take A Day Trip To Picture Perfect Perast And Risan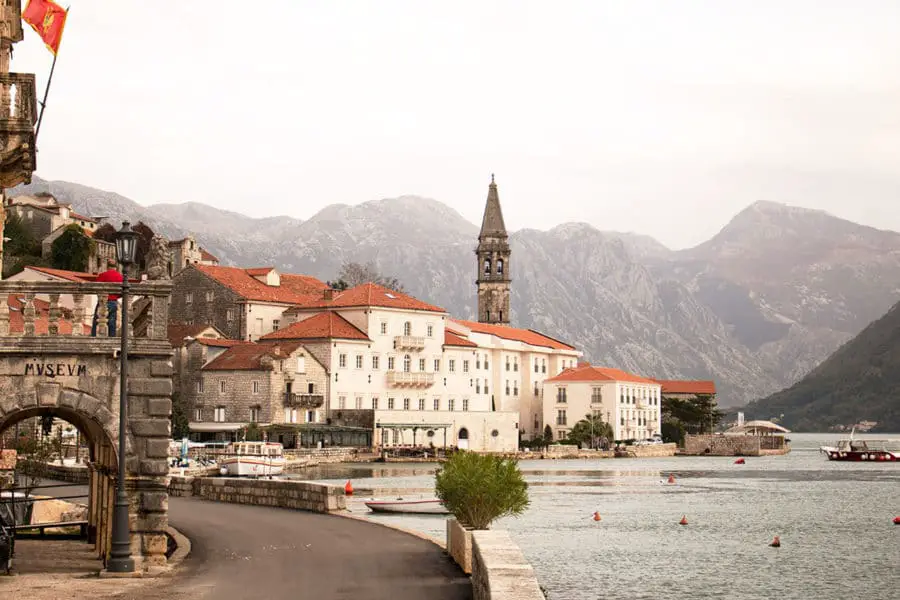 The sleepy hamlet of Perast is quieter and less visited than Kotor and is home to an impressive 16 churches and 17 baroque palaces. Known as 'Montenegro's Venice' as it was ruled by the Venetians for more than three centuries and you can see their mark left on the town's architecture. Perast is one of the top things to do around Kotor and you could easily spend half a day here wandering the pedestrianised cobblestone streets and sipping a coffee with epic views at one of the bayside cafes. There are both buses and boats that will take you from Kotor to Perast.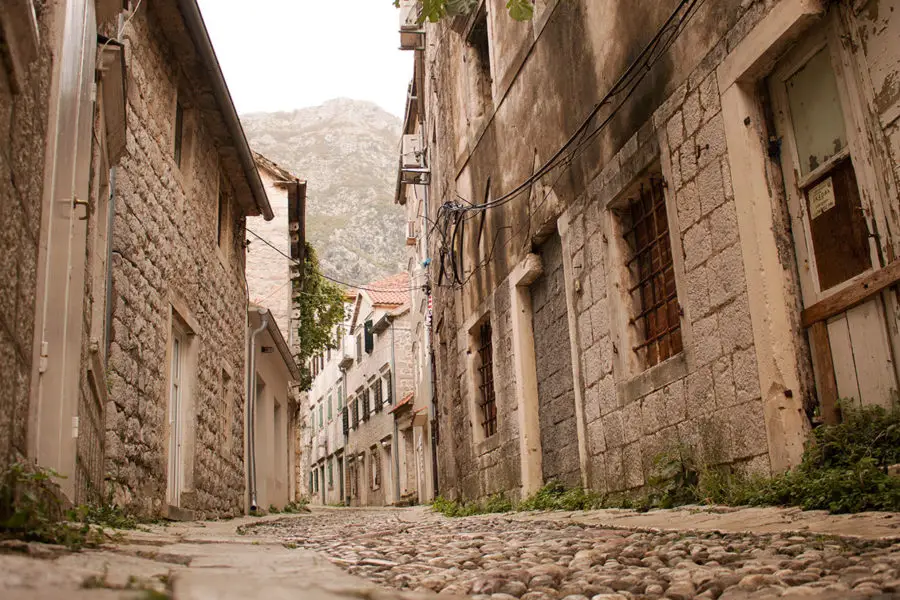 The even smaller town of Risan to the north of Perast and Kotor in the innermost part of the Bay is the oldest settlement in the Bay of Kotor. Home to some Roman mosaics dating from the 2nd and 3rd centuries it's well worth a look if you have the time to spare.
Visit Our Lady Of The Rocks Church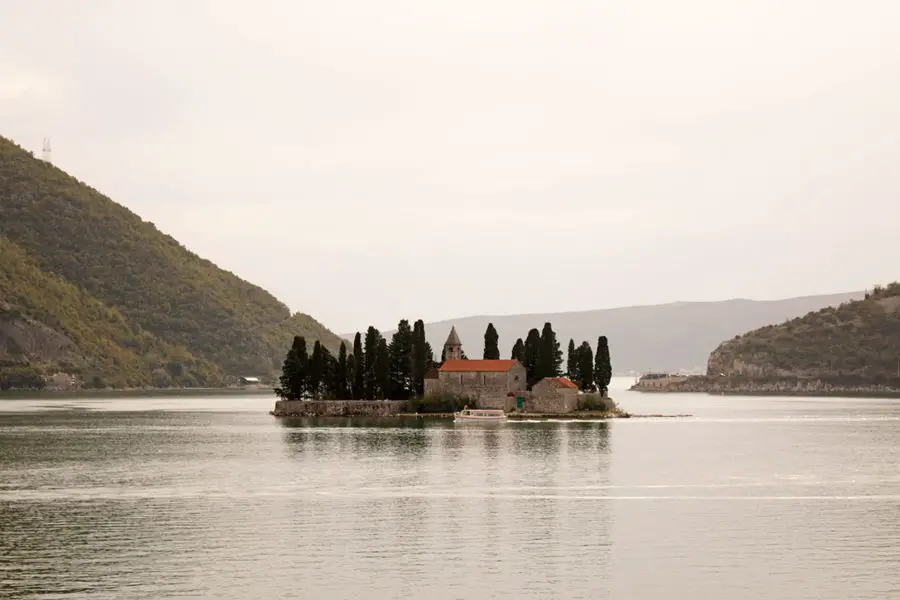 If you do visit Perast, it's easy to take a boat taxi out to one of the only two islands in the Bay of Kotor. The first of these islands is called 'Sveti Dorde' or St. George Island and it is the only natural island in the Bay of Kotor. The tiny island is home to the Benedictine Monastery of St. George, built in the 12th century, as well as a 9th-century abbey and an old graveyard for the nobility of Perast. Sveti Dorde Island is not open to visitors so seeing the buildings from the water will have to do.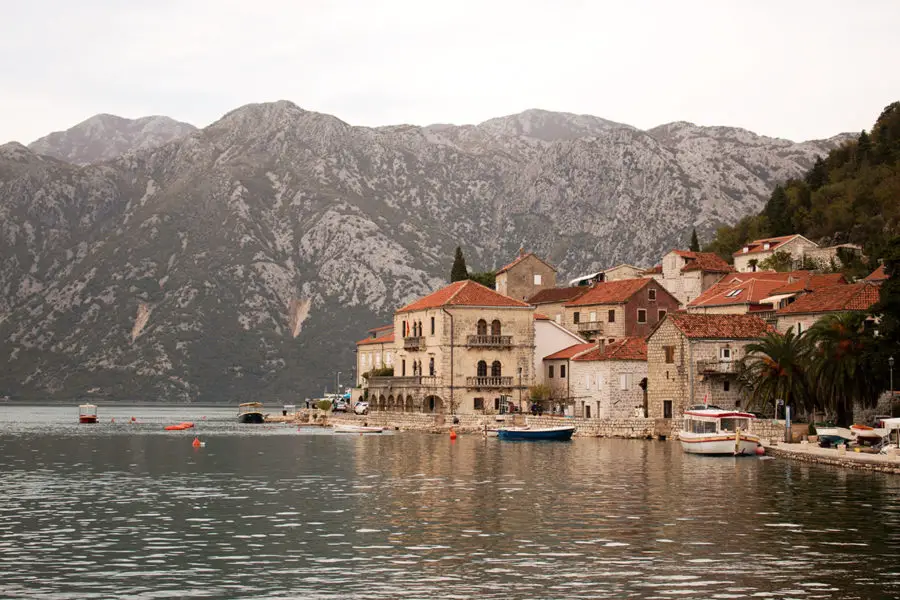 The most famous island in the whole Bay is undoubtedly the 'Gospa od Škrpjela' or Our Lady of the Rocks. This is a man-made island created in the 15th century and is shrouded in local legendsand folklore. The story goes that on July 22 in 1452, two sailors passed the Monastery of St. George on their return from a difficult voyage. They discovered a picture of the Madonna and Child resting on a rock in a shallow area near the island. They considered this a sign that God had guided them home safely so they pledged to build a church on the spot.
From then on after every successful voyage, local sailors and fishermen would lay a rock in this very spot in the hopes of a safe return too. This tradition continued down through the centuries and eventually, the number of rocks there caused the islet to be formed. The church was then built on the island in honour of Our Lady, hence the name 'Our Lady of the Rocks'. The church has also become a shrine for sailors who hope to stay safe at sea.
The customs from this local legend are still well and truly alive today. Every year on the 22nd July and every year since 1452, local residents, and now tourists, celebrate the festival of Fašinada. At sunset, rowing boats and sailboats set out towards the islet to throw rocks overboard.
Tip: You can catch water taxis from €5 for a return ticket from the waterfront in Perast or arrange a boat tour from Kotor. Most boat tours that take you from Kotor to Perast include a stop at Our Lady of the Rocks.
Hike Up Or Down The Ladder Of Kotor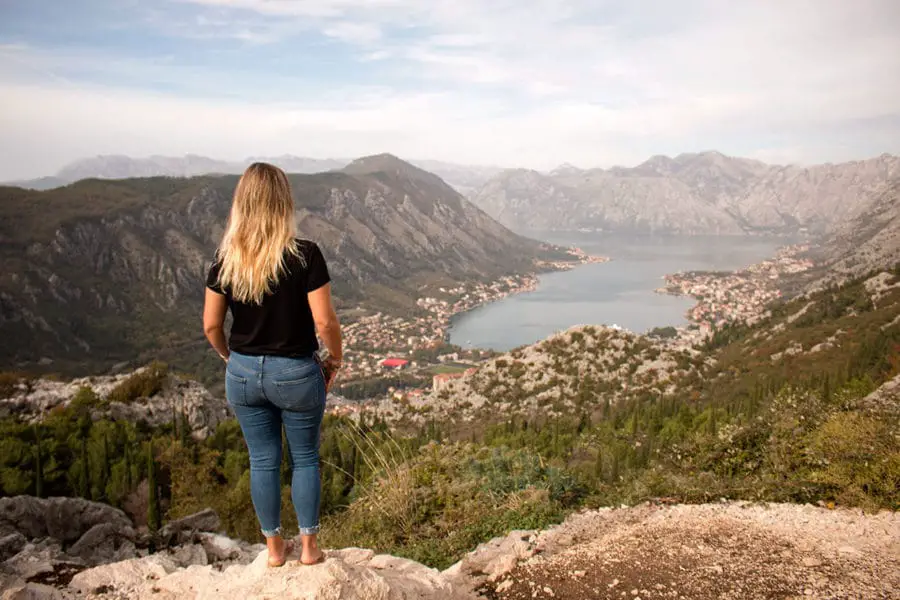 The Ladder of Kotor is an old caravan trail that used to connect Kotor with Cetinje, once the capital city of Montenegro. Today it is an epic hiking trail with 72 switchbacks. The get to the start of the trailhead for the Ladder of Kotor, take the North Gate out of the old town and head right down that street and then take this path that follows the riverbank on the right-hand side until you cross the river and see a zigzagging path ahead.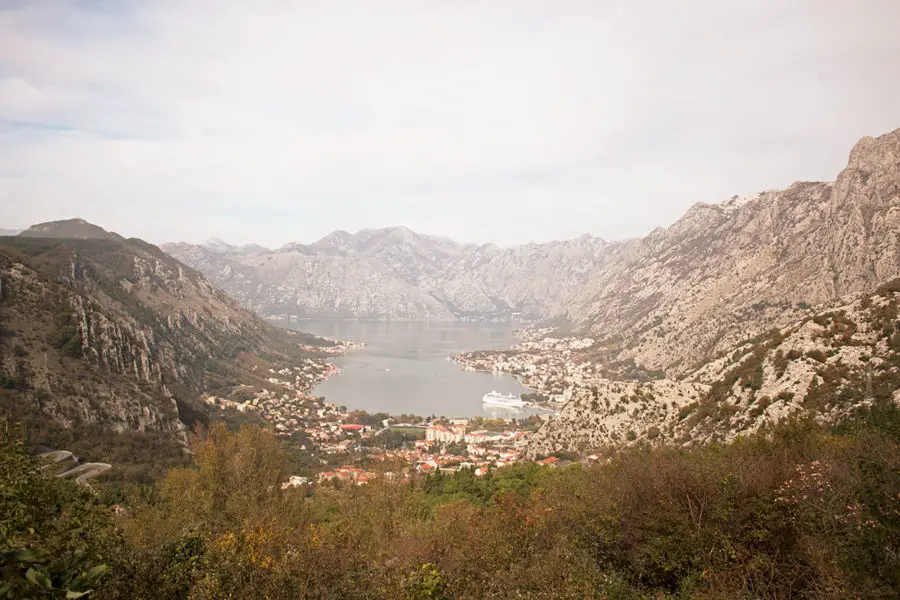 You can hike part of it and link up with trail down to the Castle of San Giovanni like we mentioned above or keep going all the way up to the Krstac Pass. It's roughly 6.5kms one way so that makes it 13kms for the round trip. You gain 940 metres in elevation so it's strenuous enough and the return hike takes about 5 hours. If that's too much for you, you could always drive up to the Krstac Pass here where it meets the P1 road near the Restaurant Nevjesta Jadrana and hike back down. Unfortunately, due to a day of terrible rainy weather, we never got to do this hike when we were in Kotor but we did see the views from the Krstac Pass, which were incredible!
Tip: Do this hike early in the day as in the evening you'll be shooting directly into the setting sun, making it harder to take photos. You'll also beat the midday heat. Wear good walking shoes.
See The Enormous Cruise Ships Docked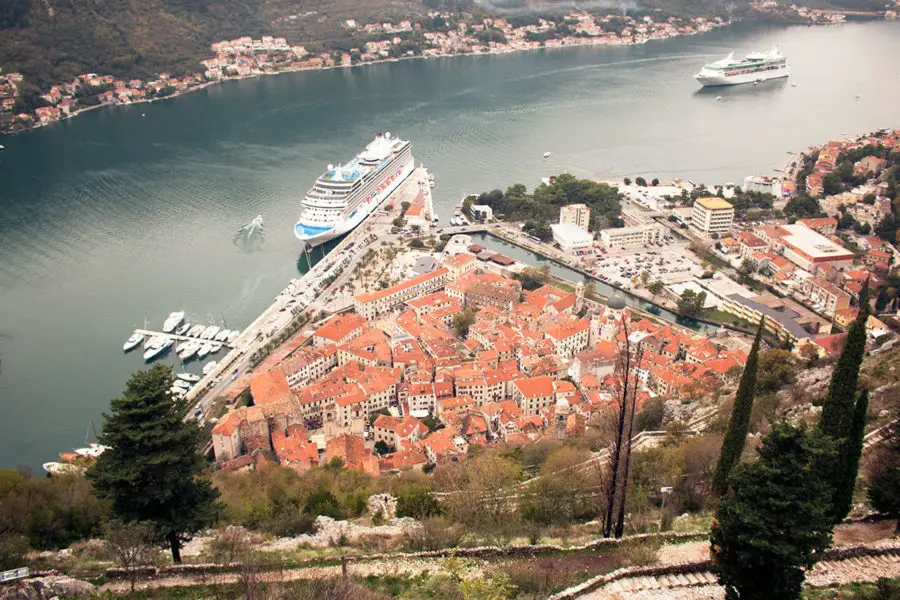 When you are in Kotor, you'll definitely see a cruise ship or two docked in the port. Multiple cruising routes from Italy and the Adriatic coast pass through and obviously, the Bay of Kotor is on their itinerary. We heard that in height of the summer there can even be three cruise ships pulled in to the Port of Kotor on one day. When you see them from down at the port you realise how huge these vessels are, as you stand dwarfed next to one. But when you see the ships from above at the Old town Walls, San Giovanni Castle or Krstac Pass and you really realise how vast the Bay of Kotor really is. The gigantic ships look like small toys compared to the surrounding peaks. Mother nature really is amazing!
See The Lifestyle Of The Rich And Famous At Porto Montenegro In Tivat
If you've ever wondered how the 1% live, you can go and see for yourself at Porto Montenegro in Tivat. Home to an exclusive platinum-rated marina that's the safest in the Mediterranean, there are yachts and superyachts berthed there that are bigger than some small houses! We found it interesting to walk along the jetty there and wonder what it would be like to sail around the world in one of these vessels – or more what it would be like to have that kind of cash! There are some really nice international cafes and restaurants with sushi and Lebanese food along the waterfront at Porto Montenegro, as well as designer and boutique shops – if you can afford them! Imagining life as an international superstar aboard your superyacht makes for a nice day trip from Kotor if you have the time.
Tip: If you love good coffee like us, Porto Montenegro's branch of the Serbian coffee chain Kafeterija had some the nicest coffee we had on our entire Balkan road trip – probably since we left Istanbul!
Drive Up Kotor's Serpentine Road For More Epic Scenery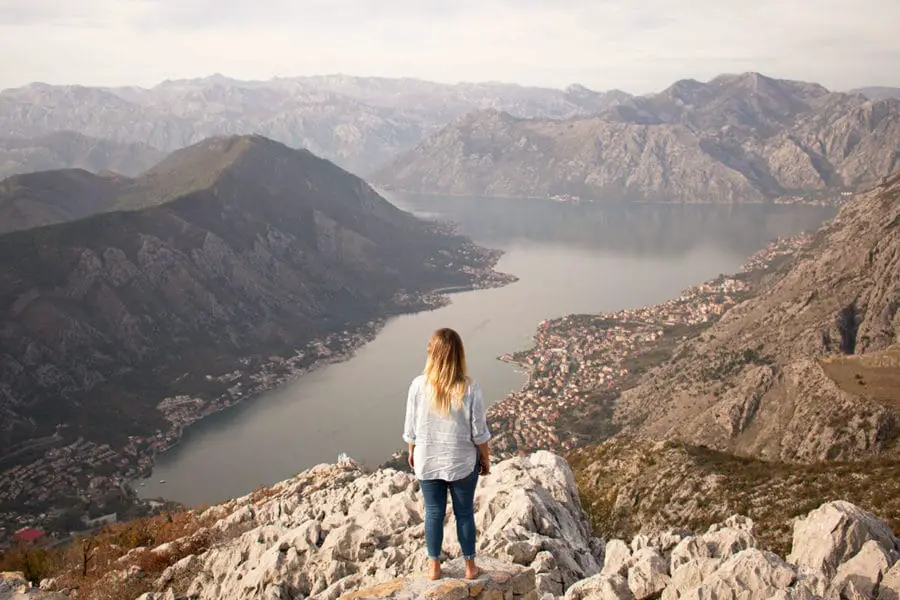 For even more epic views of the Bay Of Kotor and if you are up to the challenge, the Kotor to Cetinje road is one of the most scenic drives in Montenegro. Beware that is a driving challenge not for the faint of heart and is quite the adrenaline rush. This is the road, the P1, that leads to Mt Lovćen National Park, so if you want to check that out, and you should, you'll be driving on this road to get there from Kotor.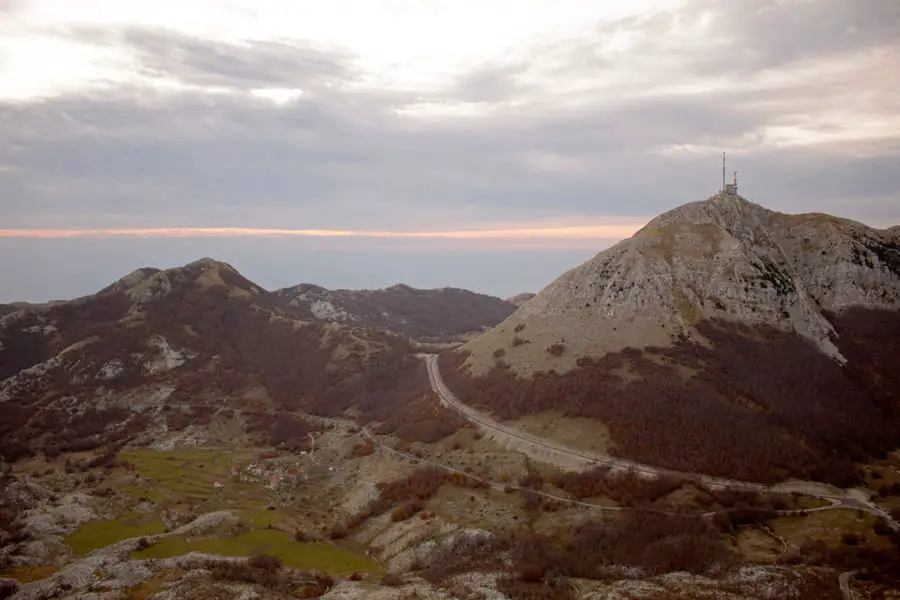 The most challenging part of this road is an 8.3km stretch called the Kotor Serpentine with 25 hairpin turns! There's only enough space for one car to pass at the turns but you are distracted from the sheer drops below by even more beautiful vistas at every turn. From this vantage point at you can clearly see the entire butterfly-shaped Bay Of Kotor as well as the Adriatic Sea to the west. It's absolutely breath-taking!
Tip: We recommend having a good travel insurance policy before driving this route. Be sure to beep the horn as you approach each hairpin bend. We had an accident with a motorcyclist at one of the hairpin bends as he took the bend very wide and very fast. Luckily no one was injured and we had travel insurance to cover the damage to our rental car!
Cool Off In Lovćen National Park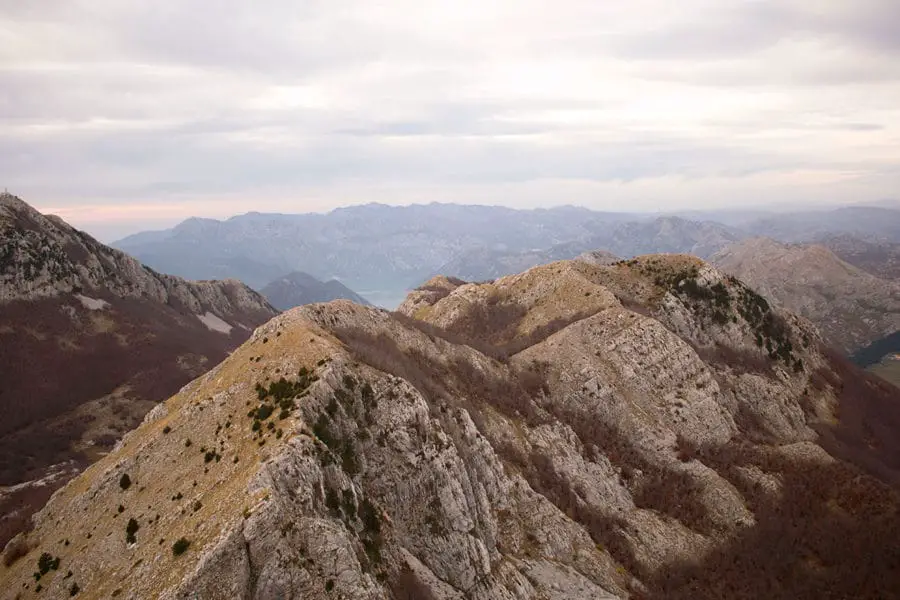 'Monte' and 'negro' in Italian, or 'Crna Gora' in Montenegrin, the name of the country translates to 'Black Mountain' so checking out some of the mountains which gave Montenegro its name is a must. Lovćen National Park is easily accessible as a day trip from Kotor or from anywhere on the Montenegrin coast. It's one of the most popular national parks in Montenegro and because of its elevation, Lovćen makes for a cool escape from the heat of summer.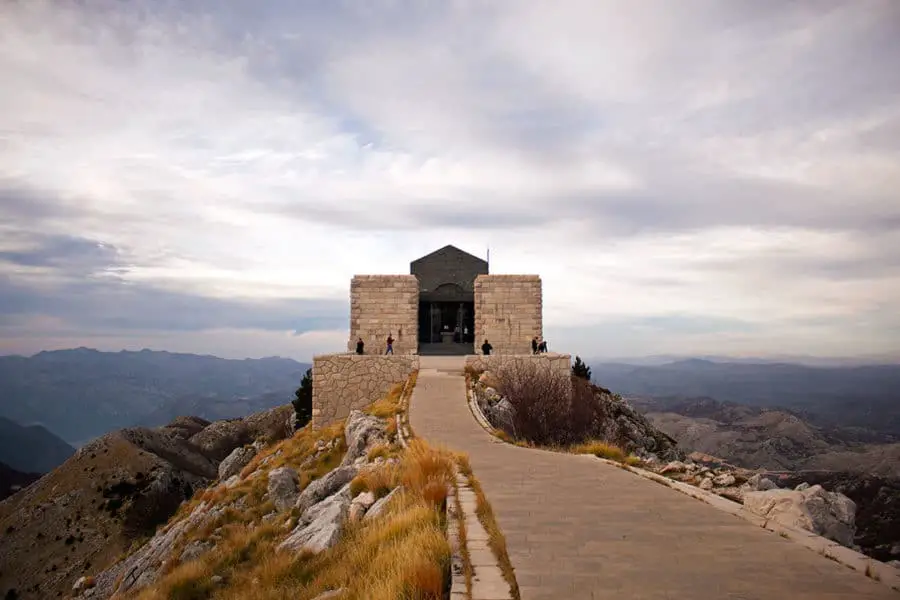 After driving up the Serpentine Road, be sure to check out the mausoleum of Petar Petrovic Njegos, Montenegro's national hero, a poet, bishop and leader. There's a staircase of 461 steps up to the mausoleum and you'll be rewarded with epic 360-degree views of the surrounding mountains, the Adriatic Sea and the Bay of Kotor. There are loads more activities to keep you busy in and around Lovćen National Park with loads of hiking and biking trails, spots for picnics, a zip line, paintballing and an adventure park as well as hotels and restaurants.
Tip: Ivanova Korita is the gateway to Lovćen National Park if you want to do everything there is to do, it can all be done from here.
Get Out On The Waters Of The Bay Of Kotor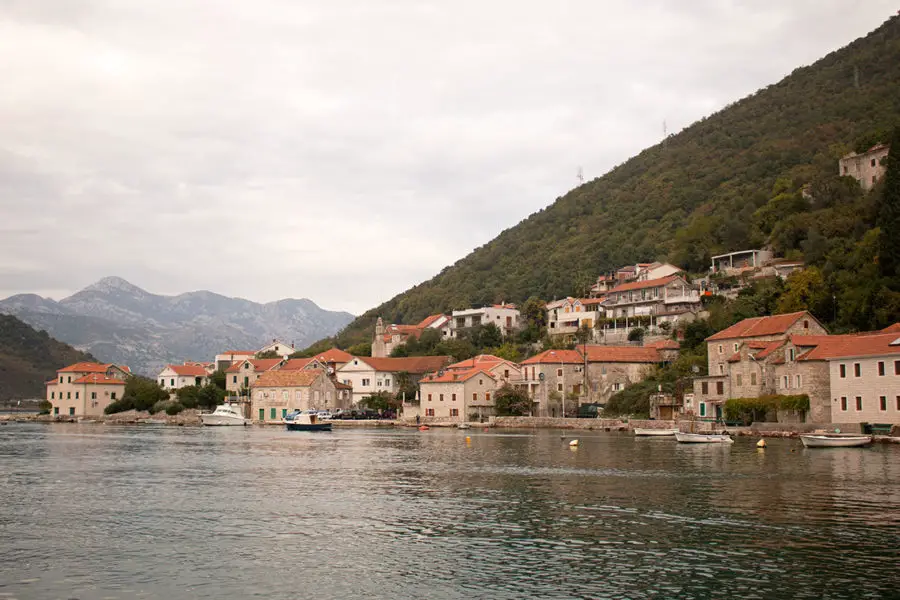 No trip to Kotor would be complete without getting out on the waters of the Bay. There are numerous options for boat trips to Perast and Our Lady of the Rocks as well as to hidden beaches and caves such as the Blue Cave on the Lustica peninsula. Beat the summer crowds on the roadside beaches by taking a boat tour to beaches that are only accessible by boat. You'll also be able to visit coastal caves that were used to hide submarines during WWII. In the summer season, there are tonnes of activities if you want to get out on the water like stand-up paddleboarding as well as snorkelling and kayaking trips.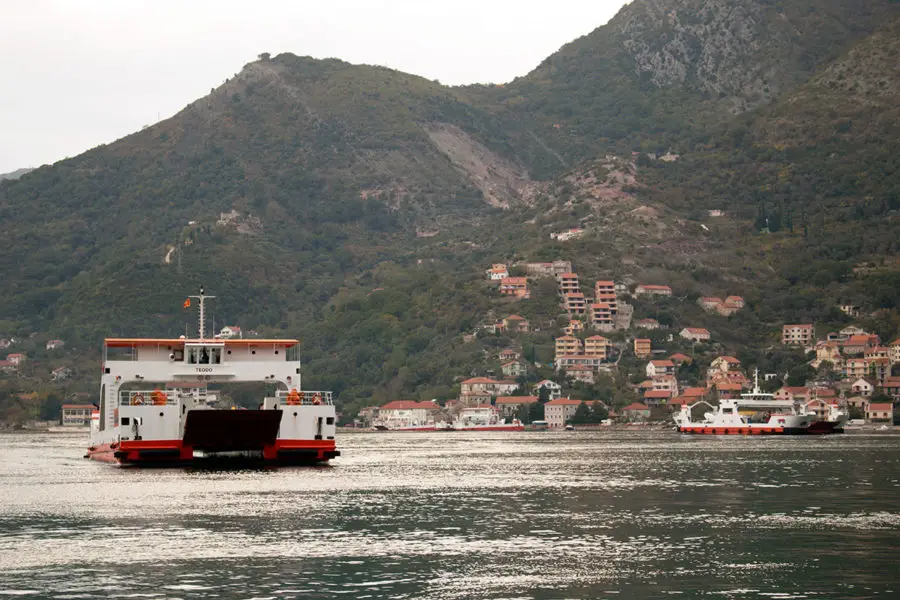 There's a car ferry across the Bay of Kotor at the narrowest part, the Verige Straits. The ferry goes from Lepetane to Kamenari and vice versa and it shaves off quite a bit of time rather than driving all the way around the Bay of Kotor if going from Budva to Herceg Novi. The journey takes about 5 minutes and you'll get incredible views of the Bay of Kotor as you go. Pedestrians go free and a car costs €4.50 one way. During the summer months from May to October, the ferries go every 15 minutes when they're full 24 hours a day. From November to April they still operate 24 hours a day every 15 minutes during the day time with a more limited schedule from midnight to 6 am – roughly every hour on the hour from Kamenari and on the half hour from Lepetane.
Tip: Be sure to have cash on you in euros for the car ferry. Cards are not accepted.
See The Bay Lit Up At Night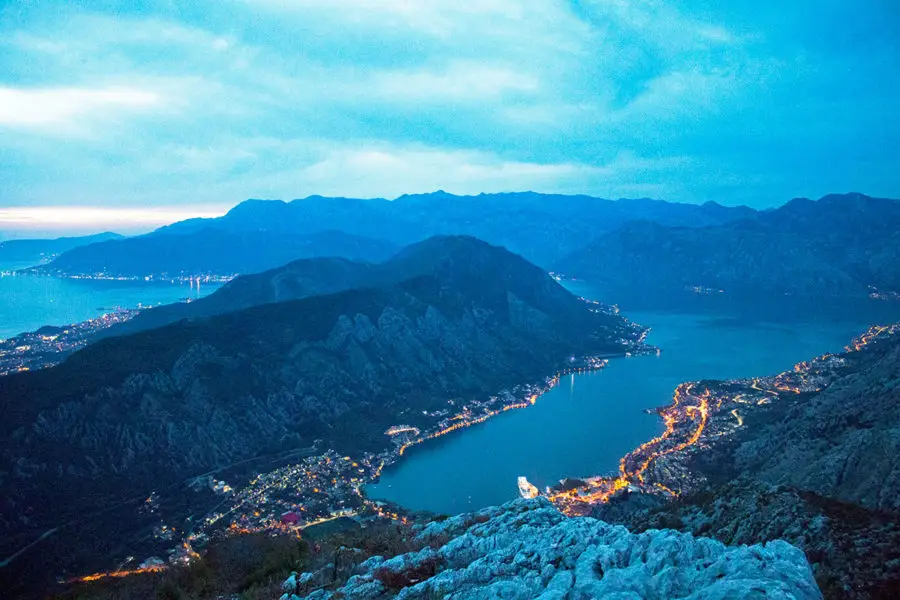 At night, the Bay of Kotor takes on a whole new atmosphere with lights twinkling all around the coastline, out on the boats in the Bay and up into the mountains. Be sure to set aside some time to take a night-time stroll along the water's edge to catch the light show. You really get an idea of how high up San Giovanni Castle and the old town walls go when they are illuminated after dark.
Wander Kotor's Old Town Streets At Night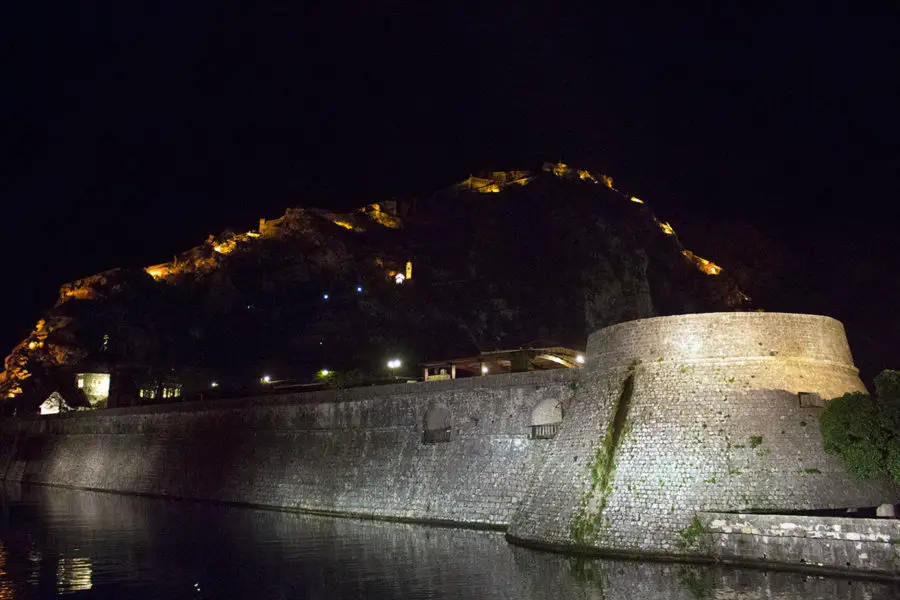 The streets of Kotor's old town take on a magical feeling at night. Lit up by street lamps, there's a feeling of calm and tranquillity compared to the busier day time as all the day-trippers from Dubrovnik or Budva have left and the cruise ship passengers have gone back on board. You'll have the chance to really get lost among the cobblestone streets and get some moody photos with deserted streets. And you'll have the cats to yourself too!
Check Out Kotor's Nightlife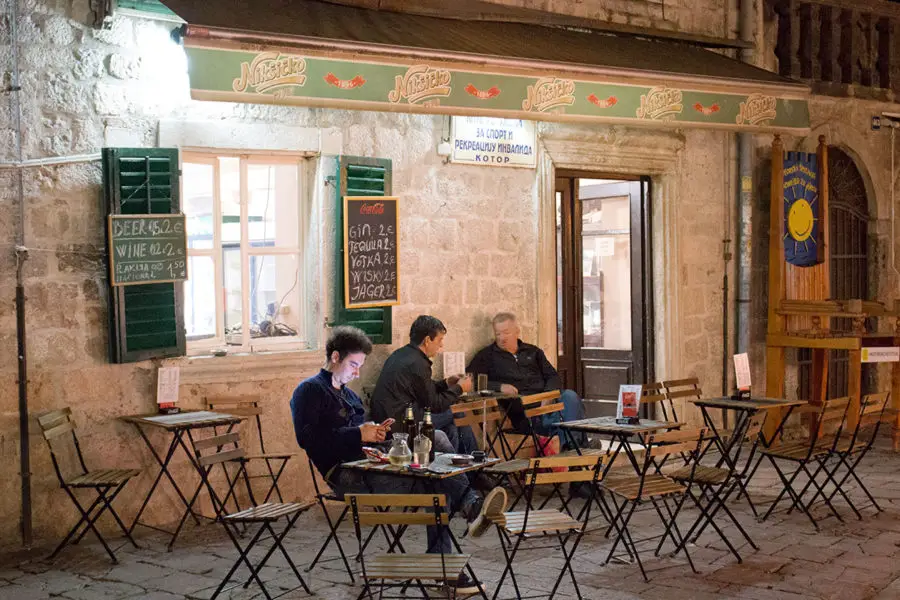 There's an abundance of restaurants and bars in the old town so it would be a shame to not check out some of Kotor's nightlife. While the nightlife scene isn't hectic, at least it wasn't when we visited in October, it could be a different story in the height of summer but we imagine it would still be tame enough. While some places are obvious, overpriced tourist traps, we discovered a lovely little local bar with cheap drinks and a real local feel to it called Klub Invalida right by a restaurant called Bokun.
We also really liked the vibes in a pub called Bandiera near the Hostel Old Town Kotor. Maybe it was the Irish flag bunting they had hanging up inside! We heard that Letrika was the best place for nightlife in Kotor with DJ's and a dancefloor but when we visited there wasn't much going on there but it was still a cool and quirky place to enjoy a quiet drink in the early evening.
Tip: Head to Klub Invalida located here for a local experience. Inside locals were smoking away and drinking rakija but you can sit outside if you don't want too much of the local experience i.e. second-hand smoke and leaving smelling like an ashtray.
Sample Some Montenegrin Cuisine
Being vegetarian, traditional Balkan and Montenegrin cuisine was hard for us to try as it's all quite meat and seafood oriented. When we didn't cook for ourselves, we ended up becoming 'vege-talian' and eating a lot of veggie pizza and pasta dishes when we ate out. Check out this guide to the best restaurants in Kotor from someone more in the know than us!
Being only a hop across the water from Italy and historically influenced by the Romans and Venetians, Montenegro has some really good pizza. For the best pizza in Kotor head to Pizzeria Pronto. The pizzas are really fresh and tasty as they are cooked to order from fresh dough. It's really great value and the place doesn't feel like a tourist trap, you know when you see locals cover their pizza with ketchup and mayonnaise. Pizzeria Pronto also serves absolutely huge pizza slices for only €2. They never seemed to have a meat-free option in the slices when we were there anyway (we didn't walk past every day to check, we swear!) so we always had to have entire vegetarian pizzas – the horror!
Tip: If you like wine be sure to wash your pizza down with a glass of Vranac a local Montenegrin red wine varietal. Delicious!
Our Tips For Visiting Kotor, Montenegro
Best Time To Visit Kotor, Montenegro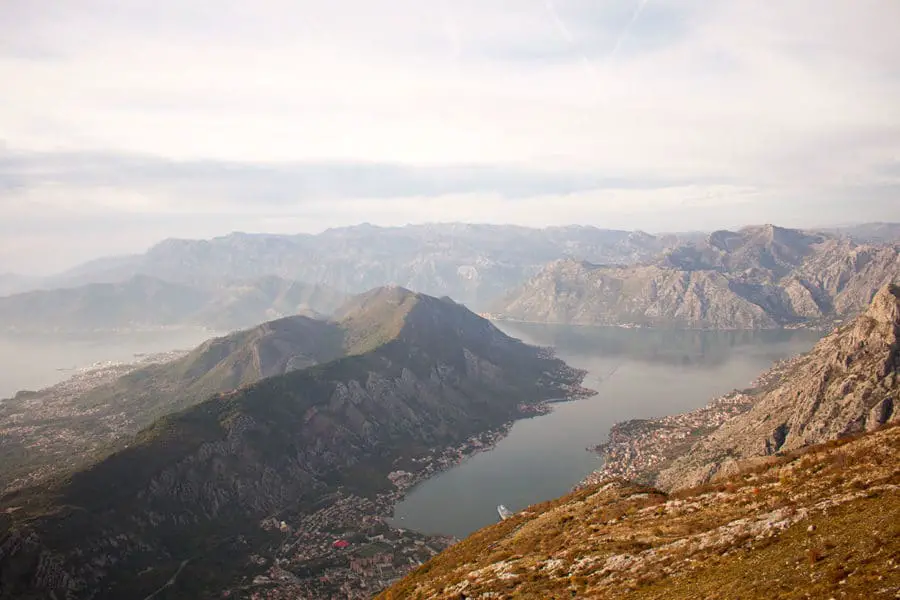 Kotor can be visited year-round really. Montenegro, being a coastal and mountainous country, has quite the variation in terms of weather and seasons. If you want warm days and you want to partake in some water-based activities then the summer months are the best time to visit. However, the beaches and the main attractions will be crowded at this time and prices for accommodation will be higher. If you want to go hiking and go to Lovćen National Park or down to Lake Skadar then the summer months are the absolute best weather-wise and they are deserted compared to the coast.
You can happily visit Kotor and go hiking in the surrounding mountains during the shoulder seasons up until November, but it will be a little colder in the evenings and water-based activities will be out. In winter, there is skiing in Montenegro so you might want to visit Kotor while on a budget ski holiday. Beware that snow on mountain roads can make getting around harder.
Tip: Pack a rain jacket for Kotor at any time of year. Due to the mountains being near the sea, Montenegro is prone to rain and thunderstorms are common in summer.
Where To Stay in Kotor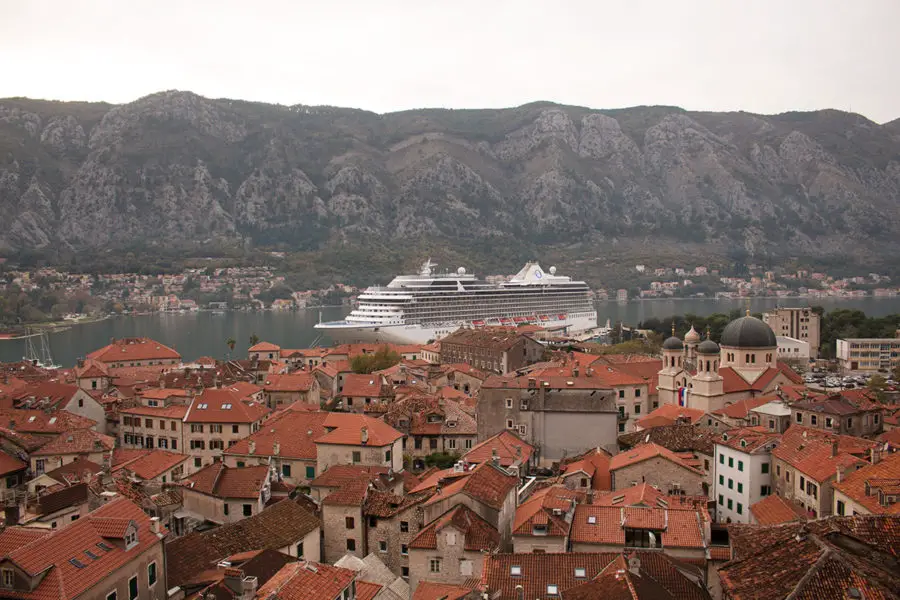 If you only have one night in Kotor, you might want to stay in the old town to really soak up the vibe. There's everything from hostels to boutique hotels available so take a look on Airbnb (Get $28 off your first stay on us!) and Booking.com to see what you like the look of. For backpackers, we heard really good things about the Old Town Hostel in Kotor as it was named among the top hostels in Europe by The Telegraph.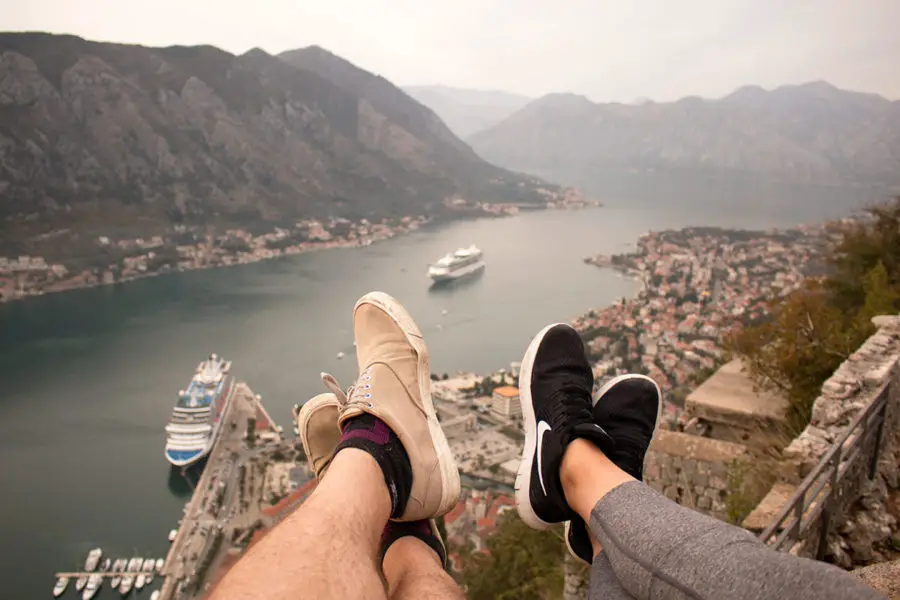 As we needed parking for our rental car, we stayed out of the old town further up the coast in Dobrota where we found a small private-owned apartment on Booking.com. There was much better value to be had in Dobrota, and in our opinion, Booking.com, in general, provided the best value accommodation in the Balkans. We had a kitchen so we could cook some of our meals and the place was within easy walking distance to the old town.
Getting To Kotor
By Land
Kotor can easily be reached on a day trip from Dubrovnik, but in our opinion, it's best to spend a couple of days exploring the area as there are so many epic things to do in Kotor. You can also get to Kotor by bus from Shkoder and Tirana in Albania, Ohrid and Skopje in Macedonia and Mostar in Bosnia and Herzegovina.
Montenegro is connected with Serbia by train from Belgrade and there is a local train line that connects the coastal town of Bar with the capital city Podgorica.
By Air
If you are coming from Ireland, You can get cheap flights to Dubrovnik and make your way down to Kotor. From neighbouring countries, you can also fly into Tivat or Podgorica and get yourself to Kotor by renting a car or taking a transfer or public transport.
By Sea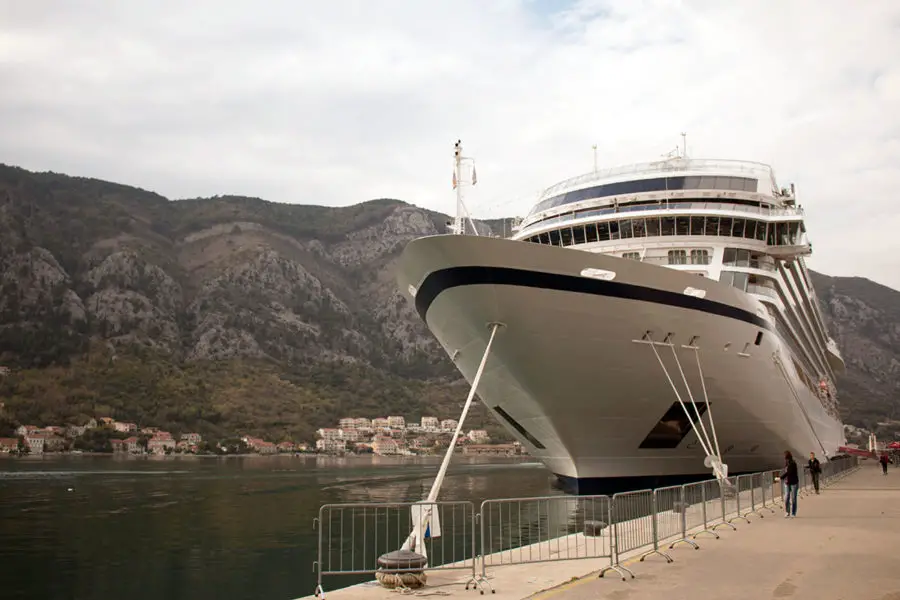 As it's a popular cruise ship destination you can easily visit Kotor on a cruise. Or if you're lucky enough to have your own boat or charter one, we're sure it would be an unforgettable experience to sail through the Bay Of Kotor.
Getting Around Kotor
There are buses and public transport options for getting around the Bay but in our opinion to best to rent a car and explore at your own pace. You can really experience all the things to do in and around Kotor that way. At least on land anyway! We rented a car from Podgorica airport for our six-week Balkan road trip and we got an unbelievable deal. You can take the car into all neighbouring countries, you just have to pay extra insurance when you cross into Kosovo.
Tip: If you were flying in and out of Dubrovnik airport, it might be a good idea to rent a car there as its always better value to pick up and drop off a rental car at the same place.
If you can't rent a car or you simply don't want to drive in the Balkans – it is sketchy – there are numerous hop on hop off bus tours around the Bay of Kotor and the surrounding towns are pretty well connected with local buses.
Quiet Quirky Quaint Kotor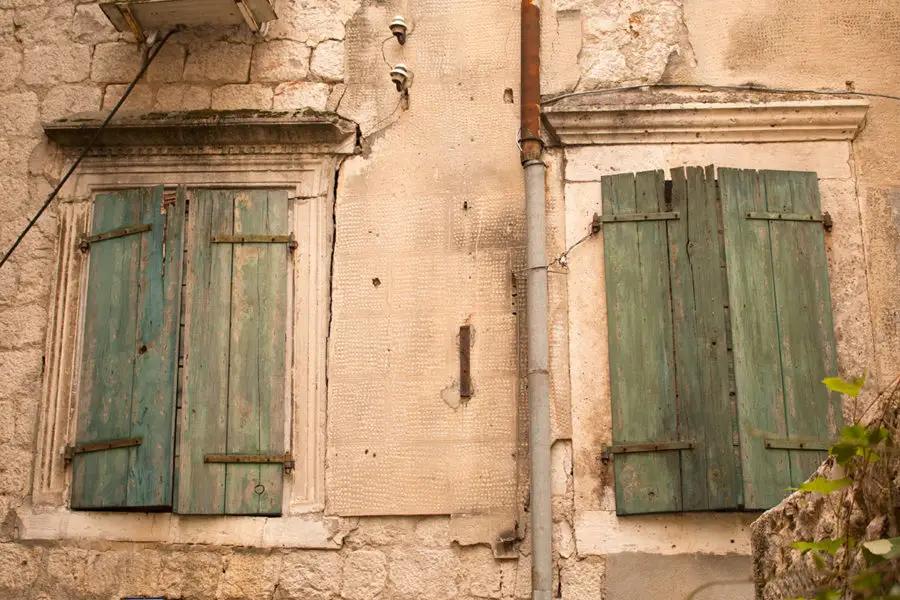 Kotor is still somewhat of a hidden gem in the Adriatic and with time it's only going to get more popular. Let's hope it doesn't get featured in a popular TV show or movie any time soon or the secret will be out for good! Get there soon before it loses its charm and becomes overrun like neighbouring fortified towns have.
Over To You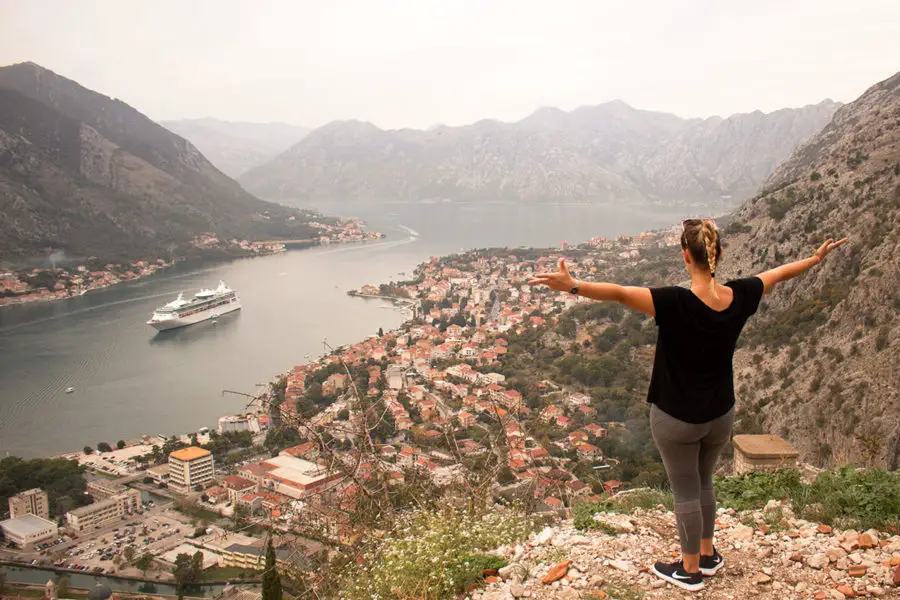 Have you been to Kotor, Montenegro? Did you stay for just a day or did you spend a few days exploring the whole bay area? What did you think? Let us know in the comments below!
Pin  It!