From Cork City to Mizen Head, Ireland's most southerly point, is a great scenic drive, taking in beautiful coastline, small villages and barren landscapes. With the fantastic Irish summer continuing, we had a day, and a car to make the trip, so off we went.
West Cork is a favourite for both domestic tourist and foreign tourists alike and with good reason. The quaint little fishing villages, breathtaking beaches and great food make it a great place to spend some time. After stopping in Schull for some lunch we continued on our way, driving down random back roads and getting about as lost as we could in and around the Mizen Head peninsula. This is definitely a worthwhile trip for anyone wanting a glimpse at true, picture-perfect Ireland. Here are some of our favourite photos from the area.
The following two tabs change content below.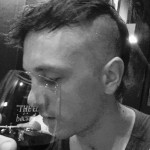 Brian is a travel writer, photographer, blogger, travel addict and adventure junkie. Being outdoors, getting off the beaten track and outside his comfort zone is what makes him tick. Brian's the dreamer in the relationship; when he's not travelling, he's dreaming about it! Keeping fit, cooking, music and red wine take up the rest of his time.