Of the many things to do in Ireland, Dublin has long been a favourite on European itineraries and with good reason. From expansive green areas to busy shopping streets, historical sites, to buzzing bars, there are so many things to do in Dublin that just knowing where to start can be overwhelming.
For those travelling on a budget, Dublin can, at first, seem like an expensive place to visit. However, once you dig a little deeper below the surface, you'll soon discover a plethora of fun things to do in Dublin that won't cost you a penny.
So, put your wallet away, put on a good pair of walking shoes and let's explore some of the best free things to do in Dublin.
The Best Free Things To Do In Dublin
Walk Through Phoenix Park
Covering 1,750 acres, Phoenix Park is the largest enclosed public park within any European capital city. It's more than twice the size of New York's Central Park and has hosted many famous names including the Pixies, Bono and even the Pope!
It's a great place to escape the hustle and bustle of the city, surround yourself with greenery and wander down the beautiful tree-lined avenues, making Phoenix Park one of the best things to do in Dublin with kids. A herd of fallow deer have called the park home since the 17th century, be sure to keep an eye out for them as you roam about.
Visit The President At Áras An Uachtaráin
Set inside Phoenix Park is the residence of the President of Ireland. The 95 room building acts as the official home of the president for the term of their presidency and all government ministers, judges and Taoisigh receive their seal of office here.
While you likely won't actually meet the president, there are free guided tours offered almost every Saturday of the year, with tickets being issued on a first-come-first-serve basis. If you're not visiting on a Saturday or coming to Dublin at all, there's a virtual tour on their website too!
See Europe's Tallest Obelisk
Washington, London, Moscow, Rio…. it seems like every major city around the world has an obelisk, and Dublin is no different. The Egyptians originally built them to worship the sun god, Ra, so the question begs, why is there one in Dublin? There's not much sun here!
This 63-metre tall obelisk is better known as the Wellington Monument and was erected in commemoration of the victories of Arthur Wellesley, the first Duke of Wellington who was born in Dublin. It's Europe's tallest obelisk and may have been even taller except they ran out of funding.
Kilmainham Gaol
Opening its doors in 1796, Kilmainham Gaol operated as a prison until 1924. It was a place of refuge in the famine when people would knowingly commit petty crimes so that they would be fed by the prison while incarcerated there.
It was where, for more than 100 years, those who stood against the British rule in Ireland were held and where many of them subsequently died. And, it is where some of the most famous Irish political leaders such as Charles Stuart Parnell, Eamon de Valera and Robert Emmet were imprisoned, as well as the site where 14 men were executed by firing squad for their role in the 1916 Easter Rising.
Today, it stands as one of Europe's largest unoccupied prisons. Visitors flock here to learn about the political and penal history of Ireland and it's one of the top things to do in Dublin. The museum at the entrance is free to enter, however, if you want to enter the gaol itself, it's by guided tour only.
This is the No.1 sight in the capital and gets extremely busy in summer, so be sure to book your Kilmainham Gaol tickets online to avoid disappointment and long waiting times.
Visit The Home Of Guinness, The Guinness Storehouse
For many, a trip to Ireland, let alone Dublin, would not be complete without sampling a few pints of the black stuff. The Guinness brewery is located right in the heart of the city and of course, is free to see. It's in full operation, so access inside is only for those working there.
To visit the Guinness Storehouse will cost you, however, you can get your perfect Instagram snap at one of the gates without spending a penny.
Walk The Dubline
Beginning on the north side of the city, the Dubline walking trail takes you through the centre of Dublin, connecting you with all of the major city sights. Information panels along the route are well positioned to give you more insight into what's around you. From interesting architecture to breweries, to historical sites, this trail really does take it all in.
Download the free app from iTunes or Google Play and follow the route at your own pace.
Check Out Dublin's Street Art
One of our favourite free things to do in any city is to look out for street art, and Dublin is no exception. Scattered throughout the city are great examples of the work of local street artists, you just need to keep your eyes peeled. From murals of TV sports presenter Bill O'Herlihy in Phibsborough to multiple depictions of MMA legend Conor McGregor, the streets of Dublin are awash with bright, colourful images that add a certain charm to the capital.
Enjoy The Dub's Sense Of Humour
Sarcastic, dry and tongue-in-cheek, the Irish sense of humour is something that can take some getting used to. Born from a history of persecution and hard-times, we've learned how to make fun of and 'take the Mick' out of even the most awkward situations. Learn to embrace our twisted sense of humour and you'll no doubt have more craic than you ever thought possible!
Visit Dublin's Beautiful Churches
While Christchurch Cathedral and St. Patrick's Cathedral do charge visitors an entry fee, there are many other beautiful, and just as interesting, churches in the capital that are free to visit.
St. Ann's Church on Dawson's Street has been making daily bread to hand out to those in need since 1723. St. Michan's on Church Street houses four mummified corpses in a crypt beneath the building. And Our Lady of Mount Caramel on Whitefriars Street is home to some of the remains of Saint Valentine, of February 14th fame.
Don't forget you can still visit Christchurch Cathedral and St. Patrick's Cathedral and see the outside of the buildings for free. Tell the people on the door you're there to pray, not sightsee and you'll be escorted to the pews where you can get a free look inside these more prolific churches.
Browse For Vintage Goodies At George's Street Arcade
Head over to George's Street Arcade, Ireland's first purpose-built shopping centre, one of the oldest in Europe, for your vintage-shopping fix. The arcade is worth a visit on its own featuring Victorian-style architecture, red-tiled floors and the Dublin coat of arms centred over the double-arch entryway.
Inside are over 40 vendors set up in this cool indoor market and there's plenty of browsing to keep everyone happy. Our favourite was The Vintage Shop, with some funky bits and pieces including clothing, shoes, accessories and computer games that will really 'take you back'. It's free to browse and if something really catches your eye, you can always spend some of tonight's beer money you've had stashed in your shoes all day.
Chill Out At Dublin Castle
Dublin Castle served as the seat of British rule in Ireland until 1922. In fact, a castle has stood here since the 18th century, around the time of King John, the first Lord of Ireland. Since the signing of the Anglo-Irish Treaty in 1921, the complex was handed over to Michael Collins and the Provisional Government.
Nowadays, the castle is a famed tourist sight in Dublin and is also used for the inauguration of Irish presidents and state dinners. It does cost to enter the castle, but you can walk around the Upper Castle Yard, admire the State Apartments and see the Record Tower, the last surviving tower for the medieval castle that stood here in 1228, all for free!
Take in views of the castle from nearby Dubh Linn gardens, a peaceful spot, just next to Dublin Castle.
Chester Beatty Library
The Chester Beatty Library is located just next to Dublin Castle and is a well-worth stop for anyone visiting the capital. It was named by the Lonely Planet as not just one of the best museums in Dublin, but one of the best in Europe! Housing collections from around the world, you will find Egyptian papyrus and medieval manuscripts, as well as copies of the Qur'an from the 9th to the 19th centuries and the second-oldest Bible fragment, ever discovered.
The library is completely free to visit and the diverse collections here really showcase our creative expression as human beings. Opening times change depending on the day of the week, so be sure to check them before you go.
Cross The Ha'Penny Bridge
Ha'penny Bridge has been helping people cross the Liffey since 1816. Originally built to replace a ferry service that took people across the river, people paid a halfpenny toll to cross, giving the iconic bridge its name. It was the first-ever pedestrian bridge to span the River Liffey and remained so until the Millennium Bridge was opened in 1999, 184 years later! More than 30,000 people cross the bridge every day, and you'll be glad to hear it is now 100% toll-free.
People-Watch At Temple Bar
Every day the cobblestone streets of Temple Bar are flooded with buskers, families, locals, tourists, teenagers, sign-holders, craft-sellers – you name it, and they're here. Day or night, the streets in Dublin's 'cultural quarter' are always buzzing with activity, making it a great place to sit back and watch the world go by.
Check out the farmer's market every Saturday from 10 am to 4:30 pm or rummage through the vintage fashion, handmade crafts and upcycled arts, crafts and jewellery at the Independence and Vintage market on Wednesdays from 2 pm to 8 pm, during the summer months only.
Temple Bar is probably best avoided on Friday and Saturday nights, to watch the action safely from your own living room, check out the Temple Bar webcam.
Catch A Music Session 
There's live music on every day of the week in pubs all over Dublin and it doesn't have to cost you a thing. Dublin Sessions is a wonderful resource for finding all kinds of music around the city, with paid and unpaid gigs listings.
If you're a musician yourself, keep an eye out for 'open sessions' where musicians of all levels are invited to play together in impromptu sessions in various Dublin pubs. Even if you're not a musician, these are often some of the best nights to go to as it's all about the music and there's always a great sense of community in the room. While gigs are free, you'll definitely enjoy it all the more sippin' on a pint – definitely one of the top things to do in Dublin at night!
Witness History First-Hand At The GPO
Located on O'Connell Street, the GPO is an imposing building, fronted by six giant columns. It was here in 1916 that one of the most important events in Irish history took place. Lead by Padraig Pearse, on a dull Easter Monday, Irish rebels occupied the GPO, using it as their base to fight against the British who ruled Ireland at the time. It was from the front of the GPO that the Proclamation of Independence was read by Pearse, declaring Ireland a Republic.
Over the next six days, the fighting worsened with the city centre suffering a huge amount of structural damage and civilian casualties. The GPO itself endured a lot of damage with a fire eventually breaking out, forcing the occupants out and Padraig Pearse to surrender.
If you look carefully at the exterior walls you can still see bullet holes, which remain from the battle here. Pearse and 13 other rebel leaders were executed at Kilmainham Gaol by firing squad for their involvement in the rising.
Still serving as the headquarters of An Post in Ireland, the GPO is free to visit, open from 10 am to 5 pm Monday to Saturday. The GPO Witness History is a fascinating paid exhibition, which gives a great insight into the events that took place here and the importance of the Easter Rising in Irish history. It's worth noting, that tickets are cheaper if you book online than buy at the door.
Wander Among The Installations At The Irish Museum Of Modern Art
With free admission and a mixture of both permanent and temporary installations, it's no wonder that more than 400,000 people visit the Irish Museum of Modern Art every year. For non-art lovers, the grounds themselves are worth a walk on your way back to the city centre if you are visiting nearby Kilmainham Gaol. The 17th century Royal Hospital Building that houses the gallery and the gardens have a somewhat stately feel to them and the outdoor exhibitions add a quirky feel to the grand surroundings.
Join The Hipsters Of Dublin
Richmond Street South quickly turns into Camden Street Lower and finally into Wexford Street, but one thing is for sure, this is the Hipster Centre of Dublin. Punctuating this long street are a bunch of hipster hang-out favourites.
Dive bar favourites include Anseo who stock 14 beers from around the world on draught, The Bernard Shaw, complete with their own street food market Thursday to Sunday and Dice Bar, one of Dublin's original hipster hangouts.
Against the Grain has an impressive range of craft beers both on tap and by the bottle, while Blackbird will satisfy your urge to cosy up on vintage furniture, craft beer in hand. There are more charity shops than you can shake a stick at and some great cafes like Meet Me in the Morning which both offers great coffee and brunch/lunch options.
So, what are you waiting for? Turn up your jeans, put on your favourite flannel shirt, wax your stache and join Dublin's hipsters.
Appreciate The Georgian Architecture Of Dublin City Hall
Dublin is world-renowned for its Georgian architecture and Dublin City Hall is a fantastic example of what is on offer in and around the city. Built by the Guild of Merchants between 1769 and 1779, the building features a stunning stained glass dome in the ceiling surrounded by 12 murals dictating historical events in the capital.
Visitors can enjoy a multi-media exhibition of the journey of Dublin from Viking times to modern day. Other treasures on display include the Lord Mayor's chains, medieval manuscripts and the great sword and mace of Dublin.
Dublin City Hall is open to the public from Monday to Saturday from 10 am to 5:15 pm.
Admire The Spire
Nelson's Pillar used to stand on the site of the modern-day Spire until a bomb destroyed it in 1966. Nothing took its place until Dublin City Council commissioned the Spire in 1999 as part of a new street layout design.
Standing 120metres tall, the stainless steel monument was completed in 2003, costing the city a whopping €4million and, understandably, becoming a point of contention amongst the locals. On very windy days, the tip of the monument can sway to a maximum of 1.5metres – don't be alarmed, it's perfectly normal – that's where most of the budget was spent!
Explore Trinity College, Ireland's Oldest University
Ambling around the grounds of Ireland's oldest University and one of the seven ancient Universities of Britain and Ireland is not only one of the top things to do in Dublin for students, but it's free too so it's definitely worth a stop on your itinerary. Founded in 1592, the student community at Trinity College Dublin or "Trinners" as it's known locally, comprises of 17,000 students from 122 different nationalities around the world. Famous Alumni of the college include Oscar Wilde, Samuel Beckett, Jonathan Swift and Mary Robinson, Ireland's first female President.
A visit to the Long Room, the Trinity College Library, which houses the Book of Kells the world's most famous medieval manuscript, will cost you, however, and in summer times wait-times can be quite long so it's best to book your tickets in advance.
Meet The Icons Of Ireland
For a relatively small nation, Ireland has produced some truly influential people on both a domestic and international scale. From musicians to philosophers, from politicians to poets, these characters have been immortalised on the streets of the Irish capital.
Daniel O'Connell stands proud at the top of O'Connell Street, with Jim Larkin and Charles Stuart Parnell also taking up residence on the main street. Famous writers James Joyce, Oscar Wilde, Patrick Kavanagh and Brendan Behan are immortalised in unique locations around the city, from Stephen's Green to the Royal Canal.
Thin Lizzy frontman Phil Lynott joined the display of famous Irish men and women of Ireland in 2005 when a bronze life-size statue of the bass player was unveiled outside Bruxelles, one of his favourite pubs in Dublin city centre. No matter where you go in Dublin, you're never far from a legend!
Sing Cockles And Mussels With Molly Malone
Cockles and Mussels is the unofficial anthem of Dublin, earning Molly Malone her rightful place as one of the most well-known symbols of Dublin. Affectionately known by locals as 'The Tart With the Cart', Molly's story is a sad one, a fishmonger and working girl who tragically died of a fever, presumably from a Cholera outbreak which would have been prevalent in the city in the 17th century. While the song dictates a sad story, you'll no doubt be singing it with gusto by the end of any good night hitting the pubs of Dublin.
Take In The Sunshine At Stephen's Green
On a sunny day, St. Stephen's Green is one of the most popular green areas in the city. Young and old come to hang out, walk around the lake, through the landscaped gardens and relax when the sun shines. Gates open early in the morning and close around dusk, for full opening times check here. It's home to a 1916 exhibition and there's a free audio guide app you can download if you want to learn more about the park. Take a blanket, a picnic, or just a good book and chill out in 'The Green' and enjoy that rare Irish sunshine.
Getting Around Dublin
For a capital city, Dublin is pretty straightforward to navigate. You're certainly not going to experience the same complicated transport systems you might come across when backpacking in Tokyo, trying to make your way around London on a budget or exploring all the sights of Kuala Lumpur in two days. With a little careful planning, getting around Dublin is relatively pain-free.
Public Transport
Public transport comprises mainly of the LUAS, a light rail tram system that runs through the city on two lines, red and green. The DART (Dublin Area Rapid Transport) is an electrified railway network, which serves the coastline from Howth and Malahide in the north, south to Greystones in Co. Wicklow, as well as the city centre. Taxis are expensive but can be used for short hops around the city if you're stuck. The Leap Visitors Card is the most convenient option for short visits to Dublin and offers unlimited travel using the LUAS, the DART & Commuter trains, as well as Dublin Bus and the Airlink bus service from Dublin airport to Dublin city centre over a 1, 3 or 7-day period.
Self-Driving
Renting a car is a great way to explore Dublin and gives you scope to explore further afield should the mood strike. There are loads of things to do near Dublin, and with Ireland being so compact, you could check out some of what Tipperary has to offer on a long day trip or go walking in the Wicklow Mountains. Why not continue south after your time in Dublin and check out some of the things to do in Cork or venture north to the stunning Causeway Coast. With a car rental in Dublin, Ireland really is your oyster!
Where To Stay In Dublin
When choosing where to stay in Dublin, there is a huge range of accommodation from 16-bed dorm rooms to luxury 5-Star Hotels. The vast majority of visitors to Dublin will stay in either the Creative Quarter or Temple Bar. The Creative Quarter is located in the city centre, making it one of the most convenient areas to stay in the city. It also has a great selection of restaurants, independent cafes and boutique shopping on offer. Temple Bar, on the other hand, is the centre of the night-life scene, especially for visitors. Like the Creative Quarter, it's very central, but if you are looking to avoid the party scene, you may want to choose a different area.
Outside of these two main areas to stay in Dublin, you may also consider Stoneybatter, a hip, up and coming area of the city where bearded espresso drinking yogis are abundant. The Docklands is the business district of the city and can be popular with visiting professionals. It's also the best area to stay in Dublin if you're planning on catching a gig at the 3 Arena.
For the best hotel deals in Dublin we always use Booking.com, there are some fantastic options available in all of the areas listed above, depending on your budget – click here to find a hotel that meets your requirements and budget. There are also plenty of great offerings on Airbnb if you're looking for somewhere more homely to stay in Dublin.
Share Your Experience Of The Irish Capital
Have you visited Dublin? Have you any advice or tips to share? Were you visiting for culture, history, art, nightlife, or just because? Let us know your favourite free things to do in Dublin in the comments below.
Pin it!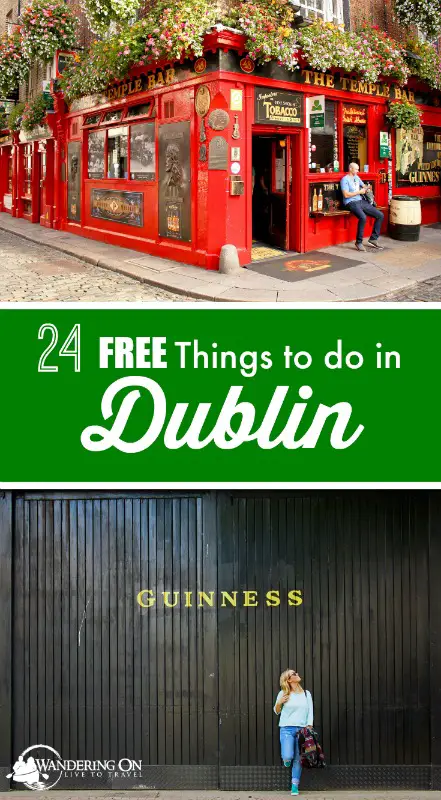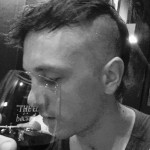 Brian is a travel writer, photographer, blogger, travel addict and adventure-junkie. Being outdoors, getting off the beaten track and outside his comfort zone is what makes him tick. Brian's the dreamer in the relationship; when he's not travelling, he's dreaming about it! Keeping fit, cooking, music and red wine take up the rest of his time.
SUBSCRIBE FOR OUR FREE EBOOK
Sign up for our free travel photography Ebook "Faces of Nepal" and you'll also receive our monthly newsletter.